Intro
Everywhere you turn, an SEO expert is telling people to pick a niche.
But what about the dangers of niching down too far?
Niche targeting has advantages, but being too hyper-focused can harm your site's future.
If you got 99 problems but a niche ain't one, it's all good.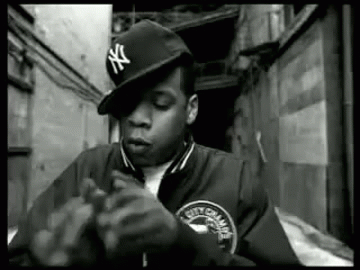 Keep reading to learn about nine ways going hyper-niche could be a big mistake for SEO.
What is a hyper niche or micro niche site?
A hyper or micro niche site only talks about very specific and narrow topics such as certain kinds of food, a specific game or activity, one type of product like toothbrushes, etc.
The All-in-One Platform for Effective SEO
Behind every successful business is a strong SEO campaign. But with countless optimization tools and techniques out there to choose from, it can be hard to know where to start. Well, fear no more, cause I've got just the thing to help. Presenting the Ranktracker all-in-one platform for effective SEO
The topics are usually too specific for a wider audience to be interested in.
1. Limited audience and traffic
Imagine a site that only talks about purple glittery unicorn stickers. 🦄
How much traffic will a site get with this keyword on the first page of Google in the United States?
According to Ranktracker search volume data, it gets zero clicks per month in the search results.
Now let's broaden the niche a bit to glitter unicorn stickers, and there are an estimated 50 searches per month.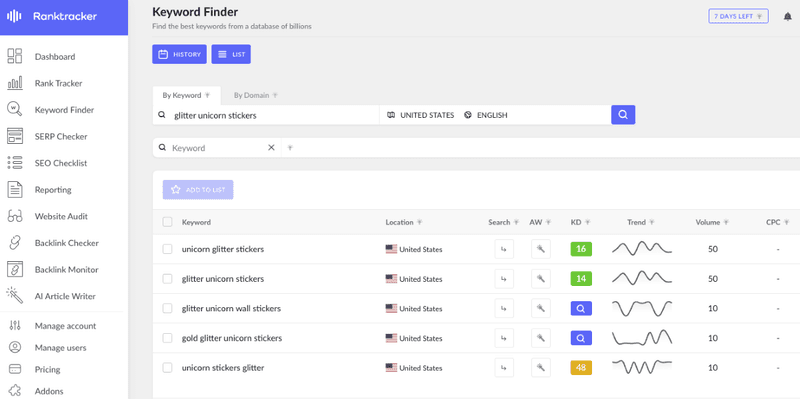 The All-in-One Platform for Effective SEO
Behind every successful business is a strong SEO campaign. But with countless optimization tools and techniques out there to choose from, it can be hard to know where to start. Well, fear no more, cause I've got just the thing to help. Presenting the Ranktracker all-in-one platform for effective SEO
The data for glitter stickers says that the volume is 1,300 searches per month, and Ranktracker also suggests 24 related keywords with monthly search volumes between 70 to 480 for a single keyword (semantic keywords not included).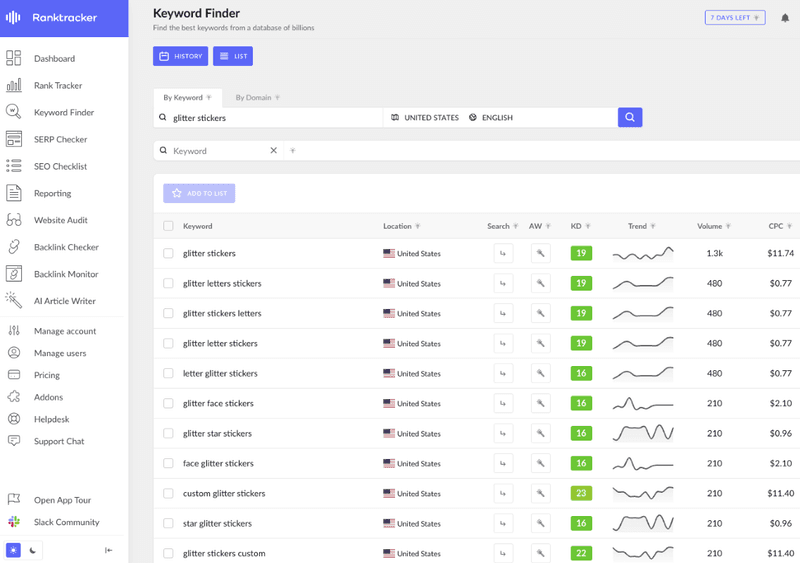 And stickers reveal a search volume of 165,000 per month, plus 24 additional keyword possibilities ranging between 40,500 to 110,000 per month for a single keyword (not semantic).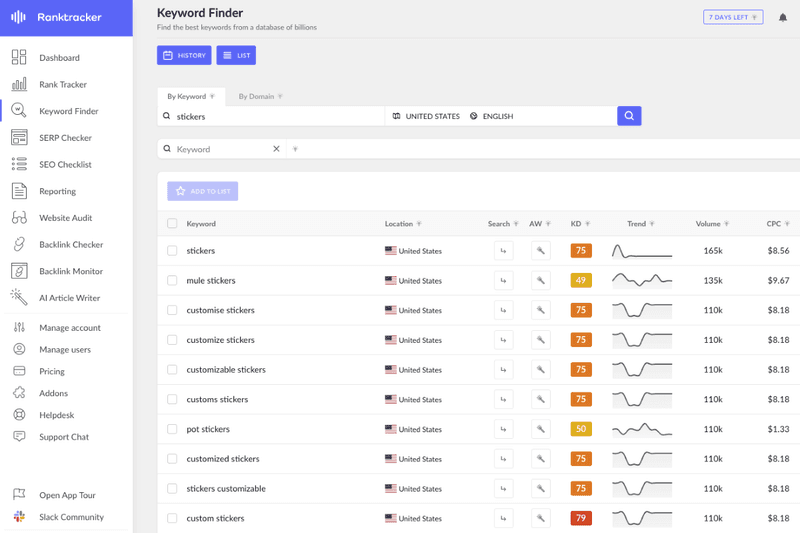 As you can see, the search volume per month increases the broader the search terms while still being in a somewhat small niche of "stickers," while the other sticker keywords would be considered hyper-niche.
2. There's too much search competition
Competing in micro niches is simple, and that's the problem.
The smaller your niche, the easier a higher DR site can wreck your business with just one article because it might have topical authority and brand recognition on more related topics than your site.
If you use plenty of contextual SEO, you might have a fighting chance to rank on page one, but is it worth it?
According to a Search Engine Journal survey, 38.7% of marketers think zero-click SERPs are the biggest threat facing SEO. (source)
So basically, with hyper-niche keywords, you're fighting over nothing.
It's better to compete in the mid-high volume niche keywords (and mid to low competition) and then create irresistible content that provides more value than your competitors.
Popular belief is that you shouldn't target difficult keywords if you're a new site less than a year old without much reputation.
But I can tell you, it's not completely true because my site was a DR 4 at one point, and I was still ranking on page one for difficult but emerging keywords in my industry.
3. Not enough content opportunities
Purple glittery unicorn stickers are an example of what I like to call "Unicorn topics™.
The topic is fanciful, so good luck getting ahead with only one point. 😆
Maybe I'm not one of the cool kids, but I prefer a rainbow of sub-niches to one larger niche.
That way, you're not limiting yourself to one month of content ideas and then you give up.
So if you choose a topic like "stickers," you'll be more likely to stick with it.
4. The market you chose is seasonal
As famously sung by the Byrds, "To every season turn, turn, turn."
If you've chosen a hyper niche, and the topic or product is seasonally searched for…
OMG, I feel bad for you. 😥
It's not good business to limit your options because you need to be able to stay profitable throughout the year.
And if you rely on SEO strategy alone, your business might fail within 6 months unless you're using paid social media ads too.
5. Limited monetization options
I did a Google search for "seasonal niche failures," and at the top of the search results was an article for evergreen vs seasonal niches. 😅
Ironically, I found a sticker company in the article!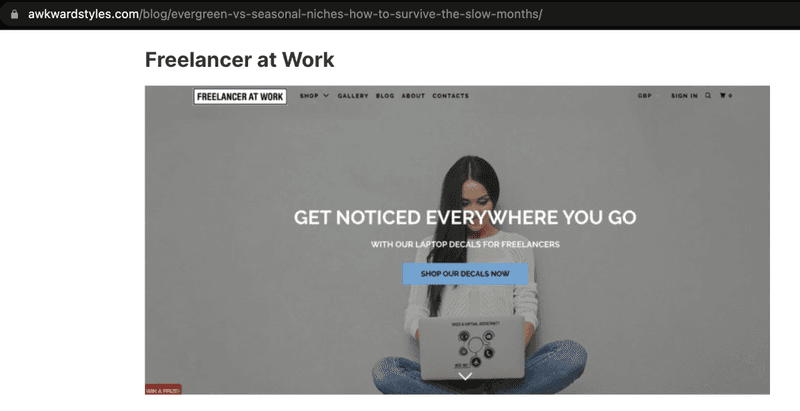 Freelancer at Work makes laptop stickers and decals for freelancers that describe what kinda work they do.
The sticker might attract more clients to freelancers while they're out and about in a cafe or other public area.
If you choose to cover only purple glitter unicorns or glitter unicorn stickers will limit your monetization options because this company wouldn't want to advertise or sponsor itself on your site.
On the other hand, if you talk about "glitter stickers" or, better yet, "stickers," you could earn a sizeable stream of income if your site meets their monthly visitor requirements.
6. Link building becomes tougher
Most reputable sites won't accept random or junk links, meaning it doesn't relate to the topic of their site.
Less relevant websites
The more niche you go, the more challenging it is to find relevant blogs and websites to reach out to.
And if you think about it, there will be way fewer bloggers, influencers, and content creators to connect with for link collabs.
Lower DR/DA
There's a greater chance that hyper-niche sites will have less influence and fewer backlinks, making them less valuable for increasing your domain rating/authority score.
Anchor text
The more variety of anchor text you have, the better search engines see your content as relevant.
When your content is too specific, it reduces the chances of finding enough keyword variations or relevant terms to use as anchor text.
7. Search engine algorithm changes
Algorithm changes are to be expected, and being in a hyper niche puts you at greater risk.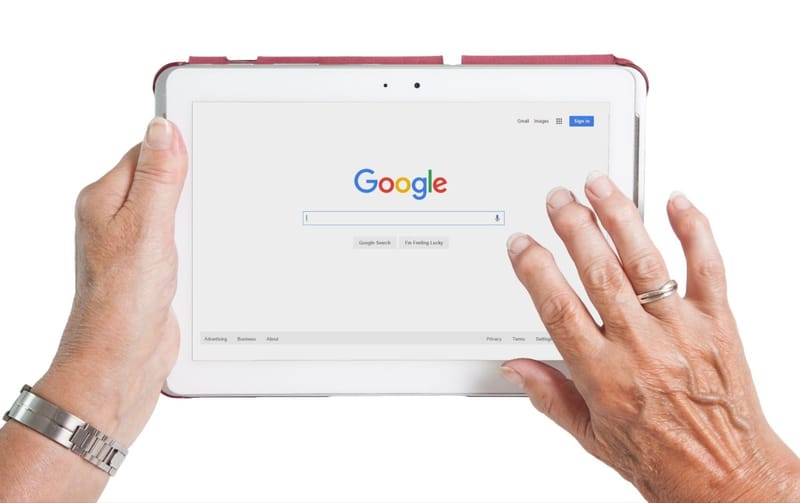 Image credit: michaklootwijk (yayimages)
Decreased visibility
Micro-niche content that gets hit by an algorithm update can cause your organic traffic and rankings to tank.
Not only that, but your online presence and overall business performance might suffer if you are solely relying on SEO.
Adapting is a must.
Companies with a hyper-niche focus must re-evaluate their keyword targeting, content optimization, and overall SEO tactics more often to continue being relevant.
That means the company might have to change the products and services it sells or the topics its site talks about to align with the new ranking factors. 😱
Competitors on the rise
If you're not prepared, a competitor might gain an advantage over you with more visibility if their content better meets the new algorithm demands.
That's why it's important to always keep an eye on what competitors are doing in case you need to pivot your marketing strategies quickly.
Better user experience
While more broad topic sites may be able to get away with not having top-notch content…
There are greater expectations for companies in a hyper niche to provide supreme quality, relevant, and engaging content that satisfies your visitors' search intent.
The content should include many unique and helpful images and maybe some videos that help be seen as an authority and provide solutions fast.
8. Local SEO limitations
Local SEO in a micro-niche makes reaching enough customers within a targeted geographic area much more difficult, especially considering all the extra ranking factors (see image).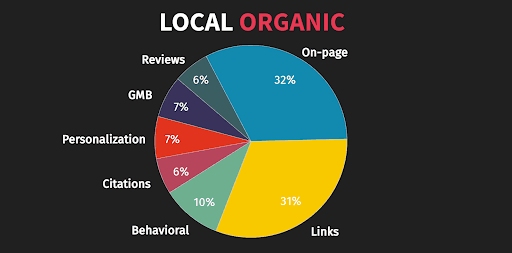 (Image credit: SEO PowerSuite)
Location-based visibility
If a hyper-niche company operates in a small or remote area, the search volume for related terms will be too low to rely on only local SEO.
That's because it will be a struggle to be "at the right place, at the right time" in the SERP to get your products and services in front of potential customers.
Other less-than-normal marketing tactics like sponsoring niche-related events, publishing guest articles on industry-specific websites, and participating in social media communities and forums can help get you in front of the right people.
Limited local market
Being hyper-focused on one niche limits your market share when you're going against competitors offering almost the same specialized products and services to a small number of people within a local area.
Expanding into nearby markets
Limited local SEO capabilities can slow or prevent a company's ability to tap into nearby markets.
Establishing a local presence requires time, effort, and resources to optimize online visibility, build local trust, and generate positive reviews.
9. Lead generation goes dry
Companies with a hyper-niche should diversify their marketing and acquisition channels to supplement their SEO lead generation strategy because it's really risky. Here's why: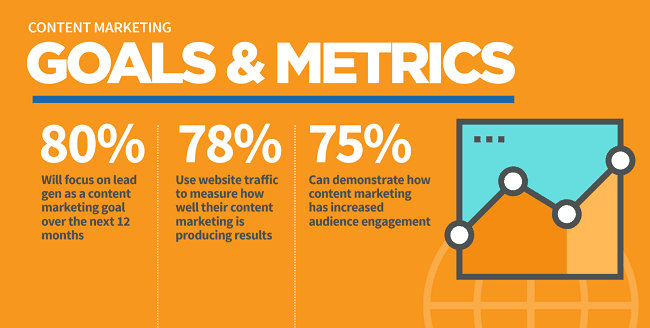 Image credit: Blogging Wizard (2023)
Market awareness
Having too small of a niche will require you to invest more time and resources into educating your target audience about your solution.
Higher cost per lead
Searching for a limited pool of qualified leads can call for more specialized marketing.
These strategies can be more expensive than broader marketing campaigns which will cost you more per lead.
You can also try doing social media marketing, email marketing, partnerships, and paid advertising to generate new customers to buy what you offer.
Difficulty Scaling
The market demand for your product or service determines long-term growth.
The All-in-One Platform for Effective SEO
Behind every successful business is a strong SEO campaign. But with countless optimization tools and techniques out there to choose from, it can be hard to know where to start. Well, fear no more, cause I've got just the thing to help. Presenting the Ranktracker all-in-one platform for effective SEO
So if you are in a tiny niche, it makes it that much harder to attract the right leads who will eventually become a customer!
Conclusion
It's easy for people to think that going hyper niche is their golden ticket to success.
After all, targeting a specific audience with laser precision seems like a surefire way to attract customers, right?
Well, not exactly.
So before you choose an extremely niche business, take a step back and consider the dangers of hyper-niching in SEO from what you learned in this article.