Intro
As we speak, artificial intelligence is transforming the content creation landscape forever.
The rapid advancement in AI technology (most notably GPT-4) has led to a myriad of benefits for content production, such as increased efficiency and reduced costs.
However, the flip side includes obvious issues related to the nature of AI itself: It's not always accurate, it doesn't always produce high-quality content, and it lacks the emotion and imagination of the human voice.
However, businesses that don't adapt to using AI in their content are at risk of getting left in the dust.
Where is the balance in this situation?
That's what we'll talk about in this post:
The AIO model for content production, which combines the power of human understanding and creativity with the efficiency of AI tools.
The pros and cons of implementing this model and using an AIO writer for content creation.
First: What the heck is an AIO writer?
What is an AIO Writer?
The emerging AIO model is a direct response to AI's writing limitations.
The All-in-One Platform for Effective SEO
Behind every successful business is a strong SEO campaign. But with countless optimization tools and techniques out there to choose from, it can be hard to know where to start. Well, fear no more, cause I've got just the thing to help. Presenting the Ranktracker all-in-one platform for effective SEO
AIO, or artificial intelligence optimization, is the human process of improving and editing a piece of AI-generated content so it looks and sounds like an expert human created it.
Who's in charge of this optimization?
The AIO writer. Their job is to:
Edit AI-generated content so it sounds natural and human-written.
Ensure the content is optimized for SEO.
Check the writing for factual accuracy and add high-quality sources.
Add in the brand's personality and voice so the content is unique.
Generally ensure the content builds trust with its intended audience and helps the brand reach its goals.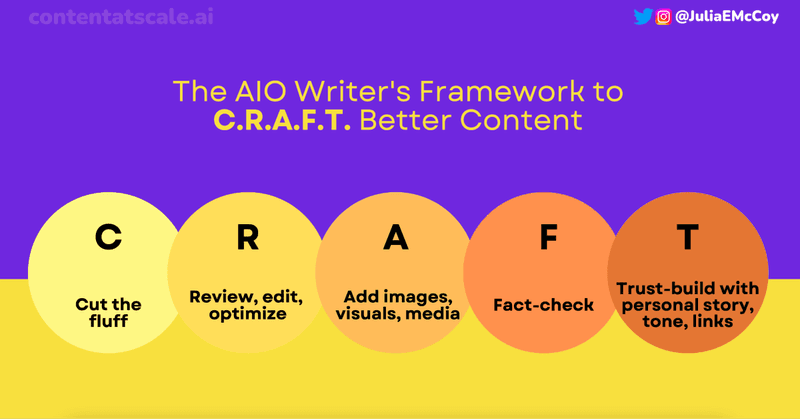 Of course, there are pros and cons associated with adapting to the AIO model, including the mega transformation your content team will need to undergo (in effect, your writers will become editors, and your AI writing tool will become your baseline writer).
The alternative is letting AI pilot your content creation with no human intervention — dangerous territory.
But, continuing to rely on solely human-powered content will put you at a giant disadvantage — not just in the search engine results, but also against your competitors, who are very likely adopting AI content creation technologies right now.
The All-in-One Platform for Effective SEO
Behind every successful business is a strong SEO campaign. But with countless optimization tools and techniques out there to choose from, it can be hard to know where to start. Well, fear no more, cause I've got just the thing to help. Presenting the Ranktracker all-in-one platform for effective SEO
Let's continue to explore each side of the coin in depth.
The Pros of Using AIO Writers for Your Content Creation
The pros of adapting to the AIO model can be huge.
Businesses that switch from human-only to AI-assisted content creation can expect to enjoy streamlined content production, big cost savings, and the potential for better visibility in Google.
1. Streamline Your Content Development Process
Naturally, diving into the AIO model means investing in an AI writing tool as well as a human AIO writer to polish the content.
As you know, AI software can analyze vast amounts of data in seconds, helping you overcome writer's block and develop relevant content based on specific subjects or keywords. In other words, AI can write the first draft.
This allows your team of skilled human writers to focus more on refining ideas, crafting compelling narratives, and ensuring accuracy rather than spending time researching or brainstorming new concepts from scratch.
The result: You'll create and publish 5-10x more quality content on average. This type of output can skyrocket your SEO results because search engines love the trifecta of consistency, freshness, and quality.
Specifically, solid, consistent blogging can lead to results like 55% more website visitors, 97% more inbound links, and 434% more indexed pages in Google.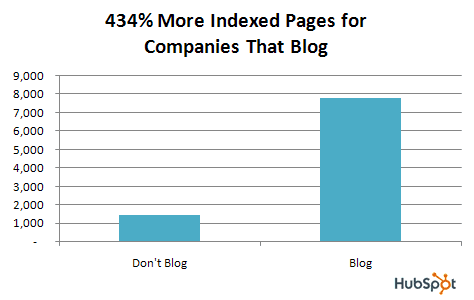 And that's a huge deal if your company currently struggles to put out even **one **good, high-quality content piece per month.
Bottom line: The combination of AI + AIO writers can improve the speed and efficiency of your content production, while still maintaining high quality. By leveraging AI-driven tools alongside human writers' expertise, businesses can quickly create content at scale that appeals to their audiences and is optimized for search.
2. Reduce Content Creation Costs
Implementing an AIO writer into your business strategy allows you to cut costs without sacrificing your content marketing.
You achieve these cost-savings through the efficient collaboration of skilled writers trained in your voice, style, and expertise working alongside effective AI writing tools.
Let's compare the old model vs. the AIO model to see the cost differences.
Old content creation model:
Human writer brainstorms, researches, outlines, and writes a 2,000+-word blog post. Time: 4+ hours, on average.
Human editor reviews and edits to ensure the blog is ready to publish. Time: 1-2 hours.
Total time/cost: 6-8 hours + two creators' pay.
New, AIO model:
AI writing tool drafts a 2,000-word blog post based on a keyword. Time: 5-10 minutes.
Human AIO writer edits, polishes, and optimizes the blog. Time: 1-2 hours.
Total time/cost: 1-2 hours, one creator's pay.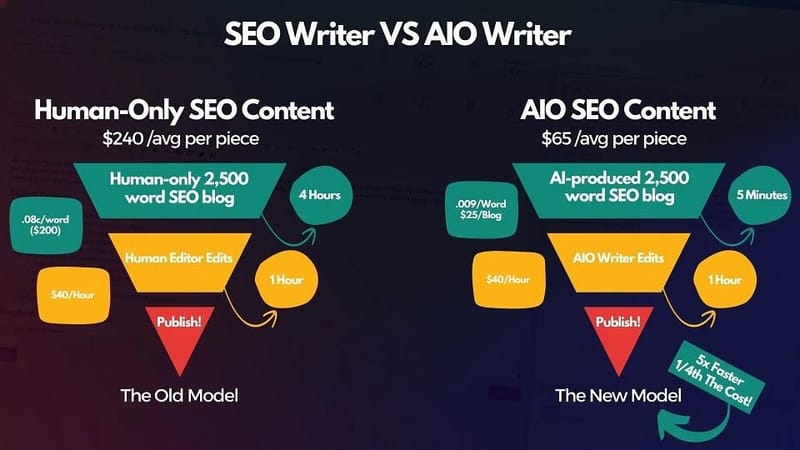 With the AIO model, companies can save money on hiring additional staff or outsourcing their work to expensive copywriting agencies. You'll also cut your production time by more than half.
Balancing Cost-Efficiency with Quality Output
To ensure that you maintain both cost savings and quality standards when using AI-generated content, it's essential to strike a balance between automation and human intervention.
While machines can quickly write content based on specific guidelines or templates, they may not always produce up-to-snuff content without some level of oversight from experienced editors. That's why the AIO model is so important. It emphasizes:
Consistent editing and quality checks: To maintain quality control over machine-generated texts, an AIO writer should review each piece before publication, including checking it with an AI/ChatGPT detector.
Strategic automation: Use AI technology strategically within certain parts of the content production process (e.g., drafting headlines or summarizing articles) while still relying on human expertise for more nuanced aspects of writing.
This approach not only streamlines the content development process but also allows companies to stay competitive within an increasingly digital marketplace where content is king.
3. Boost Your Results with Human-AI Collaboration
One of the most significant benefits of incorporating the AIO model into your marketing strategy is the potential to increase website traffic.
Enhanced Online Visibility
The collaboration between skilled writers and artificial intelligence software can lead to better online visibility for your brand.
As these tools are designed to overcome writer's block, generate relevant ideas, and optimize content for search engines, they enable you to create high-quality articles at scale.
This increased volume of well-optimized content helps improve your site's visibility by attracting more organic visitors through search engine results.
Improved Search Engine Rankings
Beyond simply increasing the amount of content available on your site, leveraging AI-generated content and AIO writers may also bump up your search engine rankings.
The advanced algorithms used by AI software help ensure that each piece aligns closely with current SEO best practices, while your AIO writer will ensure readability for users.
This approach allows your business to cover a higher volume of relevant topics within your niche — without sacrificing quality or depth. Ultimately, this builds your online authority, which can improve your search engine rankings.
However, it's essential to strike the right balance between the expertise of your human AIO writers and the capabilities of artificial intelligence to ensure optimal results.
The Cons of Using AIO Writers for Content Creation
Where there are pros, cons will follow.
However, the major cons of using the AIO model mainly involve the limitations of AI.
1. Credibility and Quality Issues
In the world of content marketing, credibility is crucial.
You can't build trust without credibility. And you can't earn credibility without accuracy.
With untouched AI-generated content, there's a higher risk of inaccuracies and inconsistencies in the output. If that sneaks into your blog posts, your readers and potential customers could get turned off or even lose faith in your brand.
To mitigate this issue, it's essential that 1) a human checks your content, and 2) your AIO writer is a true expert. You need humans on your team who know their stuff and can quickly judge whether AI content meets a baseline of standards before it's published.
If your AIO writer is inexperienced or lacks skills, your content quality and thus your credibility will suffer. However, you'll face this same issue even if you don't use AI and hire sub-par writers to do all the work.
To maintain high-quality standards in your content output, adhere to Google's Quality Rater Guidelines. These emphasize creating valuable content that addresses users' needs while providing an enjoyable reading experience.
It's important to be mindful of the possible quality problems that can come with AI-created content. But, by combining expert, human-led editing with AI-generated drafts, you can ensure that both quality and optimization are balanced effectively.
2. Plagiarism and AI Detection
Just like with 100% human-written content, with AIO content you need to be wary of plagiarism. Some AI writing tools may inadvertently produce content that closely resembles existing material on the web.
However, an additional worry with AI content is whether your readers and Google can detect that an AI contributed to your pieces.
To avoid issues related to plagiarism and robotic-sounding text, businesses should use two types of tools:
Plagiarism detection software - Helps identify instances where similar or identical text exists online, allowing for necessary revisions before publication.
AI/ChatGPT Detector - Detects patterns in the text and word choices that indicate a bot wrote your content.
If any instances of plagiarism or AI detection are present, a good AIO writer can edit that text until it's unique and sounds human.
Importance of Human-Led Editing and Proofreading
Beyond addressing plagiarism concerns, human-led editing plays a crucial role in ensuring the quality and accuracy of machine-written pieces. Skilled AIO writers can:
Detect factual inaccuracies or misleading statements that may have been generated by an AI tool's limited understanding of specific topics.
Catch grammatical errors or awkward phrasing not identified by automated grammar checkers.
Maintain consistency in tone and style throughout all published materials - something that even advanced AI tools might struggle with at times.
Of course, if you haven't implemented your AIO model well, then your writer may not have the skills to catch these issues before publication — a big problem, but one that some all-human content creation teams face, too.
3. Maintaining Brand Personality in AI-generated Content
Although AI writing tools have shown great promise, they still struggle to replicate a brand's specific tone and style exactly.
This is one of the biggest reasons why you need a skilled writer/editor hybrid who understands how to work with AI technology – the AIO writer. This is also why the AIO model hinges on this person.
The All-in-One Platform for Effective SEO
Behind every successful business is a strong SEO campaign. But with countless optimization tools and techniques out there to choose from, it can be hard to know where to start. Well, fear no more, cause I've got just the thing to help. Presenting the Ranktracker all-in-one platform for effective SEO
Your writer must be able to insert your brand voice into AI-generated content. Without this skill, your blogs will sound like every other vanilla brand out there creating mediocre content – and that doesn't bring results.
Ensuring Consistency Across All Content Formats
To maintain your brand's identity when using an AI content tool, it's crucial to establish guidelines for both human writers and artificial intelligence software. These guidelines should include:
Voice and tone: Define how formal or informal your brand language should be, as well as any specific phrases or expressions that are characteristic of your business.
Formatting: Specify preferred formatting styles for headings, subheadings, lists, quotes, etc., so that all pieces of content follow a uniform structure.
Semantic keywords: Identify core topics relevant to your industry and ensure they're consistently used throughout the content generated by both humans and machines.
Visual elements: Provide guidance on image selection criteria, graphics usage policies (e.g., infographics), and multimedia integration best practices (e.g., video embeds).
Combining Automation with Personalization
The key to successfully integrating AI-generated content into your marketing strategy lies in striking a balance between efficiency and authenticity. Here are some tips to help you achieve this balance:
Collaborate with human writers: Use AI-generated content as a starting point, then have skilled AIO writers refine the material to ensure it aligns with your brand voice and meets quality standards.
Edit strategically: Invest time in editing machine-written pieces, focusing on areas where AI may struggle (e.g., humor or cultural references) and ensuring consistency across all channels.
By incorporating these tactics, it is possible to leverage AI while still keeping the integrity of your company's communications intact.
Leverage Human Inventiveness + AI Efficiency with AIO Writers
While both pros and cons exist for implementing the AIO model and using AIO writers, the positives outweigh the negatives.
The key?
Setting up an AIO system with a foundation of a great tool + a well-trained writer.
By combining expert human input with advanced technology, businesses can write content that resonates with both their audience and search engines. In the meantime, you'll enjoy increased efficiency and cost savings associated with automation.