Intro
Effective B2B content marketing means many things. One of the basics is ensuring that your content reaches the right audience. The content you create should address problems and encourage potential customers to learn more about you.
However, crafting regular, high-quality content is often easier said than done. You need to rank highly in SERP results, and constantly find new ways to engage your audience.
To accomplish these things, you need to put a strong content marketing strategy in place. Today, we'll show you the foundations you need to prepare for a successful content marketing strategy.
The Importance of A Content Marketing Strategy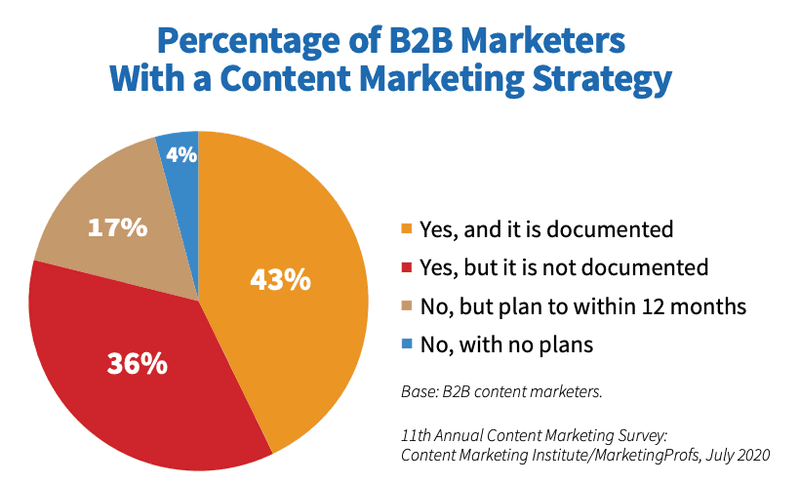 (Image Source)
Content marketing is all about using content in different shapes to engage an audience. This could take the form of a blog post, video, or podcast. Unlike most marketing, content marketing doesn't necessarily involve selling a product. Its main purpose should be to provide value to your audience.
The goal is to build a committed audience that will consume your content and move through yours sales funnel to turn into customerss. Without a content marketing strategy, you're driving in the dark. By taking the time to plan, you can create a set of content marketing goals and methods for meeting them.
Sadly, too many businesses lack a clear plan. In fact, it's estimated that 57% of B2B companies don't have a documented content marketing strategy.
The Goals Of A Strong Content Marketing Strategy
For maximum success, your content marketing for B2B should be built around a set of goals. Here are some factors necessary to create those kinds of goals.:
Cross-department involvement - Different departments will be able to provide their own expertise and advice. Make sure to gain cross-department insights to make your content as valuable and versatile as possible.
Align with your audience - Is your content relevant to the interests of your audience?
Incorporate feedback - You should be constantly plugged into what your audience is saying. Do people want more of a certain kind of content? Give it to them. Carry out surveys, focus groups, and other forms of measurement to gain insights.
Use data - If you seek to be a modern data-driven company, then data should be a key part of your strategy. Use data to gain insights to improve your content creation.
Best Practices For Your B2B Content Marketing Strategy
Know Your Audience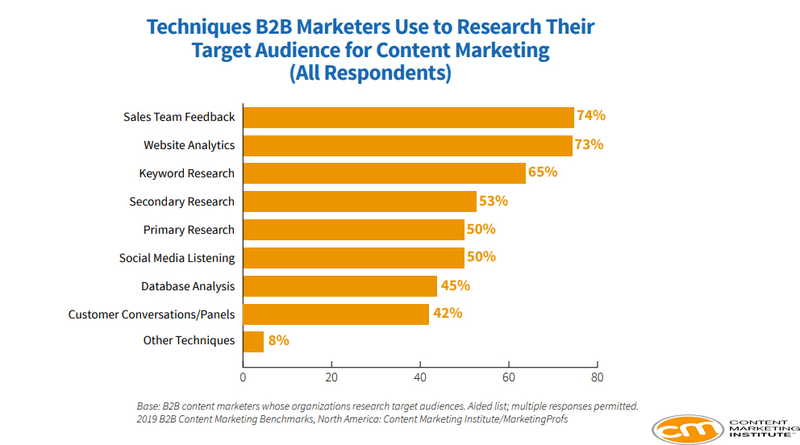 (Image Source)
The All-in-One Platform for Effective SEO
Behind every successful business is a strong SEO campaign. But with countless optimization tools and techniques out there to choose from, it can be hard to know where to start. Well, fear no more, cause I've got just the thing to help. Presenting the Ranktracker all-in-one platform for effective SEO
Getting familiar with your audience means more than simply carrying out basic market research. For the best content strategy, you need to know your audience inside and out Surprisingly, not doing so is a common mistake in content creation. To succeed, your content needs to connect with your audience.
Here are a few to do just that.
Use Analytics Software
Visitors to your website give you a goldmine of data. But the data's no use if you don't understand it. The right analytics software can provide deep insights into your audience.
Google Analytics (GA) is used by over 55% of all websites online. There's a reason that the tool is so popular. GA can tell us everything we need to know about our audience and more. GA features include
Views of individual pages on our website.
The ability to segment users by location, demographic, and more.
Information relating to the interests of different groups of users.
Real-time reports allowing us to view website users as they navigate a website.
And much more.
The best thing about GA is that it is constantly updated. The latest version, Google Analytics 4, comes with even more features. For example, GA4 conversion tracking allows you to measure important user interactions on your site.
Carry Out Surveys
Surveys are a great way of directly talking to your audience. With the right questions, you can gain detailed responses that help to improve your content marketing. Surveys provide many different insights, including:
Important demographic information: You can glean insights such as the age range, gender, and average household income of your audience members.
View on your business: What does your audience _really _think about your business? A survey provides an opportunity for your audience to air their opinions. What do they like about your business? What don't they like? With this information, your content marketing strategy can help improve customer loyalty.
Views on your content: You can learn more about the kinds of content that your audience enjoys.
Look To Your Competitors
Your competitors are already creating content for audiences similar to yours. This gives an insight into the type of content that you should create. It also shows how your target audience is responding to your competitors' strategy.
Take a look at comment sections and responses on social media. What questions are people commonly asking? You can incorporate the answers into your own content. You can create better content than your competitors and win over new readers and even customers.
Create a Calendar
Of course, your content doesn't only need to be relevant but also regular. Most experts agree that new content should be released multiple times a week. But this can also put a lot of strain on your content and marketing teams.
You need those regular releases to be part of a high-quality, well-researched piece plan. Too often, the updates are low-quality work that brings little value. Why does this happen? Sadly, you've fallen into the trap of only giving yourself short deadlines.
This could have been avoided if you had set yourself a clear schedule. By planning content weeks or even a month in advance, you give yourself much more leeway. You gain more time to plan and ensure that your content is up to scratch.
The All-in-One Platform for Effective SEO
Behind every successful business is a strong SEO campaign. But with countless optimization tools and techniques out there to choose from, it can be hard to know where to start. Well, fear no more, cause I've got just the thing to help. Presenting the Ranktracker all-in-one platform for effective SEO
A carefully constructed content calendar provides clarity for your content strategy. Instead of always having the next piece of content in your sights, you gain a broader view.
Set Measurable Objectives
When creating goals you need measurable objectives. In other words, you need quantitative data. But too often people think qualitatively . This means that people struggle to measure progress toward their goals.
Let's imagine two different scenarios.
In scenario one, a company launches a content marketing campaign. They have a big response to their campaign and website traffic is increased significantly.
In scenario two, a company also launches a content marketing campaign and has similar success.
On the face of it, both campaigns are equally successful. However, in scenario one the business put little thought into capturing the reasons for increased traffic and the effect that it had.
For example, they were unable to tell how people access their site, or what attracted them to it. They were also unable to determine the effect of the traffic. They were unable to tell how many conversions had occurred and whether they were related to the core content that the business wanted to promote.
In scenario two, the business carried out more rigorous planning. They have set goals around visits by their target demographic and conversion goals for core content. Armed with this information, they can refine the current campaign, making sure people view the right content. They also have a strong base to plan future campaigns.
Plan Your Promotion

Once your content is created, you need a way of reaching the right people. A big part of your B2B Content Marketing strategy should be planning your promotion. Consider the different ways you could reach your audience. You'll use different methods depending on the demographics and industry of members of your list.
The All-in-One Platform for Effective SEO
Behind every successful business is a strong SEO campaign. But with countless optimization tools and techniques out there to choose from, it can be hard to know where to start. Well, fear no more, cause I've got just the thing to help. Presenting the Ranktracker all-in-one platform for effective SEO
Below are some methods for promoting your B2B content.
Grow your presence in organic search - Consider how keywords, alt text, images and videos, and meta descriptions, can help you climb the search engine ladder. Online resources may help. For example, a keyword finder can help you to find the best keywords for optimizing your articles.
Advertise on the right platforms - Linkedin's account-based marketing can be a fantastic way of reaching members of your list.
Gain Paid Traffic - Paid advertising helps ensure that you secure a spot at the top of the search engine results.
Optimize Your Content
Your approach to content shouldn't be static. You should learn from the strengths and weaknesses of each piece of content that you release. What was successful about an article? What could have been improved? Finding the answers to these questions is key to improving your content.
Of course, you'll need the right CRO tools to gain these insights. The right tool should help in the following ways:
Increase conversions
Gather audience insights
Test hypotheses
Highlight gaps for improvement
Boost Your Content Marketing
Creating content without a strategy is the same as driving without a map. You'll get increasingly frustrated as you struggle to reach your destination. Consider consulting a really good marketing advisor to help you get off on the right foot.
Start by properly getting to know your audience and building your email list. Then, begin planning your release schedule with a content calendar. Create a clear set of measurable objectives to determine your success. Consider conducting a website audit to make your content as accessible as possible. When you're ready, start considering the best ways to promote your content.
A strong marketing strategy puts you ahead of your competitors. You'll create more appealing content and draw in more customers. Make your content marketing strategy a priority and your business will reap the benefits.