Intro
Pretty much everyone in business wants a successful website that will bring customers and leads directly to them. After spending countless hours curating the perfect website that visually checks all the boxes of what you think your law firm may need, you may wonder why no one is checking it out.
The truth is, if you did not invest in good Search Engine Optimization (SEO), then no one knows your website is out there. 68% of online experiences begin with a search engine, but only 0.63% of Google searches click on results from the second page.
If your law firm's webpage does not appear on the first page of a Google search, customers will probably not be able to find you.
After spending so much time curating the perfect website, this is probably frustrating to hear but never fear. This article will look into the basics of SEO for lawyers with tips and examples of how you can take your website to the next level and bring more customers to you.
What Is SEO?
Before diving into how to create an amazing SEO strategy, let's first define what SEO is.
SEO is an acronym for "search engine optimization." When someone puts SEO into practice, it means that they improved their website through strategies that will increase its visibility when people do an online search for products or services related to you or your business.
Studies show that the top three Google search results get 54.4% of all clicks. **If you are not on the first page of Google search results, people probably aren't making their way to your website. **
The All-in-One Platform for Effective SEO
Behind every successful business is a strong SEO campaign. But with countless optimization tools and techniques out there to choose from, it can be hard to know where to start. Well, fear no more, cause I've got just the thing to help. Presenting the Ranktracker all-in-one platform for effective SEO
Your goal should be to conquer one of the top three search results spots and stay there. This in itself is a quite lofty goal, but it should be your goal. It will take a lot of time and effort and, most definitely, does not happen overnight.
However, the better visibility your website has in search results, the more likely you are to have prospective customers visit your website.
Why SEO for Lawyers Is Important
As a lawyer, you want new cases and increased visibility for your brand. Research shows that 85% of respondents prefer using Google as a primary source for research when looking for a lawyer. So, if you have not implemented SEO strategies to improve your Google Ranking, you and your website are not being found.
This is why investing your time and efforts into SEO and how you can grow your business through SEO is truly important. You should take time to study what you should and shouldn't do in SEO, yet also understand that success takes time.
Setting up a good SEO plan and sticking to it long-term is what will bring success to you and your brand online. Know that whatever strategies you decide to implement will not give you instant results, but they will certainly set you on the right path for success.
Law Firm Ranking Factors:
Being #1 is always a good thing – especially when it comes to Google search.
The #1 result in Google search gets 27.6% of clicks, so vying for first place is undoubtedly a good thing. First place on Google search is equal to fantastic website visits.
The question is, though, how can you get that sought over position on Google Search? Hiring a law firm SEO consultant and studying and learning the ranking factors for SEO and law firms, that's how!
The All-in-One Platform for Effective SEO
Behind every successful business is a strong SEO campaign. But with countless optimization tools and techniques out there to choose from, it can be hard to know where to start. Well, fear no more, cause I've got just the thing to help. Presenting the Ranktracker all-in-one platform for effective SEO
Let's look into 5 ranking factors your law firm has to implement to have spectacular SEO.
#1 Content
Good SEO starts with good content. As a law firm, you want to create content that will bring potential customers to your website.
A great example of this is this post from Hasner Law Firm. The law firm answered the question that many people run an online search for, "Is Jaywalking Legal in Georgia." By answering a random, but very searched question, the law firm brings prospective clients to their website with good and relevant content.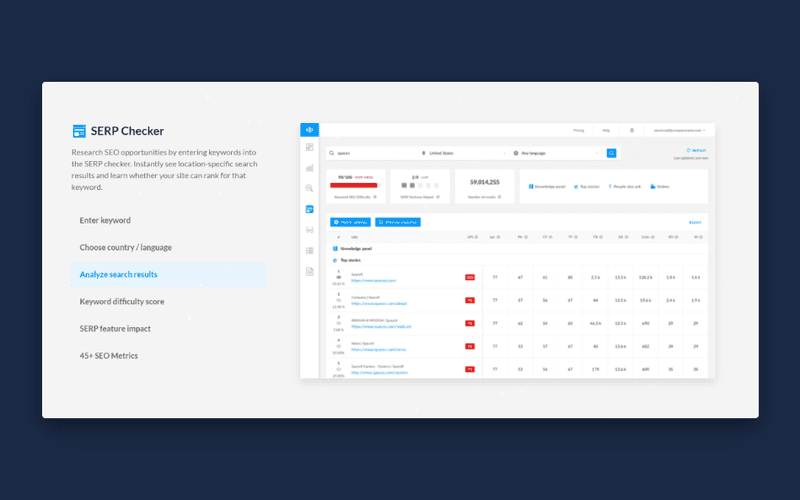 If you are not really sure what will bring customers to your website, then using a SERP checker tool is very helpful. Ranktracker offers this tool for you to research SEO opportunities by entering keywords into the SERP checker. This will give you great insight into what keywords you should focus on.
Once you find keywords that will bring prospective customers to your website, then you can start working up some awesome content for your law firm's blog.
Search Intent for Content Optimization
While creating your content, use a SERP checker tool to see what's ranking. Once you find a topic relevant to your niche and popular enough that people search for it, you should study the search intent behind it. In other words, **you should focus on why people search for phrases or keywords. **
For example, if someone searches for "law firm in Ohio" but someone else searches for "law in Ohio," they could both be looking for the same information: a law firm in Ohio. However, just as people say things in different ways, so will they search for things in different ways.
Learning best practices for search intent will allow you to optimize the content you are creating for your law firm and, consequently, reach the right people.
Content-Length
The average 1st result on Google has a blog length of 1,500 words. So, reaching that top spot does actually relate to how long your content is. Too short, and you probably will not have enough information to rank on Google. On the other hand, if your article is too long, you probably have way too much information to rank on Google.
A good SEO practice is to keep your blog posts to around 1,500-2,000 for best search optimization. More is not always best in this scenario.
#2 Current News
Unsurprisingly, law firms that frequently update and add more content pull in 400% more traffic than firms with inactive blogs. A law firm that chooses to stay active and provide useful content to prospective customers will boost its SEO and rank better in the long run.
A neat way to keep your customer base involved and up to date on current news and events is to make a niche-specific email list which you can do using a simple newsletter program. Use SERP checker tools to determine what is ranking so you may create an article and provide trending information to your customer base.
The saying, "the squeaky wheel gets the grease," is true in this scenario. Law firms are not something people generally search for regularly.
However, if you were able to get prospective customers to your website and keep them interested in your posts when the time comes that they do need help, they are more probable to reach out to a firm they have now become familiar with.
#3 Domain Age and Authority
Rome was not built in a day, nor was a successful website with SEO practices. However, the domain age and authority of a website directly correlate with good SEO and how well your website will rank.
Newer websites do not rank very well, but a website that has been around for a while and is frequently updated tends to rank better.
With time and good effort, a website's ranking may improve with the domain age and established authority.
#4 Backlinks
A backlink is an incoming hyperlink from one page to another.
A study published on Backlinko found that the number of domains linking to a page was the factor that had the highest correlation to rankings in Google.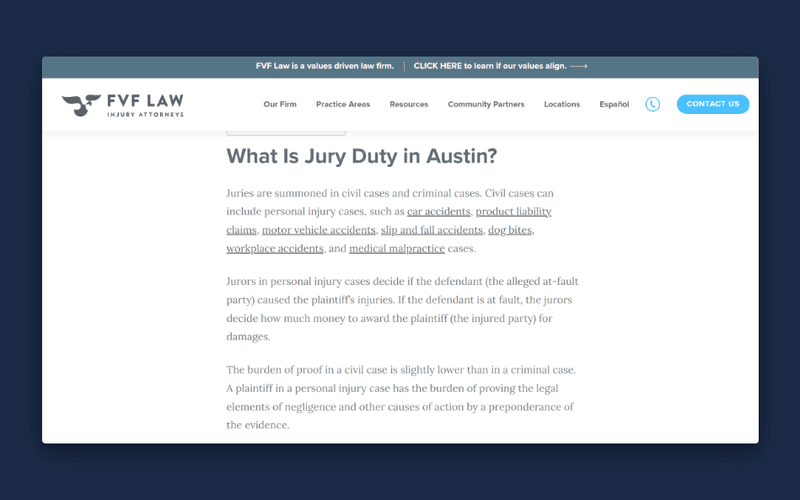 FVF Law is a great example of good internal backlinking. In a blog post about jury duty, the law firm provides 9 backlinks to its website. So as prospective customers read about how they could get out of jury duty, they are also redirected to other places on the firm's site for them to read and learn more. Suddenly, a quick little read about getting out of jury duty has been turned into an opportunity for so much more additional knowledge.
As you are creating content for your law firm, be sure to link back to authoritative websites and hopefully, other websites will eventually link back to you. Studies show that companies who engage in blogging receive 97% more backlinks to their site, so blogging is certainly something you will need to be consistent with.
The more you blog, the more backlinks you have on your law firm's website. The more backlinks you have, the greater the possibility you have to rank your website.
#5 Technical SEO
Technical SEO are tactics used to create and optimize a website so that search engines, like Google, can crawl, index and render it. Technical SEO is only a small part of good SEO, but it is certainly an important one.
Below are a few technical SEO practices you will want to keep in mind when creating content for your law firm.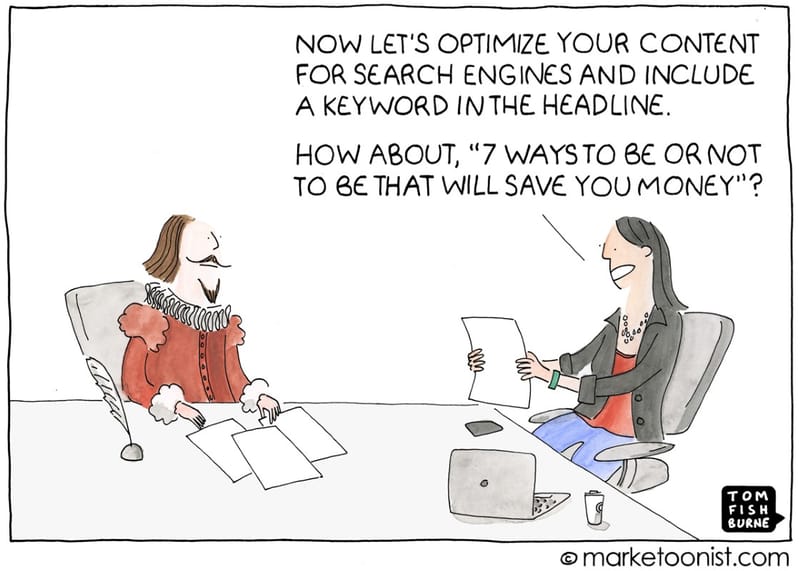 Add Keyword Phrases in Page Titles
Your headlines and titles should be more than just that. They should include keywords so that as a search engine searches your website for relevant information, it might find the keywords they were looking for in the titles. This will help your website stand out from the rest.
Create a Meta Description That Will Reel Readers in and Include Your Keywords
A meta description summarizes a page's content that users can see in the search results. Generally, a meta description is short and sweet – under 160 words- and will include keywords to help readers find your articles.
A meta description is simply a short summary of what your article is about, and just enough information to interest the reader in visiting your website to check it out.
Include Alt Tags Under Your Photos
Your technical SEO will be boosted if you include alt tags under your photos. These tags help visually impaired people get a full understanding of your posts when they are using screen readers.
The All-in-One Platform for Effective SEO
Behind every successful business is a strong SEO campaign. But with countless optimization tools and techniques out there to choose from, it can be hard to know where to start. Well, fear no more, cause I've got just the thing to help. Presenting the Ranktracker all-in-one platform for effective SEO
Increasing your website's accessibility is an important factor in technical SEO.
Final Thoughts on SEO for Lawyers
Having a law firm website that ranks well will not happen overnight. Therefore, patience needs to be your best friend when you begin your endeavor because it can take time to build good SEO and implement the best SEO practices.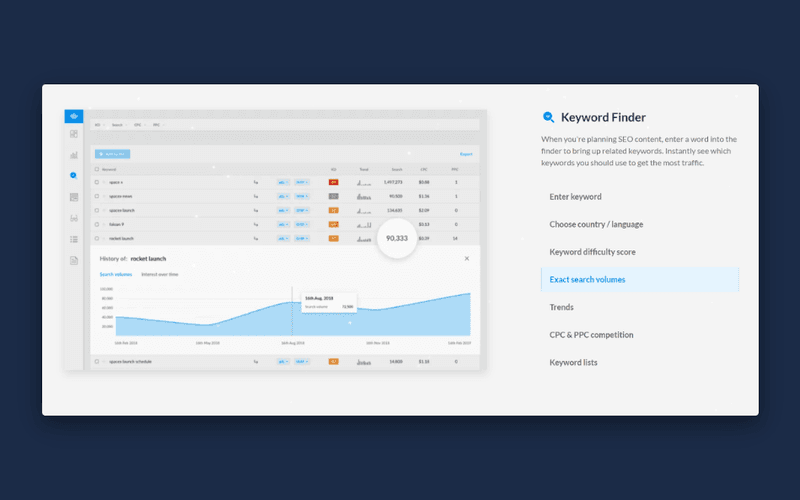 Using a program like Ranktracker will help you achieve SEO success faster. With its helpful tools of keyword finder and SERP checker, you will quickly be on your way to creating top-notch content to bring new customers to your law firm.
With the tips above and Ranktracker's tools, you will be able to put together an excellent SEO strategy for your law firm in no time. The sooner you start, the sooner you will see amazing results.