Intro
Intro: When video content has been flooding cyberspace, making yours stand out and discoverable gets even more challenging. The following article helps you explore the practical ways to optimize your video for search.
When YouTube becomes the second-largest search engine, and TikTok becomes the fastest-growing social media, we must agree that video is the king of content today. And the popularity of video doesn't seem to waver any time soon.
However, in the immense surge of video, standing out in the crowd gets even more challenging. Incorporating video SEO is the only way to make your content perform optimally.
Video SEO is an attempt to enhance your content performance on search engines by optimizing video metadata. You must also incorporate other necessary elements, which we'll discuss further in this article.
How Will Video Help SEO Ranking?
Videos are versatile content that can help you magnify SEO ranking in many ways. Not only does video give a visual aesthetic to your page, but Google and readers love it too.
Over 54% of customers prefer watching videos to other content formats. That's why incorporating videos on your pages can help visitors to stay longer, resulting in higher engagement rates.
If you run YouTube marketing, applying the proper video SEO is a way to boost content visibility and discoverability. It will also help elevate your business and build a strong social media presence.
The All-in-One Platform for Effective SEO
Behind every successful business is a strong SEO campaign. But with countless optimization tools and techniques out there to choose from, it can be hard to know where to start. Well, fear no more, cause I've got just the thing to help. Presenting the Ranktracker all-in-one platform for effective SEO
Here is a list of some factors on how videos can boost SEO efforts and improve your website's rank on search engines:
Google Loves Videos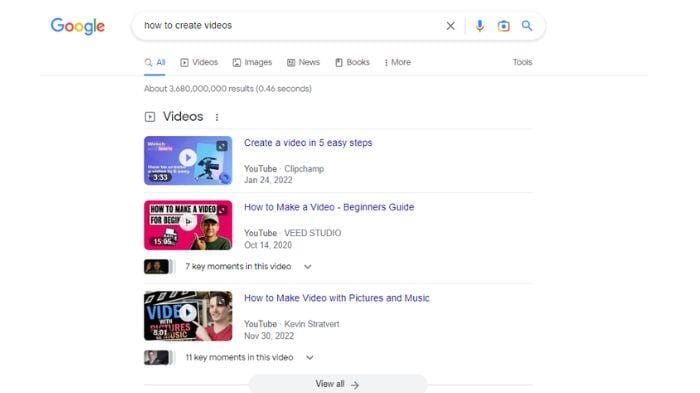 Have you ever entered a query on Google and found video content pop up on the first few ranks? It proves that Google loves and prioritizes video content to answer your queries.
Many experts believe that Google prefers videos rather than 2000-word articles. The reason is simple: audiences also prefer the same. Placing a video on a landing page helps you get 53 times the likelihood to secure the top ranks.
Videos Make Visitors Stay Longer
Reading a long block of text can be overwhelming and tedious. Videos can break down the long and complicated written text. You can explain a product or service more efficiently and provide an additional source to your blog.
Product demos and explainer videos are ideal for being on your landing page. They help you drive traffic, prevent high bounce rates, improve engagement, and provide a better customer experience.
Videos Give What Readers Need Smoothly
As the human focus span decreases over time, shorter videos get preferable. That's why TikTok, Instagram Reels, and YouTube Shorts encourage creators to produce seconds-away videos.
Typically shorter content is easily digestible. You can deliver marketing messages clearly and let audiences obtain information quickly. Additionally, appealing visuals and compelling delivery are the winning traits of videos.
Video Increase Click-through Rates
Video content has effectively increased click-through rates (CTR) on websites and social media platforms. When your online platform post includes a video, it can attract more attention than a plain text or image-based post.
Google also states that videos can generate a high CTR. Additionally, videos help increase user engagement and time spent on a website or social media platform. This result can positively impact search engine rankings.
Videos Can Generate Backlinks
Backlinks or links from other websites pointing to your website are essential factors in search engine optimization (SEO). When a website links to your content, search engines will improve its search rankings.
The All-in-One Platform for Effective SEO
Behind every successful business is a strong SEO campaign. But with countless optimization tools and techniques out there to choose from, it can be hard to know where to start. Well, fear no more, cause I've got just the thing to help. Presenting the Ranktracker all-in-one platform for effective SEO
Videos are highly shareable and embeddable on other websites. For example, if you create a video that provides valuable information, other websites in your industry may want to share it with their audience.
When other writers or publishers embed your video on their website, it creates a backlink. If you generate a massive number of backlinks, they can improve your website search ranking.
How to Create High-Quality Video That Will Boost Your SEO
The first rule of video SEO is quality content. Your content must be informative or entertaining to attract audiences or give additional support to your website. Invest in high-quality equipment and use comprehensive video editing tools to produce excellent video outcomes.
Moreover, video SEO also requires you to mind the platforms where you post your content. If you want to include a link to your video or directly embed a video on your page, Vimeo and YouTube are the best options.
According to a study, videos from Vimeo have the highest average click-through rates of 8.13%. YouTube follows the lead with an average CTR of 6.62%, and Break lags with 2.41%.
Also, constantly monitor your video performances through analytic pages. You can also use online SEO tools like Ranktracker to see how your content performs on search engines.
Using a video annotation tool is another effective way to boost engagement rates and make your videos more interactive. With tools like Wistia, you can add annotations, CTAs, and other interactive elements to your videos that can help keep viewers engaged and drive traffic to your website.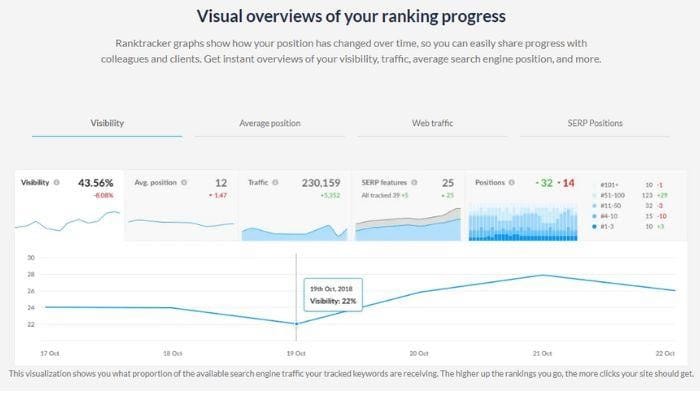 Below we've curated some practical ways to optimize your video for search. From incorporating keywords to designing for mobile friendliness, here's a list to help you.
#1. Think About Keywords
When creating a video, you must consider the potential queries your target audience uses to search for the content. The correct queries help you optimize your video for search engines and ensure it appears in relevant search results.
Use keyword research tools to identify the most relevant and popular queries and incorporate them into your video title, description, and tags. YouTube Trends is a free tool you can use to conduct keyword research.
But if you want more complete results, consider using tools like Ranktracker, VidIQ, or TubeBuddy. Online tools help you build a robust SEO strategy for your video and website.
#2. Invest In Out-of-the-Box Content Ideas
Generating unique and creative content ideas is essential to stand out in crowded video platforms. A great way is to hire a head of growth who can help you come up with engaging video concepts such as tutorials, product demos, behind-the-scenes footage, interviews, and more.
Content like video parodies and reactions is desirable to audiences. You can still deliver valuable messages while keeping your content fun to watch.
Moreover, keep your content short and sweet to generate optimized engagement. Besides, creating a perfect balance of informative and entertaining content is also necessary to lock audiences' attention.
#3. Use Video Presentation Tools for High-Quality Content
Use top-notch video presentation tools to create professional and visually appealing content for your SEO strategy.
There are several tools available to help you produce compelling video presentations, such as Camtasia Studio, which offers screen recording and video editing capabilities, and Adobe Presenter Video Express, which enables you to create interactive video presentations with ease. Microsoft PowerPoint can also be used for creating video presentations, and it allows you to easily export your slides to video format.
By incorporating these tools into your content creation process, you can develop engaging videos that captivate your audience and improve your website's SEO.
#4. Optimize Video Metadata with Keywords
When launching your video, it's essential to have your keywords ready. Choose high-search volume and low-competition keywords to optimize your metadata, including the video title, tags, hashtags, and description.
Using a long-tailed keyword is recommended, but combining it with short and general keywords is also necessary. Include the main keyword on your video title. Keep it concise and avoid clickbait.
To support your video performance, you also need to fill in your description box. Explain what your content is about and give additional information if there is any. You can also include your website and social media links to drive traffic.
#5. Create Customized Thumbnails
Thumbnails are the first visual viewers see when browsing videos. It's necessary to create an eye-catching thumbnail that accurately represents the content of your video. Here's a good example from Brian Dean's channel.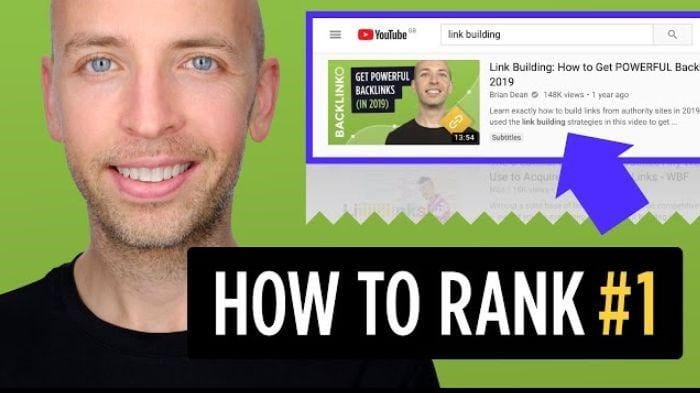 (Image via YouTube)
Use high-quality images, incorporate text and branding, and ensure your thumbnail is informative and easy to read. You can use online editing platforms like Canva to create thumbnails quickly.
Most well-performing videos incorporate captivating thumbnails. They use portraits, photos, illustrations, and typography to create appealing visuals. Also, be mindful of the contrast to make your thumbnails easy to scan.
#6. Add Captions/ Transcript
Adding captions or transcripts to your video can improve its accessibility and help it rank higher in search results. They make your video more accessible to viewers who are deaf or hard of hearing.
But how can captions or transcripts help your video rank higher?
Search engines can crawl the text within the captions or transcript, which can help them understand the content of your video and rank it accordingly.
You can add hardcode subtitles to your video. Or you can also insert a .srt file when uploading your video. Besides, platforms like YouTube also have auto-generated captioning to help you save time.
However, minor or major caption editing may be necessary to ensure accuracy. You can also produce transcripts instantly on some major video-based platforms.
#7. Design It Mobile-Friendly
With more people accessing videos on mobile devices, ensuring your video is optimized for mobile viewing is obligatory. You must create videos with a responsive design and make them available for various mobile-friendly players.
You also need to optimize video file size and resolution. Keep it under 10MB for shorter videos and under 50MB for longer videos. It's best to use 720p resolution or lower to ensure the video loads quickly and doesn't take up too much bandwidth.
#8. Pay Attention to Where You Put the Video
Finally, it's essential to consider where you are hosting and sharing your video. Popular platforms such as YouTube and Vimeo can boost your video reach and improve its search rankings.
The All-in-One Platform for Effective SEO
Behind every successful business is a strong SEO campaign. But with countless optimization tools and techniques out there to choose from, it can be hard to know where to start. Well, fear no more, cause I've got just the thing to help. Presenting the Ranktracker all-in-one platform for effective SEO
However, you should also consider embedding your video on your website or blog. This strategy can improve your website's SEO and help viewers to find and engage with your content.
Additionally, consider sharing your video on social media platforms and email marketing campaigns to increase its reach and visibility. You can optimize your content reach on social media using hashtags and keyword-friendly captions.
Takeaway
The best way to optimize your video for search engines is by incorporating the proper practices of video SEO. It ensures your content is easily discoverable through queries to drive organic traffic.
Without proper optimization, your video won't thrive well in the competitive nature of search engines. The above points are practical ways to help you get a more solid online presence and generate the desired results.
From conducting keyword research to designing your video for mobile devices, working on video SEO won't be a one-night battle. Ensure to keep tracking your video metrics and performance and make informed adjustments to generate the desired results.