Intro
In today's hyper-competitive environment, content is the most crucial asset for any business.
From helping brands earn SEO rankings to driving traffic, leads, and conversions, content serves as the ultimate ally!
However, a brand's success is not determined by the quantity of content it produces but by its quality and efficient management.
Without efficient content management, even high-quality can turn into "clutter."
The outcome? Wastage of valuable resources, time, and effort.
That's where content lifecycle management (CLM) comes into play.
The All-in-One Platform for Effective SEO
Behind every successful business is a strong SEO campaign. But with countless optimization tools and techniques out there to choose from, it can be hard to know where to start. Well, fear no more, cause I've got just the thing to help. Presenting the Ranktracker all-in-one platform for effective SEO
It provides a solid framework to extract the maximum value and return on investment (ROI) from content at every stage.
In this post, we will delve into the various phases of CLM, enabling you to optimize the potential of your content.
What Is Content Lifecycle Management (CLM)?
Content lifecycle management (CLM) comprises an end-to-end process that a piece of content undergoes, from creation to release and post-publication maintenance.
In simple terms, CLM involves planning, creating, optimizing, organizing, distributing, measuring, and preserving content throughout its lifetime in an organization.
Here are a few crucial aspects to consider for executing CLM successfully.
Powerful Tools for Asset Management
Leveraging software like customer relationship management (CRM), digital asset management, etc., can help store and organize digital content assets.
These platforms offer content libraries, ensuring teams can access the right content during customer interactions.
Subject Matter Experts
It's pivotal to have experts dedicated to managing specific stages of the content lifecycle.
For instance, a content manager can handle content planning and creation, while a digital asset manager can oversee its organization and distribution. This practice can boost effective content management.
Understanding of Best Practices
Businesses should understand and follow industry best practices for creating digital assets. This comprises knowledge of content formats, optimization methods, and design principles. This can help them produce content resonating with the target audience.
Effective Marketing to Existing Customers
A crucial aspect of CLM comprises leveraging targeted marketing strategies to existing customers. This can significantly help minimize churn rates and boost customer retention.
The All-in-One Platform for Effective SEO
Behind every successful business is a strong SEO campaign. But with countless optimization tools and techniques out there to choose from, it can be hard to know where to start. Well, fear no more, cause I've got just the thing to help. Presenting the Ranktracker all-in-one platform for effective SEO
For instance, a SaaS business offering a lead management system can collaborate with its customer success team to discover its audience's key pain points. This can help create tailored content for email campaigns, blog posts, and more.
The result? Effective content creation and distribution that encourages repeat business, leading to improved SaaS customer retention and revenue growth.
Why Do You Need Content Lifecycle Management?
Here's why you need CLM.
Enhanced User Experience
The target audience expects reliable and accurate information. Outdated content, for instance, tips not in synchronization with current SEO trends, can negatively impact your brand's perception.
CLM ensures your website content is relevant and accurate, thus contributing to a positive user experience.
Improved Search Engine Rankings
Outdated and irrelevant content can lead to poor rankings in SERPs. By implementing CLM, you can update the content at frequent intervals. This ensures it remains relevant, well-optimized, and meets the target market's expectations.
Increased Engagement
Relevant content encourages the audience to stay longer on your website, thus boosting engagement and overall website performance.
Better Indexing and Crawling
Content with broken links or entirely broken pages hinder the ability of search engine bots to crawl and index your website. This leads to slow page loading speed and page errors.
On the other hand, pages with updated content and proper links improve indexing and crawling.
Five Phases of the Content Lifecycle and Best Practices
Let's explore the five phases of the content lifecycle with their best practices.
#1: Content Strategy Development
The first phase requires creating a clear plan for content development.
Ask yourself:
What is your content marketing goal? Are you looking to increase brand awareness, generate leads, or drive sales?
Who is your target audience?
What type of content will resonate with them?
What resources do you need to create content to audience expectations and achieve marketing goals?
What tools or platforms do you need to store, manage, and publish it?
The answers to these questions will serve as a solid foundation for your content strategy. Addressing these key aspects will help manage your content throughout its lifecycle.
#2: Content Creation
High-quality content empowers you to communicate your message, engage the audience, and establish a positive brand identity.
So, take actionable steps to transform your ideas and strategy into high-quality content.
The key to success here is understanding the audience's pain points and identifying the right content topics.
Here are a few crucial tips to consider.
Keep your target audience in mind while generating content ideas.
Count on free-of-cost tools like Google Trends to identify trending topics in your industry. Enter your area of interest and get started. It's that easy to use!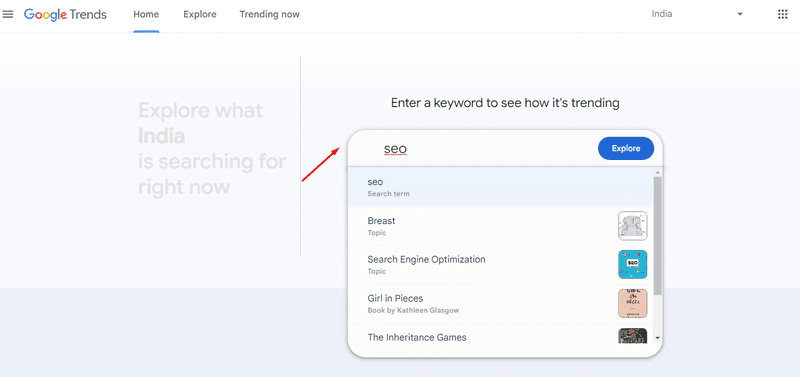 Source
Ensure each content asset has a specific purpose and caters to the audiences' needs.
Transform content ideas into publishable formats like blog posts, articles, whitepapers, social media graphics, and more.
Create well-researched content adhering to Google's E-A-T (Expertise, Authoritativeness, and Trustworthiness) guidelines. Consider onboarding subject matter experts to maintain your content's quality and accuracy.
Incorporate SEO considerations into the process. Ensure the content comprise relevant keywords aligning with the audience's search intent, headings (H1, H2, H3, etc.), internal links, and more.
Count on state-of-the-art tools like Rank Tracker to gain valuable insights into keyword performance, visibility trends, and your overall SEO effectiveness.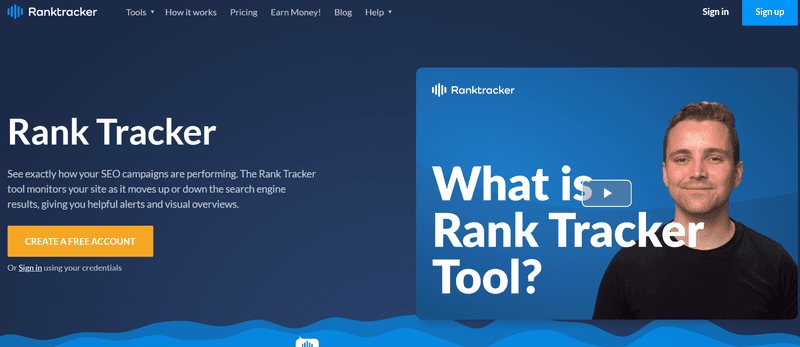 Start by creating a free account to get an overview of its features and functionalities. Buy a plan that suits your SEO needs the most.
Edit and proofread the content thoroughly before publishing. Ensure it's free from grammatical errors and offers value to the audience.
High-quality content can attract more backlinks, social shares, and engagement, fostering SEO success.
The result? High website traffic, engagement, and conversions!
#3: Digital Asset Storage
Once you complete building a library of digital content assets, organize them in an easily searchable format.
For instance, deploy a robust content management system (CMS) software that offers a centralized storage location. Look for features that make it easy to search for content using metadata, keywords, SKUs, etc.
This can help the digital asset manager and other team members find the required content without hassles, thus saving time, resources, and effort.
Here are a few more tips for successful digital asset storage.
Build a naming convention and folder structure for the content to foster seamless navigation and retrieval of assets.
Utilize cloud storage systems like CAASM to keep your digital assets secured. Implement a backup and disaster recovery plan to safeguard them from unfortunate incidents.
Use access controls and permissions to ensure only authorized team members can access and modify the content.
#4: Editing and Publication
The fourth phase comprises editing and publishing the content.
Publishing well-edited and error-free content exhibits expertise and can help boost your credibility.
In fact, meeting the desired quality standards and professionalism can establish you as a thought leader in the industry.
The result? Improved audience engagement and new business opportunities!
Here are a few quick tips to consider.
Proofread the content thoroughly to ensure its quality and tone. Count on advanced proofreading tools like Grammarly for effective editing.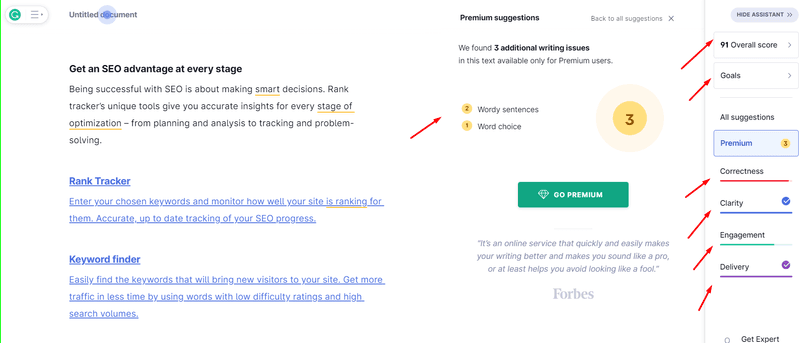 Source
This tool helps catch typos, missing punctuation, grammatical errors, and more. Besides, it offers clarity suggestions and checks plagiarism to improve readability, quality and ensure flawless writing.
Maintain a consistent brand voice while adhering to your SEO strategy. This can help strengthen your brand identity and boost online visibility.
Format the content in an accessible manner. For instance, add concise paragraphs, bullet points, headings, subheadings, etc. This improves its readability and fosters high engagement.
Publish the content on various platforms, including social media, email marketing, and your website, to reach and engage your audience effectively. Use analytics tools to gauge the engagement of your content.
#5: Content Updation
This is the final phase, where you require updating your existing content.
But the question is - what content needs an update?
Here's the straightforward answer - everything that no longer aligns with your audience's needs!
The All-in-One Platform for Effective SEO
Behind every successful business is a strong SEO campaign. But with countless optimization tools and techniques out there to choose from, it can be hard to know where to start. Well, fear no more, cause I've got just the thing to help. Presenting the Ranktracker all-in-one platform for effective SEO
Here are a few crucial tactics to help you gauge and update outdated content.
Track the latest industry trends, developments, and best practices. This can ensure your content topics are relevant.
Analyze the audience's feedback, comments, and engagement with your content using analytics tools. This can help you measure your content's performance and make necessary improvements.
Incorporate updated statistics in content that mentions it. Don't forget to refresh visual content, including images, videos, and infographics. This is pivotal to maintaining your content's credibility.
Schedule content edits at frequent intervals. This allows you to identify content that requires updates or revisions based on current trends.
Derive insights from key metrics like engagement, traffic, conversions, and more. This can help make data-driven decisions and improve your content's effectiveness.
Summing Up
CLM is a challenging yet rewarding process that ensures your content is effective at every stage of its lifecycle.
This helps improve the content marketing strategy's effectiveness and overall business performance.
Understanding the five phases and tactics shared in this post can ease your hassles, allowing you to create high-quality content.
Go ahead and implement them to level up your content lifecycle management!