Intro
ChatGPT made waves on the internet when the prototype was released to the public on November 30, 2022.
It's been eight weeks since the initial launch, and it still has a strong foothold in every Twitter and LinkedIn feed. And Microsoft just announced a $10 billion investment in OpenAI, the maker of ChatGPT.
Why?
It's powerful. It's efficient. It's even passing the Bar, MBA, and medical license exams. It's clear that artificial intelligence (AI) is changing the world as we know it — which is exciting and frightening, all at the same time.
According to market.us, The global Artificial Intelligence market size was valued to be worth USD 129.28 billion in 2022. From 2023 to 2032, it is estimated to reach USD 2745 billion growing at a CAGR of 36.8%.
And one area of business that's needed an overhaul for decades is customer service. When you think of customer service, what comes to mind?
The All-in-One Platform for Effective SEO
Behind every successful business is a strong SEO campaign. But with countless optimization tools and techniques out there to choose from, it can be hard to know where to start. Well, fear no more, cause I've got just the thing to help. Presenting the Ranktracker all-in-one platform for effective SEO
You're not alone if you've had long wait times or a lack of resolution. Thankfully, with advancements in artificial intelligence, we finally see the light at the end of the tunnel.
From chatbots to personalized marketing messages, AI will continue to overhaul the customer experience and improve customer interactions tenfold.
In this guide, we'll share a few examples of how you can use artificial intelligence to enhance customer interactions, build relationships, and establish a competitive advantage in your niche.
Are you ready to learn more?
Let's dive in.
What are customer interactions?
Customer interactions refer to all communication between your customers and your business.
These forms of communication can include in-person interactions, phone conversations, email exchanges, and online chats throughout the buyer's journey.
The All-in-One Platform for Effective SEO
Behind every successful business is a strong SEO campaign. But with countless optimization tools and techniques out there to choose from, it can be hard to know where to start. Well, fear no more, cause I've got just the thing to help. Presenting the Ranktracker all-in-one platform for effective SEO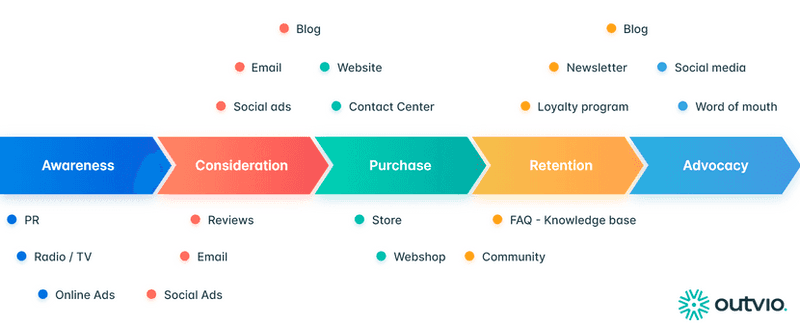 (Image Source)
Customer interactions include researching, asking questions, buying, or writing a review. In short, think about them as all the touchpoints a customer will encounter from start to finish when making a purchase from your brand.
And as you can imagine, positive customer interactions are crucial for boosting customer retention and advocacy. The goal is to provide customers with the information or service they need while building a positive (and personalized) relationship with them.
Providing consistent, efficient, high-quality customer interactions is the secret to retaining customers and building a positive reputation surrounding your brand.
Benefits of enhancing customer interactions
Properly managing customer interactions is a valuable opportunity for you to gain insight into your customers, build a data-driven ICP, and deliver a stellar customer experience.
Better customer experiences turn one-time buyers into loyal customers. And loyal customers are cheaper to acquire and are more likely to refer your brand to their friends and family.
In short, the main benefits of enhancing your customer interactions include the following:
A better understanding of your customers
Building trust and credibility
Improving customer experience
Reducing customer churn
Driving brand loyalty
Now, let's take a look at two examples in action.
Matchr offers free and personalized HR software recommendations based on a company's unique needs.
They break it down into a simple three-step process for clients:
Input basic details into their proprietary Software Match tool
Chat one-on-one with an HR Software Specialist
Get hand-picked HR software that checks all the boxes
Whether you're looking for payroll software or an applicant tracking system, Matchr will share unbiased, personalized recommendations (all for free). No fuss, no muss.
This streamlined approach, across all customer interactions, has helped them score happy clients like Chewy and 5-star reviews across the board.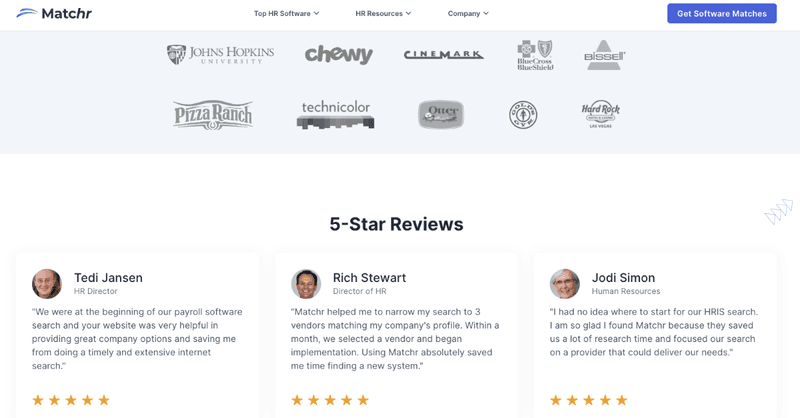 (Image Source)
On the other hand, for what not to do, look at Comcast. They're infamous for poor customer service, with a 1.2-star rating on Trustpilot and over 2,500 reviews.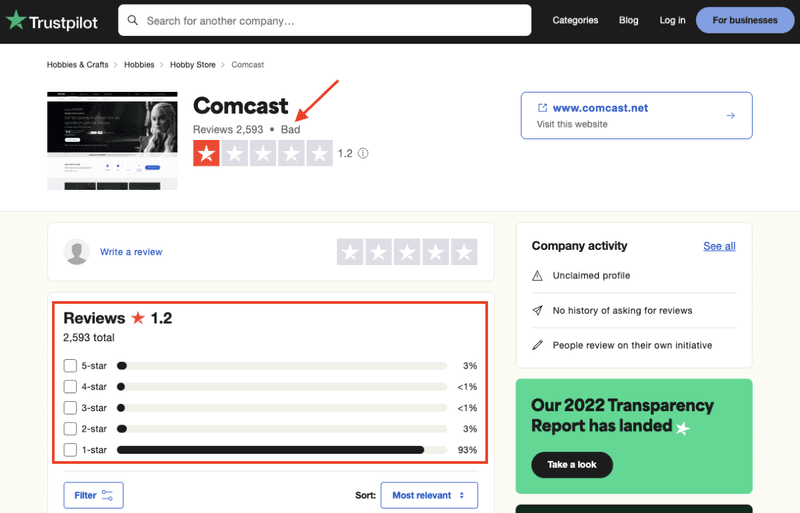 (Image Source)
Customers complain of long wait times, rude customer service agents, and high price points. One customer explains they certainly wouldn't be a customer if other providers were available in their area.
Even though they offer wide coverage and some of the best internet speeds in the country, new customers seek to avoid them altogether to avoid future headaches.
So what's the moral of the story? A bad customer experience drives your customers directly into the open arms of your competitors.
Thankfully, AI is changing how we interact with customers, and it's all for the better.
5 ways AI will change customer interactions forever
From chatbots to virtual assistants, AI is transforming the customer experience, making it more efficient and personalized.
Here are five ways AI is changing customer interactions as we know them.
1. Opens the door to 24/7 customer support
Chatbots and virtual assistants can help improve your customer service by providing 24/7 support. That way, your human team members can get their beauty sleep, and your customers can ask questions anytime.
These AI-powered tools can help customers with tasks such as troubleshooting technical issues, answering frequently asked questions, and helping customers navigate your website or mobile app.
Chatbots and virtual assistants can also handle multiple customer interactions simultaneously, which can help reduce wait times and improve the efficiency of customer service operations.
For example, a small company selling dental insurance in Texas can support a larger client database by using AI chatbots to help answer simple questions about in-network offices, co-pays, and deductibles.
That way, they won't leave potential leads on hold waiting to speak to a customer service representative to answer basic questions.
And because chatbots and virtual assistants are available 24/7, customers can receive assistance whenever they need it, which can improve their overall experience and satisfaction with the brand.
With Valentine's Day on the horizon, a local Lubbock florist might take a page out of the larger companies' book and add a chatbot to their local site to capitalize on the peak flower season.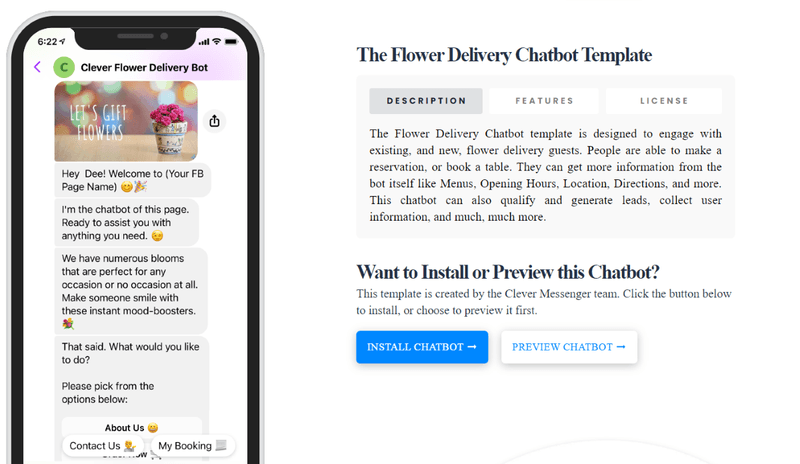 (Image Source)
The last thing they want to do is miss out on all the significant others waiting until 2am to purchase flowers for their loved ones. And let's be honest — they all need some guidance on how to choose the right bouquet. That's where AI chatbots shine.
Without a chatbot, that local flower shop could kiss those sales goodbye. And when introducing a chatbot, they have the potential to increase sales by up to 67%.
Don't underestimate the power of AI chatbots and virtual assistants. They can help you provide customers with fast and efficient support, leading to a better customer experience and driving loyalty to your brand.
2. Personalized experiences become the "new norm"
Lately, there's been an influx of intriguing AI enhanced images floating around everyone's Instagram feed.
For those unfamiliar with the trend, many users have been using AI image editing apps to create portraits of themselves with fantastical and attractive features.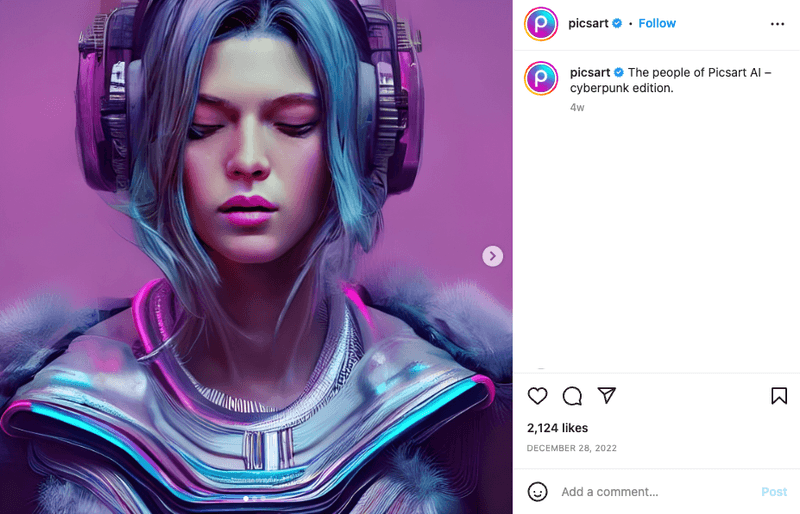 (Image Source)
At this point, you might be wondering how this ties into the main point of this article. But brands can learn something from this viral trend.
The secret to success is that people love these images because they are unique. We predict this same mantra to carry over into customer interactions, where consumers seek personalized experiences.
Imagine a world where your customer experience is based on your personal data: what you like and dislike, what you buy and don't buy, where you live, and even how old you are.
At its core, AI allows companies to understand their customers better than ever by gathering more data (from all channels) and using it in real-time to offer accurate solutions based on past inputs.
Personalized experiences will be at the core of every customer interaction going forward — and they won't just be limited to online interactions.
Customers are going to expect consistent, personalized experiences across all channels — from email marketing campaigns that are tailored specifically for the individual down to signage at airports based on their unique itinerary.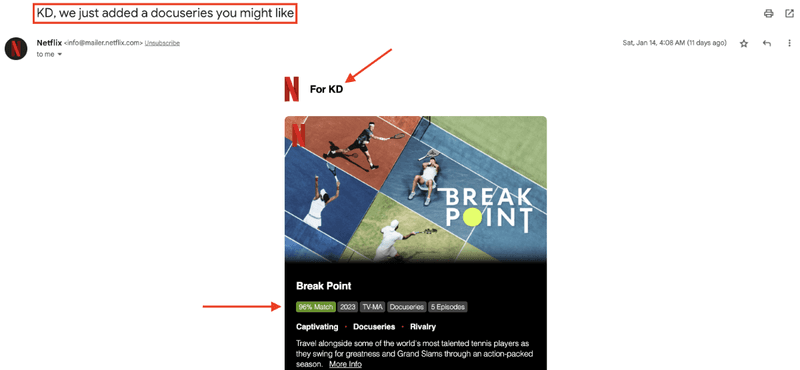 (Image Source)
Recent studies already show that 72% of customers already prefer to engage with personalized messaging (compared to generic ads or recommendations). And we are seeing this sentiment hold true across multiple industries, including banking.
For instance, various student banking and fintech companies are turning to AI to automate the decision-making process for loan applications.
The output is a list of hyper-personalized loan options that align with the consumer's creditworthiness. Not only does AI improve the tedious and intimidating loan process, but it also helps reduce bias and remove human error.
And when a consumer receives a personalized recommendation on a silver platter, the odds of conversion increase exponentially. It's a win-win.
3. Companies go "all-in" on conversational AI
Conversational AI tools are taking media headlines by storm. Jasper, an AI content platform, recently raised $125 million, and Microsoft invested $10 billion in OpenAI.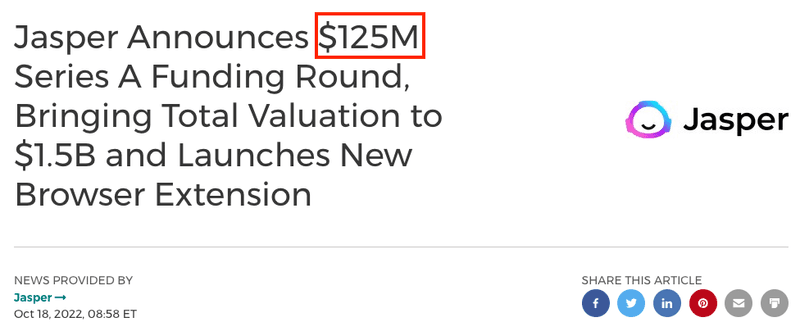 (Image Source)
Soon we'll see even more tools sprout from the woodwork. The goal is to achieve a streamlined omnichannel strategy, where AI enables you to integrate customer interactions across multiple channels, such as phone, email, and social media.
The result? A seamless and consistent customer experience. That feels human, but it isn't.
Fewer service interruptions. Less reliance on working hours. And a one-stop-shop for all customer interactions.
Here are some up-and-coming conversational AI tools to keep your eye on:
ChatGPT - The ultimate chatbot that learns from every single input.
Drift - Engage, qualify, and convert buyers from any page on your website.
IBM Watson Assistant - A complete portfolio of AI capabilities for business.
Cognigy - Create, deploy, and optimize conversational omnichannel experiences without a single line of code.
Convy.AI - End-to-end control of conversational omnichannel processes, maximizing the impact of automation and human touch.
4. Predictive analytics help build a competitive edge
Every day, a new SaaS business is popping up and gaining momentum. It's a blessing and a curse of the internet. But it sure makes it harder to stand out from the crowd.
You need to find something that differentiates you from the other fish in the sea. With predictive analytics, you can unlock the power of knowing what your customer will purchase before they do.
In 2012, Target used big data and predictive analytics to determine which customers were pregnant before they knew themselves.
According to the story, Target used data mining techniques to analyze customer purchase history and behavior to identify patterns that indicated a customer was likely pregnant.
They then used this information to send targeted advertisements and promotions for baby-related products to these customers, boosting sales in this category.
Let's take a look at a more recent example.
AI and predictive analytics can help a SaaS business build a competitive edge through customer churn prediction.
By analyzing customer behavior, usage patterns, and demographics, you can leverage machine learning algorithms to predict which customers are likely to cancel their subscriptions.
Once you find the secret formula, you can then proactively reach out to those customers and offer incentives or support to retain them as customers.
Also, by identifying patterns and trends in customer churn, you can make data-driven decisions to improve product features and pricing to reduce the overall churn rate — which is notoriously high for most SaaS businesses.
5. Video takes center stage
The power of video doesn't seem to be fading anytime soon, with 66% of consumers preferring to watch a video to learn about a new product.
Spencer Haws, founder of Link Whisper and Niche Pursuits, recently tested this theory and double-downed on building a library of YouTube content. His first video knocked it out of the park, with over 2,000 views in less than three hours (performing well above average).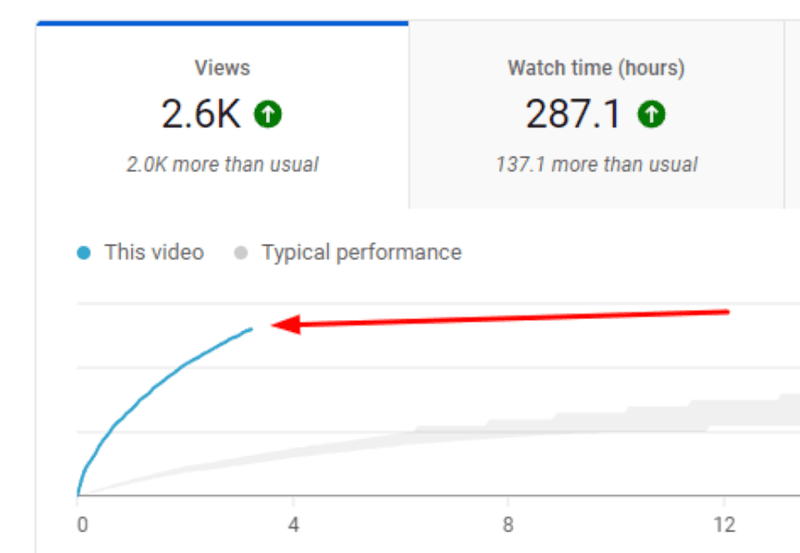 (Image Source)
However, most marketers haven't dabbled in video marketing due to a lack of time. As a rule of thumb, it takes between 30 minutes to an hour of editing for each minute of the finished video.
So, a ten-minute video can take up to 10 hours to edit. And that doesn't include the time it takes to write the creative storyline and film the video.
However, the power of AI could cut this time in half. Plus, it doesn't require any video production or editing skills.
Synthesia AI breaks down the difference between traditional video creation and AI video creation: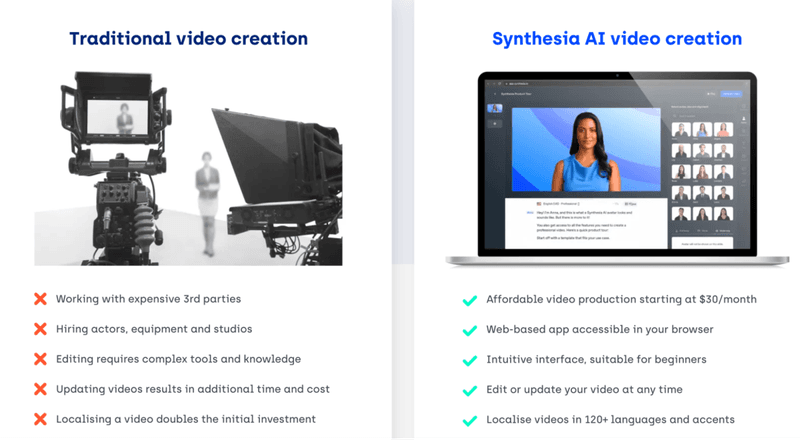 (Image Source)
Access to tools that can whip up educational content in minutes instead of hours or days will reduce the barrier to entry for high-quality video production.
And with a clear demand from consumers for video content, videos could quickly become the new blog post or sales pitch thanks to AI advancements.
Instead of looking for a blog post that reviews the "Best SEO tools," customers will turn to YouTube for the exact search.
Consumer demands are changing. If you don't jump on the bandwagon, your customer interactions will slowly deteriorate in quality.
And poor customer interactions result in high churn, negative reviews, and a tarnished reputation — which is challenging to recover from.
Wrapping up
Artificial intelligence is shaping the future of customer interactions in a big way.
The All-in-One Platform for Effective SEO
Behind every successful business is a strong SEO campaign. But with countless optimization tools and techniques out there to choose from, it can be hard to know where to start. Well, fear no more, cause I've got just the thing to help. Presenting the Ranktracker all-in-one platform for effective SEO
AI-powered technologies, like chatbots, predictive analytics, and natural language processing, help improve customer engagement and provide personalized and efficient support.
AI can help you gain a deeper understanding of your customer's needs and preferences. Then, use this information to make data-driven decisions about product development, marketing, and customer service.
As technology continues to evolve, using AI in customer interactions will also continue to grow. And businesses that embrace it'll have a competitive edge over those that don't.
The future is exciting, and we can't wait to see what other ways AI will revolutionize the way we interact with customers.