Intro
SEO agencies are everywhere!
In fact, 44,913 SEO firms specializing in search engine optimization have listed their services in the United States alone. 
How do you differentiate your SEO services and gain an advantage with all this competition?
Well, the "search" is over 🔎 - pun intended 😆
This article provides realistic and actionable ways you can leverage AI to make your SEO business stand out, and clients thrive.
Why should SEO agencies adopt AI?
Artificial intelligence is transforming the way SEO professionals are able to deliver results to their clients. 
And that's a beautiful thing!
The All-in-One Platform for Effective SEO
Behind every successful business is a strong SEO campaign. But with countless optimization tools and techniques out there to choose from, it can be hard to know where to start. Well, fear no more, cause I've got just the thing to help. Presenting the Ranktracker all-in-one platform for effective SEO
SEO agencies can adopt AI SEO software to enhance SEO strategies' speed, accuracy, and performance.
Let's talk about the pros and cons of using AI in a bit more detail.
Improved efficiency with AI and SEO automation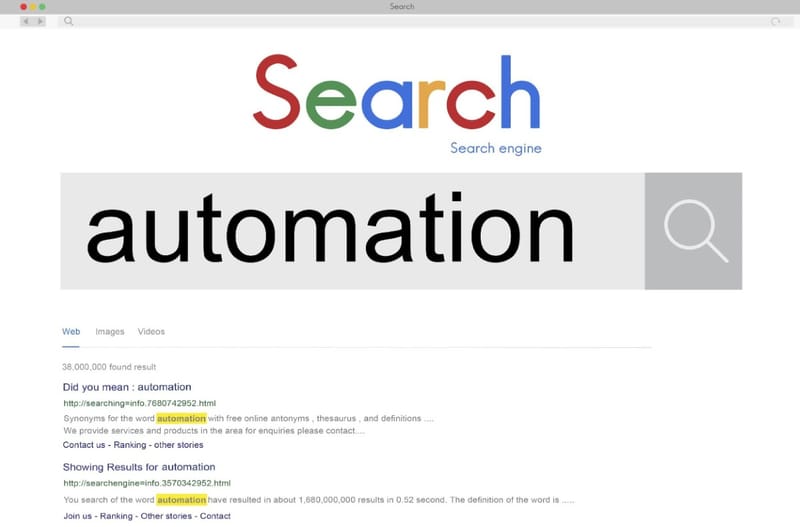 (image source)
🛑 Stop doing repetitive and time-consuming tasks such as researching keywords, data analysis, content creation, and reporting.
Here's why:
AI can search through tons of keyword data to find the ones most relevant for a website. It can also suggest long-tail keywords and related search terms that make optimizing content for search engines easier.
AI is perfect for researching content ideas and developing outlines, headlines, and descriptions but not for entire articles.
The All-in-One Platform for Effective SEO
Behind every successful business is a strong SEO campaign. But with countless optimization tools and techniques out there to choose from, it can be hard to know where to start. Well, fear no more, cause I've got just the thing to help. Presenting the Ranktracker all-in-one platform for effective SEO
I tried using AI a couple of times to write an entire article. I personally don't do it because it messes with my creative flow while trying to fit in my thoughts and experience to make the content original. I prefer using AI to rewrite sentences and paragraphs I've written already.
As SEO professionals, we all understand that maintaining Google E-E-A-T standards is critical. Even with AI, the content won't rank well in search engines if it's not providing enough value or uniqueness.
It's no different than what Google did before to block out low-quality content and spam, it's just on a much larger scale.
Data analysis that would take hours to perform manually can be done in seconds to identify opportunities with web traffic, backlink profiles, and other key metrics.
AI-powered SEO reporting tools can automate extensive reports that summarize and detail key metrics, trends, and areas of improvement. This saves even more time and resources for SEO agencies.
Core SEO Growth Strategies Better with AI
Discover why core SEO growth strategies 📈 such as keyword research, on-page SEO, and link-building work best when combined with AI.
Keyword Research Super Powers 
AI can help SEO professionals with keyword guidance by using artificial intelligence to find the best keywords to include in a piece of content. 
By analyzing user search queries, AI-powered keyword analysis tools can identify high-value keywords most likely to drive traffic and improve rankings. 
They can also help SEO professionals identify content gaps in their industry, allowing them to create more targeted and valuable content for their audience. 
AI can help SEO agencies create better content that ranks higher and attracts the right traffic.
Make On-Page Content Opti-mazing
AI can help with content optimization by looking at things like search intent, relevant keywords, and content structure.
With AI-powered content briefs, you can get suggestions on what topics to cover and how to structure your content.
Plus, AI can give you ideas on related phrases to include in your content and suggest the best ways to use your keywords.
It's content marketing that both people and search engines love, which can help you rank higher and get more traffic too. 
AI: "The missing link" to link-building 
AI-powered link-building tools use innovative technology to evaluate the quality of backlinks and find linking opportunities that can boost a website's search engine ranking. 
First, the tools gather and study data on a website's backlink profile, looking at things like the number and relevance of links. 
Next, they compare this data to a set of standards to determine the quality of a backlink, including the linking website's domain authority and anchor text. 
Then, the tool can pinpoint high-quality linking opportunities by using different metrics to rank the backlinks. For example, it might suggest a backlink from a respected website with high domain authority and relevant anchor text. 
As a result, AI-powered tools can help SEO agencies save time and effort by automatically identifying high-quality linking opportunities, that raise DR, DA, and UR scores leading to more organic and referral traffic.
Unleashing the Power of AI: Elevating SEO Strategies for Agencies
Let's explore 🧭 some actionable ways to use AI for SEO strategies and tactics that you can implement now in your agency.
Put a new twist on keyword research, on-page SEO, and link building with the help of AI SEO tools.
Keyword Research Strategies
Here are some practical ideas that your SEO firm can apply AI to when performing research or keyword analysis.
Natural Language Processing (NLP): 
Analyze customer queries with NLP and create a keyword list based on their search intent. It'll make it easier to identify long-tail keywords that your target audience searches for and then include them in your content.
Sentiment Analysis: 
Identify the emotions associated with specific keywords using sentiment analysis so that you can understand what your customers feel and tailor your content accordingly.
Competitor Analysis: 
Use AI-powered tools to analyze your competitors' keywords and identify gaps in your own keyword strategy. That way, you'll have a comprehensive keyword list to optimize your content for a broader range of keywords.
Voice Search Optimization:
Analyze voice search queries with AI, and then create a list of long-tail keywords that are relevant to your target audience, which can improve your search engine rankings.
Image Search Optimization: 
Use AI to analyze image search queries and create a list of relevant keywords to optimize your images for search engines and improve your overall SEO strategy.
On-page Optimization Strategies with AI
If you're an SEO agency looking to get ahead of your competitors, harnessing the power of AI can give you an edge when it comes to on-page optimization. 
Optimize your client's website content, titles, meta descriptions, images, internal links, user experience, and schema markup more effectively and efficiently than your competitors with AI tools.
You can use content optimization tools equipped with AI to help you quickly identify and fix content gaps and optimization opportunities, allowing you to stay ahead of your competitors in terms of SEO value. 
Similarly, an AI-powered title and meta description optimization tool can help you create more compelling and optimized titles and descriptions that stand out in search results.
Image optimization tools driven by AI can help you speed up your clients' websites and improve their user experience. This gives you a competitive edge over agencies that still need to optimize their clients' images. 
AI-powered** internal linking optimization **tools can help you create a more structured and relevant website, improving the user experience and search engine crawlability.
Finally, using AI-powered user experience optimization tools, you can optimize your clients' websites for user behavior patterns and preferences, resulting in higher engagement, conversions, and ultimately better search engine rankings.
AI Link-Building Tactics
Link building is the most difficult to do because it's usually a lot of outreach and building relationships. That's why it's more important than content since building domain trust is harder. 
Try these artificial intelligence link-building techniques using Chat GPT to elevate your agencies' credibility. May the SEO firm with the most high-quality, and relevant backlinks win.
Method: Link Building Outreach Templates at Scale
Step 1: Find an outreach template you'd like to mimic online. It can be from a different industry.
Step 2: Type this command into Chat GPT, then copy and paste the example template under the command. "Create a unique email template based on the template below BUT make it an outreach template for the SEO industry instead". *It will add in the placeholders i.e. (your name) or (their URL) and personalize it based on the details you provide it.
Step 3: Ask Chat GPT to make edits if needed such as: "make it funnier", "make the email shorter", or "more casual language"
Step 4: Tell Chat GPT to also create some follow-up emails for you.
Step 5: Use a spreadsheet to keep track of and assign value to placeholders, then paste it into an outreach tool such as Hunter to scale your link-building outreach emails.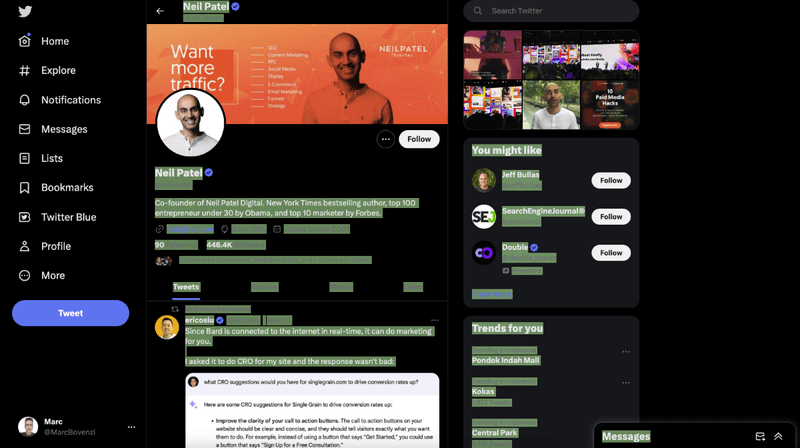 Method: Sniper Link Building with Personalized Outreach
This tactic will help you personalize outreach emails that make them feel you already know them.
Step 1: Choose an influencer you'd like to build a relationship with and get backlinks from.
Step 2: Go to their social media page and scrape (copy) all the info from their profile by highlighting it all by pressing "ctrl or command A".
Step 3: Ask Chat GPT to "create a personalized outreach email to (influencer name) and persuade him to add a link to my site from his". Then paste the profile content underneath the prompt.
Step 4: Tell Chat GPT to "make the email shorter and more concise and keep it personalized". If you already know how long you'd like the email to be, you can tell Chat GPT all of that info in step 3. The more detailed your command, the better the output. 
Step 5: (Optional) Request Chat GPT to "Create a DM using the above email template". You can send these personalized messages on social media for sites with DR50+ to increase the chances of getting a reply.
SEO agencies can use these link-building tactics to quickly create personalized emails and DMs to scale outreach faster than a copywriter can.
Wrap up
In short, SEO agencies that want to outdo their competitors can leverage AI to gain a competitive edge. 
The All-in-One Platform for Effective SEO
Behind every successful business is a strong SEO campaign. But with countless optimization tools and techniques out there to choose from, it can be hard to know where to start. Well, fear no more, cause I've got just the thing to help. Presenting the Ranktracker all-in-one platform for effective SEO
AI-powered tools and tech help SEO agencies analyze large amounts of data more efficiently and make informed decisions faster. 
This can result in improved SEO strategies, better content and keyword optimization, and higher rankings on search engines.
If SEO agencies don't change how they operate, they might face going out of business.
That's why SEO professionals must use AI to stay ahead of competitors in this dog-eat-dog world of SEO.