Intro
Producing unique and valuable content is the basis of being authoritative online. Everything begins with content, and all the SEO techniques and tricks are impossible without it.
But great content doesn't miraculously appear before the readers. It needs to be recognized by search engines and then indexed according to its relevance.
This is where SEO strategies like niche editing come into play. With a simple niche edit, great content can become increasingly relevant and help drive traffic back to your site, increasing your rankings.
That is the basis of this article, and in it, we will talk about niche edits and their importance in helping you increase your online rankings.
Defining the Term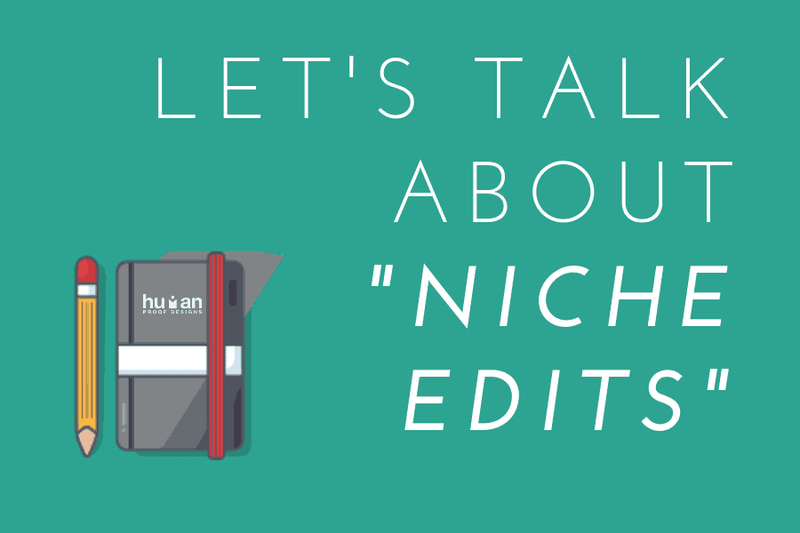 Before we get into the relevance of niche editing and how it increases your online presence, we must first define the term.
The term niche editing or niche edit points to the insertion of external links into older and already indexed content on other websites.
The All-in-One Platform for Effective SEO
Behind every successful business is a strong SEO campaign. But with countless optimization tools and techniques out there to choose from, it can be hard to know where to start. Well, fear no more, cause I've got just the thing to help. Presenting the Ranktracker all-in-one platform for effective SEO
It is called niche edit because you insert the link into niche-related content. This is one of the goals of niche editing, to help closely related niche sites become linked and grow together.
Niche edits are also called curated links.
The name "curated" means something organized and presented using expert knowledge. So, curated links are links placed within expert content already established and indexed by search engines.
A niche edit aims to help your website and content gain more relevance and increase its rankings. It does that by providing backlinks from sources with high domain authority. That is why a niche edit should mainly target high-domain authority sites. But more on this later.
Now let's see how niche editing differs from guest posting.
How to Differentiate a Niche Edit from a Guest Post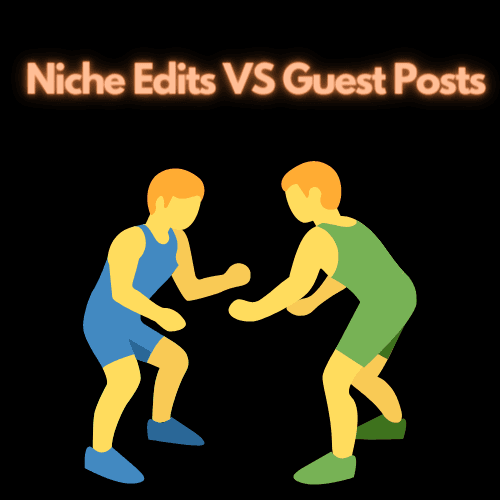 Niche editing and guest posting are both SEO outreach strategies. Their goal is to acquire more website traffic and increase domain authority and relevance.
The All-in-One Platform for Effective SEO
Behind every successful business is a strong SEO campaign. But with countless optimization tools and techniques out there to choose from, it can be hard to know where to start. Well, fear no more, cause I've got just the thing to help. Presenting the Ranktracker all-in-one platform for effective SEO
Nonetheless, where these two strategies differ is the process of obtaining website traffic, authority, and relevance.
Niche editing involves adding links to existing and indexed articles with high rankings on search engines.
It is a simpler and less demanding process to implement, which is why many digital marketing agencies are doing it. CLICKVISION offers niche editing services from field experts at very affordable prices. You can buy niche edits from them, and rest assured that your rankings will constantly increase.
Guest posting has an entirely different approach to acquiring link juice from relevant sources. It involves the creation of new content, which is then placed on a high domain authority website. The content must be niche-related and highly relevant for the readers of the website where it is placed.
As you can see, guest posting involves both the creation of new content and link insertion. It is a more complex and costlier process to implement. But if done right, guest posting can be even more powerful than niche editing.
The Process of Acquiring Niche Edit Backlinks
Acquiring niche edit backlinks is a multi-step process involving prospecting for website owners, going through their content, and reaching out to them to gain a niche edit.
Here's what this process looks like.
Finding potential prospects
To acquire curated backlinks, you must first identify and choose potentially beneficial niche-related websites.
Finding potential websites can be tricky, and there are several things you need to be aware of.
First, you must ensure that the website you're prospecting covers topics related to your niche. This is important, as you must show that your content is similar and highly relevant to the website owner you will pitch to.
Second, look for your chosen website's domain relevance and authority. You can use tools like Moz or Ahrefs to check for approximate values. Avoid spammy websites, and only focus on ones relevant to your niche.
A high authority website will also have increased traffic. Traffic and domain authority are closely linked and dependent on each other, and you can use Ahrefs or Semrush to check how much traffic any website has.
Third, consider whether the website owner can insert links into their content. This can be tricky to evaluate, and you should analyze the website's content and search for already inserted backlinks.
The more backlinks there are, the more likely the website owner will accept and insert new ones.
Go through their website's content
Now that you've chosen several websites to target, you should now perform a detailed analysis of their posts and pages and select the content that would be most suitable for a link.
One way to do this is by using Google Search Operators. These are terms that help you narrow or broaden an online search. By including one or more operators, you can increase the control over the results that Google can display.
Example - site:colgate.edu "a specific keyword"
The example operator searches for a specific keyword you designate within that particular website. This is a great way to search for niche-related content quickly.
Find the email address of the website owner and reach out to them
The third step is to find the website owner's contact information and contact them. Most people who try to acquire a niche edit often do this via email.
Finding the website owner's email address might prove tricky, and you shouldn't expect it to be advertised on their site. What you can instead do, is use a special email finder tool to find the email from a specific domain.
Examples of such tools include:
EmailSearch.io
Hunter.io
Snov.io
FindThatLead
Skrapp
Prospect.io.
Most of these tools work similarly. All you need to do is enter the domain name, and the tools will search for available email addresses within those domains. Some search results may even reveal the name of the website owner.
After you find the website owner's email address, it is time to reach out to them and send them a personalized message.
Keep the message simple, and go straight to the point. Tell the person your goal and what you can offer in return for gaining a niche edit backlink. If you have doubts about what your email should look like, there are hundreds of templates online by which you can structure it.
Be persistent
This is probably the second most important part of the process after sending a clear and concise first email.
If the website you're targeting is highly relevant, the owner may receive hundreds of emails from others on the same subject. This means that you shouldn't expect to receive a reply the first time around, so it's important to remain persistent.
What we mean by persistent is that you must send another email after a few days. If there is still no answer, follow up with another next week. That is how niche edit prospecting works; the most persistent people often win the best niche edits.
Remember to keep each email short and on point so the website owner can skim through it quickly.
How Niche Editing Increases Your Rankings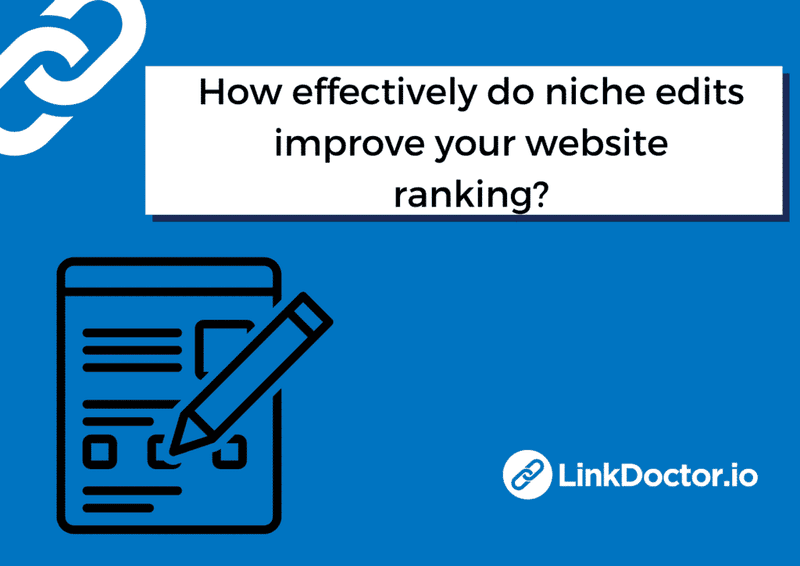 Many people argue that this strategy is not always helpful, but implementing it is better than avoiding it. Once it gains traction, there are multiple ways in which niche editing helps increase your rankings.
Here's how niche editing can help boost your SERPs rankings.
It helps drive link juice from authority websites
Niche editing aims to drive traffic and link juice from high-authority websites. The beauty of SEO is that it recognizes valuable content through keywords and links.
Once it links your content to the content of a highly-relevant website via niche editing, you will immediately start to feel the benefits. The traffic and link juice will start flowing your way, drastically increasing your SERPs rankings. That is why page linking via niche editing is important for improved rankings.
It provides significant results through simple changes
As mentioned, a niche edit is straightforward compared to a guest post. It only takes a few seconds to insert a link into existing content, compared to writing a new post from scratch.
Because of this, the results come faster with niche editing. Search engines need anywhere between 3-12 months to notice the changes through crawling and indexing. This is not that long, considering millions of web pages are analyzed daily.
It helps you reach your target audience easier
If niche editing helps drive traffic, then it's only normal that it will drive the right audience back to your content. After all, targeting the right audience drives traffic and vice versa.
That is why using this strategy on niche-related websites with high domain authority is essential. By adding links to these websites, you work to prove that your website and content are relevant to their audience, which also tells search engines that you have a high authority and relevance online.
Important Factors Related to Niche Editing
Niche editing can work wonders and help you quickly increase your rankings. Simply put, they do work, but it's also easy to mess things up and get penalized by Google or other search engines.
Here are several important factors to keep in mind when using niche editing.
Only offer quality content
Ensure that the content on your website you offer to link to is high-quality and unique. It should be well-written and thoroughly researched, so the prospect will have an easier time deciding to link back to it.
The All-in-One Platform for Effective SEO
Behind every successful business is a strong SEO campaign. But with countless optimization tools and techniques out there to choose from, it can be hard to know where to start. Well, fear no more, cause I've got just the thing to help. Presenting the Ranktracker all-in-one platform for effective SEO
Besides, to rank higher in the SERPs, you must offer your visitors valuable content they can't find anywhere else online.
Consider where your niche edit backlinks are pointing to
When using niche editing to build and establish links, you need to consider where those links are going to point.
For example, if your website is brand new, it would be best to make any backlinks point back to your landing page. That way, visitors will get familiarized with your brand and then investigate the rest of your website.
On the other hand, if you have many older posts and pages, target those posts with low traffic first. That way, you will allow these posts and pages to revitalize and gain more traction within the SERPs.
Diversify the links
Lastly, mix the niche edit backlinks with links from other sources like guest posts, citations, or press releases. This will give search engines an idea of the originality of your content and help it rank even higher.
Conclusion
As you can see, using niche edits for your link-building strategy is essential to improve your online rankings.
Just like everything else, they also require patience and persistence to implement. Nothing happens overnight, but using niche edit backlinks in your strategy is better than avoiding them completely.