Intro
Preparing a social media marketing strategy can take a long time, especially if you have multiple social media accounts. However, this medium is highly efficient for attracting viewers and increasing consumer reach.
You can adopt different strategies to increase your follower and subscriber count on specific social media platforms. However, influencer-generated content is a tactic that generally succeeds across a variety of platforms.
When you adopt this strategy, you can increase engagement rates heavily, as many consumers find the influencer-generated content more genuine.
But how to adopt it into the existing social media strategy efficiently? If that concerns you, read this post to know the uses of influencer marketing strategy, how to integrate it perfectly, and all related details.
Influencer Marketing: What Is It and Its Role in Social Media
First, let's define the term "influencer marketing." This social media marketing methodology focuses mainly on endorsement-based promotion and brand/influencer partnerships.
On social media apps, some users have a wider follower count. They have a pull or "influence" over their community of followers. So, working with these individuals in sponsorship deals benefits the influencers and the business.
This is the crux of what an Influencer Marketing Campaign covers, but it is not limited to this section. The influencers' followers rely on them as subject-matter experts they can turn to for advice. So, businesses must appeal to the influencers with benefits or payments in exchange for an official brand endorsement deal.
Role of Influencer Marketing in Social Media
In terms of the role of the types of influencer marketing in social media, you must consider the authoritative power of the influencers. Certainly, it is the same across different social media platforms, like Instagram, TikTok, YouTube, etc.
The All-in-One Platform for Effective SEO
Behind every successful business is a strong SEO campaign. But with countless optimization tools and techniques out there to choose from, it can be hard to know where to start. Well, fear no more, cause I've got just the thing to help. Presenting the Ranktracker all-in-one platform for effective SEO
Groups of influencers in the different social media apps, with some overlapping across multiple platforms, have loyal followers. They engage with all content via comments, shares, and follows for the brands or products their favorite influencer promotes.
Thus, influencer marketing examples are noticeable across different branches of social media. All are instrumental in optimizing companies' social media marketing efforts and enhancing ROI. It would be best if you properly understood these insights and proceeded with the marketing strategy accordingly.
Importance of Influencer Marketing in Social Media Strategy
Influencer marketing helps target particular groups with valuable content with high conversion potential. Compared to direct promotional posts from brands, social media users find these influencer-promoted posts more believable.
So, this approach is suitable for creating an impactful social media strategy.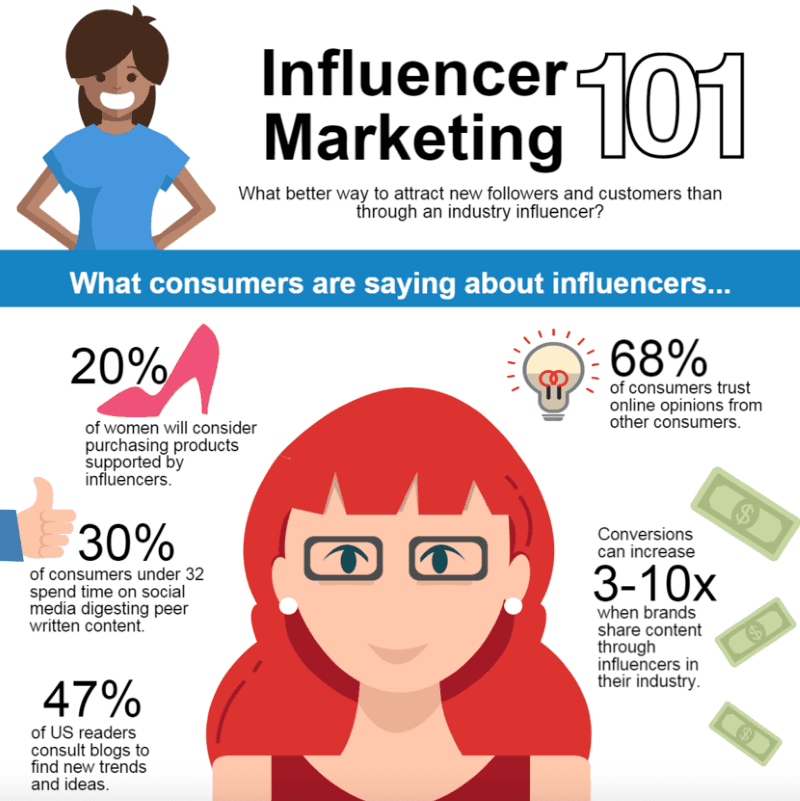 (Source)
An Overview of the Current Influencer Marketing Landscape
Influencer marketing is one of the most widely popular options companies adopt in the existing digital marketing ecosystem. This was not the case initially and has only grown in popularity with advancements in social media platforms.
For example, around 2013-2014, Instagram launched ads for promotion for the first time. Following that, users could use imagery, videos, and effects to get a highlight on the Featured Post page. Over time, with features like Instagram Reels coming active, influencers started using video-based methods to provide information to users.
People are typically interested in new products or items through sight and hearing of them. So, focusing on influencer marketing campaigns to increase quality customers, improve ROI, etc., is beneficial for brands.
The All-in-One Platform for Effective SEO
Behind every successful business is a strong SEO campaign. But with countless optimization tools and techniques out there to choose from, it can be hard to know where to start. Well, fear no more, cause I've got just the thing to help. Presenting the Ranktracker all-in-one platform for effective SEO
Currently, influencers on different platforms are focusing on optimizing their aesthetics with stylish effects, vibrant backgrounds, and high-quality camera resolution. This way, they can adjust their content to highlight brand objectives with appealing visuals accompanying the message they are trying to provide.
Ways to Integrate Influencer Marketing into Your Overall Social Media Strategy
To properly integrate the influencer marketing approach into your social media strategy, you have to proceed in stages.
1. Understand the objectives
Of course, understanding your objectives is the first concern for any marketing plan. Here, set manageable goals and be very specific with what you mention.
To put it simply, you should understand what your main priority is with the marketing plan. Is higher engagement the main concern for the brand or increasing sales? Is expanding to different platforms more important than focusing on targeting repeat customers?
After planning the main objectives, you can adopt the strategies, deliver the content, and track the performance.
2. Study tracking parameters
You must formulate and monitor your project's leading key performance indicators or KPIs. When you set the primary KPIs for your marketing strategy, you will know the target for click-through rates or CTR evaluation and engagement parameters, like shares, comments, etc.
For the best results, you should prepare a specific KPI-tracking system to understand the engagement metrics better.
3. Search for Influencers for your business
The next stage of integrating your company's high-quality influencer marketing strategy is searching for the right influencers for your Influencer Marketing Campaign.
While making this selection, you should properly study whether the influencers you are considering match the aesthetic and goals of your marketing campaign. If they are relevant in your industry, their target audience will have a similar taste.
Thus, the right influencer can promote your services to the right audience.
4. Contact them directly
After going through many profiles, it is understandable that you will be interested in more than one option. You should study the target audience for each approved account if there are many.
See which ones your primary interests and targets align best. Then, contact them directly via email. by using an email look up tool to find the address or direct messaging to discuss your collaboration-related needs with the influencer.
For example, mention to them what your main interests are from the campaign and also state your favorite thing about their content. Then, discuss other points about the partnership, like the target audience, the deadline for the final delivery, and more.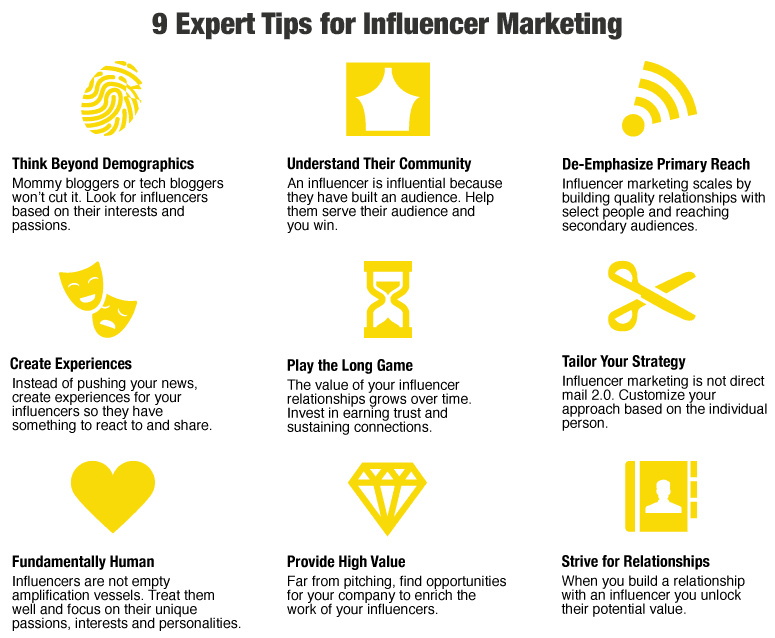 (Source)
5. Prepare the influencer marketing techniques
After you complete the planning discussion with the influencer, you are ready to launch the campaign.
Firstly, you should prepare the campaign brief for the company and add specifications like:
The campaign objective, like brand image improvement or sales.
The types of posts you expect from the influencers in terms of style, pattern, and tone.
Frequency of the posting schedule.
The additional backlinks, hashtags, and tags are in place for post-performance tracking.
6. Allow more control to influencers for promotions
You mentioned all the points you expected from the strategy during the campaign planning and formation process. For example, the goal expectations, the steps, etc. Now, you have to let the influencers have more control over their content from the creation phase through the final delivery phase.
The influencers have the experience and knowledge to handle the marketing campaigns as they see fit.
7. Start engaging with the influencer-generated content
You must interact more with the influencer-generated content by sharing the posts with other social media users. This will help you get the necessary engagement rates, and you can keep the content for future interactions.
The All-in-One Platform for Effective SEO
Behind every successful business is a strong SEO campaign. But with countless optimization tools and techniques out there to choose from, it can be hard to know where to start. Well, fear no more, cause I've got just the thing to help. Presenting the Ranktracker all-in-one platform for effective SEO
You can use third-party solutions to increase post engagement better automatically. Or, you can directly interact with the posts via comments, likes, shares, and more.
Influencer Marketing on the Rise: The Reasons Behind Its Growth
There are multiple noticeable reasons why influencer marketing as a social media strategy has grown in popularity.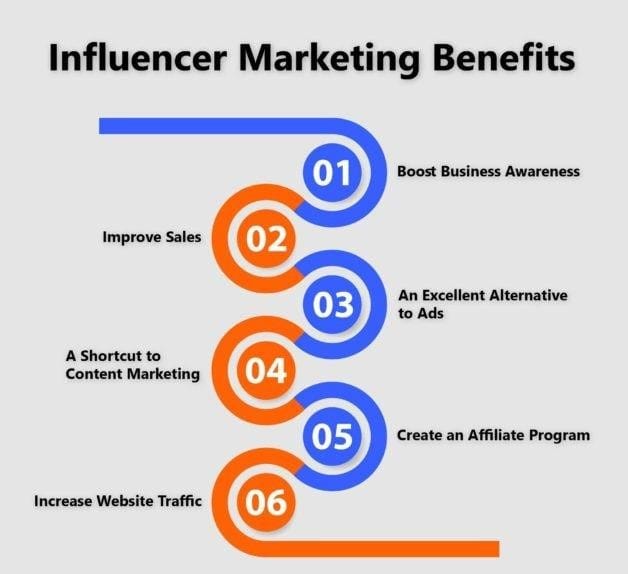 (Source)
Globally popular- Influencer marketing is popular now, with many companies partnering with these professionals for promotion. Many marketing experts in the industry are working with influencers. They do so to reach the younger demographics that do not watch ads and promote them organically. If you have not adopted the practice for your social media strategy, you should proceed with that immediately.
Fresh content- Unlike the normal promotional ads, influencers' content types are typically engaging and unique. Plus, these individuals create their content keeping the interest of their general audience in mind. They give a fresh perspective to the product use and also promote the products in a personalized manner.
Higher sales rate and organic traffic- The users trust the words of the influencers they follow and are more likely to try out the advertised products. This leads to a more organic sales rate.
Targeted reach and increased visibility- Another benefit of influencer marketing is that it allows brands to reach highly targeted audiences who may be challenging to reach through traditional advertising channels. This targeted reach can help brands to increase their visibility and drive engagement among relevant audiences.
Key takeaways
Overall, influencers are expected to continue gaining popularity in the market. Adopting them in the social media campaign will affect the overall reach and growth you can expect for your brand at a higher level.
Influencer marketing can be a powerful tool for reaching and engaging with your target audience. By effectively integrating influencer marketing into your overall social media strategy, you can leverage the credibility and reach of influencers to build brand awareness, drive conversions, and ultimately grow your business.
Remember that success in influencer marketing requires careful planning, effective collaboration with influencers, and a commitment to ongoing measurement and optimization. With these elements in place, you can create a winning influencer marketing strategy that helps you achieve your marketing goals and build lasting relationships with your audience.