Intro
Imagine you have a vision for your business—a transformative goal that requires a coordinated effort and the seamless integration of multiple projects. It includes several smaller projects that all must work together to achieve the overall goal. While the entire process can be complex and challenging, you need a program management plan to start with.
A program management plan is the comprehensive roadmap that unites these projects under one common purpose, aligning their efforts and resources to maximize the organization's growth. It has vital elements like scope, a program baseline, a budget, etc.
If you plan to execute a vision to grow your business, creating a program management plan is necessary. We've curated the essentials of this topic in the following discussion, including the definition and practical steps to develop a program management tool. Let's get started!
What is a Program Management Plan?
A program management plan is like a master plan that outlines how you will manage and coordinate all these smaller projects to ensure everything runs smoothly and you successfully reach your main objective.
It provides all the nitty-gritty details about the program's operation, including its various components like projects and initiatives and how it aims to achieve benefits. Moreover, it explains the schedules and methods used to monitor its progress closely.
This document can evolve and gets updated as the program advances. Once the program wraps up, this document becomes a key tool for reviewing and approving any budget, schedule, scope, and goals changes.
In a nutshell, the program management plan is a vital guide that keeps the entire program on track and helps steer it toward success. It includes scope, timeline, resources, budget, risk management, and communication.
The All-in-One Platform for Effective SEO
Behind every successful business is a strong SEO campaign. But with countless optimization tools and techniques out there to choose from, it can be hard to know where to start. Well, fear no more, cause I've got just the thing to help. Presenting the Ranktracker all-in-one platform for effective SEO
Other than that, monitoring and analyzing are also crucial in a program management plan. Define how you will measure the success and what factors or metrics are tailored to value the project's success.
Program managers are the people who are responsible for developing a program management plan. They must comprehend the program's strategy and objectives.
Moreover, program managers should be aware that the success of a program plan is a result of delivering a high-quality product on time and within budget. Instead, its success is gauged by how effectively the program addresses the organization's needs and generates benefits.
Program Management Vs. Project Management
(Image via Freepik)
In fact, program and project management are similar regarding crucial measurements and indicators. However, they can also be completely different in several aspects. Here's how to differentiate the two.
Project management focuses on completing specific tasks or projects efficiently and effectively. It aims to deliver a final product or service within a set timeline, budget, and quality standards. Projects are usually temporary and have clear start and end dates.
They can be outsourced to external contractors, and the organization running the project may work for a stakeholder who may or may not be a part of the organization. Project management's primary goal is to successfully achieve the project's deliverables and objectives.
The All-in-One Platform for Effective SEO
Behind every successful business is a strong SEO campaign. But with countless optimization tools and techniques out there to choose from, it can be hard to know where to start. Well, fear no more, cause I've got just the thing to help. Presenting the Ranktracker all-in-one platform for effective SEO
Program management, on the other hand, deals with a group of related projects and initiatives that work together to achieve strategic goals and benefits for the organization. It focuses on maximizing overall benefits by managing these projects synergistically.
The program manager is an integral part of the company. Unlike projects, programs are ongoing and have a long-term perspective. The success of program management is measured by how well it benefits the organization and meets its strategic needs.
Five Ways to Create a Program Management Plan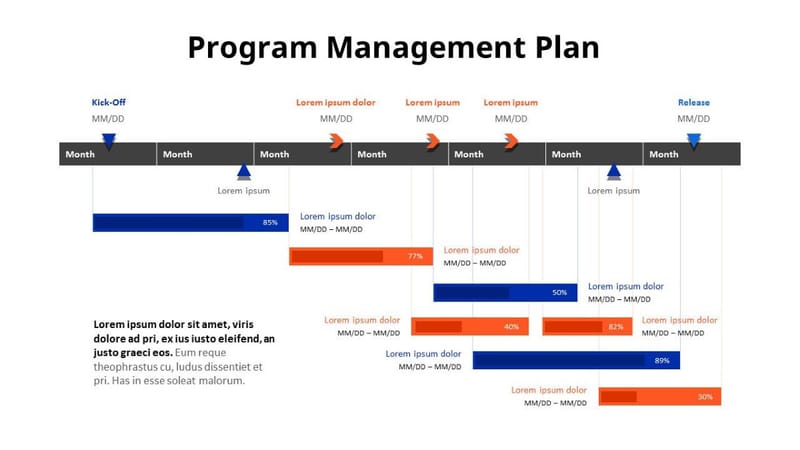 After understanding the difference between a program and a project management plan, let's dive into the main discussion. Here are the five ways to create a program management plan to support your organization's success.
#1. Define a goal
The first step in creating a program management plan is clearly defining the program's goal. As a program manager, you must identify the primary objectives that the program aims to achieve.
Your program goal must be specific, measurable, achievable, relevant, and time-bound (SMART). For example, the goal could be to improve team satisfaction by implementing a new employee accommodation system within your office environment.
Defining clear goals is crucial because it provides a sense of direction and purpose for the entire program. Therefore, you can decide and develop focused and measured projects to enhance your program performance.
#2. Set a program baseline
The program baseline serves as the foundation for the entire program and outlines vital parameters that must be adhered to throughout its implementation. Here are the elements included in the program baseline:
Scope
The program's scope defines the boundaries and extent of what will be covered. It identifies all the projects, initiatives, and tasks within the program.
For example, if the program aims to enhance the organization's digital presence, the scope might include projects like website redesign, social media integration, and employee app development.
Budget
The budget sets the financial constraints for the program. It outlines the total funds available for the program's execution and distribution of resources among various projects. Proper budget allocation ensures that financial resources are wisely utilized and prevents overspending.
Deliverables
Deliverables are the tangible or intangible outcomes of each project within the program. They are the results that stakeholders and sponsors anticipate.
For instance, the deliverables of a project within the customer support system program could be functional helpdesk software, social media optimization tools, training materials for support staff, and customer feedback reports. To further enhance the understanding of customer needs, the project may also incorporate customer feedback surveys with Salesforce. This integration enables the team to analyze data efficiently and tailor services to meet the specific requirements and preferences of their clients."
Establishing a clear program baseline provides a reference point for measuring progress and performance. Any changes made during program implementation should be compared against the baseline to ensure the program stays on track.
#3. Share the idea with stakeholders
Once you establish the program goal and baseline, communicate the program's vision and details to all relevant stakeholders. Stakeholders are individuals or groups interested in or will be affected by the program's outcomes, such as executives, managers, team members, and customers.
Initiate meetings and presentations, or share explainer videos to engage stakeholders in discussions about the program's objectives, benefits, and expected outcomes. Encourage open communication and address any questions or concerns they may have.
Discussing your program with stakeholders is a way to obtain feedback. Listen to stakeholders' feedback and incorporate their valuable insights into the program plan.
Moreover, you can gain buy-in by showcasing how the program aligns with the organization's strategic goals and how it will benefit them. Addressing their needs and expectations will foster a positive attitude toward the program.
Ensure you document all agreements, decisions, and commitments during stakeholder discussions. This helps avoid misunderstandings and provides an apparent reference for future actions. Involving stakeholders in the early planning increases their commitment to the program's success.
#4. Execute the plan
After garnering stakeholder support, it's time to implement the program management plan. You will need to consider project implementation, resource management, risk management, collaboration, and communication of your program.
Project implementation allows you to execute each project within the program according to the predefined scope, timeline, and budget. Monitor progress regularly to ensure the task completion is according to the program plan.
To support your program further, allocate resources efficiently to each project, monitor their utilization, and ensure that teams have the skills, tools, and support to carry out their tasks effectively. In addition, assess and address potential risks and challenges to implement risk mitigation strategies.
Executing the plan also requires monitoring and controlling the program's performance against the baseline. Remain flexible and adaptive to changing circumstances. Be prepared to adjust the program's approach based on feedback, new insights, or unforeseen challenges.
#5. Control and monitor the program
Controlling and monitoring the program is a crucial phase that takes place throughout the program's lifecycle. It involves overseeing the program's progress, making necessary adjustments, and ensuring it stays on track to achieve its goals.
The All-in-One Platform for Effective SEO
Behind every successful business is a strong SEO campaign. But with countless optimization tools and techniques out there to choose from, it can be hard to know where to start. Well, fear no more, cause I've got just the thing to help. Presenting the Ranktracker all-in-one platform for effective SEO
This stage requires monitoring performance, identifying deviations, analyzing root-cause, and taking corrective actions. Here's an explanation of each:
Performance Monitoring
Regularly monitor the program's performance to track its progress toward its objectives. This involves measuring key performance indicators (KPIs), displaying them in live company dashboards, and comparing them to the program baseline. By doing so, program managers can identify areas of success and areas that may require improvement.
Identifying Deviations:
During monitoring, looking for any deviations from the original plan is essential. If the program is not meeting its milestones or targets, it may indicate that adjustments are needed.
Root Cause Analysis:
When deviations are ideAfter identifying deviations, conduct a root cause analysis to identify the reasons behind the issues. This involves digging deeper into the factors that led to the deviations and understanding their impact on the program's progress.
Taking Corrective Actions:
Based on performance monitoring and root cause analysis findings, implement corrective actions to address any challenges or deviations. These actions could involve reallocating resources, adjusting timelines, or revising strategies to keep the program on track.
Moreover, encourage feedback from team members and stakeholders to improve program management practices and enhance future programs. And document all decisions, changes, and actions taken during the program's execution as a valuable reference and aids in learning from past experiences.
Conclusion
Creating a Program Management Plan is a systematic and vital process that lays the foundation for successful program execution. It is essential to understand the definition of a program management plan and how it differs from a project plan before developing one for your organization.
The above steps outline the essentials of creating a management plan, from defining a clear and measurable goal to setting a program baseline and engaging stakeholders. Not to mention controlling and monitoring the program is also crucial for a successful and impactful program.
A well-crafted program management plan provides the roadmap and guidance to navigate the complexities of managing interconnected projects. As program managers diligently adhere to the plan and remain attentive to stakeholders' needs, the program can result in valuable benefits and positively impact the organization's future success.