Intro
The content you post on your social media is powerful enough to make or break your online presence.
It can also make you stand out from the crowd and turn followers into loyal customers. This kind of success is possible if you invest time in developing a social media marketing plan that you manage to follow with religious dedication and consistency.
Social media planning ensures:
Being consistently engaging and fresh across all social channels
Creating content tailored specifically to each social media platform
Tracking your marketing efforts
In the following section, we'll break down the basics of planning and streamlining your social media content. Keep reading to find out all there is to know about social media planning and how to save time, ensure quality and consistency, and keep focused on your goals.
How to Plan and Streamline Your Social Media Content Ahead of Time
Whether you want to increase brand awareness, generate more sales, or grow your audience, social media planning will make sure your marketing efforts are successful.
A great social strategy will give you direction, ensure your content is aligned with the business goals, and keep your accounts active and strategic.
More so, a social media strategy will serve as a blueprint your team can follow to keep your social media marketing consistent, reinforce your brand voice, and be relevant to your audience.
Here are the steps that will help you develop your own social media plan:
Keep your social media calendar full of ideas
Create and schedule your Posts ahead of time
Establish clear responsibilities for your social media team
Curate relevant content for your social media channels
Create evergreen social media posts
Use a social media tool to automate your workflow
Monitor and adjust your social media strategy
1. Keep a Social Media Calendar Full of Ideas
A social media content calendar is like a hub for all your upcoming posts. It helps you organize your content over a longer time frame and makes it easier to remain consistent and focused on your business goals while sharing social posts centered around what your audience wants to see.
The All-in-One Platform for Effective SEO
Behind every successful business is a strong SEO campaign. But with countless optimization tools and techniques out there to choose from, it can be hard to know where to start. Well, fear no more, cause I've got just the thing to help. Presenting the Ranktracker all-in-one platform for effective SEO
These are the aspects you should include in your social media calendar:
Social media platforms
Content publishing dates
Content topics
The social media copy
Links to your social media graphics
Here is an example of a social media strategy template: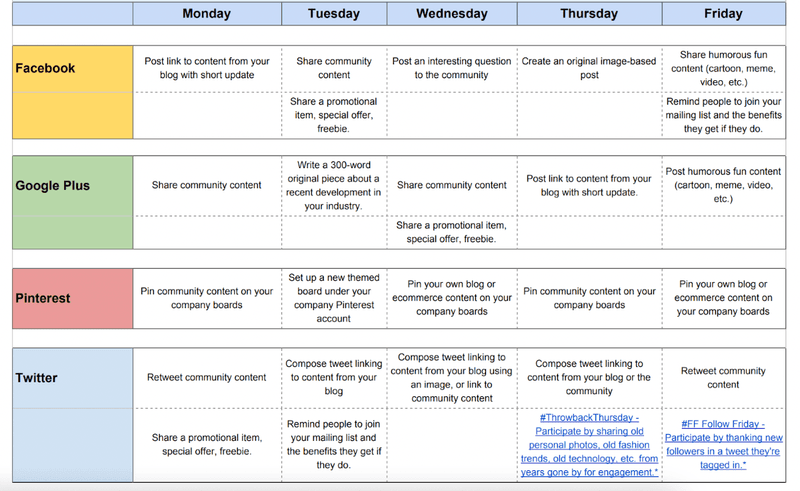 Image source
Use Google spreadsheets, Trello, or even Google Calendar to map out all that information. If you wish to further automate the workflow, consider using a social media calendar tool.
Besides posting content automatically, a calendar tool will also provide the necessary metrics to determine what type of content is working for your audience and what's NOT.
2. Create and Schedule Your Posts Ahead of Time
Once you've identified the right content for your audience and filled your calendar with social media content, it's time to establish a posting schedule.
There are three ways to figure out the right time to post on a specific channel:
Take a hard look at your past posts and observe any patterns or trends
Research your competitor's social media profiles to learn what they do
Define your target audience to ensure the right people will see your posts
While performing this audit, make notes about the days and time slots a specific type of content performed well, on which platform, and what were those posts about.
There's a lot of debate regarding how often you should post on social media. The majority of social media marketers argue that posting as regularly as possible helps stay in front of your audience and avoid falling prey to the adage out of sight, out of mind.
The All-in-One Platform for Effective SEO
Behind every successful business is a strong SEO campaign. But with countless optimization tools and techniques out there to choose from, it can be hard to know where to start. Well, fear no more, cause I've got just the thing to help. Presenting the Ranktracker all-in-one platform for effective SEO
Others suggest focusing on quality rather than quantity and posting only when there's something valuable to share with their followers.
Here is how often and when to post on each social network to get maximum traction:
Facebook
On Facebook is ideal to post twice a day. Once in the morning (6:15 AM), when people are catching up with their feeds, and once at lunch (12:15 PM), when people typically have the largest break.
According to PEW research, 74% of American people check Facebook at least once a day. So, make sure that your posts pop up in their feed at least once. The more people are exposed to a brand, the more they will remember it.
Twitter
Posting between one and five tweets a day is enough to reach your Twitter audience without starving or overloading them with content. During weekdays, mornings make the optimal time to feed content to your audience (between 6 and 9 AM).
Instagram
Post three to seven times per week. According to Hootsuite, the most effective time to post on this platform is between 8 AM - 12 PM and 4 PM -5 PM.
Considering that nearly 42% of American users check their Instagram several times per day, the chance to get visible is high. Just make sure to share relevant content that is aligned with your strategy and goals.
LinkedIn
Similar to Twitter, brands can share content up to five times a day on this platform. The best moment to share posts on this social network is on weekdays between 8-11 AM.
Pinterest
The number of pins you should strive to post on a given day should be between four and ten pins. As for when, according to Hubspot, the most popular time of the day to post on this platform is 3 PM and between 6 PM and 9 PM.
TikTok
This social media channel is relatively new, however, it gained popularity at a skyrocketing speed. The sweet spot for visibility on this platform is typically 12 to 3 PM, 3 PM to 6 PM, and 6 to 9 PM.
Always be intentional about what you post on TikTok — 1 to 3 times a day is enough to stir the interest of your audience.
3. Establish Clear Responsibilities for Your Social Media Team
It's imperative to assign tasks wisely among your team members. Not only does it ensure an effortless collaboration, but you also make sure to have a productive, effective, and synergized team that works to accomplish your goals and grow your business on social media.
To distribute tasks clearly and effectively, start by defining your social media goals and objectives and then decide who is responsible for each part of the social media content strategy.
Choose wisely and take advantage of any available tools that will optimize the process and facilitate collaboration between team members. For example, team management apps like Trello or ClickUp will help delegate tasks to each team member or set goals easier. Both of them have an intuitive interface and are easy to use.
4. Curate Relevant Content for Your Social Media Channels
Curating content is a practice that involves researching relevant content online and resharing it on your own social media channels. It will help you diversify your content calendar, save time, and establish yourself as a knowledgeable leader in your industry.
Some examples of curated content are links to relevant blog posts, articles, studies, infographics, or simply resharing posts from industry leaders that bring additional value to your strategy and audience.
Here are three practices you can use to curate content for social media:
Use platforms like Feedly - This is an RSS-like AI engine that brings you content and insights about your industry from everywhere on the internet
Set Google Alerts - Ideal for those who prefer the old fashion way, Google Alerts, will notify you of any new articles and topics around your industry
Share user-generated content - Post reviews, testimonials, and product images from your customers
5. Create Evergreen Social Media Posts
Evergreen content is the type of content that is timeless. It isn't related to any particular event, it is just always valuable to whoever is reading it.
Here are the benefits of creating evergreen social media posts:
Stays fresh and relevant over the years
Allows creators to post consistently without creating new content every week
Saves time and improves productivity
The most common formats for evergreen content are listicles, guides, infographics, tutorials,_ _tips and tricks, product reviews, questions, quotes, and testimonials. If you ever run out of ideas on what to post on your social media accounts, the evergreen content will be there for you.
Here is an example of an evergreen post: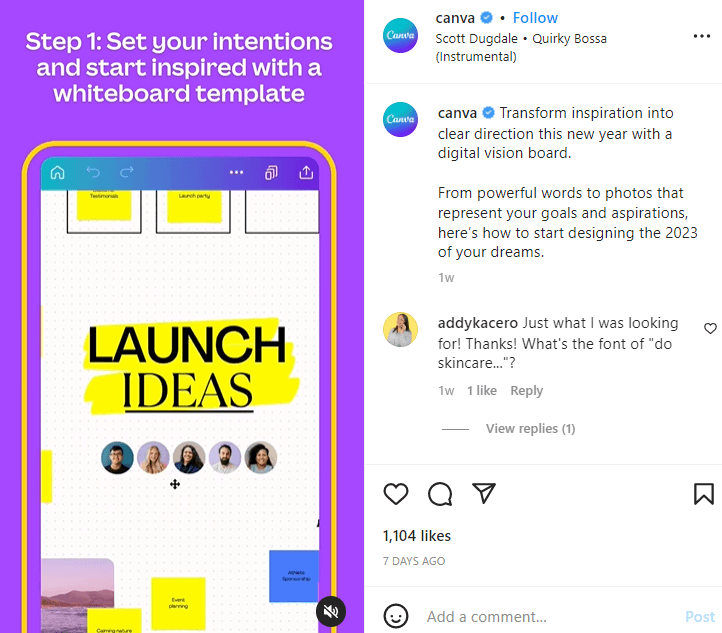 6. Use a Social Media Tool to Automate Your Workflow
A social media tool can help marketers manage the ever-growing list of responsibilities by automating a few key processes. Namely, managing multiple social media platforms, drafting and reviewing posts, scheduling and publishing social media content, monitoring post-performance, and even engaging with their audience.
By using a social media tool, you won't need to keep logging in several times a day on each platform to publish and review posts. You can schedule once for a longer period and the social media tool will post everything automatically without needing your attention daily and hour by hour.
The All-in-One Platform for Effective SEO
Behind every successful business is a strong SEO campaign. But with countless optimization tools and techniques out there to choose from, it can be hard to know where to start. Well, fear no more, cause I've got just the thing to help. Presenting the Ranktracker all-in-one platform for effective SEO
More so, you won't need to log in on Thanksgiving or Christmas anymore to post on social media—you can do it ahead of time and enjoy your days off.
7. Monitor and Adjust Your Social Media Strategy
Monitoring your performance helps determine what works well and what doesn't. You can do that by checking the performance of all your posts at least once a week and determining the type of content that is most successful and the type of content that doesn't work.
To track the success of your content strategy, you can use in-platform analytics tools, automatic reports from your social media management tools, and even Google Analytics.
These provide relevant data, which can be subsequently used to re-evaluate your social media strategies and refine them. Consider paying attention to the following social media metrics:
The number of new followers
Engagement rate
Social interactions
Social media demographics
Social media campaign performance
By tracking these metrics, you will have the opportunity to identify where your social media marketing efforts bring the best results and where you need to look for improvement solutions. You can also compare platforms between them and determine which one is best for your business.
Start Planning Your Social Media Today
Are you ready to invest time and effort in social media planning?
Put these steps into action. They will help you stay consistent, share valuable content, build successful social media campaigns, and save time, so you can concentrate on finding innovative ways to grow your business and engage with your audience.