Intro
Email continues to be a powerful tool for marketers, especially those in more niche industries. If you plan on launching an ABM campaign that involves email marketing in some way, then there are a few elements that you should be paying attention to be successful.
In this article, we'll cover a few tips applicable to your email marketing efforts to ensure that it enhances instead of detracts from your overall ABM campaigns.
What is ABM?
Before we get deep into the benefits of incorporating emails into your ABM marketing campaigns, you might not know what ABM is, so let's discuss that first.
To start, ABM stands for account-based marketing and is a marketing approach that caters to specific target accounts instead of a larger demographic of people which is why it has its name.
It might seem like another unnecessary marketing jargon if you need to familiarize yourself. However, it differs from one's traditional understanding of marketing campaigns.
ABM is particularly beneficial if you are catering to other businesses. Since you're a B2B company, you know that the sales cycle tends to be longer and involves multiple decision-makers.
With that said, since ABM concentrates its efforts on high-value accounts, you can get more chances of conversion, and you optimize your marketing approach to better suit your customers or prospects.
The All-in-One Platform for Effective SEO
Behind every successful business is a strong SEO campaign. But with countless optimization tools and techniques out there to choose from, it can be hard to know where to start. Well, fear no more, cause I've got just the thing to help. Presenting the Ranktracker all-in-one platform for effective SEO
What sets ABM apart from other types of marketing campaigns is its personalized nature.
Unlike traditional mass marketing techniques, ABM emphasizes building solid relationships with your ideal clients. It might take a lot more personal work, but it's worth it, given your industry.
Overall, ABM offers a more focused and tailored approach to marketing by honing in on specific accounts.
Now that you know what ABM is, let's review how email marketing should be a crucial part of your ABM campaign.
Identify your target accounts
You can't say that you're running an ABM campaign if you haven't taken the time to identify who your target accounts are. Otherwise, you're just fumbling around with your campaign goals.
This step requires a strategic approach combining data analysis and understanding your ideal customer profile.
To begin, start by defining your ideal customer profile (ICP). You do this by analyzing your existing customer base and identifying common characteristics such as:
industry
company size
revenue
geographic location
company role
By understanding the traits of the customers that buy into your business most often, you can create a framework for identifying similar target accounts.
The All-in-One Platform for Effective SEO
Behind every successful business is a strong SEO campaign. But with countless optimization tools and techniques out there to choose from, it can be hard to know where to start. Well, fear no more, cause I've got just the thing to help. Presenting the Ranktracker all-in-one platform for effective SEO
Next, leverage data sources such as your customer relationship management or CRM systems, market research reports, and industry databases to gather information on potential target accounts.
Once you have compiled a list of potential target accounts, further refine it by conducting thorough research on each company.
All of this work to finalize who your target account is will serve as a strong foundation before you even launch your email marketing campaign.
Segment your email list
Identifying your target accounts is vital for any ABM campaign, but you need to dial it down further for your email marketing campaign. That's why you should segment your email list before launching a campaign.
Knowing how to grow your email list will be much easier if you've taken the time to understand how to segment your email list.
Aside from ease of personalization, segmentation allows you to prioritize your efforts based on different segments' values or stages in the buyer's journey. This approach ensures you deliver relevant information with better timing, increasing the chances of driving conversions.
To effectively segment your email list for ABM campaigns, start by analyzing relevant data points such as industry verticals, company size or revenue range, geographic location, past purchase history, or engagement levels.
Notice how familiar these are? You may already have these data points when researching your target account.
Remember that effective segmentation isn't a one-time thing. It requires ongoing analysis and refinement.
Regularly review the performance metrics of each segment to identify any areas for improvement or opportunities for further segmentation.
Write a compelling subject line

(Source: https://vibe.us/)
To get better results for your outreach efforts in digital marketing, consider writing a compelling subject line for your emails. After all, it's the first thing a prospect will see when they find your email in their inbox.
A compelling subject line should be interesting but relevant to them. Again, we will repeat this again and again throughout personalization.
When the subject line is personalized, it feels more compelling to click. You can include the name of the prospect, and that's already a great way to personalize the email subject line.
Also, don't make your subject line too long. Otherwise, it might get cut off, and the impact of your subject lines won't work. Keep it short and sweet in the subject line.
One tactic to make your email subject line more compelling is to add some form of urgency to it. A time limit, a sense of importance, and other urgent words can make your subject lines more interesting for many people.
Create personalized content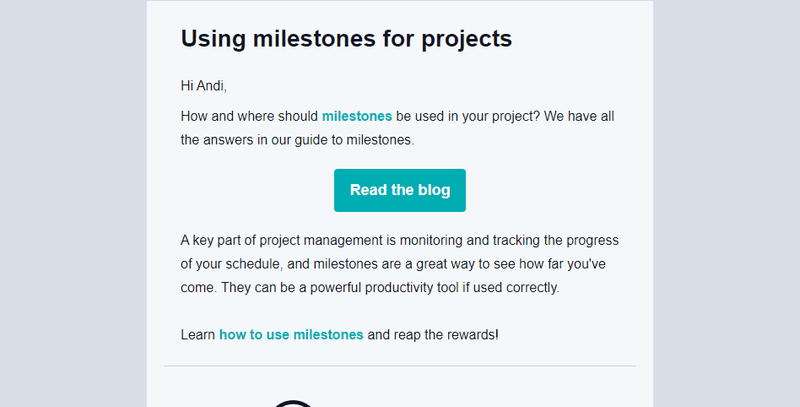 (Source: https://projectmanager.com)
Did we mention the need for personalized content yet? If we somehow forgot that, then it bears repeating. Personalize your content wherever possible, including the body of your email content.
Again, including your recipient's name in the email is helpful. However, one great way to personalize your email is by understanding your email segment's pain points.
If your email content continues to push on the pain points of your target accounts, they will read through your entire email. You'll need to do some email copywriting magic there to make it work, but it will undoubtedly help drive conversions for your email if you take the time to craft excellent email content.
Send special recommendation emails
Having "templates" or types of emails you can add to your roster makes it easier to write your email content. One type of email you can use for your email marketing would be special recommendation emails which are helpful if you're selling products, but you can tweak them for service-based businesses too.
To create effective special recommendation emails, gathering data about your target accounts and their interests is crucial. You can use their website activity, purchase history, or customer surveys to create better recommendation emails.
One typical example of a particular recommendation email you may have encountered before would be the ones you get from ecommerce shops you've bought from before. These emails recommend other products based on the items you purchased from them.
Organize a contest for email subscribers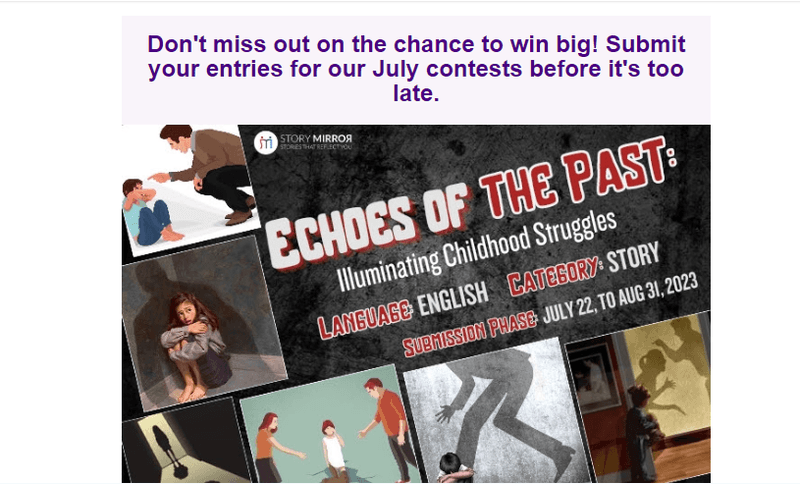 (Source: https://storymirror.com/)
Want to drive email subscribers? A giveaway or a contest is one of the best ways to do that.
You can't just launch a contest and run with it, though. To begin, it is essential to understand your ABM campaign goals and target audience clearly. Consider what type of contest would best capture their attention and encourage participation.
When designing the contest's mechanics, make it simple and easy to enter, especially for current email subscribers. But also make the reasons for entry beneficial to you, such as they need to be email subscribers.
Don't forget to display any necessary legal disclaimers or terms and conditions in prominent places.
To maximize engagement, consider offering attractive incentives as prizes to make people want to join your contest.
Throughout the contest, don't forget to send updates on progress or remind participants about upcoming deadlines.
Finally, once the contest has concluded, announce winners publicly through email or other social media platforms.
Send emails at the right time
Timing is everything, as they say, and applies to your email marketing campaign.
Your target accounts might better receive the content of your email if you had emailed them at a certain point in their journey. That's why it's a good idea to figure out how often you've interacted with your prospects before sending them emails.
An email that was a dud at too early or too late of a stage might work better if you shifted your timing. Therefore, make sure to keep in mind your timing when you're crafting your email campaign.
Use trigger-based emails
Speaking of good timing, one way to improve your email's timing is by creating emails that you only send out based on specific triggers.
For example, you can send emails that trigger after a prospect looks at your Free Trial page but doesn't proceed. You can send an email to convince them to try out your Free Trial if they haven't yet.
These trigger-based emails are much more targeted and are the best ways to improve your timing.
Optimize for mobile users
If you're adding fancy graphics or layouts to your emails, make sure that the images are easy for your mobile users to view. Otherwise, you could miss out on a massive chunk of your target segment.
You want your images to load fast and make sure the text is easy to read for them.
Test and optimize your emails
How would you know that your emails were effective without having parameters in place to test them? Before you launch your email campaign, ensure you have tracking in place to measure success for it.
The All-in-One Platform for Effective SEO
Behind every successful business is a strong SEO campaign. But with countless optimization tools and techniques out there to choose from, it can be hard to know where to start. Well, fear no more, cause I've got just the thing to help. Presenting the Ranktracker all-in-one platform for effective SEO
You can use email marketing tools to help make it easier to test and optimize the emails you send out and the overall email marketing campaigns.
A/B testing is a common way to figure out which version of your email is most effective for your target accounts. But there are plenty of other methods worth considering as well.
Optimize your landing page
It would help if you took care of the landing page you lead prospects to from your email campaign. It could also be the landing page for people interested in joining your email list. Either way, you shouldn't forget to optimize it.
SEO in your email marketing manifests itself strongly through your landing page. Make sure you include the right keywords in it, and make sure it's mobile-optimized.
The last thing you want is for a successful email campaign to be stumped because your landing page isn't working for your prospects or leads.
Conclusion
These email marketing tips can help improve the results of your emails which will help you complete your entire ABM campaign to success. If emails are a vital part of a specific ABM campaign you're launching, then make sure you apply these tips to reach your goals while providing a positive experience to your target accounts.