Intro
You're writing great content, but it's not getting the traffic it deserves.
You know that SEO is important, but you don't know how to write for it.
This "How to Write for SEO" article teaches you the best practices and strategies for creating content that will rank higher in search engines and attract more traffic to your website.
What is SEO Writing?
SEO writing is a critical process that involves planning, creating, and optimizing content for the primary purpose of ranking in search engines such as Google. It is a skill set that requires a high degree of knowledge of search engine algorithms and the ability to strategically incorporate keywords into the content.
The goal of SEO writing is to ensure that the content ranks high enough on search engine results pages (SERPs), making it visible to a larger audience. This type of writing involves thorough research on relevant keywords that will be most likely searched by the target audience.
SEO writing requires a focus on the audience, ensuring that the content is tailored to their interests and answers their questions. In order to create distinct and unique content, writers must consider various techniques, including meta descriptions and structuring content to provide direct answers to topics searched. As such, SEO writing plays a crucial role in digital marketing and website promotion.
Why is SEO Writing Important?
A study conducted by Sistrix found that the average click-through rate (CTR) for the first position in Google search is 28.5%. Beyond position 1, the percentage of clicks falls quickly: In position 2, the average CTR is 15.7%, the third position has an 11% CTR and the CTR for the tenth position is only an average of 2.5%.
To secure high volumes of organic traffic you need to rank as high as you can in the SERPs and writing for SEO is a key tactic in achieving this.
How To Write For SEO
Here are a number of key considerations that every SEO writer should keep in mind. Adhering to these best practices will help your content rank higher in search.
The All-in-One Platform for Effective SEO
Behind every successful business is a strong SEO campaign. But with countless optimization tools and techniques out there to choose from, it can be hard to know where to start. Well, fear no more, cause I've got just the thing to help. Presenting the Ranktracker all-in-one platform for effective SEO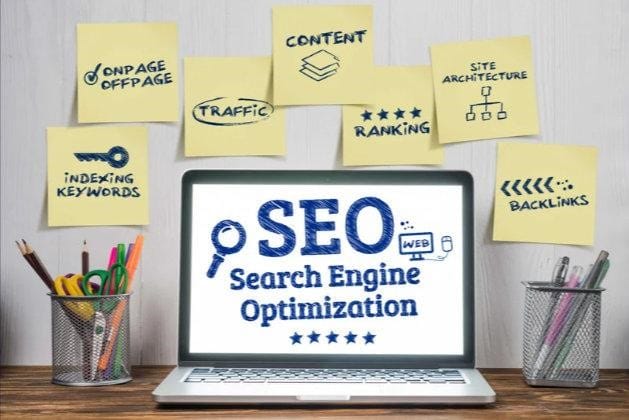 Keyword Research
Before you begin writing you need to undertake research on which keyword to target. Each article you write should focus on one main target keyword.
When conducting keyword research you need to understand and assess the competition, the keyword difficulty, and the search volume the keyword receives.
Finding the right keyword is not easy and may involve some trial and error on your part. Choose a keyword that's too difficult to rank for and you may waste your time writing for it. Use keywords that are too easy and you may be missing out on bigger opportunities in terms of organic traffic.
Know The Intent
Once you have your chosen keyword, good SEO requires you to you understand the search intent of users searching for that keyword. What are they looking for?
Luckily Google makes this easy for us. All you need to do is Google your keyword and look at the first page of SERPs. Review the articles that are ranking and make sure you understand the question they are answering for the searcher. Your content strategy should focus on answering that question.
Place Your Keyword Where It Matters
To get maximum bang for your buck and stand the best chance of ranking for your keyword you need to make sure you place your chosen keyword in a number of places on your page.
Kyle Roofe of PageOptimizerPro conducted a test with the results showing that the following are the top places you must put your keyword:
Meta Title Tag / Page Title
Meta Description
H1
Body Text
URL
Other important placements for your keyword are your H2, H3, and H3 headings and on page anchor text.
Use Headings
It's important to place your keyword in your headings and headings provide additional benefits too.
They provide the opportunity to add related keywords and similar terms to your article and show Google that they are important to the topic.
The All-in-One Platform for Effective SEO
Behind every successful business is a strong SEO campaign. But with countless optimization tools and techniques out there to choose from, it can be hard to know where to start. Well, fear no more, cause I've got just the thing to help. Presenting the Ranktracker all-in-one platform for effective SEO
Headings are also meaningful for readers as they help break up walls of text enabling the reader to skim through the article and find the sections that are important to them.
Write For Your Readers
In the world of content marketing and SEO writing, it's easy to become so focused on ranking on the first page of search that the needs of the readers are forgotten. However, it's important to remember that readers demand high-quality, informative writing.
Search engines have recognized this and now consider bounce rate when determining the relevance and authority of a website. So, it's crucial to write for the readers so they stay longer on your page.
By delivering high-quality content that engages the audience, the authority and relevance of the website are improved, and its ranking on Google is boosted.
Writers should keep in mind that the ultimate goal of SEO writing is to provide valuable information to the readers. By doing so, they can earn the trust and loyalty of their audience and enjoy continued success in the competitive world of SEO.
Capture The Featured Snippet
Featured snippets are an essential element of modern SEO strategies. These snippets are displayed at the top of Google's search engine results page (SERP) and provide users with immediate, concise answers to their search queries.
Optimizing content for featured snippets increases visibility, establishes credibility, and drives more organic traffic to a website.
Snippets provide a unique opportunity to capture the attention of users who may not have clicked through to a website.
By earning a featured snippet, websites gain valuable real estate on the SERP, which helps them compete against other search results for targeted keywords.

To stand the best chance of gaining the featured snippet, include a heading for the question and a succinct paragraph answering it.
Add Alt Text To Images
Alt Text is a simple, but powerful tool that can greatly improve a website's SEO, UX, and accessibility. Alt Text is designed to convey the "why" of an image as it relates to the content of a document or website.
This means that writers can use Alt Text to describe what an image shows, why it's important, and how it relates to the content on the page. By doing so, they can help search engines to better understand the context of the page, improving its visibility in search results.
But Alt Text doesn't just help with SEO. It's also an important tool for improving the user experience of a website. Alt Text is essential for people who use screen readers or other assistive technologies to browse the web, as it enables them to understand what's happening on the page even if they can't see the images themselves.
Link To Authoritative Sites
Linking to high authority sites serves two main purposes. Firstly it shows google you have done your research on the topic at hand. Secondly, it gives readers somewhere to go next should they wish to understand more about the subject.
Link Internally
Linking to other relevant posts on your website is an important SEO tactic. By including links to other pages on the same site, search engines can crawl and index the content more effectively.
This helps to establish the site as a credible source of information and increases the amount of time users spend on the site, and ultimately improves the site's visibility in search results.
Additionally, linking to other posts on the site encourages readers to explore further and engage with the site's content, improving user experience and building brand loyalty.
Don't Keyword Stuff
Once you have your keyword it's tempting to use it everywhere in an attempt to kid the system. This approach is frowned upon by Google and is not something you should do.
Make sure you only use the keyword where it makes sense to do so. Do not try and crowbar it in where it doesn't naturally fit.
Write Longer Articles
According to a study by Ahrefs, longer articles are more likely to rank in the top 10 for multiple keywords. This is because longer articles offer more opportunities to include keywords and relevant information. Additionally, longer articles are more likely to attract backlinks, which are an important factor in SEO rankings.
Backlinks from reputable sources signal to search engines that your content is valuable and trustworthy. When SEO content writing, it is important to keep in mind the purpose of long-form content – to provide valuable information to the reader.
Therefore, it is essential to invest time and effort in creating longer articles that are informative and engaging. By doing so, not only will your content rank higher in search engine results pages but it will also position you as a thought leader in your industry.
No Fluff
When you write content SEO, it is important for writers to avoid including fluff in their content. Fluff refers to unnecessary and irrelevant information that does not add value to the piece. It can make the article appear unprofessional, reduce its readability, and ultimately decrease its success.
To avoid fluff, writers should stay on topic and stick to their outline, avoiding unnecessary details and using concise and precise language.
As a content writer, it is also important to remember that readers have limited attention spans, and if they can't find the information they need quickly, they will go elsewhere.
Writers should focus on creating engaging and informative content that is easy to read and understand. By doing so, they can increase their chances of success and establish themselves as trustworthy sources of information.
Content Optimization Tools
If the writing tips above seem a lot to keep in mind when you create a piece of content, fear not. There are tools that can help you optimize your content and improve your on-page SEO.
Content optimization tools like SurferSEO and NeuronWriter suggest which relevant terms to include in your article. They provide guidance as you write to ensure you optimize as much as you can.
Top SEO copywriters use these types of tools as part of their SEO writing so its important that you do to so that you can compete.
Other SEO Considerations
The above tips center on improving how you write for SEO. However, there are many more factors that can improve where you rank in the SERPs. Here are a few:
Core Web Vitals & Page Speed
Core Web Vitals and page speed are crucial factors when it comes to Search Engine Optimization (SEO). Google's algorithm prioritizes sites with good Page Experience Signals, and Core Web Vitals play a significant role in measuring that experience.
The Core Web Vitals is a set of user-focused metrics that measure the 'health' of a page and include loading speed, interactivity, and visual stability. Improving these metrics leads to a better score by Google, and therefore a higher ranking in search results.
The importance of Core Web Vitals and Page Speed lies in the fact that they significantly impact the user's experience on a website. Websites that perform well in these areas have a better chance of attracting and retaining users, which ultimately improves the site's visibility and ranking in search results.
Google provides a free tool to check your site called Page Speed Insights and we strongly recommend you check your site and make the necessary amendments.
Stay Up to Date With Google Updates
Google regularly updates its search algorithm adjusting how it ranks sites. Changes can have a significant impact on how you show up in search and how much organic traffic you get.
Therefore it's important to stay up to date on the latest Google algorithm updates so you are aware of how your articles are being assessed.
Links Links Links
Backlinks are a critical component of SEO, especially when it comes to ranking blog articles in search results. Search engines like Google use backlinks to determine a website's authority and credibility within its niche.
The more high-quality backlinks a blog post has, the more likely it is to rank high in search results. Backlinks not only help search engines find new content, but they also enhance the user's browsing experience by providing links to relevant and valuable information. When writing guest posts for other websites, it's important to ensure that your website is in good shape as well.
The All-in-One Platform for Effective SEO
Behind every successful business is a strong SEO campaign. But with countless optimization tools and techniques out there to choose from, it can be hard to know where to start. Well, fear no more, cause I've got just the thing to help. Presenting the Ranktracker all-in-one platform for effective SEO
This is because backlinks from respected sites increase the chances of your blog article ranking higher in search results. Thus, if you want to improve your blog's SEO, it's crucial to focus on building high-quality backlinks.
Conclusion
In conclusion, writing for SEO requires a combination of technical knowledge, strategic planning, and creative writing skills. By following the tips and strategies outlined in this article, you can create content that is optimized for search engines while also engaging and informative for your audience.
Remember to write for humans first, while understanding the importance of Google's algorithm and conducting keyword research.
Writing long content, using related words, linking to high-quality sites, and using varied content types are also crucial for improving your search engine rankings. Additionally, don't forget to write compelling meta descriptions, use plenty of subheadings, and stay on top of SEO trends.
Finally, tracking and measuring your results is essential to understanding the effectiveness of your SEO strategy and making necessary adjustments. With these tools and insights, you can achieve your online goals and take your website's SEO to the next level.