Intro
Marketing automation's future is rapidly advancing as increasingly more marketers turn to video to win over prospects and retain loyal customers.
But with stiffer competition than ever before, only the best, most valuable video content will survive.
Enter: Video analytics.
By accessing relevant data sets and understanding how to interpret those insights, businesses and marketers alike can make informed decisions to improve their videos and connect with their audiences in more meaningful ways.
But that's not all video analytics can help with.
Other industries are turning to video analytics to design concierge experiences, provide patient safety, and even build smart cities. That's why it's crucial to get ahead of the game and learn how video analytics will continue to unfold in 2023 and beyond.
The All-in-One Platform for Effective SEO
Behind every successful business is a strong SEO campaign. But with countless optimization tools and techniques out there to choose from, it can be hard to know where to start. Well, fear no more, cause I've got just the thing to help. Presenting the Ranktracker all-in-one platform for effective SEO
Let's take a closer look at the future of marketing automation and video analytics.
Video is the future of marketing
Is marketing automation's future in video analytics? The short answer is yes.
Marketing automation and video analytics play integral roles in the buyer's journey. In fact, 50% of people on the internet watch videos and product demos before purchasing anything.
If that's not enough to sway you, according to Markets and Markets research, the global video analytics market was valued at 6.35 billion US dollars in 2022 — a figure set to increase by 20.3 billion dollars by 2027. 🤯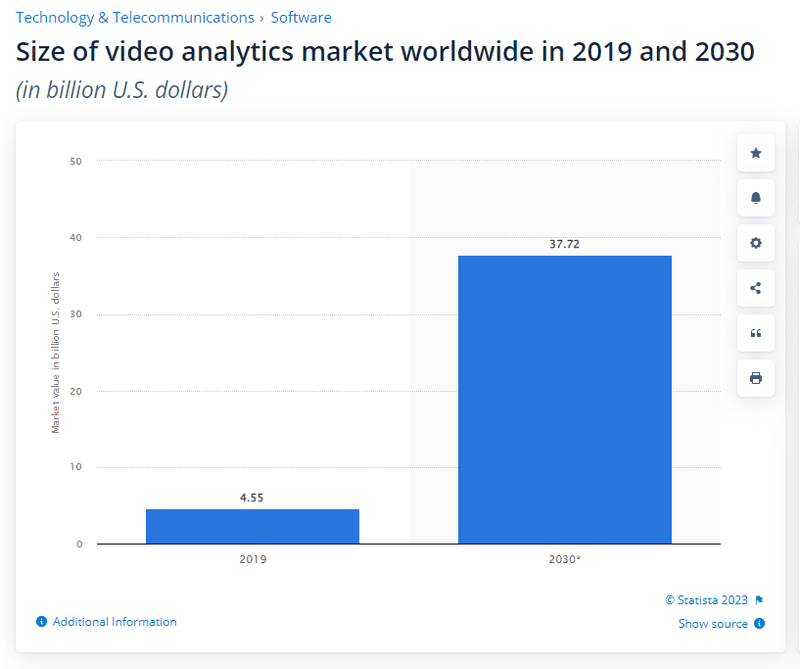 (Image Source)
If you're doing the math, that's nearly eight and a half times the original valuation in just over a decade's time!
Now that we've gotten the short answer out of the way, let's dive a bit deeper into the importance of video analytics and how this technology will continue to reshape our future.
Intelligent video analytics will change everything
While vanity metrics like views and clicks are used to drive marketing decisions, intelligent video analytics will provide marketers with a high-level overview of what's actually generating revenue and results.
The All-in-One Platform for Effective SEO
Behind every successful business is a strong SEO campaign. But with countless optimization tools and techniques out there to choose from, it can be hard to know where to start. Well, fear no more, cause I've got just the thing to help. Presenting the Ranktracker all-in-one platform for effective SEO
As technology advances, intelligent video analytics will help marketers and businesses:
Understand their audiences clearly and deeply
Having a profound grasp on who you serve is key to creating ongoing products and solutions your audience will gladly pay for.
With AI video insights, you'll be able to see which value-driven assets appeal most to your audience so you can infuse more of them in future campaigns.
You'll also have access to other pertinent behavioral data so you can keep your Ideal Customer Profile and buyer personas up to date at all times — two crucial personalization tools.
And speaking of personalization …
Plan hyper-personalized and automated video marketing campaigns
You might already know that your audience likes DEI thought leadership content and deep dives with HR subject-matter experts. But with access to AI video analytics, you can learn that your audience also binges on recruiting software, how-tos, listicles, and comparisons.
This is invaluable information you can use to create more aligned video content your audience can't get enough of. The more technology advances, the more closely you'll be able to hyper-personalize your video content with them in mind.
You can then turn these assets into automated video marketing campaigns in the form of:
Evergreen videos, such as webinars and courses
Video content drips to email subscribers
Scheduled social media videos
Uncover the real "why" behind higher video conversions
Video analytics will become a vital social media management tool and marketing campaign advisor for businesses and marketers alike.
Guessing games no longer cut it in marketing analysis. With new technologies, you'll be able to uncover the real reason prospects become customers after consuming your video content.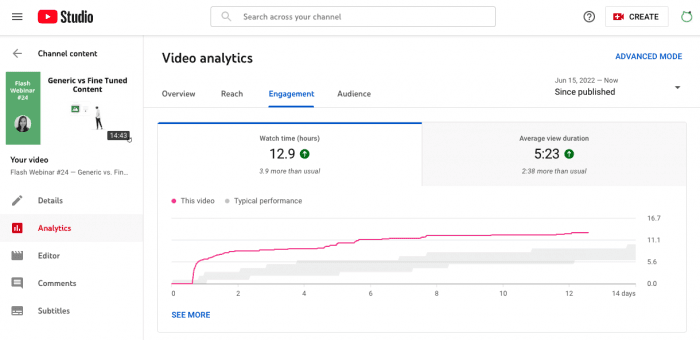 (Image Source)
For instance, you may discover that campaigns that showcase your text-to-speech tool have the highest conversions when you infuse trust elements, such as customer stories and case studies.
Or, you may learn that your videos convert best when you lock arms with affiliate marketers and micro-influencers in the SEO industry. These crucial details can help you lock in your focus on campaigns that have the highest ROI potential.
Other practical use cases for video analytics
If you think video analytics applies purely to marketing use cases, think again. This invaluable tool will take the world by storm in a variety of industries, each with its own promising outlook.
From building cities to reducing carbon emissions to enhancing safety and security, video technology and analytics will help communities make tremendous advancements.
The world as we know it is changing. Let's take a look at what we can expect.
1. Improved government vigilance
Government administrations will be able to refer to video analytics data to automate everyday tasks, detect crime, and manage public service issues.
Here are just some of the tasks and services administrations will be able to automate using this invaluable data:
**Vehicles: **Manage parking lots, identify vehicles, detect stolen vehicles
Traffic: Redirect traffic, collect time estimates, track accidents, forecast traffic volume
Compliance: Alert authorities if a group of people isn't complying with government mandates
**Theft: **Detect intrusions, identify perpetrators, object recognition and tracking
Incidents: Incident detection, crowd management, security, and safety management
2. Enhanced staff and patient safety in healthcare
Any tool we can use to provide better healthcare is a tool worth using.
With AI video analytics, physicians will be able to manage wait times, monitor patients in at-home care programs, and even review a patient's vitals remotely.
Other tasks video analytics can facilitate in healthcare include:
Perimeter surveillance
Tracking patient inflow
Observing patient behavior
Monitoring emergency cases in real-time
3. Sports and event management and visualization
From understanding how a player's actions are impacting their performance to reverse engineering a rival team's strategy, coaches will be able to use video analytics to refine their approach down to a tee.
In event management, coordinators will be able to monitor attendee satisfaction and spot key behavioral patterns that can help them enhance the customer experience.
4. Smarter, walkable cities
Going beyond surveillance, video technology will work to lessen the impact of air pollution in urban environments by helping developers build walkable cities.
Similar to how cities and towns are structured in Europe, the concept of "walkable cities" means linking medical centers, homes, workplaces, stores, and schools with easily accessible sidewalks.
To build these cities, planners will use analytics to track city park usage and other feasible areas that could work as pedestrian pathways.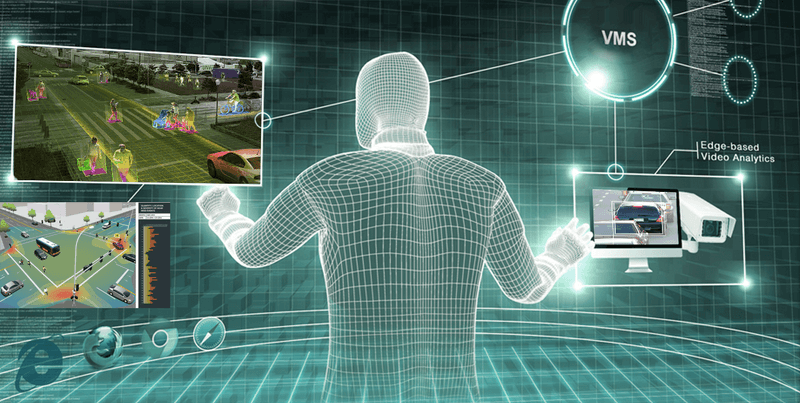 (Image Source)
With connected camera networks, developers will be able to map and identify other areas for revitalization, too, such as parking structures that could be reallocated underground and old buildings that could be rebuilt in greener, more efficient ways.
5. VIP hospitality
Get ready for improved customer satisfaction and convenience in the hospitality industry.
While many hotels currently use video analytics, access control, license plate recognition (LPR), and other technologies to spot and prevent suspicious behavior. In the future, they'll use these tools to design a complete concierge experience to protect and impress their guests.
Imagine this …
A VIP guest arrives at the Four Seasons Hotel in Paris, and LPR immediately notifies hotel staff to greet the guest by name.
Since the guest is a regular, facial recognition technology confirms their identity and helps them access their hotel room via a push of a button on their smartphone.
Upon entering their room, a virtual assistant asks the guest if the hospitality bot can bring over a complimentary passion fruit juice and an assorted charcuterie plate — their favorites, of course.
After delivering the refreshments, the hospitality bot informs the guest about this evening's dinner specials and offers to book them a reservation in the hotel's most elite restaurant.
The guest agrees and proceeds to get ready to attend their glorious dinner. After getting ready, the guest uses their smartphone to open and lock the door. When they leave, motion detectors automatically turn off any remaining lights or running water in the room.
An epic experience, to say the least.
Final say
Intelligent video analytics can connect any organization to the vital data it needs to make better and more informed decisions.
In marketing, video analytics can help businesses and marketers understand their audiences, plan hyper-personalized and automated campaigns, and uncover what really drives conversions.
The All-in-One Platform for Effective SEO
Behind every successful business is a strong SEO campaign. But with countless optimization tools and techniques out there to choose from, it can be hard to know where to start. Well, fear no more, cause I've got just the thing to help. Presenting the Ranktracker all-in-one platform for effective SEO
In other industries, video technologies and analytics can help businesses streamline their operations, provide safety and security, and have access to a visual tool for planning, observation, and training.
To adopt video analytics strategically and ethically, businesses should keep their core values and privacy policies top of mind. Locking arms with an AI video analytics expert can help teams create a game plan that's in line with their company's ethics and long-term growth goals.
If you're ready to stand out from the crowd and design impeccable customer experiences, don't wait. Start getting a plan together and rethink your use of intelligent video analytics — before your competitors do.
To your success!