Intro
With over 700 million members in 200 plus nations, LinkedIn is not a social media channel to ignore. Businesses that sell products and services know that LinkedIn is an indispensable tool for reaching potential customers - one reason why many companies invest much effort and a lot of time into polishing their LinkedIn marketing strategies.
B2B companies now focus more on LinkedIn by adopting features, such as hashtags, featured on other social media platforms, like Instagram. Therefore, LinkedIn features the perfect place across each marketing strategy, whether you're running a small firm, operating a B2C company, or running a B2B enterprise.
Brands can access highly potential consumers when they use LinkedIn for business. Doing so also has a productive effect on their hiring process, brand trustworthiness, and positioning.
If you haven't created a LinkedIn marketing strategy yet, or if you're wondering whether to use LinkedIn for business promotion purposes, you've arrived at the exact place. This post will guide you on how to market your business on LinkedIn.
Let's get started!
How To Market Your Business On LinkedIn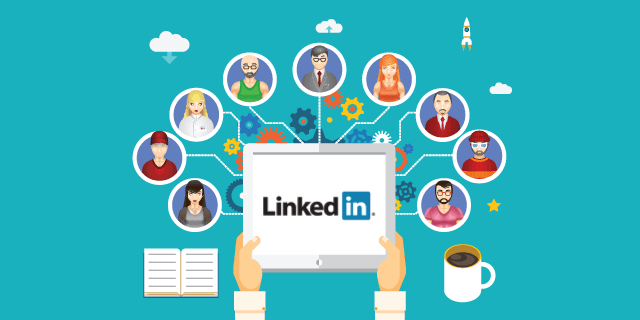 (Source: thealternativeboard.com)
1. Enhance Authentic Conversations
LinkedIn groups give a unique chance to connect with people who share your passions and interests. They also help you understand your target consumers' pain points, content titles, and questions. Don't use LinkedIn groups to launch/pitch your products and/or services. Therefore, leave those billboards outside. Instead, figure out these as ways to bring up leads to eventually turn into new business.
It takes multiple engagements with your content posts and brand identity to convert potential consumers into actual buyers, with that said, your customer support team may also have to follow up regularly with prospective customers. On average, people read ten content pieces before making a purchasing decision.
The All-in-One Platform for Effective SEO
Behind every successful business is a strong SEO campaign. But with countless optimization tools and techniques out there to choose from, it can be hard to know where to start. Well, fear no more, cause I've got just the thing to help. Presenting the Ranktracker all-in-one platform for effective SEO
To start, research the relevant groups to your content marketing strategies and business. You'll also need to choose a team member who will remain active in the group discussions. To post content in LinkedIn groups effectively, follow these tips:
Create a spreadsheet featuring all your writers and the groups (where you'll post the content). When you publish a new blog post, keep an eye out for groups that will reap the most from it.
Share your thoughts on your post content, and always consider asking questions.
Encourage your employees to comment and ask questions about your posts.
2. Organic Brand Boosting
One way to grow your LinkedIn brand presence entails setting up a top-notch company page.
Create Showcase Pages for products you offer and 'thought authority' content.
Encourage your workforce to create and optimize their LinkedIn profiles.
Share your presentations, recordings, webinar, and infographic content on SlideShare.
To create an "always-on" strategy, focus on creating high-quality content that builds relationships with your potential consumers. A top-notch brand narrative resonates with consumers at every point of their customer journeys and removes the risk of lulls often encountered after fast-win campaigns.
You can fulfill LinkedIn marketing strategies without detailed content creation plans.
3. Use Targeted Advertising To Enhance Your Voice Share
Today's marketers are enlarging their stretch and voice share by targeting ads at specific audiences. Besides sponsored content posts, LinkedIn also gives several advertising options, including display advertisements and dynamic ads.
Dynamic ads let you accurately focus on influencers/decision-makers with hugely customized/personalized creativity. To increase your company page's followers, you can add a single-click 'follow' CTA to your ad. Your company page followers will check your notifications in their LinkedIn page feeds, making it easy to access them organically.
Display ads refer to banner ads displayed in standard display advertisement formats. They enable you to access potential consumers across websites, social media platforms, and mobile apps.
Enhance Conversions & Open Rates
Suppose you're after promoting downloads of a new white paper or enhancing enrollments for your upcoming webinar. In that case, LinkedIn-related Sponsored InMails gives a technique to forward personalized/customized email messages to LinkedIn account owners with message open degrees that are significantly elevated than the typical email marketing campaigns. Below are some best practices to apply and reap huge benefits from your campaigns:
Keep your text message below 1000 chars and add a body hyperlink.
Make sure your visuals stand out.
Personalize/customize with the person's identity and task title (or company name).
Make sure your CTAs are clear and easy to understand. For example, use "Try" for free trials, "Register" for registration, "Reserve" for reservations, "Join."
Choose a sender trustworthy to your potential consumers and relevant to the message.
Make sure the landing page is optimized for mobile.
4. Maximize Commonly Used LinkedIn Hashtags
LinkedIn has always had an up-and-down connection with hashtags, making it hard to apply them in posts. Nowadays, LinkedIn recommends adding hashtags to your posts and even recommends applicable ones to add.
Hashtags work pretty much the same on LinkedIn as on other social media channels. They help you get discovered by positioning your posts in their newsfeeds.
But, how do LinkedIn hashtags function precisely? You can use LinkedIn to track hashtags by either looking out for them or pressing on any hashtag displayed on the site and tapping the available 'follow button.' After following the hashtag, related/applicable posts will appear in your LinkedIn page news feed.
That means including hashtagged keywords in your LinkedIn posts increases their chances of appearing in LinkedIn users' news feed sections, including on the news feeds of users who don't follow your company.
To automatically include hashtags in LinkedIn posts, craft your content and type the hashtag manually. You can also add hashtags by clicking on any of the suggested hashtags. To get the most out of LinkedIn, add both long-form and niche hashtagged keywords to your posts. Place them at the tip of the text/post.
5. Involve Thought Leaders
You can collaborate with others to improve your brand's potential audience reach and publicity on all digital marketing dais, including LinkedIn. LinkedIn allows companies to create their profiles and tag them as business or individual profiles.
If you wish to have page thought leaders, then set up LinkedIn-directed content, such as text posts. Moreover, you can feature posts you've published broadcasted outside LinkedIn to collaborate with these leaders.
The All-in-One Platform for Effective SEO
Behind every successful business is a strong SEO campaign. But with countless optimization tools and techniques out there to choose from, it can be hard to know where to start. Well, fear no more, cause I've got just the thing to help. Presenting the Ranktracker all-in-one platform for effective SEO
Collaborating successfully on LinkedIn is more similar to implementing influencer marketing plans for your company. First, identify thought leaders within your industry and then create connections organically. Next, work hand-in-hand to determine which posts to craft—from creating testimonials to producing videos to co-hosting events.
6. Post LinkedIn-Specific Articles
Company page profiles on LinkedIn are best known for producing posts. But they aren't the only type of text your firm can publish. LinkedIn rolled out articles for company page profiles in September 2021, allowing companies to publish longer-form content.
Writing an article is better than writing a blog post because articles get read by people who want to learn. Posts can be much shorter than articles. LinkedIn restricts company page profile posts to 700 chars. You can write LinkedIn articles up to 100,000 characters long, but they don't have to be. It gives your firm plenty of room to produce share-worthy content, which can help improve your reach.
Like LinkedIn's long-form content version, articles share the same features as blogs. They're hassle-free to share on the LinkedIn page, and they are displayed in LinkedIn searches. However, they can also be displayed in different browsers such as Google, boosting your firm's profile outside of LinkedIn.
To publish LinkedIn articles, go to your firm's page and press the available 'Write Article button' feature in the upper right-hand-side section. You can craft 100% original content, but writing from scratch is unnecessary. Consider syndicating your blog posts through LinkedIn articles to get unique content including exposure and boost your firm page visibility at the same time.
7. Use LinkedIn Live For Live Streams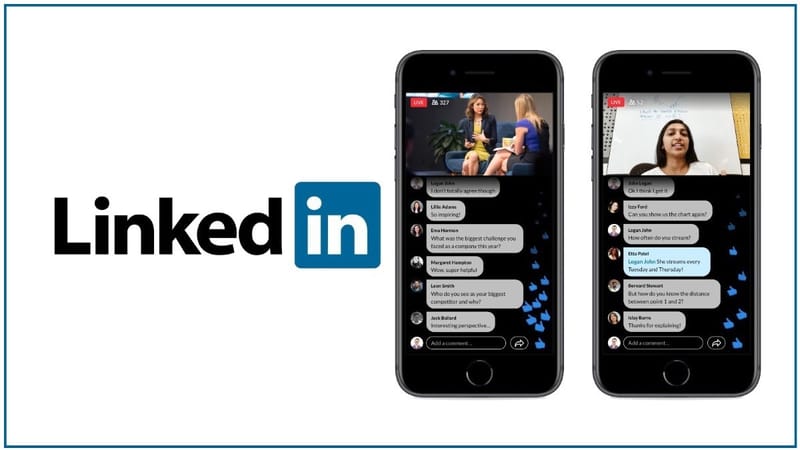 (Source: technadu.com)
Video content is more likely to attract conversation among company profile followers, so it's definitely worth creating some.
But there are no reasons to focus solely on pre-recorded videos. LinkedIn Live—the company's built-­in live streaming tool—also has top-notch engagement metrics. According to LinkedIn, live videos get 7x more reactions and 24x more remarks than native videos.
Since engagement likelihood is one of LinkedIn's top-ranking signals, it goes that running an event on LinkedIn could be an excellent approach your firm can follow to increase its outreach.
The All-in-One Platform for Effective SEO
Behind every successful business is a strong SEO campaign. But with countless optimization tools and techniques out there to choose from, it can be hard to know where to start. Well, fear no more, cause I've got just the thing to help. Presenting the Ranktracker all-in-one platform for effective SEO
You can sign up for live events through the app, but you must be approved before scheduling them in advance. Those interested in attending an upcoming LinkedIn event can press the "Attend" signal to be notified when the session begins.
8. Improve Content Sharing By Asking Colleagues To Do So
If your workforce or team members' audiences are large or active on LinkedIn, they may be able to help you grow your business. Having them engage with your company page content could help boost your potential audience reach. If they like your posts or leave comments, their respective followers will be highly expected to come across your article.
To get even more comments/likes, you could ask team members or the workforce to share your firm's updates. You don't need to send endless email messages or in-­person calls because LinkedIn smoothens the entire process for you.
Click the "Notify Employees" featured link next to any company update you'd like to promote. Ensure that you've selected "Notify All Employees" when sending an email to your entire team. You can tell your team which posts are particularly indispensable by sending them notifications.
Final Thoughts
You can conclude from the examples above that there are multiple approaches to consider when using LinkedIn to improve your enterprise's branding and enlarge your network. Don't neglect the opportunities given by LinkedIn Marketing since you lack the resources/time/resources to invest in the above tips.
Try out some of these strategies to see if they increase your conversions and interaction with potential consumers. Review those outcomes, and then iterate as necessary to set up an effective & robust LinkedIn marketing plan.