Intro
Recently, some successful SEO experts have discovered that modern data stacks can have a significant impact on SEO (Search Engine Optimization) efforts, as they can help businesses collect, analyze, and act on data insights that can inform and improve their SEO techniques.
Business experts have continued to talk about the role of smart SEO strategies in boosting business online sales and profit. According to one research, organic search is the most dominant source of trackable traffic and accounts for 53 percent of all website traffic.
If, like many people, you don't yet know what Modern Data Stacks (MDS) are, don't fret. We've got you covered.
So What Are Modern Data Stacks?
Modern data stacks typically involve integrating various tools and technologies to collect and analyze data across multiple channels and touchpoints, including website traffic, user behavior, social media engagement, and more. By leveraging these tools, businesses can gain insights into how their target audience interacts with their website and other digital assets, which can inform SEO strategies in several ways.

For example, data from a modern data stack can help businesses identify which keywords and search terms their target audience is using to find their website, which can inform on-page optimization efforts such as optimizing title tags, meta descriptions, and content. Data can also be used to identify patterns and trends in user behavior, which can inform off-page optimization efforts, such as:
Streamlining the link-building process
planning content promotion.
Keeping track of website traffic,
Monitoring and evaluating search engine rankings, thereby improving lead generation and sales increase.
If the staff in your SEO/marketing team lack knowledge of Modern Data Stacks, you need to consider developing a recruitment strategy that targets the right candidates with the necessary skills and experience. Additionally, if there are skill gaps within the existing SEO workforce, the headcount planning team would need to develop a training strategy to upskill employees to meet the business' needs.
Listed and enumerated below are specific surefire ways your SEO team can use data stacks to improve website SEO rankings.
Rectify Website's Technical Issues
A study by Serpstat discovered that 70 percent of website errors are related to technical issues associated with meta tags, markup, .com domains, indexing, and multimedia.
The All-in-One Platform for Effective SEO
Behind every successful business is a strong SEO campaign. But with countless optimization tools and techniques out there to choose from, it can be hard to know where to start. Well, fear no more, cause I've got just the thing to help. Presenting the Ranktracker all-in-one platform for effective SEO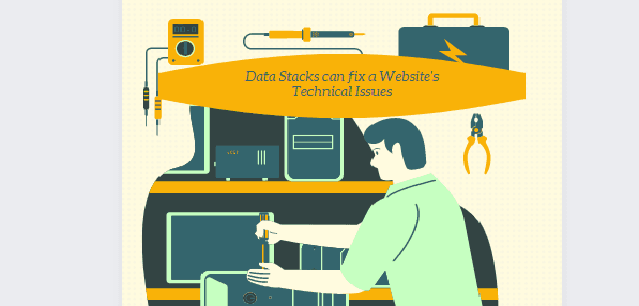 Some of the most common technical issues which can negatively affect your SEO ranking include:
Poor navigation
Broken links
Duplicate content
Unminified Javascript and CSS files
Indexing issues
Absence of a schema markup
Slow loading pages
404 Error pages
The website is not mobile friendly
Modern data stacks can identify and fix most of these technical issues. For example, modern data stacks can use web crawlers to identify slow pages and broken links in a website. Web crawling involves using a program to navigate and search through the pages of a website.
Data stacks can provide caching solutions for reducing the loads on databases, speeding up websites, and storing frequently used data. Data stacks like management tools for Oracle can create APIs for monitoring the functionality of backend systems.
Technological tools can help improve website reliability and distribute traffic across multiple servers. For example, data stacks like SQLite and MongoDB are designed to improve website performance by handling large amounts of data. Also, tech tools like Cloudfare can efficiently distribute a website's content, reduce latency, and improve load time for website users.
Websites can adjust the number of resources they consume based on demand, to increase performance during peak periods. Tech tools like ELK Stack can track the performance of a website, detect, and resolve issues.
Provide Insight Into Website Performance
Data stacks provide insights into website performance by analyzing the various data generated from customer relationship management systems, social media, and web analytics.
No business wants a poor-performing website because it does not deliver a good user experience to customers. When businesses gain insights into their websites' performance, it helps them optimize their sites to attract more traffic.
The All-in-One Platform for Effective SEO
Behind every successful business is a strong SEO campaign. But with countless optimization tools and techniques out there to choose from, it can be hard to know where to start. Well, fear no more, cause I've got just the thing to help. Presenting the Ranktracker all-in-one platform for effective SEO
According to a 2018 research by Semrush, over 80 percent of websites have issues that significantly affect their performance.
Another study by Google found that websites that load quickly have higher engagement and conversion rates than those that load slowly. Detail-oriented SEO teams can leverage real-time data analytics to monitor their website performance and identify issues that may be impacting load times. By doing so, they can quickly make adjustments to improve website performance and ultimately drive better SEO outcomes.
Modern data stacks can act as a collection of efficient tools for identifying and improving the speed performance of a website.

Data stacks can improve your website's speed performance in the following ways:
Storing your website's frequently accessed data in disk storage will improve the speed at which your server can read and write information.
Reduces the amount of data that needs to be transferred between server and client.
Data stacks can help you distribute content across multiple servers and increase access speed to website users.
Reduce data transfer time by compressing your website's large files.
Evenly distributes traffic by directing incoming traffic across multiple servers.
By reducing latency, and the amount of data that needs to be transmitted, data stacks can greatly improve a website's speed performance.
Data stacks have a database management system, a content delivery network, and a caching layer. These components enable data stacks to efficiently store and retrieve data and reduce server strain that slows down your website.
Determine the Effectiveness of SEO Campaigns
SEO strategies are ongoing processes. For businesses to be and maintain their position on the front pages of search engines, they must constantly update their SEO strategies.
Every business manager should monitor the progress of their SEO campaigns. Fortunately, modern data stacks like Google Search Console can provide insights into the performance of key SEO metrics like website rankings and organic search traffic.
Although SEO campaigns can boost your search engine rankings, not all of them are successful. The latest statistics show that over 90 percent of pages on Google get no organic search traffic.
Determining the effectiveness of SEO campaigns can be a challenging task for businesses. However, one way to do this is by utilizing a phone system to track and analyze various metrics.
You must therefore check the effectiveness of your SEO campaigns to determine if you are on the right track.
You can use modern data stacks to determine the effectiveness of your SEO campaigns in the following ways:
Web analytics tools provide SEO data like bounce rate, conversion rate, and web traffic.
Tech tools can help you track the ranking of your website and the effectiveness of your keywords.
You can also determine and track the number and quality of backlinks to a website.
Data stacks can help you keep track of your competitors' traffic and keywords.
The insights from modern data stacks can help businesses make informed decisions on improving website ranking. It is easier to track and improve your website's progress with tech tools.
Improve Website Structure
Website structure is a crucial factor in SEO and impacts how search engines discover the content on your website.
Apart from the search engine's visibility, the structure of your website determines the kind of user experience your visitors will have when they land on your pages.
A good website structure means your website users can easily navigate and find the information they want.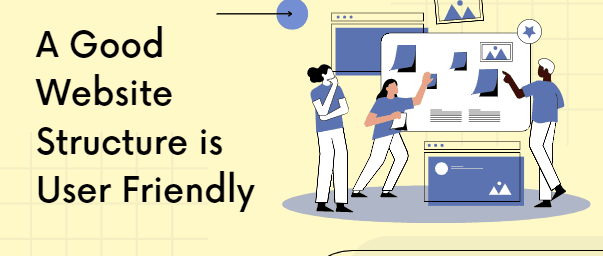 A poor website structure‌ prevents search engines from finding, indexing, and ranking website pages.
Data stacks can help businesses build a good website structure by providing a clear and organized way to manage and access website data.
One way many online businesses use data stacks to build a website structure is the use of both front-end and back-end technologies. HTML, JavaScript, and CSS are popular front-end coding languages for creating interactive web pages.
Technologies such as Python and SQL are used to build the back end of a website comprising a database, a server, and an application. These data stacks help website developers build the technology that makes their site user-friendly.
Most modern data stacks have relational database management systems for storing structured data, and an application system to access and manipulate data. These systems improve a website's structure by providing better data management applications.
Some important elements of a well-structured website that help improve SEO ranking include:
Good Heading Hierarchy
Schema Markup
Meta Tags
Organized Content
Improving your website's structure can boost your SEO rankings and push you to the top of search engines.
Boost the Performance of Keywords and Phrases
Keywords and phrases are important in SEO because they help search engines direct internet users to relevant content.
Unfortunately, many businesses are not taking advantage of this very important factor in their marketing strategy.
According to recent Ahrefs statistics, about 94.74 percent of keywords get fewer than ten searches per month.

Including relevant keywords and phrases in strategic places on your website, like meta tags, content, and URLs, can attract more traffic and improve SEO ranking.
Data stacks improve your SEO by helping you analyze the performance of your keywords and phrases. For example, if your analysis shows that your keywords and phrases have low search volume, you need to optimize or change them.
Data stacks use machine learning algorithms to identify trends in keywords/phrases performance, which can help businesses optimize their strategies.
Below are some ways to use data stacks to increase the performance of keywords and phrases:
Use Natural Language Processing (NLP) techniques to identify relevant keywords and phrases.
Utilize data sources to improve the context and meaning of keywords and phrases.
Use data visualization techniques to identify patterns that can increase the performance of keywords and phrases.
Apply data processing tools to clean irrelevant keywords and phrases
The ability to extract relevant keywords of products and services can help businesses create better marketing strategies. However, you cannot accomplish these, except your SEO workforce is trained to use these tools.
Improve the Quality of Backlinks
Backlinks are simply links from one website to another. According to Forbes, backlinks are the number one contributing factor to high rankings.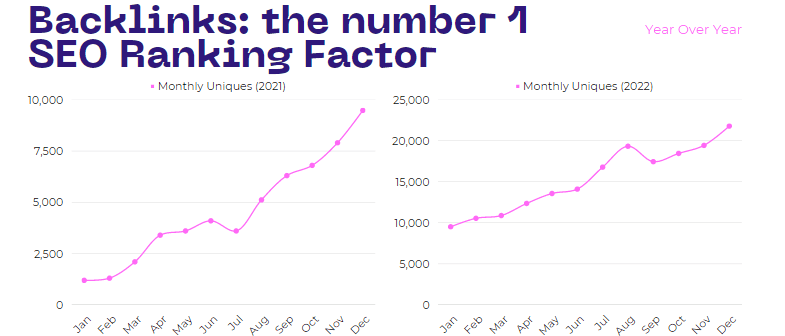 Backlinks tell search engines how relevant and valuable website content is. When other websites link to a site, the search engines will consider that website worth sharing and will rank it higher.
Although backlinks are important, search engines consider those from authoritative websites more valuable than those from low-quality sites. On the other hand, backlinks from low-quality and spammy sites can negatively affect rather than improve your SEO rankings.
With modern data stacks, businesses can track the number and quality of backlinks to their websites. These tools can reveal the sources of backlinks and their impact on SEO.
Tracking and managing your backlinks is easier with modern data stacks. Apart from providing a centralized location, data stacks provide data pipelines and visualization tools. Data stacks visualization tools, like graphs and dashboards, can enable marketers to identify keyword patterns for a better SEO ranking.
Data stacks make it easier for businesses to decide which links to pursue to improve their SEO rankings.
Enhance Email Marketing
Although email marketing is not a direct factor in search engine rankings, it can contribute to a holistic SEO strategy. With the right strategy, you can improve your SEO rankings with email marketing.
Data stacks enhance email marketing by providing tools for marketers to segment their audience and personalize their email marketing campaigns. Tech tools like Mailchimp can boost email marketing by helping marketers with email data storage and deliverability.
A study by MailChimp found that businesses using segmentation and automation in their email marketing campaigns saw a 14.31 percent increase in open rates and a 100.95 percent increase in click-through rates. Lead management software can help businesses segment their leads based on specific criteria, such as demographics, behavior, or past interactions with the brand, allowing for more targeted and relevant email campaigns.
Another way data stacks enhance email marketing is that they can help marketers send targeted messages, which leads to better conversion rates.
Data stacks boost your email marketing by helping you keep your email list clean. A clean email list reduces the risk of an email bounce, which can affect your email deliverability and engagement rates. When you reach more people with your email marketing campaigns, you can drive more traffic to your website and improve your SEO ranking.
Your subscribers can also share and promote your content on their websites, which can help you get backlinks and improve your search engine ranking.
Data stacks can verify your email list to prevent sending emails to the wrong addresses, which affect your email deliverability.
Final thoughts on Modern Data Stacks.
In conclusion, modern data stacks are indispensable. Every SEO marketing team needs them to improve their operations. Should the SEO workforce lack the technical know-how, the headcount planning managers should provide training for the staff.
The All-in-One Platform for Effective SEO
Behind every successful business is a strong SEO campaign. But with countless optimization tools and techniques out there to choose from, it can be hard to know where to start. Well, fear no more, cause I've got just the thing to help. Presenting the Ranktracker all-in-one platform for effective SEO
Modern data stacks help businesses track and measure the performance of their SEO efforts, allowing them to adjust their strategies and tactics as needed based on data-driven insights. This can help ensure that SEO efforts are effective and impactful over the long term.
According to one research, organic search is the most dominant source of trackable traffic and accounts for 53 percent of all website traffic.
Organic search is why many successful businesses invest so much in SEO to increase their visibility on search engines and attract more customers.
Ultimately, investing in modern data stacks to improve your SEO rankings is an excellent way to stay ahead of the competition.