Intro
Are you struggling with lead generation or patient retention as a medical practitioner? The ability to effectively market your practice plays a vital role in profitability. And marketing is a skill that may not come naturally to trained medical professionals.
The basic principles of marketing will take you a long way, but marketing a medical practice looks a little different. If you want to get ahead and develop a strong client base, you should know specific marketing strategies tailored to the unique needs of your business and your patients. Here are some small business marketing techniques and how they apply in the world of healthcare, as well as some specific tips you can start implementing today.
Your online presence and website authority
Domain authority is extremely important when it comes to successful marketing. Your online presence serves as the first point of contact for many potential patients. The quality of the design and funcionality should reflect the quality of care that your practice offers. You want to set a tone of trust and expertise with potential patients.
Website upkeep
Your website should be visually appealing and easy to navigate. Although we're not supposed to judge a book by its cover, almost everyone does. Prioritize a clean and modern design that highlights the most important information about your services, staff, and location. Introducing staff members on the site and adding photos of them in your offices is a great way to make your practice seem approachable and friendly.
Find a space on the site, probably a blog or resource area, to add informational content pages to your site. In order to seem like an authority in the field and a trustworthy practice, it's a good idea to share answers to FAQs, relevant medical information, and even stories about your practice.
Consider integrating online appointment scheduling right on the site. Convenience is a key factor for many patients when selecting a healthcare provider; by having online appointment scheduling on your website, you make it easier for potential patients to book appointments at their convenience.
Check out Fab Dental's site for an example of integrated online booking and thorough information pages for new customers. They emphasize the ease of scheduling an appointment with a highlighted button right at the top of every page, and they address many common patient concerns right on the website, to give patients a reason to book before they even call the office.
Google Business Profile (GBP)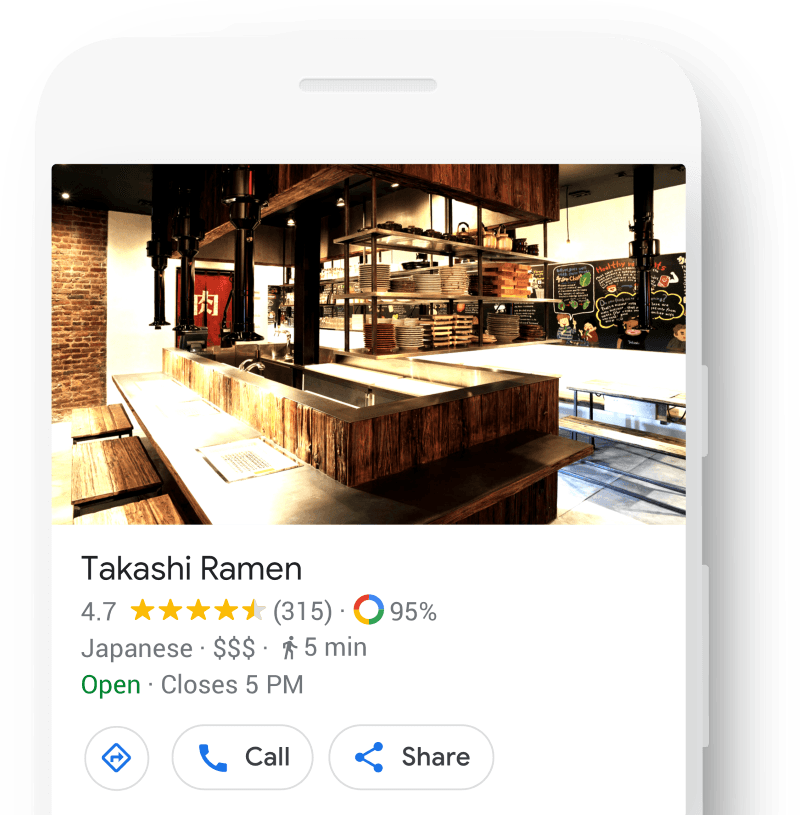 (Image Credit: https://developers.google.com/my-business)
For medical practices, your Google Business Profile can be a gigantic traffic driver. Google Maps is being used increasingly for research and information. Your GBP is the profile that users see when they search for your business, or related businesses, on Google Maps. Medical businesses like doctors offices, dentists, surgeons rely on Maps results and reviews to drive a significant amount of traffic to their business.
The All-in-One Platform for Effective SEO
Behind every successful business is a strong SEO campaign. But with countless optimization tools and techniques out there to choose from, it can be hard to know where to start. Well, fear no more, cause I've got just the thing to help. Presenting the Ranktracker all-in-one platform for effective SEO
When someone is searching for a medical service, they want it to be nearby, and they are likely to do their initial search right on Google maps. You want to be one of the locations they see. Beyond that, you want your GBP alone to be enough to convince them to check out your business. Here are some fundamental ways to optimize your profile:
Accuracy: Always verify that information such as contact details and hours of operation on your profile is correct. A profile with incorrect or missing information is enough to make a potential patient look elsewhere.
High-quality images: Invest time and effort in regularly uploading top-quality photos of your office and staff. Google favors profiles that are frequently updated over stagnant ones.
Encourage and engage with reviews: Ask happy patients for reviews often. Train office staff to respond to any compliment with an invitation to leave a review. Put a visual sign as a reminder in your waiting room. Respond to patient reviews to show the public that you read and appreciate their feedback and take their suggestions into account.
Keep information current: Regularly post new information and photos to maintain an up-to-date and relevant profile. This is also a signal to Google who will show your practice more often if it is active and up-to-date.
Leveraging search engine optimization (SEO)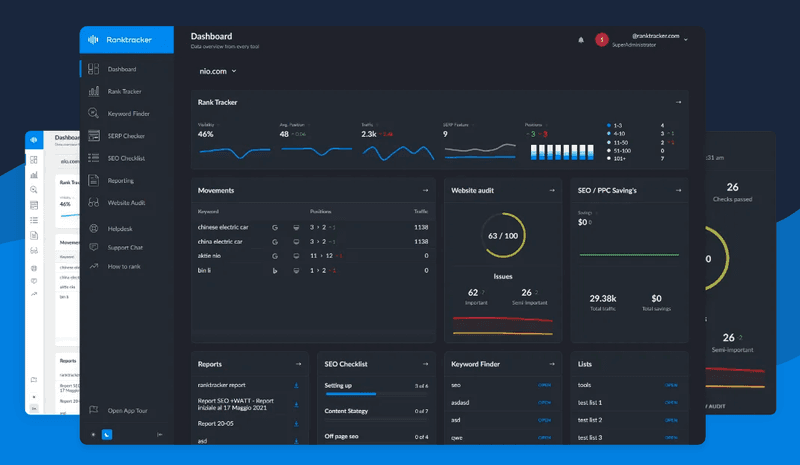 (Image Credit: https://www.ranktracker.com/rank-tracker/)
As with any business, optimizing for search engines is a strong marketing technique for your medical practice. SEO is always changing, but building a keyword list is always a good starting point. Identify the keywords and phrases that your target audience is likely to use when searching for healthcare services similar to those your practice offers. Incorporate them into your website content, including page titles, headings, and meta descriptions. This will help Google and other search engines recognize the relevance of your website to specific search queries, improving its ranking in search results.
Backlinks, or links from other websites to your own, can also significantly impact your search engine rankings. Focus on acquiring high-quality backlinks from reputable sources, such as industry blogs or local news outlets, as these can help establish your practice as an authority in your field.
If you want to learn more about SEO and how it can impact your traffic, there's no better place to start than Ranktracker's free SEO Guide.
Never underestimate social media
Social media priorities vary by industry. In the medical industry, social media posts serve as a reminder to existing patients. More importantly, it helps them get to know you and your staff and feel more connected. People want to feel a rapport with their care providers. Updating your pages and engaging with the community regularly are great ways to boost your online authority.
Choose social media platforms that align with your target audience's preferences and interests. For medical professionals, platforms such as Facebook, Instagram, and LinkedIn can be effective for reaching potential patients and showcasing your practice's expertise.
The most important tip to social media success is consistent engagement. As for what to post, you can get creative! Post informative, engaging, and shareable content that appeals to your target audience.
Health tips
Industry news
Behind-the-scenes glimpses into your practice
Milestones or expansions
Employee of the month profiles
Funny medical themed memes
Holiday wishes
Practice procedures
New equipment
New staff welcomes
When you post on the blog, share it. If one of your patients wants to share a testimonial, post it and tag them. Showcase a different employee every month.
The All-in-One Platform for Effective SEO
Behind every successful business is a strong SEO campaign. But with countless optimization tools and techniques out there to choose from, it can be hard to know where to start. Well, fear no more, cause I've got just the thing to help. Presenting the Ranktracker all-in-one platform for effective SEO
Keep "connection" in the forefront of your mind when working on your socials. Engage with your audience, responding to comments and messages in a timely and professional manner. This can help build trust and rapport with potential patients, while also demonstrating your practice's commitment to providing exceptional patient care.
If you're looking for an example of great social media usage, check out Hospital for Special Surgery's Instagram page. They consistently post fresh, engaging content and have amassed over 33 thousand followers.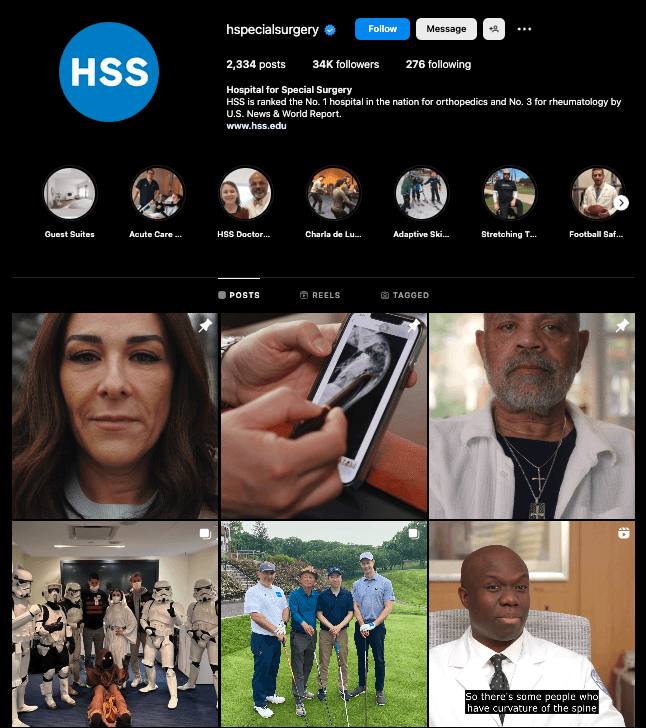 (Image Credit: https://www.instagram.com/hspecialsurgery/)
Building a positive reputation
A strong reputation is invaluable for medical professionals. Potential patients rely on the experiences and opinions of others when choosing a healthcare provider. By focusing on building a positive reputation, you will foster trust and credibility.
Encouraging online reviews
Most people will turn to online reviews when researching healthcare providers. Positive reviews can significantly influence a potential patient's decision to choose your practice, making it essential to encourage satisfied patients to share their experiences online.
Don't be afraid to ask your satisfied patients to leave reviews on popular platforms such as Google My Business, Yelp, and Healthgrades. You can make this request in person, through email, or via text message. To make the process as simple as possible, provide direct links to your practice's review pages. Satisfied patients will be happy to support a business they like.
Perhaps even more important than getting reviews is responding to reviews. Engage with reviewers by responding to their feedback, whether it is positive or negative. Thank reviewers for their kind words and show empathy and understanding when addressing negative reviews. Demonstrating your commitment to resolving issues and improving patient experiences can help build trust and credibility among potential patients.
Providing excellent patient experiences
Of course, if you want patients to leave reviews, you've got to give them something to remember. From the moment patients enter your practice, they should feel comfortable and welcome. Create a clean, well-organized, and inviting atmosphere that reflects the professionalism and quality of care you provide.
A medical practice has the unique challenge of offering stellar care in the back, while the performance of your front staff is also judged. In addition to creating a welcoming environment in the office, make sure your staff has a personal interaction with all of your patients. Ensure that you and your staff communicate clearly, empathetically, and respectfully with patients, addressing their concerns and answering their questions. Follow up with them about their visit, send reminders for upcoming appointments, and share your appreciation for your customer base.
Continuously improving your practice based on patient feedback: Regularly solicit feedback from your patients to identify areas for improvement within your practice. Implement necessary changes and demonstrate your commitment to providing the best possible care for your patients. This continuous improvement process can contribute to a positive reputation, attracting new patients and retaining existing ones.
Use local marketing strategies
When it comes to any medical service, local marketing is going to be your bread and butter. Many patients prioritize convenience and proximity when selecting a healthcare provider, and are most likely to do their search on Google maps or by asking people they know for references. By focusing on marketing efforts within your community, you can increase your practice's visibility among potential patients in your target area.
Networking with other local businesses
Build relationships with other medical professionals in your community, such as primary care physicians, specialists, and allied healthcare providers. Establishing a strong referral network can lead to a steady stream of new patients, while also providing additional resources for your existing patients who may require specialized care. A dental surgeon can greatly benefit from networking with local dental offices, as they are likely to refer patients to your practice if you have a strong relationship.
In addition to cultivating relationships with other medical professionals, consider the power of direct mail marketing to attract new patients. Dental postcard marketing has proven to be an effective method for many practices to reach potential clients in their local area. With eye-catching designs and compelling offers, postcards can make a significant impact in capturing the attention of potential patients. Companies like Cactus Mailing are renowned for their expertise in creating targeted postcard campaigns specifically tailored for dental practices. Partnering with such a company can amplify your reach and draw in new faces to your clinic, further establishing your reputation in the community.
You don't have to only network with other medical practitioners. The bigger your network, the better, so consider which industries might be relevant to your business. For example, Global Emergency Medics, a company that provides wilderness first aid and first responder certification courses, frequently partners with local organizations that offer wilderness excursions and activities. They gain recurring customers through these relationships, and in return these organizations can boast the required safety training of their staff.
The All-in-One Platform for Effective SEO
Behind every successful business is a strong SEO campaign. But with countless optimization tools and techniques out there to choose from, it can be hard to know where to start. Well, fear no more, cause I've got just the thing to help. Presenting the Ranktracker all-in-one platform for effective SEO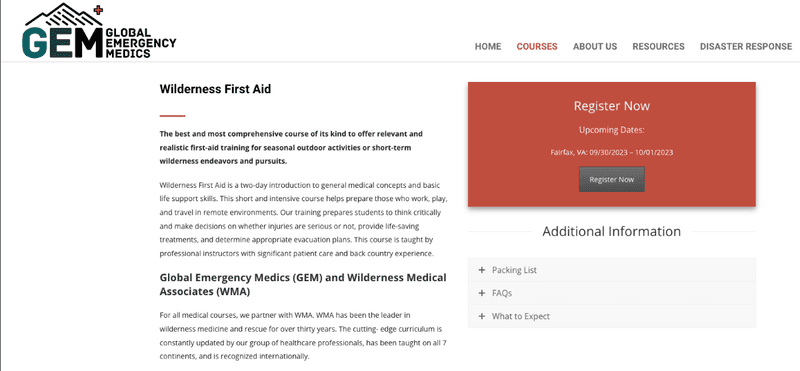 (Image Credit: https://globalemergencymedics.com/wilderness-first-aid/)
Participate in local events and sponsorships
Engage with your community by participating in local events, such as health fairs, charity runs, or school activities. Not only will you and your staff enjoy this connection, it will provide an opportunity to showcase your practice and interact with potential patients. Consider sponsoring local organizations or events to increase your practice's visibility and credibility. Even something as simple as staff volunteering at a local non-profit event in matching shirts will demonstrate your commitment to the community.
Implement content marketing
Content marketing is a powerful SEO and PR tool. As one of the strongest marketing techniques as far as ROI and SEO, don't overlook the importance of content. By creating and sharing valuable content, you can educate your audience, demonstrate your expertise, and strengthen your practice's reputation.
Perhaps one of the best examples of strong content marketing is [Mayo Clinic](https://www.mayoclinic.org/\). Their site is such a high authority when it comes to diagnostic information that almost everyone has heard of or learned something from Mayo Clinic. Here's how you can follow in their footsteps.
Creating a blog
The first step to strong content marketing is having as much information as possible on your website that might be useful to your patients, and this includes writing a blog. Post regularly, at least 2-3 times a month if not more, covering any topic relevant to your business or field. Focus on giving actionable advice to your client base to keep readers following your content regularly, such as health tips, preventative care recommendations, and explanations of common medical conditions or procedures. This will showcase your medical expertise as well as offer up attractive content to Google to drive more traffic to your site.
Consistently publishing high-quality, informative content can position you as an authority within your specialty. This can not only enhance your reputation among your peers but also help instill trust and confidence in potential patients. A great example of a consistent and diverse blog is on Bespoke Treatment, with new mental health topics every single week.
These are the most foundational strategies for marketing a small business as a medical practitioner. As you likely noticed, the key principles largely align with marketing any other business, but sometimes the application is a little different in the medical field. Local marketing is more important than it is for a business that can generate significant profit from virtual interactions, and creating lasting relationships with clients is an additional challenge that a medical practice faces. If you cover these bases, you should see immense success from your marketing strategy.