Intro
Artificial Intelligence (AI) has dramatically revolutionized the way we live now. By assisting in mundane human tasks, AI has made our daily lives simpler, safer, and more streamlined. While some may argue that AI manipulates humans and can negatively affect the future, we cannot deny that it immensely improves the quality of life.
Remarkably, AI has also dominated the world of content. Implementing AI in content creation is the easiest and fastest way to supercharge your ranking and marketing ventures.
With its mindblowing abilities, we can all use it to our advantage by carefully and meticulously planning our content strategies.
However, do take note that using too much AI may give you the opposite of your intended effect. As AI tends to create content that is more focused on Google ranking, there is a high probability that it may only cover just some part of its readers' queries and needs. This might eventually take a toll on your page.
To avoid this, we have listed below some of our highly recommended dos and don'ts when using AI in your content creation. These tips will help you find the perfect harmony between AI-assisted content and the wonders of human touch and creativity.
1. Do Utilize AI to Save Time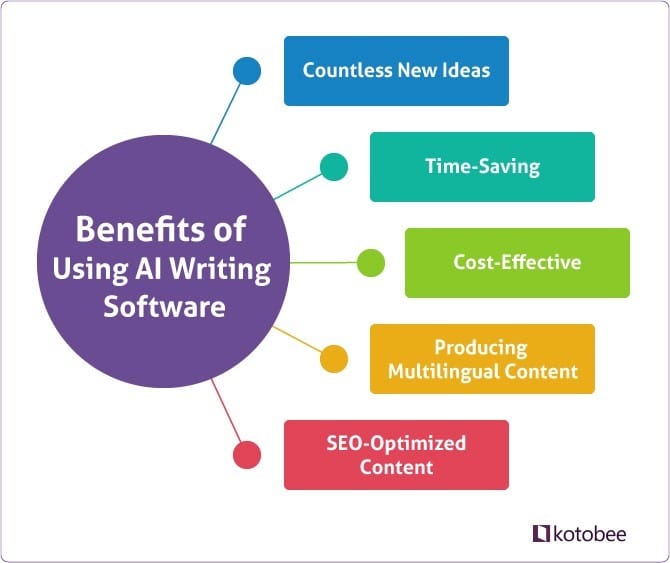 (Image Source)
I am sure we can all agree that time is every writer's nemesis. This is where AI comes into play to make all the pain go away:
AI can check your grammar, vocabulary, and even punctuation.
AI can suggest improvements in sentence structure and language used so that it caters better to your target audiences.
AI is capable of automating time-consuming chores like formatting and fact-checking.
One perfect example of this is the widely used Grammarly – every writer's best companion in article writing. It has several remarkable features, from paraphrasing to spelling. It can also help you change your writing tone, be it academic, friendly, or professional.
The All-in-One Platform for Effective SEO
Behind every successful business is a strong SEO campaign. But with countless optimization tools and techniques out there to choose from, it can be hard to know where to start. Well, fear no more, cause I've got just the thing to help. Presenting the Ranktracker all-in-one platform for effective SEO
Plus, it can also check for plagiarism! With the support of AI, writers can skip mundane tasks such as these and devote more time to producing high-caliber, creative content instead.
AI can also help you save time on research. Thanks to the Internet, we have access to information around the world now more than ever. This means greater opportunities for deeper and wider research, but that also means long hours sifting through wall after wall of text.
Fortunately, there is AI-powered software that can swiftly pull out the most critical points from hundreds of online articles and produce a quick summary, so you do not need to read every single article on the web to write your content.
More on how else AI can help with your research next!
2. Do Use AI as Your Research Assistant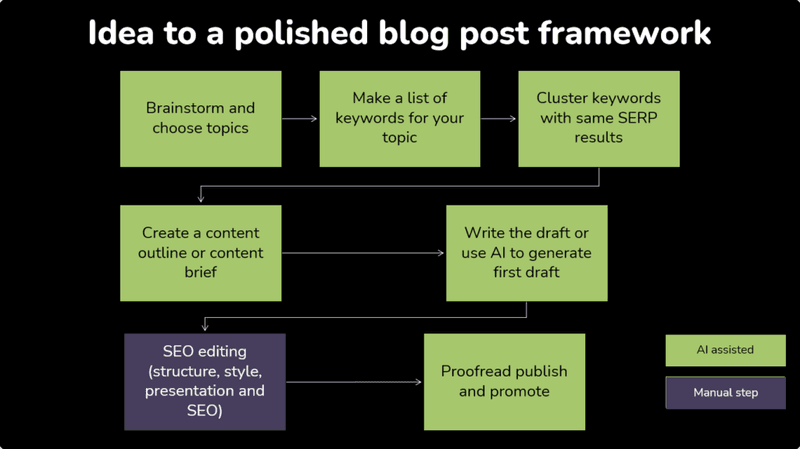 (Image Source)
AI has grown to become an enormous help for writers in content writing, especially in research. There are hundreds of AI software available now that could help you with your research.
Writers can use the assistance of various AI tools to analyze search engine data and receive insights on how to structure their content. This includes identifying relevant keywords and suggesting ways to improve your content's readability and structure.
The All-in-One Platform for Effective SEO
Behind every successful business is a strong SEO campaign. But with countless optimization tools and techniques out there to choose from, it can be hard to know where to start. Well, fear no more, cause I've got just the thing to help. Presenting the Ranktracker all-in-one platform for effective SEO
One of the most popular tools is Quillbot. Apart from paraphrasing, this AI word processor is known for its co-writer feature where you can research, write and cite quickly, seamlessly, and effortlessly.
Take their research feature as an example: In just a matter of seconds, most of the essential resources are already in your view, ready for you to read.
This technology has been quick and systematic in scouring the Internet and databases; thus, ultimately saves time, increases productivity, and gives writers more time to concentrate on their writing tasks.
3. Do Use AI to Improve Your Content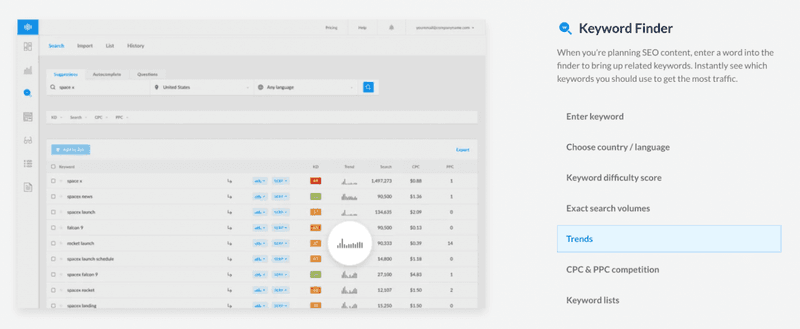 (Image Source)
AI can also give you some content ideas by analyzing your existing customers. By generating valuable keywords and trending topics, AI can help you reach your target audiences by making your content more relatable, readable, and search engine friendly. With these essential data, you can quickly create and develop timely content to increase your page ranking, traffic, and engagement.
In a matter of seconds, the Ranktracker software can help you discover the most trendy topics relevant to your target market. It has features to research keywords, analyze the competition, and track your search engine ranking all within its platform.
Though with its impressive speed, you must be extra cautious in developing more intentional content. To maintain a better user experience, see to it that your content has covered everything that it should, your titles or headlines are not clickbait, and that your secondary keywords sound natural so as not to harm your website's ranking.
4. Do Use AI to Add Spice To Your Content
To make your written content or website more pleasing and attractive to your readers, add visuals to spice it up.
Several well-known text-to-image AI generators are trained to interpret and pair image and text descriptions. One of the most talked about text-to-image AI generators is none other than Midjourney. A game designer even used this controversial software to join an art competition, and he ended up bringing home the first prize.
While commonly known for its stock images, video clips, and music tracks, Shutterstock also released its own AI image generator too. They can transform your words into eye-catching pictures. You can even edit it according to your liking.
Apart from image generation, there are AI tools that can create videos with a presenter just from texts! They even have the option to localize your video content in over 65 languages. No harm in giving this a try if you would like to add some video content to your website too.
5. Don't Depend Too Much on AI
While AI is a powerful tool for content creation, it should only assist or serve you as a reference in your content creation. This is because any AI-generated content might run the risk of plagiarism or false information. Some may copy a human-written article and only swap certain keywords out to avoid being flagged as plagiarism, while some may make things up just to develop SEO-friendly content.
Hence, AI-generated content must always be evaluated, edited, and fact-checked before use. Any facts or claims mentioned in your article should be supported by various reliable sources.
Next, to maintain the accuracy and relevance of your website, it is key to ensure that everything the AI has included in the article must add some value to your audience. Never use it wholesale!
By being consistent, you are also establishing your expertise, authoritativeness, and trustworthiness, which will help you rank better on Google.
Bear in mind that everything published on your website reflects your brand! So it pays to be extra careful, and false narratives should have no place on your website or social media platforms.
Last but not least, ensure that your article is easy to understand. You should proofread it as AI-generated content may be filled with technical terms that may be too tricky for your readers – ultimately, your content is created for humans and not computers!
6. Don't Replace Human Touch with AI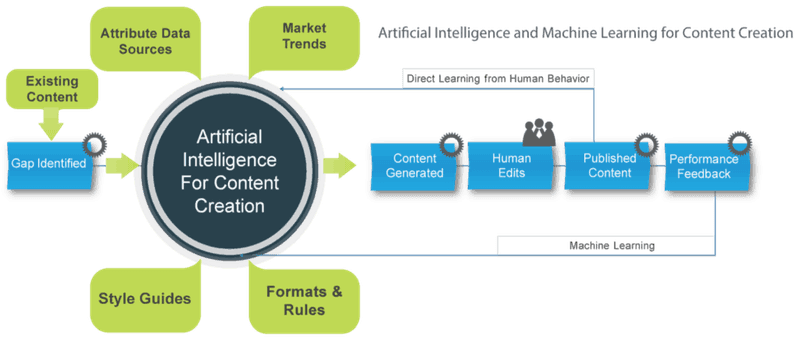 (Image Source)
While AI does wonders when it comes to quick idea generation and content optimization, they still fall short in replicating human points of view, reflecting cultural nuances, communicating unique personalities, as well as sharing personal experiences.
A case in point is the Openai ChatGPT which can quickly produce articles with ample keywords and quality backlinks. However, some of its responses can be quite conversational and may not be suitable for professional use.
Therefore, while its output can be used as a starting point, it needs a human author to edit and carefully proofread it to ensure it is professional, give it a nice human touch, and make it culturally relevant.
Kris Ruby, the owner of the public relations and social media agency Ruby Media Group, mentioned they have started using both text and image generation. However, she makes sure to state "The AI is 10%, I am 90%" whenever they use these tools because a lot of prompting and editing still goes behind the scenes.
This goes back to the point where AI should only be used as a tool to develop ideas and optimize content. It is not capable of replacing human touch, creativity, and personality completely.
7. Don't Use AI to Produce Clickbait
Because AI is more focused on producing SEO-friendly content, it inevitably uses clickbait headlines and content. These titles are intended to get readers to click and see the article, but they may not necessarily turn out to be meaningful and relevant content.
The All-in-One Platform for Effective SEO
Behind every successful business is a strong SEO campaign. But with countless optimization tools and techniques out there to choose from, it can be hard to know where to start. Well, fear no more, cause I've got just the thing to help. Presenting the Ranktracker all-in-one platform for effective SEO
While you can utilize AI for help, your aim should be focused on developing high-quality articles that will benefit your audience. Remember, the quality of a service or product is what the client or customer gets out of it.
8. Don't Sacrifice Quality for Quantity
While producing gazillions of content with AI in less time is exceptionally enticing, you should pay attention to the quality.
Double, or if applicable, triple-check every published content and ensure it is consistent with your brand's messaging and standards. Sticking to this rule will guarantee that your audience will find your material valuable, interesting, and engaging.
Final Thoughts – Humans Joining Forces with AI
I think we can all agree that the floodgates for AI content-generation tools are opening up, and it is unlikely that they will ever close again. More companies than ever are hopping onto the bandwagon.
Of course, while artificial intelligence may be a handy tool to make content creation faster and more efficient, it must also be used in moderation as it is not perfect.
At the end of the day, it is essential to strike a good balance between human involvement and AI support to unlock the full potential of both. Nothing can ever replace the creativity and originality of humans. After all, it is the human mind that created AI!