Intro
Artificial Intelligence (AI) is coming for everything you do. Are you ready?
There isn't much that will remain untouched by AI in the next few years, and that includes ITSM. Already significantly impacted by the integration of AI technology, IT service management (ITSM) will have even more opportunities to grow with AI in the next few years.
But while AI-enabled ITSM has the potential to bring unmatched benefits to business, including cost savings and increased efficiency, it also poses several challenges that must be addressed for it to make the most positive impact it can.
Read on for an overview of the unique opportunities and challenges ahead when it comes to AI and ITSM and how you can prepare for the coming technological changes.
The Role of AI in ITSM
In recent years, AI has become ubiqituous in most industries. As Andrew Ng, computer scientist and global AI leader says, "It is difficult to think of a major industry that AI will not transform. This includes healthcare, education, transportation, retail, communications, and agriculture. There are surprisingly clear paths for AI to make a big difference in all of these industries."
One area that boasts a major AI-enabled impact is ITSM. IT service management (ITSM) is a set of processes used for creating and managing your IT services and operations. AI's introduction into the ITSM universe enables the automation of those processes by an advanced computer system with human-like capabilities.
AI is especially useful when it comes to IT ticketing services. With chatbots, automatic ticketing organization and prioritization, and text and survey analysis to understand the satisfaction level of end users, businesses have been able to streamline ticket resolution, provide 24/7 support, and handle an influx of tickets with AI tools.
The All-in-One Platform for Effective SEO
Behind every successful business is a strong SEO campaign. But with countless optimization tools and techniques out there to choose from, it can be hard to know where to start. Well, fear no more, cause I've got just the thing to help. Presenting the Ranktracker all-in-one platform for effective SEO
AI-enabled ITSM attempts to improve services for end-users while providing context-based recommendations, incident detection, root-cause analysis, and much more to help businesses make data-fueled decisions.
With a recent reduction in the cost of AI systems (as more and more technology hits the market) and increased capabilities, artificial intelligence is no longer relegated to organizations with deep pockets. Businesses of all sizes have the chance to make the most of AI, but they should first be aware of the pros and cons of implementing this technology that are steadily arising.
Looking Ahead: AI and ITSM Opportunities
ITSM automation is already highly beneficial to businesses that provide IT or ticketing services, but AI brings many benefits and capabilities that build on pre-existing automation.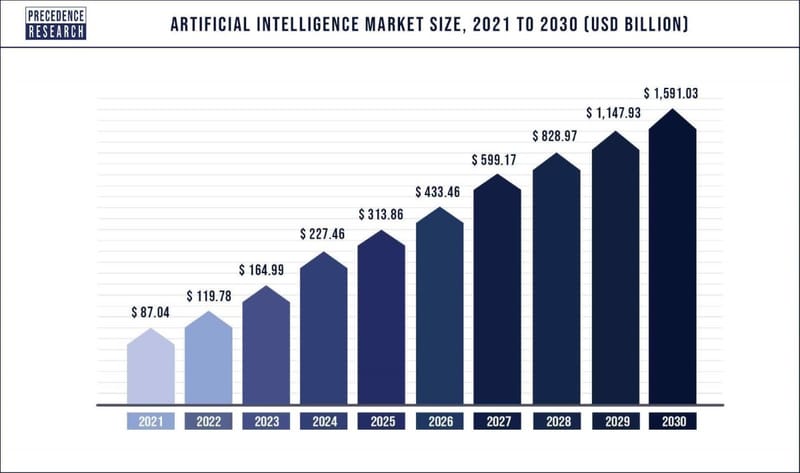 (Image Source: precedenceresearch.com)
1. Advanced Task Automation
ITSM automation can already handle simple, repetitive tasks by following a set of pre-defined rules. AI-based tools elevate what automation already does by mimicking human input to be able to perform tasks that they learn by observing patterns and past outcomes. AI is designed to understand and act on what it learns. It will not just solve incidents and complete tasks based on instructions; it will identify what needs to be done or what's going wrong and take the actions necessary to mitigate incidents.
Because AI operates 24/7, it enables IT staff to focus on more complex problems that still require a human touch. In other words, AI automaton tools reduce downtime and improve overall efficiency through all-day operation and availability.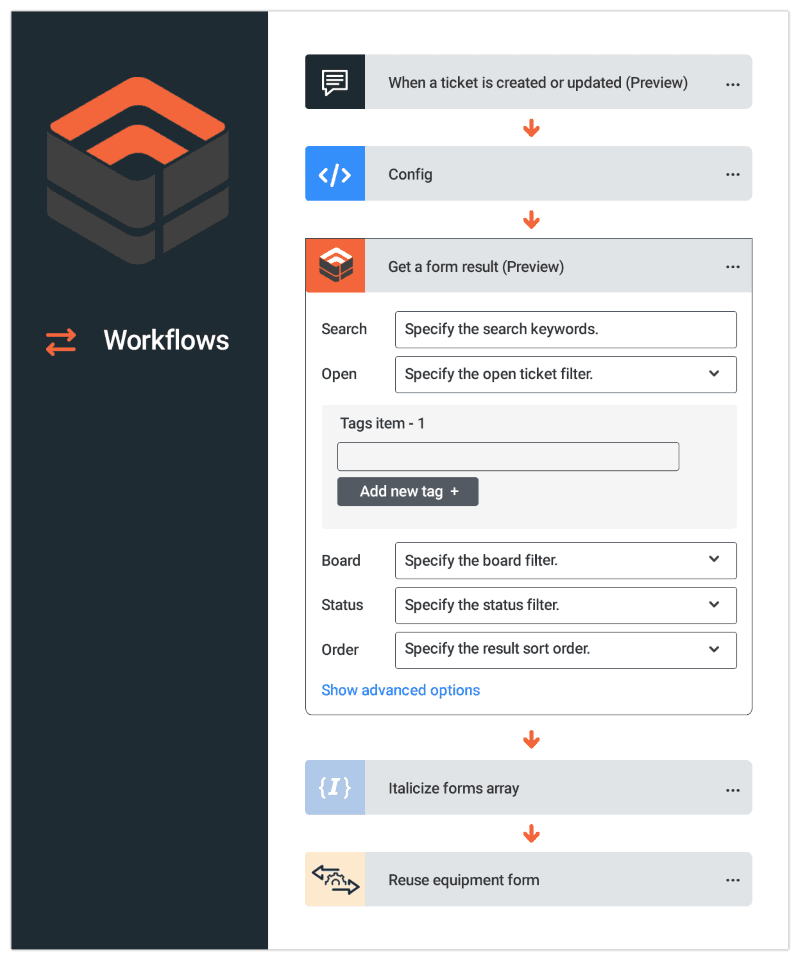 (Image Source: deskdirector.com)
2. Sophisticated Data Analysis
ITSM automation can report on ticketing data, but AI has a much higher and more sophisticated capacity for analyzing trends and patterns in IT service data. AI can help identify potential problems before they occur based on data so businesses can proactively address them. AI tools can also collect data from multiple sources and analyze it in real time so agents can better serve customers at that very moment.
3. Enhanced Cross-Team Collaboration
AI-enabled ITSM allows IT teams to collaborate more efficiently by automatically sharing information across teams and departments within an organization. AI can track team roles and skills, assign tasks accordingly, and send comprehensive progress reports based on performance analytics to team leads and executives. With AI processes, techs can respond faster to requests from both internal and external users and work with HR, customer support, and other departments to scale operations without sacrificing quality or effectiveness.
4. 24/7 Internal & External Support
One of the most popular AI tools is the chatbot, which offers 24/7 support to internal or external users with questions or issues. A chatbot can understand the user's request and direct them to a knowledge base or other resource to help answer concerns, all without involving an agent. This leads to speedier ticket resolutions and frees agent resources to focus on high-priority tasks. AI can also be used as part of predictive maintenance programs for assets such as servers or network devices, downplaying the need for human intervention on simple maintenance tasks.
5. Improved Content Creation & SEO
In tandem with 24/7 support is the ever-growng knowledge base. Knowledge bases are self-service online libraries that allow users to find information and answers on various topics, products, and services. Organizations seek to make their knowledge base articles user-friendly, searchable, and easy to find through search engines.
AI can conduct keyword research, anayze content, and suggest improvements for creating an SEO-friendly knowledge base and other user-facing resources. AI can also identify long-tailed queries through natural language processing (NPL) to optimize content and provide answers to questions that users actually ask.
The All-in-One Platform for Effective SEO
Behind every successful business is a strong SEO campaign. But with countless optimization tools and techniques out there to choose from, it can be hard to know where to start. Well, fear no more, cause I've got just the thing to help. Presenting the Ranktracker all-in-one platform for effective SEO

(Image Source: ranktracker.com)
Proceed with Caution: AI and ITSM Challenges
Along with its many benefits, implementing AI comes with its fair share of challenges that must be acknowledged and addressed to avoid significant issues that could lead to customer churn, service disruptions, and high costs.
1. Losing the Human Element
86% of people prefer to talk to a human over a chatbot. Some customers will always want to talk to a real-life agent, and dealing with AI can cause them severe frustration. Additionally, while AI is certainly more advanced now than ever, there are still complex issues, especially in the customer support realm, that can best be handled by someone with a human touch.
2. High Cost & Maintenance
Although AI systems are becoming more accessible to companies with a variety of budgets, the implementation, training, and maintenance costs of AI can add up. Techs will need to develop new skills to work effectively with AI-enabled systems. They'll require time-consuming, often costly training on how to properly integrate AI into their daily routine and use it to resolve tickets efficiently. Some of the more advanced AI systems are expensive, and because AI is still working out some kinks, frequent maintenance is essential to keep things running smoothly, which can cause frustrating service disruptions for users.
3. Poor Integration
If AI is not adequately integrated into your IT tech stack, it can cause more harm than good through unreliable, inefficient, and inaccurate processes. AI must be implemented and adapted correctly for it to drive maximum impact. Integrating AI into ITSM requires significant changes to existing processes and systems, and organizations will need to invest in the necessary infrastructure and resources to incorporate and maintain a cohesive tech stack effectively.
4. Complex Ethics & Biases
AI in all forms comes with a slew of ethical questions. AI in ITSM raises explicitly ethical questions about privacy, data ownership, and the potential for job loss. Organizations need to consider the ethical implications of using AI, monitor the potential biases of AI and its human input, and develop policies and practices that align with their values.
5. A Lack of Creativity
As much as its algorithm can learn to mimic and understand human actions, many experts still feel that artificial intelligence cannot reach the level of creativity as humans. In other words, AI can't "think outside the box" and develop a unique solution to a problem. It lacks the ability to find workarounds, loopholes, and creative resolutions. Although AI can improve, it's ultimately bound to rules and algorithms in a way humans are not.
The All-in-One Platform for Effective SEO
Behind every successful business is a strong SEO campaign. But with countless optimization tools and techniques out there to choose from, it can be hard to know where to start. Well, fear no more, cause I've got just the thing to help. Presenting the Ranktracker all-in-one platform for effective SEO
Although AI can collaborate with other technologies such as IoT, Big Data, and more, it can only be as smart and creative as its creators, to a certain degree. So if an end-user submits an uncommon ticket that requires a bit of creative thinking, chances are that AI won't have the capacity to develop an innovatie solution on its own.
ITSM and AI: The Conclusion
AI's role in ITSM is only just beginning, but even in its infancy stage, it has already demonstrated great potential. AI-enabled ITSM can help slash ticket resolution times, boost user satisfaction with 24/7 support, and empower smarter business decisions through sophisticated data analytics.
Yet AI is not simply a magic bullet that can be implemented overnight without an error or issues. Strategic planning is necessary to seamlessly integrate AI into pre-existing systems and solutions.
So, as organizations begin adopting AI for IT purposes, they must address its challenges, be prepared to evolve, and constantly adapt to keep up with this ever-changing tech. If you consider all positive and negative factors before deploying this tech and prepare accordingly, it can truly transform your business.
Looking for an ITSM tool that utilizes AI technology while following best practices? Try DeskDirector today!