Intro
If you're a business owner, especially a small business owner, you know how important online reviews are. They can make or break your business. A potential customer is far more likely to trust a review from a stranger than they are to trust your word alone. That's why Google reviews are so powerful.
Google is the most popular search engine in the world, so when someone searches for your business on Google, your reviews will be one of the first things they see. And if those reviews are positive, it can mean big things for your bottom line. In this article, we'll discuss all the benefits that Google reviews can bring to your business, and how you can manifest its power to make your business stand out.
What are Google Reviews?
Google reviews are business reviews written by customers on the Google Platform. Businesses will need to have a Google Business Profile to receive these reviews. And then, for customers to leave a review, all they need is a Google account.
As mentioned earlier, Google is the most popular search engine in the world. These reviews reach more potential customers than on any other platform. When someone searches for a business or looks for directions in Google Maps, one of the first things they see is Google Reviews.
Why Are Google Reviews Important?
Here are the most powerful reasons why Google Reviews matter and are so important to both customers and businesses alike.
Provide Transparency and Build Social Proof
Google reviews provide customers with transparency and peace of mind when selecting a business to patronize. These reviews help people determine whether or not a business is worth their time, money, and effort before making a purchase.
Furthermore, Google reviews create an environment where businesses must stay honest in order to remain competitive, as bad customer experiences are quickly shared online. This encourages companies to maintain high standards of quality and customer service to succeed.
As such, customers can rely on these reviews for an accurate depiction of the product or service they're considering without having to risk their own resources. Ultimately, Google reviews help provide consumers with the information they need to make smart decisions about their purchases.
Improve Search Engine Rankings
Google reviews are one of the most important factors in determining a website's search engine rankings. Businesses can take advantage of increased visibility and improved online presence using the platform. Research has shown that customers trust businesses with positive online reviews more than those without them, making it essential for businesses to have quality customer reviews on their websites.
Google Reviews helps improve organic search engine rankings by increasing user engagement with your website's content. When customers write reviews about your products and services, they essentially provide fresh and relevant content which increases the chance of appearing higher on Google search results pages (SERPs). You can use a tool like RankTracker to monitor the performance of your website as it moves up and down the search engine results.
The All-in-One Platform for Effective SEO
Behind every successful business is a strong SEO campaign. But with countless optimization tools and techniques out there to choose from, it can be hard to know where to start. Well, fear no more, cause I've got just the thing to help. Presenting the Ranktracker all-in-one platform for effective SEO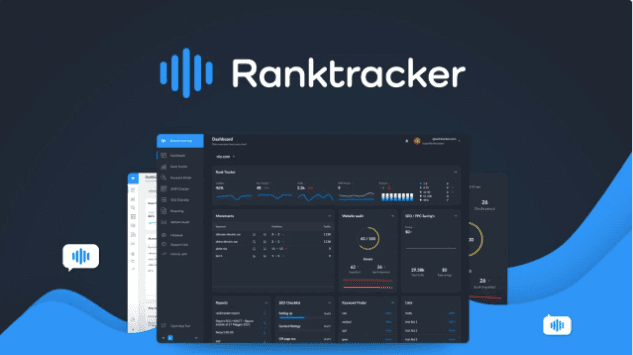 This is because Google rewards websites with both quality and quantity when it comes to content. Additionally, this leads to more referral links from other sites as customers share their reviews across the web.
Another way it helps improve search engine rankings is by increasing brand visibility and awareness. Businesses are able to reach a larger audience as users will be more likely to click on websites with positive customer reviews. This can lead to an improved online reputation and trustworthiness, further boosting your website's authority and rankings in the SERPs.
Enhance Online Reputation
Google Reviews is an invaluable tool for businesses to help build their online reputation. With the increasing number of consumers using the internet for research, reviews can have a huge impact on how potential customers view a business. By offering customers the ability to provide feedback on their experiences with a company, Google Reviews allows businesses to showcase their positive qualities and improve upon any shortcomings.
From understanding customer feedback to demonstrating expertise, Google Reviews can help ensure that businesses stand out from the crowd.
Improve Products and Services
Google Reviews can provide invaluable insight into how customers view a business's products and services. By actively monitoring customer feedback, businesses can better understand what customers are looking for in their products and services, leading to improvements that increase satisfaction and loyalty.
How to Create a Google Business Profile
The first order of the day for any business to get Google Reviews is to set up its Google Business Profile. The process is pretty straightforward.
Run a Google search for the name of your company.
Click on "Own this Business?" and this will forward you to the Google Business Profile Claim Page
Google will then run a verification process for your business. You'll be able to edit your profile and optimize your GMB listing after it has been verified.
How to Get More Google Reviews
Fortunately, getting Google reviews isn't too difficult or time-consuming. All it takes is a few simple steps. Here's how to get more Google reviews:
Ask Your Customers
Reach out directly to customers who have had positive experiences with your business and ask them if they would consider writing a review on Google for you. You can do this in person, over the phone, or even via email or text message (make sure you are following all rules regarding communication). Make sure to explain the process and let them know you appreciate their time.
Leverage Social Media
You can also use your social media channels to encourage customers to leave reviews on Google. Post reminders or ask directly and include a link to make it easy for them to do so.
Add A Link To Your Website
Having a direct link on your website makes it easier for visitors or potential customers to find and access your Google review page. Make sure that the link is in an obvious place, such as near the top of each page, or in the footer of every page on your website.
Send Out Reminders
If you have collected emails from customers, you can send out periodic reminder emails to encourage them to leave a review. You can also include a link directly to your Google review page with each reminder.
Respond To Reviews
No matter, if it's a positive review or a negative one, responding to reviews on Google, shows that you are engaged and paying attention, which will further motivate customers to leave reviews and help build trust with potential customers. Businesses can access a wealth of review data, including ratings, text, and photos, and use this information to showcase social proof and build trust with potential customers by using its API.
The Best Tools for Managing Your Google Reviews
There are also specific tools designed specifically to streamline this process generating more Google Reviews. Here are some of the best tools out there:
ReviewGrower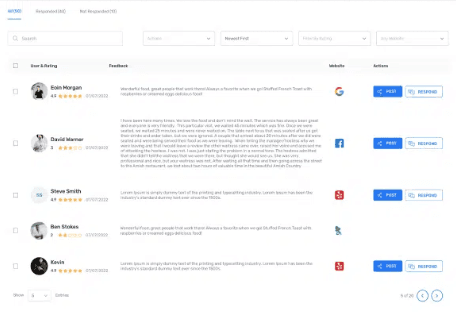 ReviewGrower is an excellent tool for helping businesses in receiving more positive feedback. Here's how it works: after a customer makes a purchase, they'll receive an automated follow-up email asking them to write a review. They'll have the option of leaving a review on Google, Yelp, Facebook, or anywhere else they want. And, if the customer has any issues with the product or service they received, they'll offer to assist them in resolving the problem before they leave negative reviews.
They also have a cool feature called the Google 5-Star Rating Calculator. What it does is it can help you figure out how many more reviews you need to get your overall rating to 5 stars.
Customer Lobby
Customer Lobby provides businesses with a comprehensive suite of review solutions designed to increase customer feedback and improve ratings on Google and other review sites. The platform allows businesses to easily create custom campaigns, automate reviews solicitation, respond to customer feedback on multiple platforms, and monitor their reviews in real-time.
Podium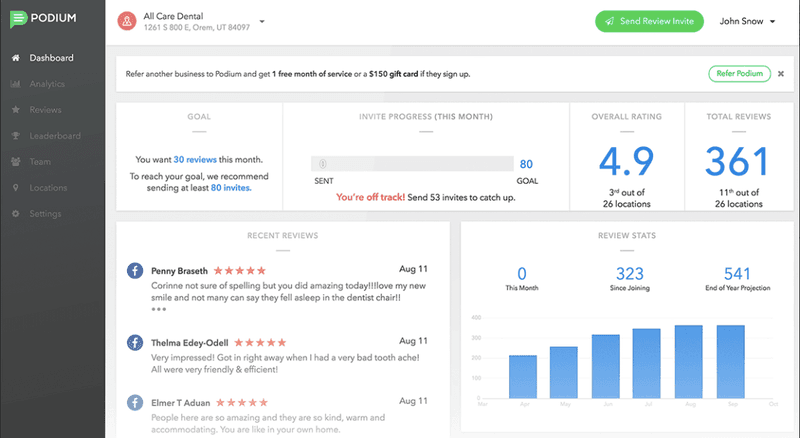 Podium is a customer engagement tool that helps businesses get more reviews from customers through its automated review request system. It also offers features like customizable templates for emails and text messages, detailed analytics about how customers interact with the business's brand, and personalized responses for customer conversations on social media channels.
GatherUp
GatherUp is a full-featured review software that simplifies the process of gathering customer feedback across multiple platforms. It includes features such as an automated review request system, detailed reporting of customer feedback, and the ability to respond to customers in real-time.
GradeUs
GradeUs is a review management platform designed to help businesses generate more positive reviews from customers across multiple platforms. The platform offers features like automated review requests, detailed analytics about customer feedback, and personalized services for responding to customers on social media channels.
Wrap Up
At the end of the day, if you're not using Google Reviews to grow your business, you're missing out on a lot of advantages. It's a free service on the world's most popular search engine platform; you'd be remiss if you didn't take advantage of it. It's one of the most cost-effective ways to increase leads and grow your business. You can achieve incredible results in a relatively short period of time by devoting little time and resources to Google business reviews.
So if you're looking to lower your cost per conversion and boost your bottom line, start by leveraging the power of Google reviews.