Intro
In the ever-evolving digital era, there are many social networking sites. LinkedIn stands as a professional social networking platform that can effectively be utilized for lead generation. Out of many ways like posting, directly connecting, and sending promotional messages and emails for lead generation. One of the finest ways is to create LinkedIn groups. This approach led to establishing your brand or you as a credible community giant or positively a thought leader.
Furthermore, you can connect with like-minded professionals and generate leads for your business by using such networking sites. Here, in this blog, we are going to unleash the enriched potential of LinkedIn groups and their added benefits along with key tips and tricks of how you can leverage it to its fullest potential. But before we deep dive into the core, first let's understand the basics;
What are LinkedIn groups?
LinkedIn groups are also a kind of group or community of professionals with the same interests, fields and professions. You can create public or private LinkedIn groups, which can be further moderated by the members or by LinkedIn themselves.
Furthermore, such social networking groups can be used to connect with people, share your thoughts, new innovations and anything under the community guidelines. Also, you can foster your relationship within the network or the group and if you are a brand then it is the easiest way to connect with your targeted audience.
LinkedIn groups: How to maximize your networking potential
Generally, all social groups and social networking platforms are the best way to generate leads. Because they provide an easy way to communicate with the target audience from your industry niche. Taking active participation in groups related to the industry niche can be helpful in connecting with potential customers, building relationships and establishing yourself as an authority.
Here next let's talk about the effective ways LinkedIn groups can help with lead generation;
Build relationships
The golden rule to building a relationship with anyone is to start a conversation and engage with them. By fostering conversations and sharing valuable insights, you can easily make a bridge to convenience about your brand. Additionally, you will get time to understand the customers' perspectives through their thoughts, and it will be helpful in making more informed decisions.
Increase visibility
Joining any community or group is not just enough until as a business you don't have your own LinkedIn company page. Once you create your page, learn how to optimize your LinkedIn company page for SEO. As this helps you increase your visibility. Furthermore, with context to the group, active participation will make you or your brand noticed in the community and ultimately lead to an increase in your visibility while reaching a wider audience. Share valuable content that appeals to the audience and content that increases engagement. This way you increase your followers and attract new people to add to your brand or business.
Generate leads
In general, most of the people, associated with any social or community group, are those who are keenly interested in that field. So, thus with the LinkedIn group, you can easily find your target audience there similar to your industry niche. By engaging and having valuable conversations with them you can convert them into valuable leads for your business.
Targeted marketing
When you have your targeted audience who is already interested in the same industry. You can deploy a targeted group marketing strategy that generates higher-quality leads that are more likely to be your potential customers. Additionally, targeted marketing is a kind of approach which acts to raise awareness about the current problem statement of the industry while specifying the solution with the product and services. It is also considered as the subset of the total addressable market. For any marketing plan, you first need to learn how to create a digital marketing plan. If you wanted to succeed in your business in this era of digital media.
Learn about your target audience
In any sort of conversation, there is always a link that is left to learn more about any person or group of people. In the context of LinkedIn groups, the discussion with the community lets the business understand the audience in a more insightful way. Later, the actionable insights and patterns will be helpful in making strategic content and running effective marketing campaigns.
Gain referrals
The world runs on referrals, from hiring a person from someone's referral to word-of-mouth referrals or simply the oldest traditional approach to refer and earn a strategy. All are combined stats. The one common thing is if you are active in a community and people like you or your products due to any sort of reason, you are a step closer to receiving referrals. So, keep your participation active every day or on regular intervals to make yourself established in the group.
Promote events and webinars
The best way to attract more event participation is to promote it well on the groups, social media platforms or events to run paid advertisements. There are many channels you can utilize to promote your brand's next event or webinar. But via the group, you make sure to attract more participants. But to make it possible, you need to theme your event by utilising online webinar services that align with your ndustry niche. So, more audiences feel connected to attend and look forward to it.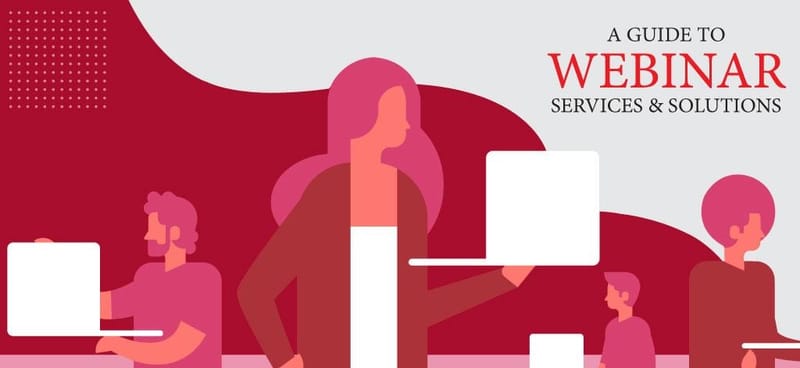 (Source: https://www.dreamcast.in/blog/webinar-services-and-solutions/)
The All-in-One Platform for Effective SEO
Behind every successful business is a strong SEO campaign. But with countless optimization tools and techniques out there to choose from, it can be hard to know where to start. Well, fear no more, cause I've got just the thing to help. Presenting the Ranktracker all-in-one platform for effective SEO
If you get more attendees at your next in-person event or participants at your online webinar service. Ask them to register for the event earlier so that you can collect their contact details and track their activity during the event. With this approach, there is a high chance you will make personalized promotional offers for them to seal the deal.
Establish partnerships or try influencer marketing
Unity is powerful and collaboration in business is significant. So, keep partnering with other members and act as a team who serves the same motto or vision. Partner with other businesses in your same industry. For example; MC Donald's partnered with Coca-Cola for years. The partnership makes them generate more revenue together.
Moreover, in the social media era where there are many people who work as creators. Try to effectively collaborate with social media influencers and integrate Influencer marketing into your overall strategy.
Tips for creating engaging content for LinkedIn groups
The above discussion assures us that LinkedIn groups are undoubtedly powerful for lead generation and helpful to establish networking and establishing yourself. But to make all this possible, here are a few tips that help you in creating compelling content;
Know your audience
Extensive research is what you must need to do before you start posting anything in the groups. Knowing your audience's points of interest is crucial. By doing research and analyzing the previous group conversation and feedback, you can be able to create content that excites them or provides value to the group.
Keep It short and sweet
Do you like reading long content or spammy messages? No! So, how do you think that your audience may like this? Keep your content concise, easy to read while using bullet points, subheadings and short paragraphs to make it look short and sweet yet easily digestible.
Use eye-catching visuals
Visual memories are the strongest memories. Have you ever witnessed a scenario where you just stopped and kept looking at your screen while scrolling to a visual? This happens when you create appealing visuals that capture the audience's attention. Use all kinds of content formats whether it's images, videos, text or all others to convince your messages.
Moreover, not just visual but sometimes you can host a live streaming session or webcast your in-person events. Live streaming helps people to get updated in real-time. You can host a session where you give the opportunity to the group members to connect with you and have a 2-way conversation. This approach of leveraging live streaming services that Linkedin provides is an excellent approach to connecting in real-time.
Encourage discussion and feedback
Be the first one to raise any industry problem or talk about a new topic which people might be afraid to pick. Also, to foster a meaningful conversation, it is quite necessary to be authentic with your thoughts and ideas while open to constructive feedback. This approach can lead you to improve your content and take you to the next level with deeper conversation points.
Common mistakes! You should avoid when using LinkedIn groups for lead generation
Well, prevention is better than cure. So, how about taking care of mistakes and timely eliminating them to not diminish the reputation of your brand? Here are some of the essential considerations which are proven helpful.
Avoid direct promotion messages that seem spamming.
Don't ignore negative feedback or destructive criticism, either; use this as an opportunity to make yourself better.
Don't run out of patience. Be persistent and keep in mind that everything takes time and continuous effort.
Marketing is not your ultimate goal, keep focused on delivering value to the group.
Do not break community guidelines or rules, as this will take you to a ban.
Try to be flexible with the modern trends and don't stick with a similar approach always.
Don't be just a member, show active participation with consistency.
How to leverage LinkedIn groups for B2B lead generation
No matter whether you have a B2B or B2C business, lead generation is the key aspect for you. To fulfill this, there are many tips and tricks that can be followed, but all those tips are only applicable once you strategically take a few steps. Like, you need to be very selective to choose the group that is relevant to your business domain. Furthermore, be thoughtful yet relevant with your content and make a strategy that appeals to the audience and enhances engagement. Some of the best ways to leverage LinkedIn groups for B2B for lead generation are mentioned below;
Monitor group discussions to find an opportunity to share value with your content.
Create informative content that touches upon the group question and discussion in the best possible way.
Be an active participant to make yourself visible, leaving to establish yourself as an authority.
Collaborate with other B2B businesses or with relevant industry partners.
Use the group search functionality to find people and connect with them, or send personalized messages.
Be updated with your information and industry knowledge.
Use LinkedIn analytics to track success.
The group is not the only way, don't forget to leverage the benefit of direct leads outside the group or use messaging.
Up to you
LinkedIn groups are powerful tools for brands, businesses or individuals to generate potential leads. With the right approach, strategy and engaging conversation building a meaningful relationship is possible. Keep focused on providing value to the group and avoid promotional approaches. Slowly but surely you will generate potential leads. So, join the linkedin group or create one by yourself to maximize your business ROI.
Hope you like reading this blog. Thank you!