Intro
What is the first thing you do when your manager assigns you a task? Or when you need to find reviews for a new restaurant? Or when you're planning your next vacation?
You reach out to your old friend Google.
With the ease of entrepreneurship, many small businesses invest heavily in their marketing campaigns, including SEO. It's safe to say that you need to invest in your online presence for your business to succeed and not succumb to a digital fall, especially as an ecommerce business.
In this blog, you'll explore the state of SEO in 2023 and learn how to leverage the latest SEO trends to succeed in the growing digital landscape. We'll also shed light on some SEO basics and reflect on the dos and don'ts of positioning your website in search engine results.
The Importance of SEO For Business Of All Sizes?
Businesses have used SEO for years, but why is it suddenly so important in 2023? Hubspot reported that 88% of marketers who use SEO to generate traffic will continue to use it or invest more in 2023. The truth is website optimization is still a preferred technique among business owners and marketers, regardless of the rise and fall of search engines.
Organic SEO is still the talk of the town, and to rank higher among your competitors, you'll require:
Error-free, convincing, and well-researched content
Basic knowledge of SEO tools such as Semrush, Ahrefs, or Google Ads
Technical skills to efficiently use Content Management Systems (CMS) such as WordPress
The ability to analyze data and page performance through tools like Google Analytics
While this might be a bit overwhelming for some, if your keywords are well-optimized, and your copy reaches the right target audience, you'll be closing sales after sales through your website.
SEO is generous!
You can continue to utilize paid advertising, but as soon as your budget is exhausted, the leads stop coming in. You either need to add more funds or wait until the next month for a new budget.
This is possibly the best response to why SEO is important in 2023. Keyword-optimized content, written strategically, will continue to generate leads at absolutely no cost. Of course, you need to monitor the success of the main pages and modify the content when SERP positions fall.
The All-in-One Platform for Effective SEO
Behind every successful business is a strong SEO campaign. But with countless optimization tools and techniques out there to choose from, it can be hard to know where to start. Well, fear no more, cause I've got just the thing to help. Presenting the Ranktracker all-in-one platform for effective SEO
There may not be a more effective marketing tactic in terms of Return On Investment (ROI) than SEO.
Get to Know Your Customers
Have you ever spent days writing and editing a piece you were sure would hit home, but it simply disappeared in the plethora of content on the internet? If you use social media to market your products, remember you're not just against your competitors but also up against influencers, actors, bloggers, etc.
When asked why SEO is important for businesses in 2023, remember it's always user experience. Your website is the face of your brand that allows you to connect and speak to your audience one-on-one.
Now all you have to do is make a foolproof web copy, targeting the right customers, using the relevant keywords and SEO techniques, and the possibilities are endless.
The Latest Trends in SEO in 2023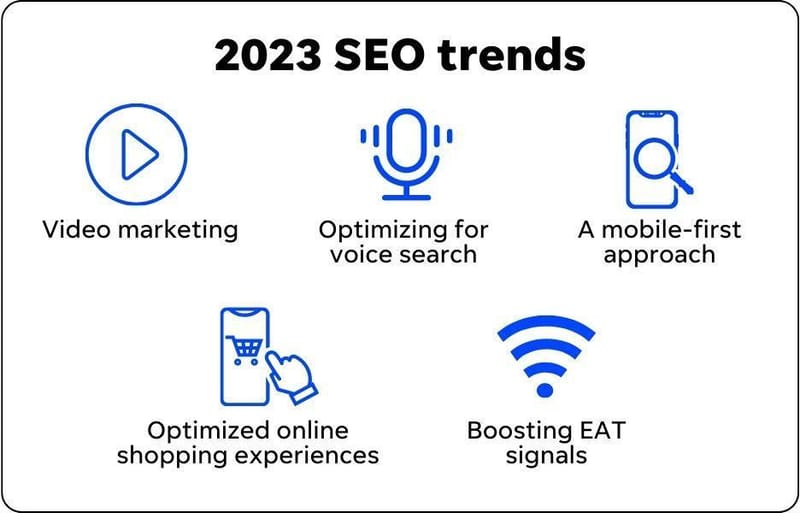 (https://localiq.com/blog/2023-seo-trends/)
2023 is all about showcasing value and expertise through your content and continuing to produce high-quality web pages for your customers. Indeed, these techniques have been utilized in SEO for years. But Google changes its evaluating methods and ranking criteria every year.
Let's find out what SEO in 2023 looks like:
H3: The Rise of Mobile SEO
The rise of mobile SEO is directly proportional to the increase in the usage of mobile devices. This SEO trend is anticipated to continue growing in 2023, with mobile devices accounting for more than half of all web traffic. Businesses that want to thrive in the future must target the right audience with relevant keywords and optimize their websites for mobile search.
Here are some factors businesses need to consider when exploring mobile SEO in 2023.
Fast Loading Speed: Mobile users are in a rush, which means your website should be able to load quickly on mobile devices. This entails minifying your code to minimize file size and employing a content delivery network (CDN) to send your website's content from servers near your users.
Mobile-friendly designs: Your website should be designed to be user-friendly on mobile devices. This includes a responsive and easy-to-navigate user interface that automatically adjusts to the size of a mobile screen when browsing.
Optimized Content: Your website content must be created keeping mobile users in mind. This comprises using the right phrases and keywords your customers are more likely to search for. Ensure all pages have clear and original meta titles and descriptions for better ranking.
Inbound links: Inbound linking or internal linking is crucial for both desktop and mobile SEO. These links help Google's crawlers determine the framework of your website and direct mobile users to your website more easily.
Additionally, businesses should remember a few more tips when implementing mobile SEO in 2023. These include:
Mobile-friendly CMS: Mobile-friendly content management systems make content creation and sharing easier. They also elevate user experience to great lengths.
Website testing: To ensure that your website appears and performs properly, test it on various mobile devices. This will allow you to identify any potential issues and guarantee that your website offers a positive user experience.
Tracking SEO performance: It's important to track your mobile SEO performance to evaluate where you lack and what you can improve to increase traffic. Another amazing tool for tracking your site's success in real-time is Google Analytics.
By adhering to these tips, businesses can significantly boost their mobile SEO and achieve more leads. Lead management software can be a useful tool for managing and monitoring your leads.
Importance of Content in SEO
The most recent perimeter for Google to rank your website primarily centers on E-E-A-T. To be precise, E-A-T was always a part of Google's Quality Rater Ranking guidelines. However, in 2022, Google officially added another E to the acronym and acknowledged E-E-A-T as a crucial factor in ranking web pages.
The All-in-One Platform for Effective SEO
Behind every successful business is a strong SEO campaign. But with countless optimization tools and techniques out there to choose from, it can be hard to know where to start. Well, fear no more, cause I've got just the thing to help. Presenting the Ranktracker all-in-one platform for effective SEO
Experience, Expertise, Authoritativeness, and Trustworthiness. These are the four elements Google ensures a web page reflects before it ranks it in its SERPs. It wants to see if you have first-hand experience with the topic you are writing for.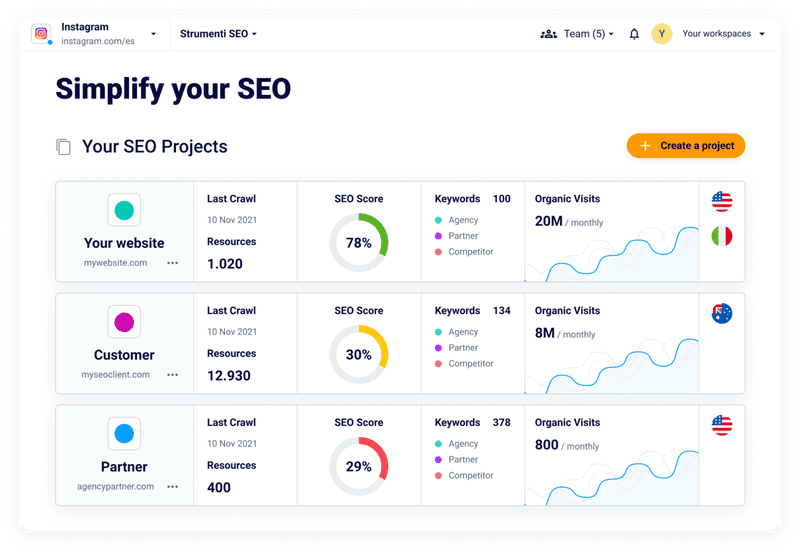 (https://www.seotesteronline.com/)
For instance, as an SEO specialist and a B2B writer, I have the experience and expertise and can write authoritatively on the latest SEO trends in 2023. On the other hand, if I were to write about sports cars and their features, my content would lack trustworthiness because I am not a car enthusiast.
This means in 2023, websites need to focus more on what they are writing about than how much they are writing.
Say No to AI Content
Auto-generated content needs no introduction in 2023. With the rise of AI software like Chat-GPT, Bard, and others, generating content has become quite accessible and convenient. But Google wants to ensure the content it ranks in 2023 is created by real people for real people.
Here's what you can do to ensure your content ranks in both authority and experience this year.
Hire subject matter experts with experience.
Incorporate author bios to convey the writer's expertise and knowledge in the field.
Build a website with a separate section for authors to showcase their blogs and articles.
The Use of Social Media in SEO
Social media and SEO go hand in hand when it comes to digital marketing. While you may consider them separate units, they complement each other to improve your website's ranking and visibility in search engines.
The All-in-One Platform for Effective SEO
Behind every successful business is a strong SEO campaign. But with countless optimization tools and techniques out there to choose from, it can be hard to know where to start. Well, fear no more, cause I've got just the thing to help. Presenting the Ranktracker all-in-one platform for effective SEO
The use of social media can boost SEO in numerous ways:
Brand awareness: Your business's brand awareness can be boosted by the use of social media. With good SEO, when customers search for similar products or services, they will also notice your website in search engines.
Increased traffic: Social media platforms like Facebook, YouTube, Instagram, and TikTok are great for promoting your business. Sharing links to your business on social media drives great traffic to your site, increasing your chances of better ranking in search engines.
**Social signals: **Social signals are a way to identify how frequently your website is being shared on social media. These signals help you make improvements to your SEO strategies.
Backlinks: Backlinks are the most crucial factors that search engines consider when ranking websites. When customers share links to your website on social media, it helps elevate your website's backlink portfolio.
Here are some tips on making the most of social media to boost your SEO in 2023.
Promote your social media accounts: Use social media strategically. You can achieve a lot by simply promoting your social media account on email campaigns and your website. Businesses that stay updated with the latest social media trends benefit from more leads and consistent traffic.
Share content for your audience: Video SEO and image SEO are real. Connect with your audience through interactive reels, compelling images, and high-quality content to stay relevant online.
When implementing the above tips in your SEO strategy, you're not just attracting potential leads but also building a community that engages with you regularly. Make sure you keep your content knowledgeable, relevant, and valuable to your audience.
How to Improve SEO in 2023?
Below are five proven strategies that are guaranteed to improve your SEO in 2023:
Create Quality Content: Quality content is still the most important factor in improving your SEO this year. Post well-researched, engaging, and informative content that targets the right audience and uses relevant keywords.
Since Google's algorithms are becoming more advanced and intelligent at comprehending user content, producing copies that meet user intent rather than focusing only on keywords is essential. This signifies creating content that offers both useful information and a gratifying experience in addition to being relevant to the user's search query.
Use Targeted Keywords: Using relevant keywords in your content is not as simple as it sounds.

First, conduct thorough research for keywords and phrases that people are searching for. Use them throughout your website, including headers, footers, body content, meta titles, and descriptions. This enables search engines to understand what your business is about.
Use a variety of keywords to reach a wider audience. This will also increase your chances of ranking for multiple keywords.
Keep in mind not to stuff keywords into your content. This can harm your SEO, and it may seem the content was generated artificially.
Monitor the performance of your keyword, as it will help you evaluate areas that need improvement.

Build Backlinks: Backlinks determine the fate of your website ranking, so why shouldn't you invest more in building them? Write guest posts, interact in public forums, and nominate your website to directories.
Conclusion
You cannot ignore SEO when you talk about digital marketing. It's the key ingredient that makes it or breaks it for your business. Search engine optimization may appear complex and daunting for beginners, but once you get the hang of it, you realize this is what you need to succeed online.
The ever-changing field of SEO requires hard work and can be very effective when implemented correctly. You can significantly improve your SEO in 2023 and attract more visitors to your site by simply following the tips in this blog.
So take the leap if you're serious about positioning your business among the top-ranking pages in search engines. No digital marketing strategy is complete without a solid and structured SEO campaign designed to reach its goals.
Your SEO efforts may take a while to appear fruitful. In the meantime, don't forget to:
Be creative

Be relevant

Be optimistic

Be bold