Intro
SEO (Search Engine Optimization) is an ever-evolving field that demands constant adaptation to new trends, algorithms, and technologies. Beyond keyword strategy and content creation, SEO professionals often find themselves in the role of managing projects and teams. To ensure success in these areas, there are a set of best practices that every SEO specialist should adopt.
Prioritize Communication
Effective communication is the linchpin of successful SEO projects, acting as a bridge between strategy formulation and its execution. In the realm of SEO, where nuances and complexities abound, transparent communication ensures all stakeholders, from developers to marketers, are on the same page.
One aspect of this is regular reporting—providing visual aids such as charts and graphs can elucidate progress and highlight areas needing attention. This isn't just about showcasing successes, but also addressing challenges head-on. Equally important is the skill of active listening. Taking the time to understand concerns, feedback, or suggestions from team members fosters an environment of trust and collaboration.
Moreover, for clients or higher management, demystifying the intricacies of SEO can set realistic expectations and reinforce trust. Encouraging open dialogue, asking questions, and ensuring feedback loops are short and effective all contribute to a seamless SEO journey, rooted in robust communication.
Encourage Collaboration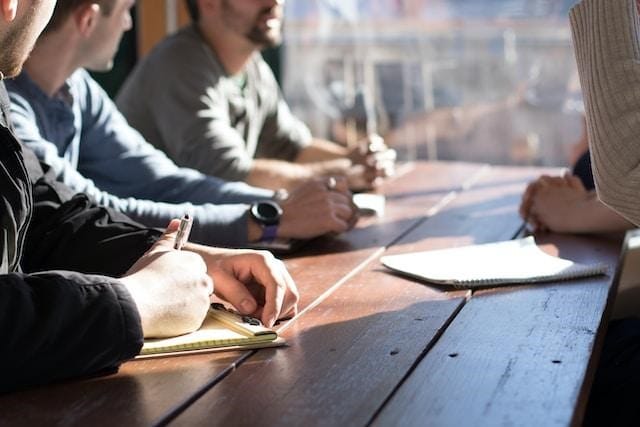 (Source: https://unsplash.com/photos/KdeqA3aTnBY)
In the multifaceted realm of SEO, fostering collaboration is key to crafting comprehensive and successful strategies. Given that SEO intersects with various other disciplines—content creation, web development, user experience, and social media—it demands a harmonious interplay of skills and knowledge from different domains. Encouraging collaboration ensures that these interwoven elements work cohesively.
Brainstorming sessions, for instance, can bring forth a tapestry of ideas, with each team member offering a unique perspective. Such sessions not only enhance creativity but also ensure that strategies are robust and holistic. Collaboration tools, like Trello, Slack, or Asana, can further streamline communication, ensuring that tasks are aligned and team members stay connected. Building an environment where open dialogue, mutual respect, and cross-functional interactions are promoted can unlock unforeseen opportunities and solutions. Moreover, shared successes and collective problem-solving foster team spirit and cohesion. Ultimately, in the intricate world of SEO, collaboration isn't just beneficial—it's indispensable for maximizing outcomes.
Use Technology and Tools
Leveraging technology and tools is fundamental in modern SEO, offering precision, efficiency, and insights that manual processes can't match. The vastness of SEO requires constant monitoring, analysis, and optimization, tasks made manageable through a plethora of specialized tools available.
Platforms like Google Analytics and Google Search Console provide invaluable data about website performance, user behavior, and search rankings. For keyword research and competitor analysis, tools like SEMrush, Ahrefs, and Ubersuggest are indispensable, offering a deep dive into search trends and competitive landscapes. Meanwhile, tools like Moz and Majestic give insights into link-building strategies and domain authority.
The All-in-One Platform for Effective SEO
Behind every successful business is a strong SEO campaign. But with countless optimization tools and techniques out there to choose from, it can be hard to know where to start. Well, fear no more, cause I've got just the thing to help. Presenting the Ranktracker all-in-one platform for effective SEO
But beyond data extraction, technology plays a role in automation. Tools like Screaming Frog can automate site audits, pinpointing issues ranging from broken links to duplicate content. Furthermore, content management systems (CMS) streamline content creation and optimization.
Regularly updating one's toolkit and investing time in mastering new platforms can offer SEO professionals an edge, enabling them to craft informed strategies and respond dynamically to evolving digital landscapes. In essence, in the intricate and expansive realm of SEO, technology and tools are not just facilitators; they're game-changers.
Don't forget about project management software to plan and carry out SEO projects. If you adhere to a more sequential style of work, pay attention to MS Project. For an agile or mixed approach, you can choose an alternative to Microsoft Project in this article.
Set Clear Goals and Objectives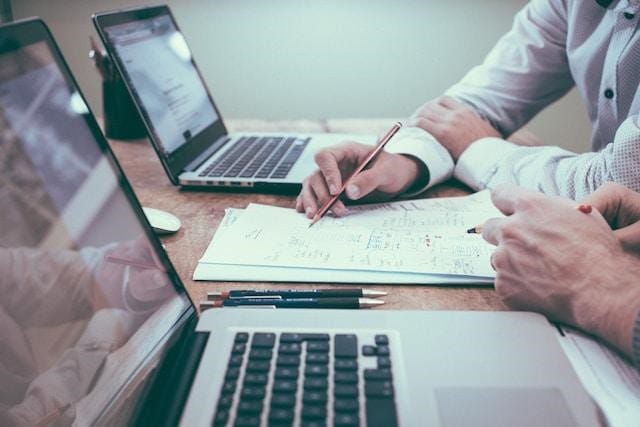 (Source: https://unsplash.com/photos/5fNmWej4tAA)
Setting clear goals and objectives in SEO forms the foundation of any successful strategy. Rather than ambiguous aims like "increase traffic," it's vital to frame specific, measurable goals such as "boost organic traffic by 20% over the next quarter." This precision not only gives direction but also offers a metric for success. Alongside specificity, these objectives should be achievable, relevant, and time-bound, often referred to as the SMART criteria. It ensures that the targets set are realistic, given the resources and timeframe available. Additionally, tying SEO goals to broader business objectives is crucial. It ensures alignment with the company's vision, reinforcing the value of SEO efforts in the bigger picture. Stakeholder buy-in becomes easier when they see how SEO goals complement overall business growth. Periodic reviews ensure that goals remain aligned with changing business needs, allowing for real-time adjustments. In essence, well-defined goals drive focused efforts, ensuring a strategic approach to SEO.
Delegate Wisely
Delegation is an art that plays a pivotal role in the efficiency and effectiveness of SEO projects. As the complexities of SEO grow, it becomes imperative to allocate tasks based on an individual's expertise and strengths. Proper delegation begins with a thorough understanding of each team member's capabilities, ensuring that tasks align with their skill sets. This not only optimizes productivity but also fosters a sense of ownership and motivation. However, it's essential to strike a balance. While specialization is key, repetitive tasks can lead to monotony. Hence, introducing task rotation can rejuvenate interest and broaden skill sets. Furthermore, effective delegation means trusting team members, providing them with autonomy, and resisting the urge to micromanage. Regular check-ins and feedback sessions can ensure that tasks are on track while still granting autonomy. Ultimately, wise delegation promotes both efficiency and growth, optimizing resources while ensuring continuous skill development.
Document Everything
Documentation is a crucial yet often underestimated aspect of SEO. As a discipline replete with details, nuances, and evolving strategies, maintaining comprehensive records ensures consistency, clarity, and accountability. Every step of the SEO process, from keyword research to backlink profiles and content strategies, benefits from meticulous documentation. Firstly, it offers a historical perspective, enabling teams to analyze past decisions, understand their outcomes, and make informed choices in the future.
Furthermore, as SEO projects often involve cross-functional collaboration, clear documentation ensures everyone, from content creators to developers, understands their roles and responsibilities. It acts as a reference point, eliminating ambiguity. For new team members, well-documented processes provide a roadmap, easing their integration. Importantly, if an SEO specialist departs, continuity isn't lost. Lastly, in client-facing scenarios, detailed records bolster transparency, demonstrating diligence and fostering trust. In essence, thorough documentation streamlines operations, facilitates learning, and safeguards the longevity of SEO initiatives.
Feedback is Essential
Feedback serves as a guiding compass in the intricate journey of SEO, illuminating strengths, weaknesses, and opportunities for refinement. While data-drivn insights provide quantitative measures of success, feedback brings in a qualitative dimension, making strategies more comprehensive and tailored.
Within the team, constructive feedback can foster skill development, address gaps, and catalyze innovation. For instance, a content creator might benefit from feedback about keyword integration, while a technical SEO specialist might gain insights into optimizing site speed. Creating a culture where feedback is encouraged and welcomed ensures continuous improvement and a collective growth mindset.
The All-in-One Platform for Effective SEO
Behind every successful business is a strong SEO campaign. But with countless optimization tools and techniques out there to choose from, it can be hard to know where to start. Well, fear no more, cause I've got just the thing to help. Presenting the Ranktracker all-in-one platform for effective SEO
Externally, feedback from clients or stakeholders is invaluable. Their perspectives can shed light on the tangible impact of SEO efforts, guiding refinements in strategy. Additionally, tools that capture user feedback, like surveys or heatmaps, can provide a clearer picture of user behavior and preferences.
But for feedback to be truly beneficial, it must be actionable. Distilling feedback into tangible steps or adjustments ensures that it translates into improved outcomes. In the realm of SEO, where adaptation and evolution are constants, feedback is the lifeline that ensures strategies remain relevant, effective, and aligned with objectives.
Stay Agile
In the fast-paced, ever-evolving world of SEO, agility is more than just an advantage; it's a necessity. The ability to pivot, adapt, and respond dynamically to shifts in search engine algorithms, emerging technologies, and user behaviors differentiates successful SEO campaigns from static ones.
Agility begins with staying informed. Regularly updating one's knowledge base, whether through industry news, webinars, or forums, ensures that SEO strategies remain current. It also means being receptive to data. Monitoring analytics and performance metrics continuously can offer insights into what's working and what's not, allowing for real-time adjustments.
Yet, staying agile is not only about reacting to changes but also anticipating them. Forecasting trends, whether it's the rise of voice search or new content formats, allows for proactive strategy formulation.
Cultivating an agile mindset within the team, where flexibility and innovation are encouraged, can lead to more responsive and robust SEO strategies. In essence, in the fluctuatng world of SEO, agility ensures resilience, relevance, and results.
Evaluate and Refine
The cycle of SEO doesn't end once a strategy is implemented; it demands consistent evaluation and refinement. This iterative approach is key to ensuring sustained success in a dynamic digital landscape.
Evaluation begins with meticulous tracking of KPIs, analyzing metrics like organic traffic, bounce rates, and conversion rates. Tools like Google Analytics or SEMrush can provide invaluable insights, painting a picture of how strategies are performing. However, beyond quantitative measures, qualitative feedback, be it from users or team members, should also be considered.
Refinement is the natural progression from evaluation. Recognizing areas that underperform or strategies that exceed expectations allows for tactical adjustments. Perhaps certain keywords are underperforming, or backlinking strategies need reevaluation. Continuous refinement ensures that SEO campaigns remain optimal, capitalizing on successes and addressing challenges. In the realm of SEO, the mantra is clear: Evaluate diligently, refine continuously, and success will follow.
Understanding the SEO Landscape
Navigating the dynamic world of SEO requires a deep dive into search engine intricacies, from fundamental crawling mechanics to understanding technical tools like robots.txt. Staying abreast of frequent algorithm changes and platforms like SEMrush and Ahrefs is key. Anticipating emerging trends, such as voice search or AI-driven results, ensures forward-thinking strategies. Monitoring competitors gives insight into the broader digital battlefield. Engagingg with the wider SEO community, whether through forums or conferences, is essential. SEO isn't standalone; it's part of the larger digital ecosystem, intertwined with content marketing, PPC, and user experience. Mastery in SEO is about continuous adaptation and innovation.
Provide Ongoing Training
Ongoing training in the fast-evolving field of SEO is vital for maintaining a competitive edge. As search engine algorithms, user behaviors, and technological innovations evolve, SEO professionals need to stay updated to remain effective. Continuous training ensures that the team is equipped with the latest techniques, tools, and best practices. This can take the form of formal courses on platforms like Coursera or Udemy, which delve deep into various aspects of SEO. However, learning isn't restricted to courses. Webinars, workshops, and industry conferences can provide fresh perspectives and insights into emerging trends. Inviting industry experts for knowledge-sharing sessions can also infuse new ideas and methodologies into the team. Moreover, fostering a culture of shared learning, where team members are encouraged to share insights or interesting articles, can keep everyone informed. Ultimately, ongoing training isn't just about skill enhancement; it's about ensuring the team remains adaptable, innovative, and at the forefront of SEO.
Promote Work-Life Balance
In the demanding arena of SEO, where the digital world never truly sleeps, promoting work-life balance is crucial for sustained productivity and team well-being. Overwork not only leads to burnout but can also diminish creativity and problem-solving abilities, critical skills for any SEO professional.
To ensure balance, setting clear boundaries is essential. This could mean designating specific hours for work and relaxation or ensuring weekends remain work-free. It's also valuable to encourage regular breaks during work hours, as stepping away can rejuvenate focus and foster fresh perspectives.
Flexible working hours or remote work options can also cater to individual preferences and responsibilities, ensuring that team members can tailor their schedules for optimal productivity. Team-building activities, offline retreats, or wellness programs can further underscore the importance of balance.
The All-in-One Platform for Effective SEO
Behind every successful business is a strong SEO campaign. But with countless optimization tools and techniques out there to choose from, it can be hard to know where to start. Well, fear no more, cause I've got just the thing to help. Presenting the Ranktracker all-in-one platform for effective SEO
Ultimately, a well-rested and mentally rejuvenated team is more likely to approach challenges with creativity and enthusiasm. In the long run, promoting work-life balance doesn't just benefit individuals; it enhances the collective output and fosters a thriving, resilient SEO team.
Celebrate Successes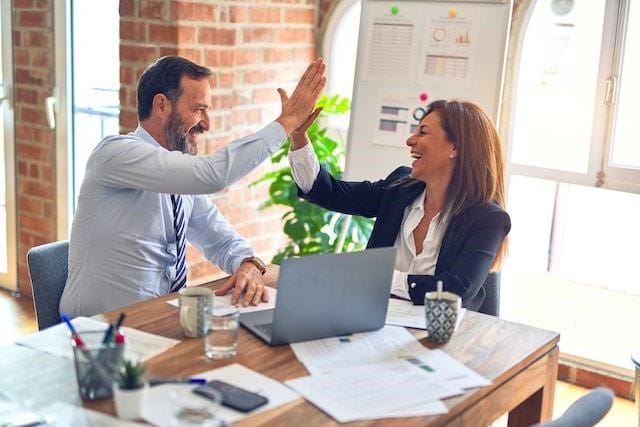 (Source: https://unsplash.com/photos/376KN_ISplE)
Celebrating successes in SEO, both big and small, is pivotal for motivation, team cohesion, and the fostering of a positive work environment. In a field where results can often take time to manifest, recognizing and lauding achievements bolsters morale and instills a sense of accomplishment.
Whether it's a significant surge in organic traffic, ranking first for a competitive keyword, or successfully implementing a new SEO tool, each victory contributes to the overarching goals. Celebrations can take various forms, from team shout-outs in meetings, awarding 'SEO Star of the Month,' to hosting team lunches or outings.
Such gestures not only acknowledge hard work but also reinforce the team's shared objectives and collective contributions. In essence, celebrating successes serves a dual purpose: it acknowledges past efforts while fueling motivation for future endeavors, making it an essential component of effective team management in SEO.
Conclusion
Effective project and team management in SEO requires a blend of technical knowledge, clear communication, and a supportive work environment. By following the above tips, SEO specialists can lead their teams to success, ensuring that projects are delivered on time and with optimal results.