Intro
Software-as-a-Service (SaaS) is an alternative to traditional software usage. Until recently, you had to buy a hard copy or a digital download to utilize a software program. Most of the time, it was offered with a finite number of or sometimes lifetime updates. You could either download it from the corporate website or another online distributor or buy it from a physical retailer. SaaS applications allow you to get the most recent versions of any program without paying for an upgrade or downloading and installing the program.
More recent SaaS instances have emerged in the past few years as this idea gained popularity in creating a marketplace. These have included Netflix, Adobe Creative Cloud, Microsoft Office 365, and more (Instant View). It demonstrates how software vendors are switching to web-based distribution, where they can instantly roll out upgrades and give their customers seamless content management as a service. Unfortunately, because SaaS providers frequently charge monthly fees, it might occasionally mean higher expenses.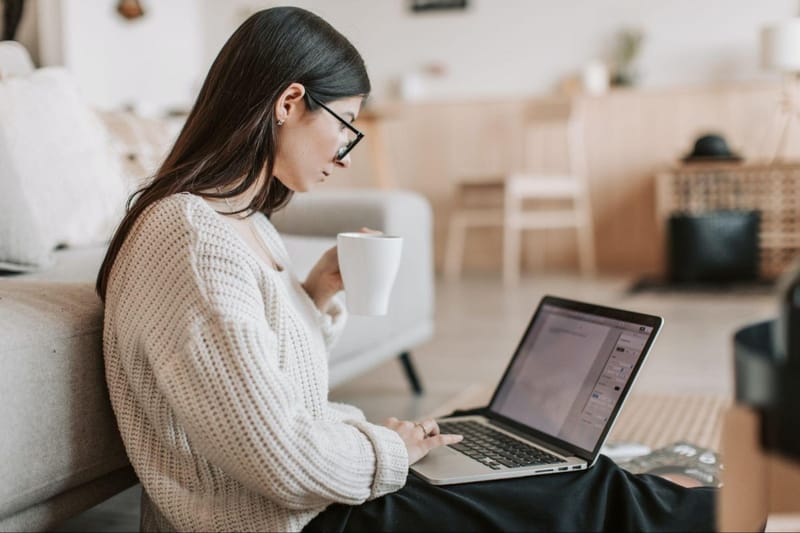 SaaS apps for content management SaaS systems and website builders have been around for longer. More people may access websites thanks to content management systems (CMS). Using a SaaS CMS for your website means fewer issues and focused support. In fact, hiring an experienced SaaS agency can help you maximize the benefits of a SaaS CMS. They can provide expert guidance, customization options, and ongoing support to ensure your website runs smoothly and efficiently.
Now, anyone running a small business, an individual, or an entrepreneur may benefit from having a professional-looking web presence without having to deal with the hassles of setting up software on their own hosting company. Moreover, you may accomplish this without investing a lot of time and money in hiring a professional website developer. You can even use some of the best website builders for blog on BigCommerce or any other e-commerce site you'll be using as a host for your website.
How to Find the SaaS-Based CMS that is Right for You?
What is the best CMS? Knowing the kind of site, you will construct is a good idea before looking at SaaS content management system platform possibilities. When thinking about your design, you might want to consider the following questions:
How much information must you provide?
How many pages do you need, roughly speaking?
Would you like to add any music or videos to your pages?
What number of pictures or other graphics are you planning to include?
Are you launching an online store or eCommerce website?
Have a broad concept of the layout and content you want for your website. This preliminary content strategy will assist you in choosing the content management SaaS system that will allow you the most incredible flexibility for design, content, and future growth. Today's SaaS content management CMS alternatives provide many great design tools and templates.
Here are some specific platforms to consider if you have a more specific need.
Check out the Digital Adoption Platform.
Best SaaS CMS
WordPress
What is the best CMS? WordPress started as a blogging platform but has now grown to become one of the most popular CMS choices available. The open-source **SaaS content management **program is accessible at WordPress.com. It is a powerful choice because of its numerous plugin options and other design features. A sizable online community that provides considerable support via blogs and forums is also present.
The All-in-One Platform for Effective SEO
Behind every successful business is a strong SEO campaign. But with countless optimization tools and techniques out there to choose from, it can be hard to know where to start. Well, fear no more, cause I've got just the thing to help. Presenting the Ranktracker all-in-one platform for effective SEO
WordPress is a robust SaaS CMS with simple tools for developing interactive corporate sites and regular web pages. However, keep in mind that some of the desired plugins and more sophisticated upgrades can have a small fee. That is something you should keep in mind so you can budget for it appropriately.
The fact that WordPress is at the top of this list is not surprising. WordPress is the most popular platform, accounting for 64% of all websites, according to W3Techs. In addition, WordPress is user-friendly for beginners and offers more than 58,000 plugins and themes to build any website. As a result, small to medium enterprises with a light to medium workload frequently choose WordPress.
​​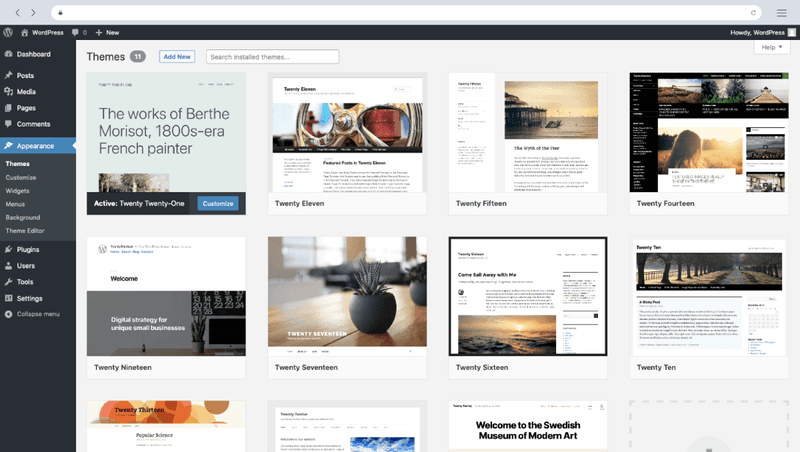 Pros:
User interface that is simple to use.
The most extensive selection of themes and plugins.
No coding or technical expertise is required.
A vibrant community to learn from, like WPBeginner Engage. There are WordPress classes available as well.
Cons:
Some themes and plugins are unreliable and frequently have flaws.
It doesn't have a dedicated customer service team because it is open-source.
Pricing:
Users must purchase web hosting and a domain name to utilize the free WordPress software. However, some hosting providers, like Hostinger's WordPress Hosting, offer both in a single plan.
WordPress Starter costs $2.99/month.

Business WordPress costs $5.99/month.

WordPress Pro costs $11.59/month.
Best SaaS CMS for Beginners
Wix
Workspaces at Wix are incredibly user-friendly. An array of readymade templates are available on the drag-and-drop interface. The market share it occupies, 9.43%, places it second among content management systems. Additionally, they cover web hosting. Thanks to this added feature, they have become a one-stop shop for people just starting.
Additionally included are a free custom domain and SSL security. Wix offers all of the essential elements required for a website with a polished appearance, including an interface for simple analytics.
The All-in-One Platform for Effective SEO
Behind every successful business is a strong SEO campaign. But with countless optimization tools and techniques out there to choose from, it can be hard to know where to start. Well, fear no more, cause I've got just the thing to help. Presenting the Ranktracker all-in-one platform for effective SEO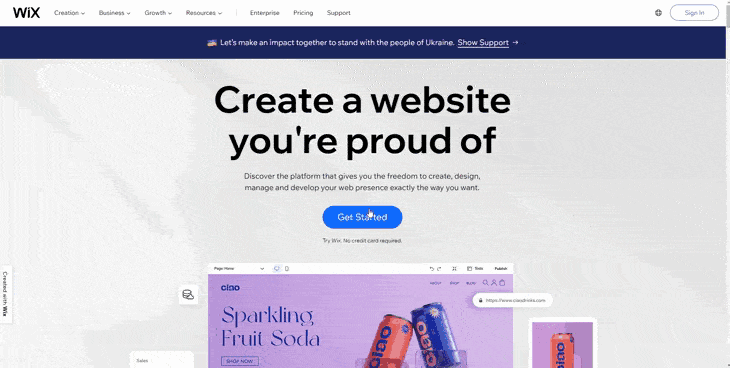 Wix is a paid platform. However, they provide a free, limited plan so that you may test it out. Smaller companies should use Wix, though eCommerce companies may wish to consider Shopify's content management system.
Overall, Wix will provide a stunning website while allowing you to create your online presence with the least amount of talent and work.
Pros:
Drag and drop user interface makes it simple to use.
Mobile editing tools are available.
Templates that are already created for desktop or mobile.
Through the Wix App Market, numerous app integration options are available.
Cons:
Once selected, templates are irreversible.
The free plan features are constrained, and there are no payment alternatives or an online store.
Data is difficult to download or export; manual copying and pasting are frequently required.
Pricing:
If Wix's free plan impresses you, you may decide to upgrade to one of the four tiers.
Combo costs $14/month
Unlimited costs $18/month
Pro cost $23/month
VIP costs $39/month
SquareSpace
An all-in-one website builder is Squarespace. But unlike other competing **content management system **solutions, Squarespace has a unique selling point: gorgeous designs. In addition, Squarespace has the best templates available, several of which have won awards. As a result, the requirements of your website can be entirely tailored to these.
​​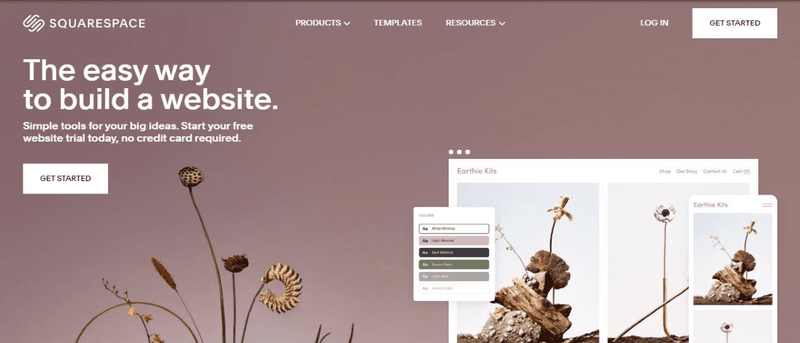 Because of its contemporary designs, Squarespace is a well-liked **content management SaaS **option for creative workers, musicians, artists, and portfolio sites.
Squarespace does permit some coding in HMTL, CSS, and Java, but only for minor adjustments. WordPress or Joomla will let you create a more sophisticated design if you need a more dynamic website.
Pros:
Many templates are available that are prepared for publication.
The backend layout is user-friendly.
A bundled strategy is used to provide Squarespace.
With Squarespace, customer service is always available.
Cons:
With Squarespace, prices are higher.
In general, there aren't enough sophisticated marketing tools.
In addition, extensions, plugins, and applications from third parties are not supported.
Best SaaS CMS for Small Businesses
Joomla
Another free, **content management systems open source **that combines the usability of WordPress and Drupal's adaptability is Joomla. For seasoned site designers and developers, it's the perfect CMS. However, Joomla has a reputation for having a challenging learning curve for newcomers because it comes with more capabilities than most CMSs.
Like WordPress, it was first made available in 2005. Thus it has been around for a while. With so many features, Joomla can be installed with only one click on various web hosting. For experienced web designers and developers, it's the perfect CMS platform.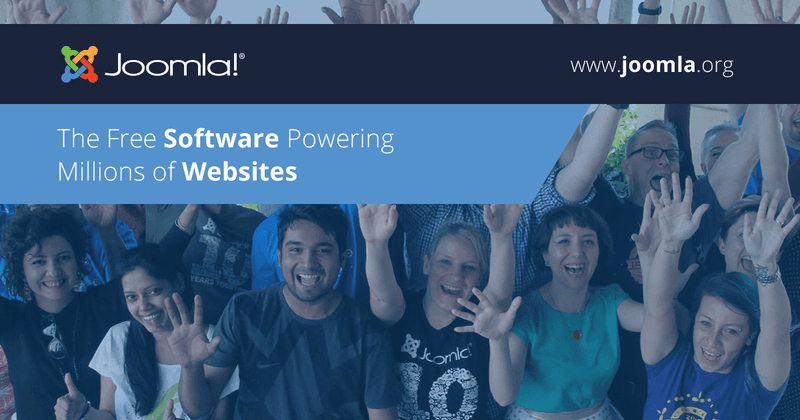 Pros:
You have a tonne of flexibility and choice with Joomla. So if you're creating anything complex or custom, it's a good option.
Even if you never intend to touch a line of code, you may still utilize Joomla because it is constructive for developers. Content management systems list editing is simple.
Like WordPress, Joomla is open source, and if you run into problems, a tonne of community help accessible.
There are extensions for running an online store on Joomla so that you can do so.
Cons:
Joomla can be somewhat difficult, even among its supporters. You might need to work with a developer depending on what you want to accomplish with it.
There aren't a lot of choices for extra extensions. Joomla might let you down if you're used to a CMS like WordPress, which includes thousands of free themes and plugins that enhance the essential capabilities.
There can be some compatibility problems if several different extensions and modules are installed.
Pricing:
You'll need a domain hosting **content management as a service **even though Joomla is free. A free domain is included with specific Joomla hosting packages from Hostinger:
Premium Shared Hosting for $2.59/month.

Business Shared Hosting for $3.99/month.
Best SaaS CMS for eCommerce
Magento
Well-known brands like Coca-Cola, Ford, and Nike utilize Adobe's open-source eCommerce platform, Magento. As it covers bases like security, eCommence SEO, and personalization, it is regarded as one of the best options available. Magento primarily serves larger web retailers with higher sales volumes. Magento is capable of efficiently managing a large volume of orders and products.
Additionally, Magento offers Adobe Commerce, a premium platform with extras like hosting and complete support.
Magento Open Source is a free version that you may download and set up on your web hosting account. The simplest way to get started using this would be using SiteGround Magento hosting.
You have the option to purchase Magento Commerce if you'd like. However, although it is hosted for you and comes with complete support, the cost is prohibitive.
​​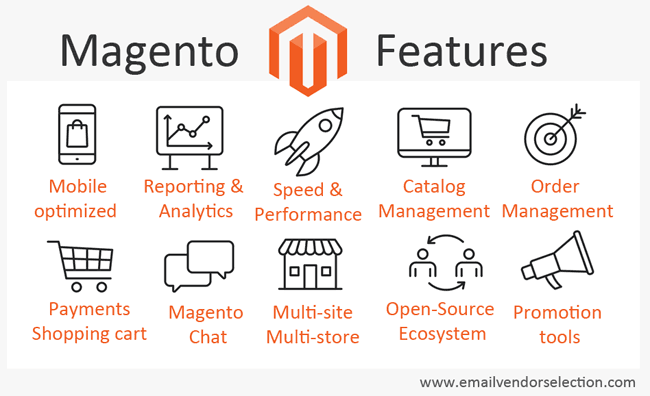 Pros:
You may add more functionality to Magento using the many third-party extensions that are readily accessible.
You may manage numerous goods and customers with Magento. It enables easy business expansion without causing your website to load slowly.
Different payment gateways can be connected to Magento. Additionally, it has several built-in choices, such as PayPal, cash on delivery, and bank transfer.
Cons:
Magento may appear overwhelming if you're just getting started in eCommerce.
Finding competent Magento developers can be challenging, and hiring them can be highly expensive.
The level of support can differ, mainly if you use Magento Open Source and rely on internet forums for assistance.
Pricing:
Prices start at about $22,000 per year, which is beyond the means of many start-up enterprises. But it might be a choice to consider if your established firm needs a robust eCommerce CMS platform.
BigCommerce
BigCommerce is an all-in-one platform that is a fully hosted eCommerce platform. So if you're a newbie, getting started is simple. BigCommerce offers the CMS platform itself as well as hosting for your website. It also takes care of backups and security for you.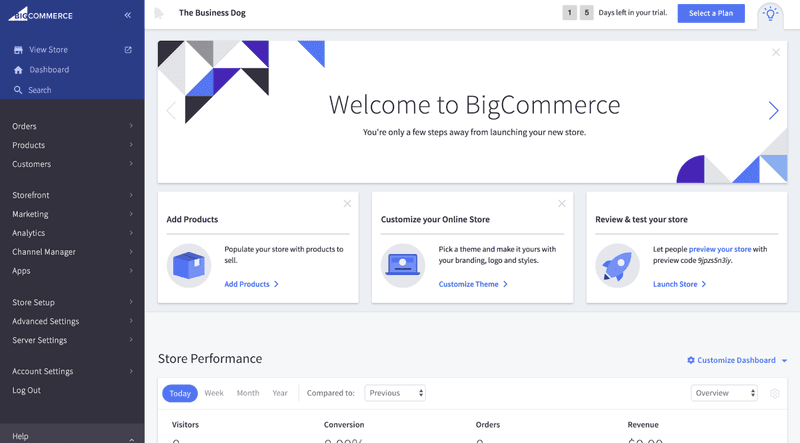 Pros:
A trial plan is available, so you may try out BigCommerce before deciding.
BigCommerce offers free domain names that resemble mystore.mybigcommerce.com; alternatively, you can pay for a custom domain name.
Through BigCommerce, you can accept payments in a variety of ways. For example, customers can pay using credit or debit cards or digital wallets like PayPal, Apple Pay, and Amazon Pay.
You can contact BigCommerce support options at any time from your dashboard. These include community support, live chat, email, phone assistance, and more.
If you want the best of both CMS platforms, you can utilize BigCommerce in conjunction with WordPress.
Cons:
Compared to WooCommerce, BigCommerce doesn't allow you as much control over your store. In addition, due to the limited themes and integrations available, you can be discouraged from using a third-party solution to expand your business.
You will be promoted to the next level of the price plan whenever your annual sales exceed a particular amount. You can find this challenging if you have a lot of bills.
Pricing:
The All-in-One Platform for Effective SEO
Behind every successful business is a strong SEO campaign. But with countless optimization tools and techniques out there to choose from, it can be hard to know where to start. Well, fear no more, cause I've got just the thing to help. Presenting the Ranktracker all-in-one platform for effective SEO
With all of the options, you are paying yearly in advance rather than monthly can help you save some money.
The Standard is $29.95 per month for sales of up to $50,000 annually. The Pro plan, which costs $249.85 per month and covers up to $400k in sales, is the most expensive. After this, you'll need to purchase a unique Enterprise plan.
Conclusion
SaaS (software as a service) content management systems list are an excellent way to create an online presence without paying expensive developer fees. Take it for a test drive if you're unsure which SaaS CMS choice will best meet your needs.
Many of the content management SaaS system platforms we've covered above for the virtual site builder interface are open-source (free). Depending on the plan you select, some others, particularly those that incorporate hosting plans, will incur an additional fee. However, even those frequently provide a free trial period before committing.
This flexibility enables you to try each platform you're considering and determine which will suit your skill level and business requirements the best. Click on the links in the above content to learn more about any of the SaaS CMS platforms listed to get started.