Intro
Ever since ChatGPT was introduced to the spotlight, there's been a whole barrage of internet opinions about what this could mean for the future of marketing.
But ChatGPT is only the torchbearer of these conversations. In reality, there are plenty of AI (artificial intelligence) tools that have overtaken the marketing industry.
Some of them are used by marketers daily (e.g., Hootsuite, Copy.ai, and Ranktracker). Others are still in development (e.g., ChatGPT, Bard, and Bing Chat).
And as we're progressing, technology is progressing with us. It's quite likely that these tools are the start of something monumental rather than the peak of technology.
That said, now is the time to keep an eye on what the rise of AI could mean for your marketing efforts.
And helping you understand what the future of your brand marketing could look like with AI is exactly what we plan to do!
1. Competition will increase
Many AI tools are now available at a fraction of the price professionals charge.
The All-in-One Platform for Effective SEO
Behind every successful business is a strong SEO campaign. But with countless optimization tools and techniques out there to choose from, it can be hard to know where to start. Well, fear no more, cause I've got just the thing to help. Presenting the Ranktracker all-in-one platform for effective SEO
For example, when you use Jasper.ai, you'll need to pay $24/month for 20,000 words, whereas if you hire a decent copywriter, their starting prices will likely be at least 10 cents/word (totaling $2,000 per 20,000 words).
You can also create designs with a free logo maker built upon AI. With simple prompts, AI technology can determine the best course for you in a matter of seconds.
What this means is that companies that were previously wary of creating content to control their budget will now start producing content (not just written content but also video, illustrative, and audio content) optimized for the web.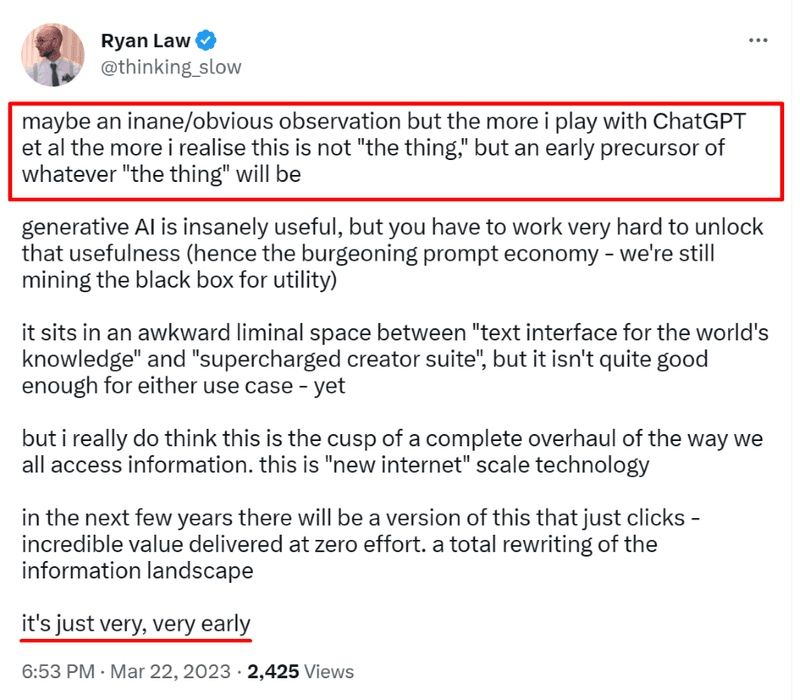 (Image Source)
So, if you compete with X companies for keywords and content, you'll compete with 10x companies for the same keywords and content.
With increasing competition, it'll become tougher than ever to grab the eyes of your prospects, and you'll need to separate yourself from the crowd by either:
Creating quality content (you can do this by enlisting the expertise of subject matter experts, covering thought-leadership topics, upskilling your marketing team, and hiring human writers can inject a unique point of view); or
Increasing the number of posts in your content calendar (but you might risk producing repetitive content that doesn't engage users).
2. Communication will be driven by AI technology
While companies already use AI for communication, the percentage of brands and channels that'll enlist its help will likely increase the more interactive and empathic artificial intelligence gets.
The All-in-One Platform for Effective SEO
Behind every successful business is a strong SEO campaign. But with countless optimization tools and techniques out there to choose from, it can be hard to know where to start. Well, fear no more, cause I've got just the thing to help. Presenting the Ranktracker all-in-one platform for effective SEO
A real-life example to back up this statement is the usage of chatbots. Many companies that use chatbots spend a significant amount of time and money to make them (a) empathic and (b) interactive.
Similarly, more and more companies will start (or rather have started) using AI to produce written content.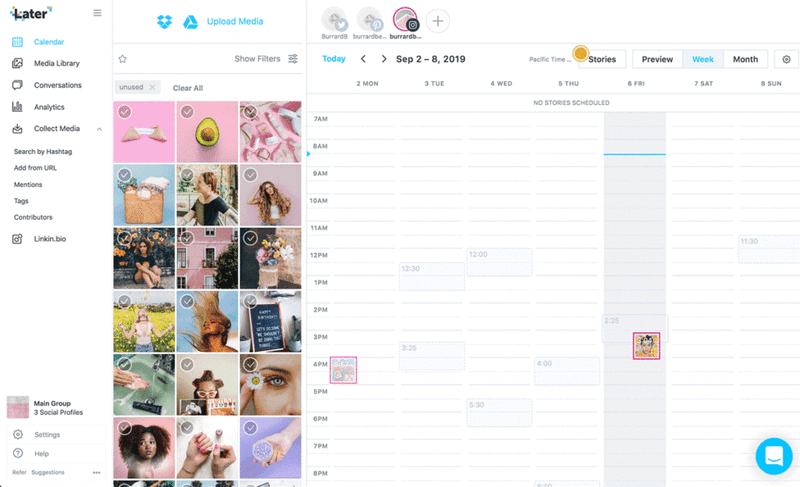 (Image Source)
It's not far-fetched to assume that the more interactive, engaging, and empathic AI gets, the more marketers will rely on it completely:
Create content to post on their social media platforms
Produce content calendars and social media posts
Generate images, audio, and videos
However, in the realm of brand communication, these tasks are the tip of the iceberg when considering what more AI can do.
To point out a few more examples, it can also take over tasks like acquiring user feedback by developing and posting questionnaires, scheduling appointments, leading product demos, showing recommendations, etc.
3. Data analytics will be at the forefront
One of the biggest advantages of technology is how it can crunch up millions of data points within a matter of seconds.
As we progress forward, we forecast that AI will consume multiple data sets and sources, including, but not limited to:
Internal and external data
Structured and unstructured data
Real-time and historical data
Qualitative and quantitative data
In return, it'd be able to use these data sets and sources to:
Find overarching patterns among customer behaviors
Correctly predict future marketing trends
Find out gaps in branding efforts
Show the types of content and topic that might resonate with your audience
Point out areas of improvement
However, the insights you receive will only be as good as the data you feed in. To ensure you receive actionable insights that might actually do you some good, like competitive intelligence reports, use the data you receive from multiple platforms (such as social media, emails, e-commerce stores, etc.).
Having said that, information safety might become a matter of greater importance because if the AI tool you share confidential data with gets hacked, you might risk losing sensitive information.
To ensure maximum privacy, only share authorized data without giving technology full access to your accounts (an example to learn from is Samsung's data leak blunder on ChatGPT). You can use tools like OAuth to provide limited access to your accounts.

(Image Source)
4. Personalization would be a no-brainer
Ask any marketer the top three things of importance that drive buying behavior, and one of the three would be personalization.
With so much emphasis on personalization, more and more marketers will use AI to analyze customer triggers, pain points, subconscious biases, time limits to make purchase decisions, purchase patterns, and other similar factors to categorize customers into segments and then target those segments accordingly.
This already happens at a macroscopic level and is most commonly done by large businesses like Amazon, but we imagine hyper-personalization will become the norm in the future for smaller businesses too.
Here are all the things small businesses might be able to do with or due to AI in the near future:
Understand the niche interests of readers to send them emails (e.g., a marketer can get information on which industries its readers belong to, create the same email copy with actionable insights, but change industry-relevant examples depending on which industries the customers belong to).
Share product recommendations using past purchase patterns (e.g., a Fort Lauderdale florist would be able to personalize recommendations using AI to identify which types of flowers the customer likes, what price points they look at, at what time of year they purchase most often, etc.).
Predict the performance of their social content, and find out areas of improvement (e.g., you might get a score on how relevant your reels are based on your audience type).
5. You'll need to invest more in quality content than your counterparts
One huge downside of AI in every marketer's mind is that the more people use it, the more we'll open a floodgate to the same robotic content. After all, how many original and unique subject lines can ChatGPT create for a "Mothers Day Sale"?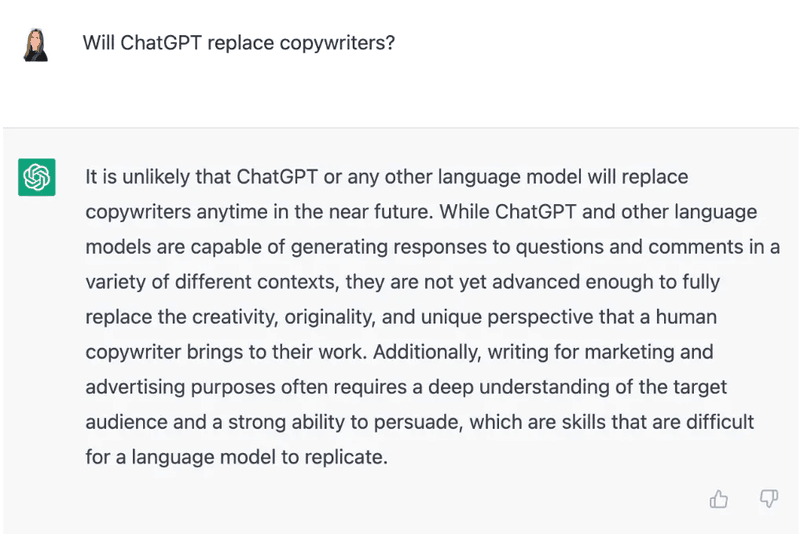 (Image Source)
Here's the brand and editorial lead at Postmark, Fio, explaining this problem a little further:
"What happens once the novelty has worn off and the same companies start to panic as they realize that AI-generated content isn't serving any specific business goal — it's not attracting target personas, it's not speaking to true jobs-to-be-done, it's not building brand awareness, nor is it leading to sales or conversions.
And how could it? Everything looks the same as everything else! The inevitable answer is: they're going to have to bring in someone human to fix the problem, properly fund brand and content teams as the strategic partners they are, and double down on brand as a unique and distinctive asset. I cannot wait."
If you copy your counterparts that use AI as the end-all-be-all to create content, you might very well need to follow the route Fio mentions (aka, hire someone human to fix the problem later down the line — and this series of corrections might cost a little extra, we might add).
So, to stay away from this problem and still use the unique advantages of AI, we suggest you hire writers and editors who can use it to elevate their processes.
That way, instead of having robotic content, you can have content that's personality-infused but was still developed by using AI during the research and outlining process.
6. It'll become easier to drum up inspiration
Last, but not least, it's become easier to drum inspiration now than ever. In fact, many marketers have already jumped on the bandwagon to create multiple creative headings for the blogs they write.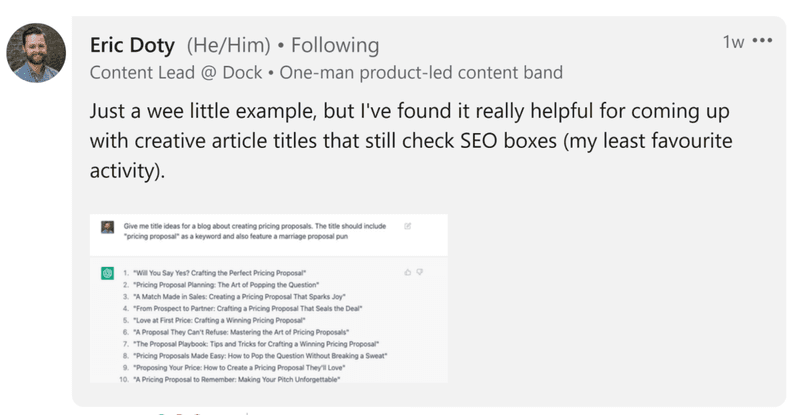 (Image Source)
But inspiration doesn't stop at the actual artificial intelligence tool itself. With the rise of AI, there's also a rise in websites catered to help you grow fast with AI.
For example, do you have a hard time coming up with prompts to feed to AI? Boom — ‌some websites help you develop these prompts (e.g., Storyday.org, AwesomeWritingPrompts, NeatPrompts, etc.).
The All-in-One Platform for Effective SEO
Behind every successful business is a strong SEO campaign. But with countless optimization tools and techniques out there to choose from, it can be hard to know where to start. Well, fear no more, cause I've got just the thing to help. Presenting the Ranktracker all-in-one platform for effective SEO
Similarly, support communities for marketers that use these AI technologies will rise too (e.g., there are r/ChatGPTPromptGenius and r/WritingPrompts subreddits), thus allowing many businesses to help each other and take inspiration from each other.
What more can you do?
Regardless of whether you believe in the importance of AI for marketing, you can't deny that you need to keep up with how the content generated by these tools is doing to know if you're not wasting the money spent on marketing.
Alternatively, if you're a huge believer in AI tools, you also need to track your current content to see how your audience is reacting to it (let's be real, the hype of AI is still new, and we don't know how our audience is going to react to it in the longer run).
The point is, you can be a believer of either side of the coin, and you'll still need to keep track of the rankings of both sides. And that's where we come in. Ranktracker helps marketers from around the globe track their rankings to understand how to boost their visibility.
Click here to learn more about what we can do for your brand.