Intro
With a data-driven approach, brands gain access to valuable insights into their users' preferences and behavior patterns, which allow them to identify opportunities for improvement in products or services offered by the business, as well as marketing messages being used. By using data analysis tools like A/B testing on different channels, including website forms, emails, and text messaging, companies can track how effective each one is at converting potential leads into paying customers. This helps marketers adjust their outreach strategies accordingly, resulting in better results from all available resources across departments, such as sales and advertising teams, leading toward success!
What Does Data-Driven Customer Journey Mean?
A data-driven customer journey's essence lies in strategically using available data to refine and personalize each touchpoint a customer encounters during their interactions with a brand. This approach goes beyond mere demographics, enabling businesses to deliver personalized experiences tailored specifically for individual customers based on behavioral patterns, preferences, and history of transactions or engagements, among other factors.
Using robust analytics tools and advanced technology solutions such as AI-powered recommendation engines allows companies like Amazon and Netflix to curate relevant products or content suggestions that match users' needs seamlessly while minimizing friction points along their purchase path.
Implementing these measures enables organizations to create actionable guidance for optimizing each step of the buyer's journey. This starts with awareness, then acquisition and engagement, and finally, advocacy is achieved. This contributes significantly to driving long-term growth targets, built on solid client relationships based on trust and outstanding performance standards that are met consistently over time. A robust analytics tool should be able to track touchpoints in all parts of the customer journey. This includes marketing touchpoints on the website to post-purchase activity like product usage.
At present, it is essential for organizations to embrace change while adapting to ever-changing environments in order to survive and succeed in today's competitive landscape.
Benefits of Data-Driven Customer Journeys
Harnessing the power of data-driven customer journeys allows you to dig deeper into the minds and behaviors of your customers. When designing an ecommerce experience, it's crucial that you draw upon relevant information about your target market: their preferences, browsing habits, and purchasing decisions. Every little detail counts in crafting a tailored journey.
Data-based personalization ensures intuitive interactions throughout each stage of a user's visit to your site. By analyzing key metrics like click-through rates (CTRs), conversion percentages, and time spent on a page, you can identify trends among individual users or whole groups with similar characteristics. As customer choices evolve over time, so should the strategies implemented around them.
Data-driven approaches enable continuous improvement by applying insights from past performance alongside fresh input obtained through ongoing analysis efforts such as A/B testing experiments for new design elements or features within existing product ranges alike.
The All-in-One Platform for Effective SEO
Behind every successful business is a strong SEO campaign. But with countless optimization tools and techniques out there to choose from, it can be hard to know where to start. Well, fear no more, cause I've got just the thing to help. Presenting the Ranktracker all-in-one platform for effective SEO
Data-driven marketing strategies help organizations build relationships with prospects by sending more personalized messages based on conversations between them and their customers. All these benefits make it clear why every company should invest in a data-driven approach for their customer journeys!
How to Create a Data-Driven Journey
Get tips from experts about how to create a data-driven customer journey that utilizes analytics effectively. Here are a few tips to help you get started:
Define the Goals for the Data-Driven Journey
Pinpoint the specific goals you want to achieve throughout this process. This will help you develop targeted strategies that enable your business growth and facilitate meaningful customer interactions. First off, determine which key performance indicators (KPIs) are relevant in measuring success within your organization. These may include factors like customer satisfaction ratings or sales revenue figures.
Using KPIs as guideposts will ensure consistency in tracking progress and help illustrate areas requiring improvement. Next up, understand how efficiently collecting data from various sources contributes significantly toward achieving identified goals. Knowing when purchases were most frequent or browsing sessions occurred longest could prove instrumental while tailoring marketing campaigns accordingly.
To maximize potential output further still, adopt 'data product thinking,' an approach premised on treating analytics as if one were developing products. Place end-users front-and-center during design phases to ensure deliverables meet expected standards. Hence, interaction remains seamless despite ever-changing needs being catered to throughout the life cycles of designs themselves!
Additionally, embrace collaboration between departments. This will break down silos and lead to increased organizational efficacy. Furthermore, cross-functional synergies created by collaborating across numerous projects will boost return on investment (ROI) rates substantially. Without these collaborations, resource utilization estimates will be lower. They can result in lost opportunity costs due to a lack of engagement between stakeholders, impacting the chances of turning strategic visions into reality for the future.
Collect and Analyze Your Existing Customer Data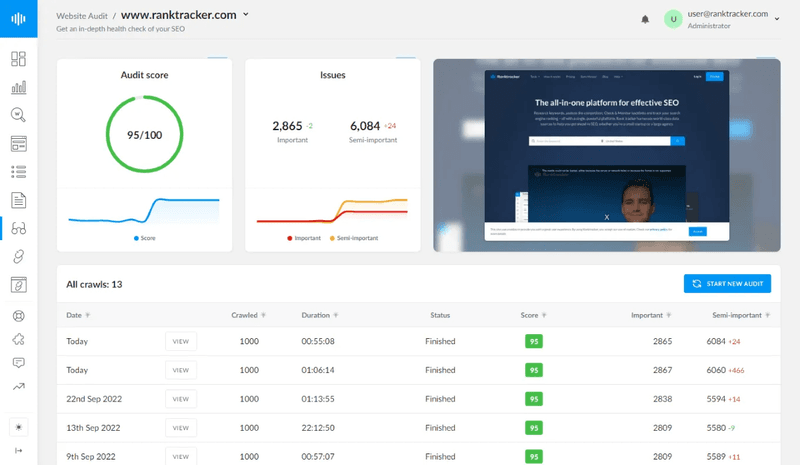 Delve into various sources such as purchase history, demographic information, website analytics, social media interactions, and email marketing responses to obtain valuable insights about your customers' preferences and behavior patterns.
Understanding each segment of your target audience allows you to tailor unique experiences that resonate with them personally. Begin the process by integrating diverse customer data sets from multiple channels or touchpoints using CRM systems or third-party tools specially designed for this purpose. These integrations help centralize all relevant customer information in one place for easy access and analysis.
The All-in-One Platform for Effective SEO
Behind every successful business is a strong SEO campaign. But with countless optimization tools and techniques out there to choose from, it can be hard to know where to start. Well, fear no more, cause I've got just the thing to help. Presenting the Ranktracker all-in-one platform for effective SEO
Next up is cleansing: ensure the quality of collected data by removing duplicates or outliers while filling in missing values whenever possible.
Use analytical techniques such as segmentation analysis, cohort analysis, and regression modeling to draw significant conclusions about trends within different customer subsets over time. This will lead to better decision-making processes that target each group individually while still delivering cohesive overall results efficiently. Journeys should be focused solely on meeting their specific needs and preferences in order to maximize long-lasting relationships based on mutual trust and reciprocated loyalty, ultimately enhancing brand affinity and revenue streams.
Map Out Your Customer's Pathway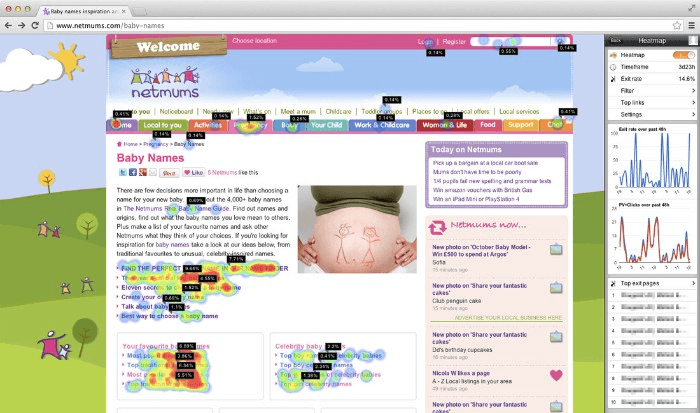 (Source: Heatmap)
As you map out your customer's pathway, it's essential to identify the critical stages in their journey. These typically include awareness, consideration, decision-making, and post-purchase experiences.
Creating a data-driven path requires research into each stage separately yet ensuring they all connect seamlessly as part of the overall process. To begin with, study how customers discover your brand or products during the awareness phase. Are they finding it through social media platforms or search engines?
Pinpointing these channels can help optimize marketing strategies for better reach. Next comes understanding what factors motivate users to purchase from you instead of competitors. Delve deeper by analyzing reviews and feedback at this stage, highlighting features that influence consumer decisions effectively.
During decision-making moments when prospects evaluate options before finalizing a purchase, examine how different elements such as pricing structure and product variety, coupled with quick support responses, impact buyer choices positively, leading them towards completing transactions successfully on your website.
Storing transactional records, such as previous interactions and abandoned carts, can be a useful resource. By having access to these records, businesses can tailor their follow-up communications in order to prompt potential customers to convert their sales opportunities quickly. This reduces the barriers to future purchases and prevents the loss of repeat business efficiently. It also helps to nurture long-lasting and engaging customer relationships, ultimately driving more revenue growth over time.
Identify Opportunities to Improve User Experience
To effectively enhance user experience, begin by scrutinizing website analytics and user feedback to discern potential pain points causing users dissatisfaction or confusion. Carefully examine conversion rates, bounce rates, time spent on pages, and heatmaps displaying areas of high engagement.
Next, conduct usability tests involving real customers who represent different segments of your target audience. Observe how they interact with the site; their navigation patterns and overall satisfaction level can offer valuable insights into optimizing the interface effectively. Keep a check on competitor websites that excel in providing exceptional UX.
Learn from their successes while identifying gaps in meeting consumer needs. Create unique solutions tailored specifically to address these shortcomings within your digital domain. Develop high-quality content, ensuring relevancy aligned with current industry trends while employing search engine optimization (SEO) best practices for favorable online visibility.
Moreover, optimize page loading speeds across devices, prioritizing mobile-first design due to its increasing prominence in today's tech landscape. This will cater better to fast-paced consumers' expectations without sacrificing the quality of experiences provided through desktop platforms. Lastly, nurture open communication channels encouraging constructive critiques from users.
Monitor Engagement Along the Journey
By monitoring user interactions with your brand, you can identify areas that need improvement or optimization for better results. Start by monitoring key performance indicators (KPIs) such as website traffic, bounce rates, open rates, and click-through rates (CTR).
The All-in-One Platform for Effective SEO
Behind every successful business is a strong SEO campaign. But with countless optimization tools and techniques out there to choose from, it can be hard to know where to start. Well, fear no more, cause I've got just the thing to help. Presenting the Ranktracker all-in-one platform for effective SEO
Examining these metrics helps pinpoint which parts of the customer experience require adjustments to increase engagement effectively. Additionally, set up regular reviews of your analytics dashboards to gain insights into visitor behavior patterns. Understand how users navigate through different stages in their journey; this will help guide decisions when refining customer touchpoints and individualized communication strategies.
Implementing tools like heatmaps provides invaluable visual representations of where users spend most time engaging with various elements on webpages, highlighting essential navigation aspects or content pieces needing enhancement. Furthermore, employ A/B testing methods for landing pages and emails to compare the effectiveness between two variations; use the winning option for maximum reach across campaigns. Finally, remember: always aim toward continual refinement based on collected data.
This constant adaptation significantly ensures stellar customer experiences throughout every step along their unique path toward conversion goals!
Data-driven journeys help organizations use their data more effectively and efficiently. With careful planning, businesses can create sustainable plans that grow as the industry does.