Intro
Brands, marketers, and content creators are in for a treat this 2023. Social media keeps growing and has become a powerful revenue tool that offers new opportunities for businesses from features and functionality to paid advertising and audience targeting.
Users are looking for brands to connect with and pursue action and excitement. From new apps and platforms to candid content, artificial intelligence (AI), and social media shopping, we will guide you through some of the top social media trends to keep your brand relevant this year.
What is trending on social media?
Before we dive into this year's upcoming trends, let's look at what happened in social media in 2022 – a year that experienced some serious social media changes.
Elon Musk bought Twitter, which signaled a new era for the platform.
Another important shift is that social media channels such as TikTok are now working as search engines. Their algorithms are getting more sophisticated and delivering better results for users.
Posting blurry photos on purpose became not only acceptable but encouraged across Instagram.
Platforms are launching new ways for creators to make money for their content.
For marketers, 2022 was a great – and busy – year, and we can expect that to continue over the next 12 months. According to the Content Marketing Institute's latest report, social media building is the fifth-highest area of content marketing investment for 2023. Brands will invest 57% of their budget this year, compared with 39% the previous year.
It's an exciting time to raise the stakes and consider the social media trends you can leverage in your strategy.
1. TikTok dominating the video space
YouTube is still the most popular video platform globally, but 2022 was the year that TikTok surpassed Netflix in popularity among American users under 35. Why is this happening? TikTok's robust algorithm lets users find information catered to their tastes and interests, and it's also rising as a search engine.
This one-stop shop for content has become the world's most downloaded app among audiences from 18 to 24 years old and has over one billion monthly users globally.
The opportunity to thrive on TikTok is still in the air for most marketers since only 5% are using it as part of their social media strategy. Take your time to learn about TikTok and find out how you could use the platform to connect with a highly engaged community:
Discover what works and what doesn't. To create content for TikTok, you'll need to understand what's trending and how other brands use trends to build an audience.
Build a network of content creators. Besides creating your content, start partnering with creators that are already popular to boost your strategy.
Create 'sticky' and organic content. This means creating content that is exciting and useful for users. The goal is to keep users on the platform and keep them watching.
Glow Recipe, for example, shared this 5-second TikTok challenge and users had to rewatch to find them; after a few hours, the video showed great engagement.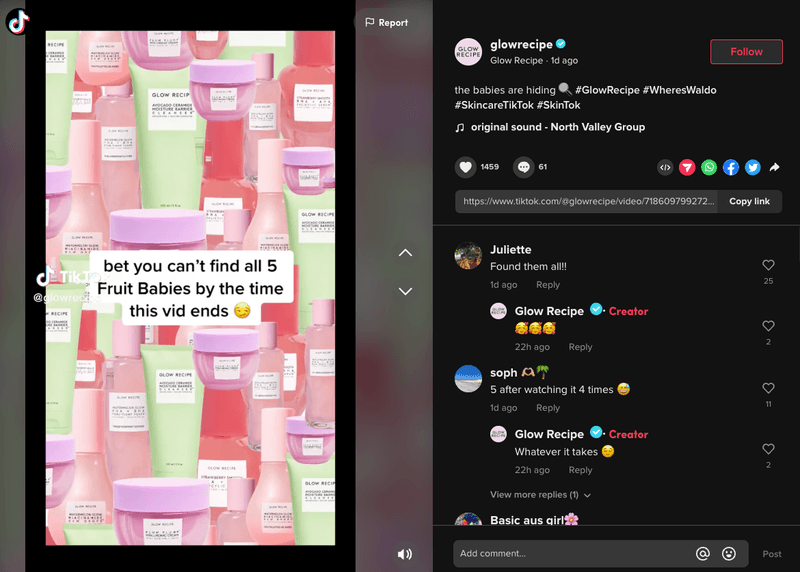 (Source: TikTok / Glow Recipe)
2. Prioritizing social SEO
Social SEO is all about adding text-based content like optimized titles, descriptions, alt-texts, and closed captions to your posts so that the algorithm can read and understand your content more effectively. This allows users to find your content via in-app search and enables you to connect with potential customers that don't use traditional search engines like Google.
The All-in-One Platform for Effective SEO
Behind every successful business is a strong SEO campaign. But with countless optimization tools and techniques out there to choose from, it can be hard to know where to start. Well, fear no more, cause I've got just the thing to help. Presenting the Ranktracker all-in-one platform for effective SEO
Local search is also becoming increasingly popular on social platforms. For instance, Instagram, Snapchat, and TikTok have all added map features where users can navigate and find a business nearby to their exact location.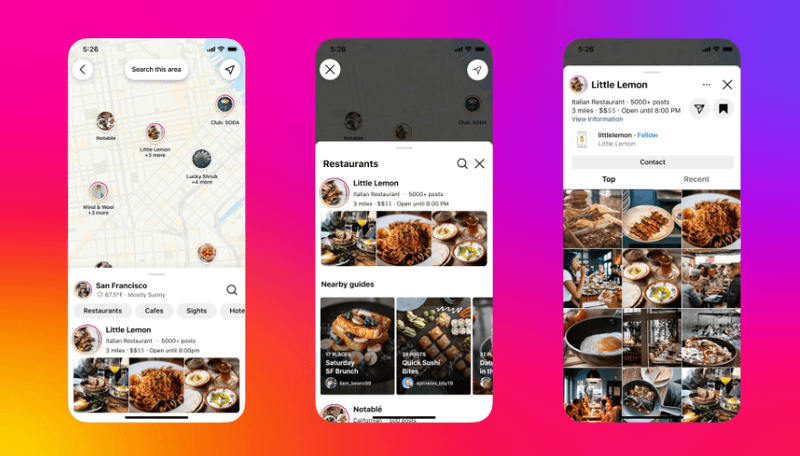 (Source: Instagram)
Even Google has acknowledged TiktTok's potential to become a discovery tool. Last July, Google senior vice president Prabhakar Raghavan said almost 40% of young users now rely on TikTok or Instagram instead of going to Google Maps or Search.
Your social SEO strategy can benefit from the following tips:
Use relevant keywords in your content. This includes bio, descriptions, profile, and hashtags.
Use high-quality images. Users will find good photos and thumbnails relevant to what they're looking for when they see them in search results.
Add alt-texts in images. This way, your content will become more relevant to a broader audience. The social platform will understand your content and increase its chance of appearing within a search result.
3. The rise of BeReal + Instagram Candid challenges
The first BeReal converts have been those who, surprisingly, want an "anti-social media" behavior online. What does this mean? BeReal grew rapidly because it inspired people to share unposed, unfiltered photos within a two-minute window. Quite the opposite of what we've been doing with filters, editing, and meticulously-curated content on platforms like Instagram over the years.
BeReal's audiences are Gen Zers and millennials; 55% of the app's users are in the 16-24 age group, and 43% are in the 25-44 age group.
Instagram has been quick to respond to the popularity of BeReal by prompting spontaneous selfies from its users with a new Candid Stories feature. According to the company, the feature that started as Candid Challenges will be tested in South Africa before being rolled out more broadly.
The All-in-One Platform for Effective SEO
Behind every successful business is a strong SEO campaign. But with countless optimization tools and techniques out there to choose from, it can be hard to know where to start. Well, fear no more, cause I've got just the thing to help. Presenting the Ranktracker all-in-one platform for effective SEO
Should your brand adapt to every new platform that comes along like BeReal? Some say it's too early for marketers to jump on board, but here are a couple of things to consider before you make a decision.
Watch for updates. BeReal doesn't offer paid advertising opportunities for brands just yet (watch this space), but that doesn't mean brands can't share creative and candid content that promotes their products and services.
Evaluate if it's a fit for your business. Some businesses would make no sense to appear on BeReal, so take your time to decide if this type of content will be a good fit for you.
For example, brands like Chipotle and e.l.f Beauty have taken the opportunity to catch up with this new app. However, since BeReal is an app for, well, real people, both of them already have too many friends and you can't see their content.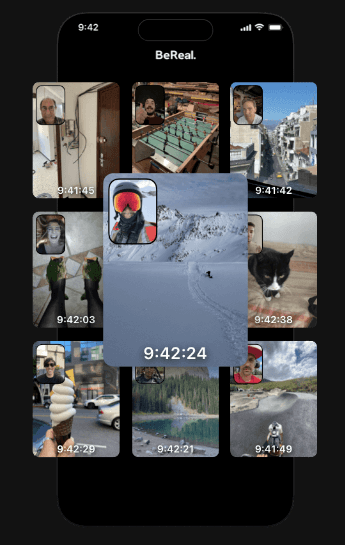 (Source: BeReal)
4. Social media shopping matures
Social media shopping has been evolving for the last couple of years. People are now keener to buy from shoppable social media posts than ever before. This alternative to traditional ecommerce is helping smaller, niche brands reach customers and markets that they might not usually be able to access.
According to a report from Accenture, social commerce is estimated to grow three times faster than traditional ecommerce in the next four years. It is estimated to become a $1.2 trillion global market by 2025.
So how should brands make the most of this growing trend?
Use great imagery. Users are visually oriented on platforms like Instagram, so your pictures and product shots should be clear and appealing.
Offer good deals for online shoppers. Let customers know what your product or service can do for them. Discounts and special offers might get them over the line to buy.
Use social media marketing tools. This means creating a regular social media posting schedule, running promotional campaigns, and learning about a specific platform's best practices. Monitor and understand how your campaigns perform and iterate accordingly.
5. User-Generated Content continues to grow
Incorporating user-generated content (UGC) into your marketing strategy can help you earn trust and increase engagement while saving time and money on content creation.
Why is this an effective ongoing social media trend? It's simple: users trust people more than brands. As new social platforms emerge, brands are spending more money on influencer marketing and UGC collaborations, as users favor authentic and organic content.
"Some of the best ways for brands to show their authentic side is by utilizing user-generated content and tapping into influencer marketing without overproduced deliverables," said Katelyn Rhoades, CEO, and founder of Enfluence Marketing Studio.
Here's how to include UGC in your marketing channels:
Be selective of the influencers you work with. Choose wisely. Many influencers have a large follower base, but you should choose someone who aligns with your values and your audience.
Consider content creators rather than influencers. If you intend to post natural, organic-looking content, partner with regular content creators that deliver more authentic content.
Monitor UGC on your social media accounts. Be aware of what's happening and leverage the content that regular users share and create about your brand.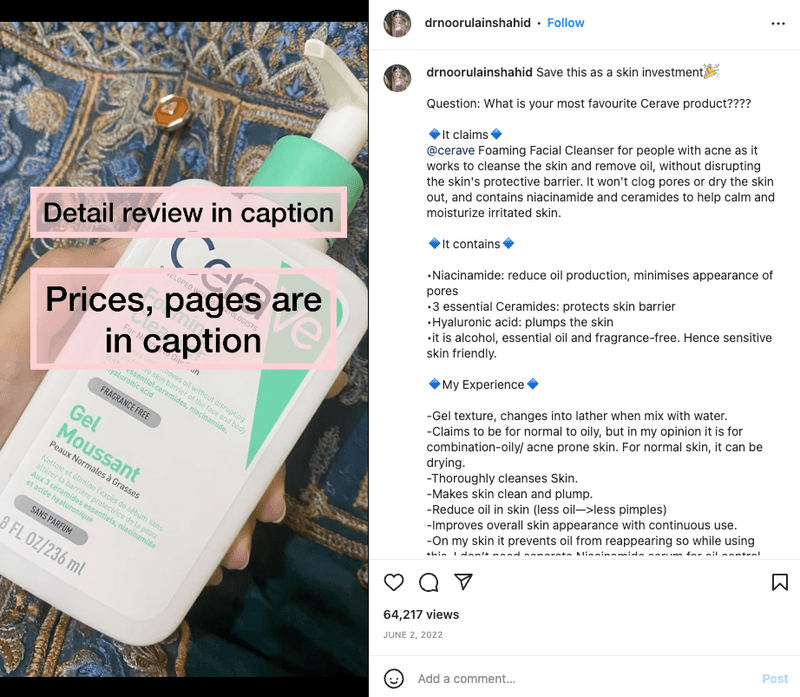 (Source: Instagram)
6. Reels vs. Instagram shadowban
The fear is real. Instagram shadowban is an unofficial ban that limits an account's visibility in feeds, stories, and search results.
During 2022, content creators needed help with this. It seemed to be an unpleasant trend for many, but after months of learning about it, brands are more aware of how to reverse it.
This ban can happen after posting sensitive content, violating some of the platform's Community Guidelines, using banned hashtags, or buying followers. Instagram encourages users to fix a shadowban by deleting the post that got an account shadowbanned in the first place. Here are some other tips for addressing a shadowban:
Prioritize and boost Reels. Focus on posting a Reel a day for a few weeks. This way, Instagram's algorithm will learn again your account isn't spammy, and your engagement will be back to normal.
Deactivate and activate your account. Deactivating – not deleting – your account for one or two days may fix a shadowban.
Delete the banned post. If the shadowban happened immediately after a post, delete it and see if this works. Also, check your previous posts and find if there's anything to avoid in the future.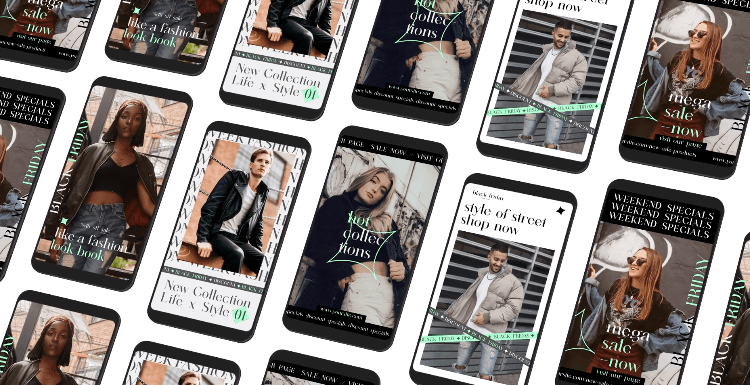 (Source: Envato Elements)
7. Short-form video content still going strong
Short-form video isn't going anywhere. Marketers are including YouTube Shorts, Instagram Reels, Pinterest Idea Pins, and TikTok content in their strategies and budgets for 2023.
Short-form video is particularly effective while paired with other trends, such as UGC and candid content challenges.
This is how you can benefit from short-form videos:
Repurpose your content. Chances are you are already producing short-form videos, so ensure repurposing them among different social media platforms you manage, but remember to adapt it based on the trends and features favored by each platform. What works on Tiktok won't neccesarily perform on Reels.
Create trendy videos. Dedicate time to explore new trends and build your content accordingly. Doing so can help you reach more people.
Keep them short. Short-form video means to create effective and straightforward content. Videos should be less than 60 seconds long, and sometimes even less than 15 seconds will deliver better results.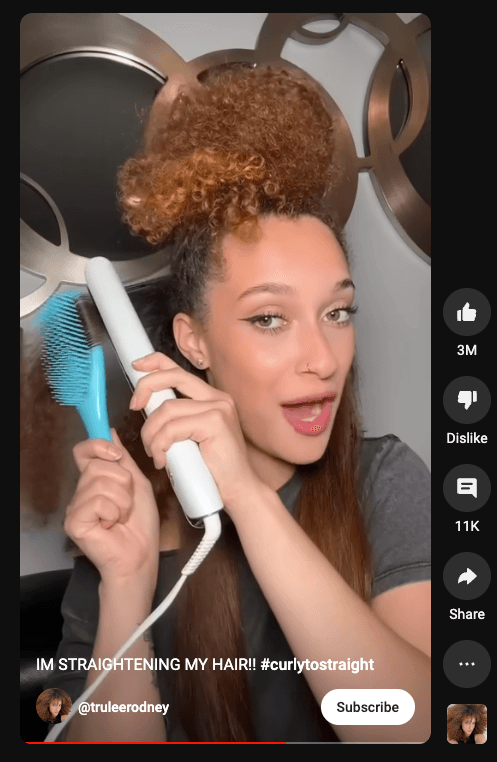 (Source: YouTube Shorts)
8. Embracing AI tools
One of the hottest trends on social media for this year is the adoption of AI tools. Brands are now thinking about reshaping their strategies and adapting to an artificial intelligence world.
What does this mean for marketers? First, to understand that this human-machine collaboration is quickly growing, but it doesn't necessarily mean it has a direct impact on brands today.
AI-generated content took the world by storm last year because it became truly accessible to the general public.
The All-in-One Platform for Effective SEO
Behind every successful business is a strong SEO campaign. But with countless optimization tools and techniques out there to choose from, it can be hard to know where to start. Well, fear no more, cause I've got just the thing to help. Presenting the Ranktracker all-in-one platform for effective SEO
How can AI tools add value to your social media? Here are some problems that AI can help you solve:
AI tools to learn about your audience. You don't have to use AI to replace a part of your team. Learn how certain AI tools can help you make data-driven decisions, explore your audiences, audit your content, or optimize your social media campaigns.
Social media management. Find tools that help you manage your social media content. Scheduling and generating content are the top features that will help you organize your workflow.
AI and social media ads. AI tools such as Patter 89 and Phrasee aim at optimizing and managing your social media advertising. You can test the effectiveness of an ad and make the necessary adjustments.
9. Collage dominates: Shuffles by Pinterest
The digital collage-making app Shuffles by Pinterest first appeared in 2022, and it's currently available for iOS only. This collage maker helps Pinterest users to create collages and include photos from their camera rolls and the Pinterest library to complete their designs.
The app is available only in the United States, Canada, Great Britain, Ireland, Australia, and New Zealand. However, we're waiting to see if Pinterest will launch the app worldwide this year.
How can you incorporate Shuffles into your day-to-day marketing? Here are some ideas:
Create moodboards for your marketing team. This online tool will be helpful when meeting with the rest of your team to brainstorm and explore what's trending for upcoming campaigns.
Create collage content. Creativelyshowcase your products with collages that look like art pieces.
Showcase your product as a collage. Use the collage app to design product flat lays to share on social media.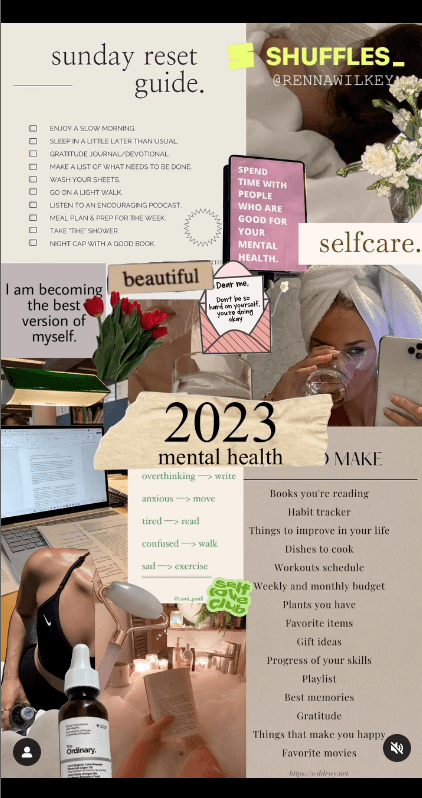 (Source: Instagram / Shuffles App)
10. Authentic storytelling and Gen Z
Young audiences, especially Gen Zers and Millennials, respect and choose transparent brands and care about how they treat people. A focus on awareness, inclusivity, and diversity is a must-have for your communication plan this year.
How can your brand become more authentic and empathetic? Here are some ideas:
Monitor relevant content. To stay up to date, marketers should keep an eye on the content that is relevant to the brand. This means exploring not only what competitors are doing but also brands and creators relevant to your Gen Z audience.
Embrace social listening. To be authentic, you should know what's happening daily. Set a couple of minutes a day to learn what people are saying about your product and act on it.
Don't just talk the talk. Actions speak louder than words and your content should reflect on what your brand stands for. Make an effort to build solid content on social media and get your community involved. Users and customers can also become supporters of authenticity.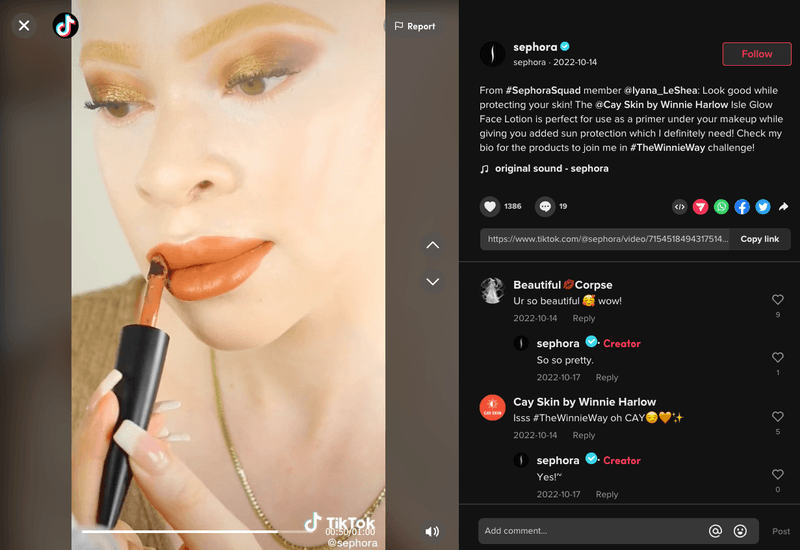 (Source: TikTok / Sephora)
How to keep up with social media trends
How do you stay in the loop with these ever-changing social media trends? Besides following new trends, these tips can help you improve you stay ahead of the curve.
Follow influencers in your industry. Seek content creators and public figures to get notifications when they post, and ride a particular trend that is relevant to your brand.
Use Exploding Topics. The freemium tool lets you know which topics are emerging and picking up in popularity.
Use each platform's sections for creators. This way you'll learn how to use the newest features and respond to up-and-coming trends faster.
Learn about Google Trends. This search engine's data delivers relevant insights on popular topics in a certain country and globally. Use the "Recently trendy" section to get new ideas for your upcoming content.
Join social media groups and forums. Sharing ideas and learning what other marketers are doing can help you get new ideas on what's trending.
Final thoughts
Social media craze will continue to shape the world around us in 2023. If you're overwhelmed by everything that's going on in the social media industry, go back to basics, review your strategy, and adapt your course only if it makes sense. When creating content as an individual or a business, the most important thing is to connect with your audience in a way that feels honest and genuine.