Intro
With more than one billion active users monthly, Instagram is one of the most powerful tools in a marketer's arsenal. Because of this, optimizing your ad on Instagram will not only help you reach your brand goals. It also allows you to make the most out of every advertising dollar you spend.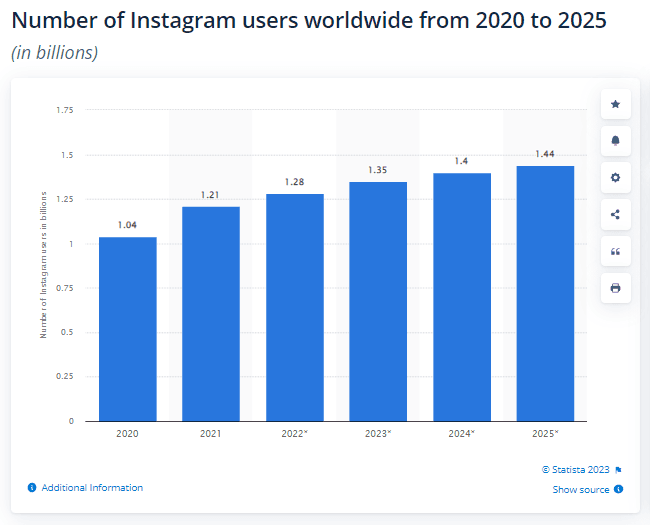 (Image source: Statista)
However, as a marketer, you know that optimizing your Instagram ad is easier said than done. Aside from crafting a message that resonates with your audience, you also have to make sure that it's powerful enough to convert them into paying customers.
That's why we wanted to share with you some helpful insight into how to make the most out of your Instagram ads. It doesn't matter if this is you're a beginner or a seasoned Instagram marketer. These tips and tricks will help you craft engaging and effective campaigns, giving you maximum returns for every cent spent.
Understanding Instagram Ads
Like most social media ads, Instagram ads appear all throughout the platform. From your feed to your stories, and even while watching reels, you'll most likely encounter content that's labeled "sponsored".
Because of this, Instagram ads come in different formats. It depends on where you want it to appear. For instance, if you want your audience to see your ad while scrolling through their feed, you can go for image or photo ads. But if you want your ad to appear on your audience's reels, you need to follow the platform's format for video reels.
The best thing about advertising on Instagram, however, is its targeting features. Aside from demographics, you can also narrow down users according to their interests, behaviors, and more. This allows you to target specific users who will more likely be interested in whatever you're offering.
The All-in-One Platform for Effective SEO
Behind every successful business is a strong SEO campaign. But with countless optimization tools and techniques out there to choose from, it can be hard to know where to start. Well, fear no more, cause I've got just the thing to help. Presenting the Ranktracker all-in-one platform for effective SEO
The platform also offers retargeting and dynamic ads feature that you can use to re-engage with potential and repeat customers.
Types of Instagram Ads
As of this writing, Instagram ads come in nine types and formats:
1. Photo/Image ads
This type of ad consists of a single image in a JPEG or PNG file format. It has a minimum resolution of 600 x 600 pixels and a maximum of 3024 x 3024 pixels. You can include a call-to-action button to this ad or a caption and link in the bio.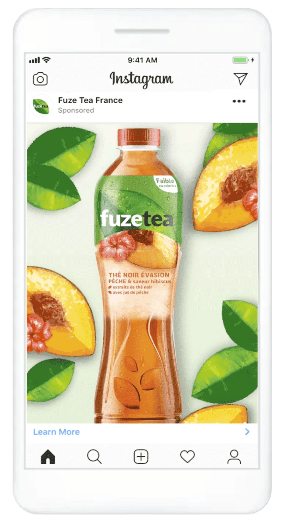 (Image source: Meta)
2. Carousel ads
Carousel ads show multiple images or videos within a single ad unit. It allows users to swipe through a series of images or videos, providing a more engaging and interactive experience. Each image or video can also have its own link, so users can be directed to different landing pages depending on the image or video they click on.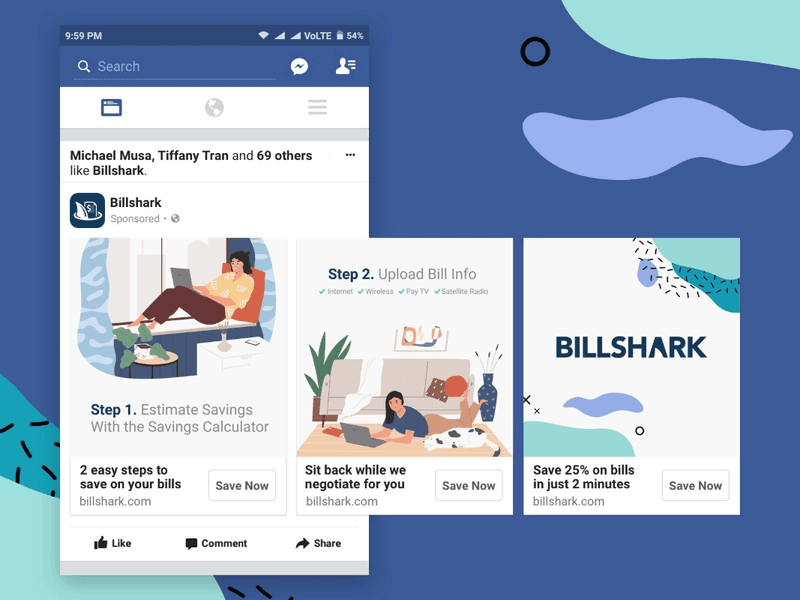 (Image source: Dribble)
3. Video ads
Instagram video ads appears in users' news feeds, stories, and search results on the Instagram platform. They consist of a video, typically with sound in an MP4 or MOV file format. The maximum video length is 60 seconds, but shorter videos are recommended to capture users' attention more effectively.
4. Stories ads
This type of ad allows companies to be super creative in their approach to selling products and services. It features interactive components, such as polls and quizzes, allowing you to engage users in an entirely new way.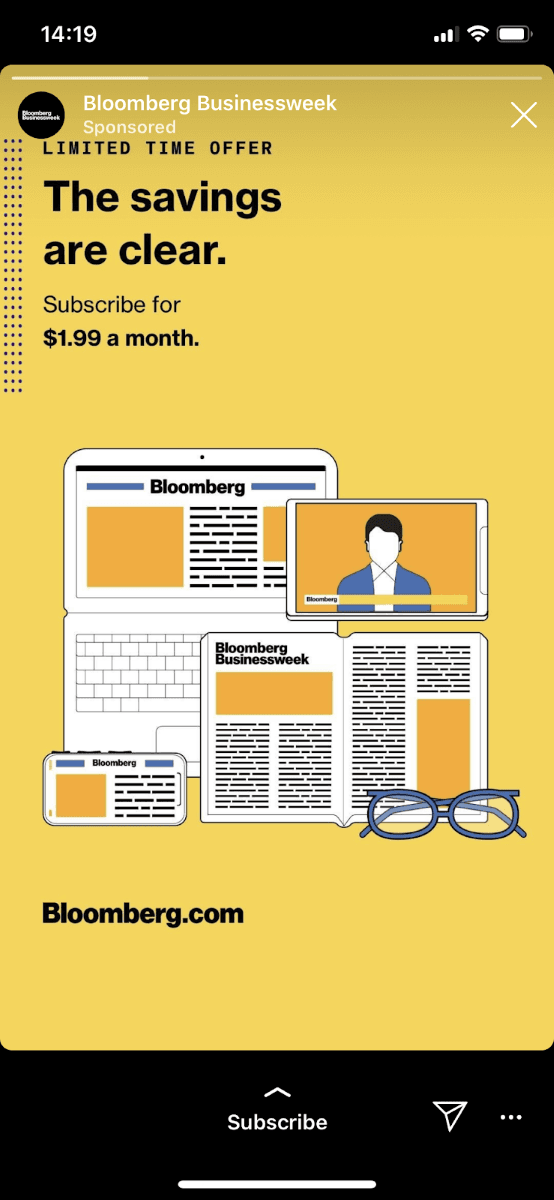 (Image source: invideo)
5. Reels ads
As the name suggests, this type of ad appears in the Reels section of the Instagram app. They consist of a short video, typically with sound, and are designed to be engaging and interactive, similar to TikTok videos. Reels Ads are a newer format and, therefore, a great way for brands to reach a younger audience and gain more engagement from that demographic.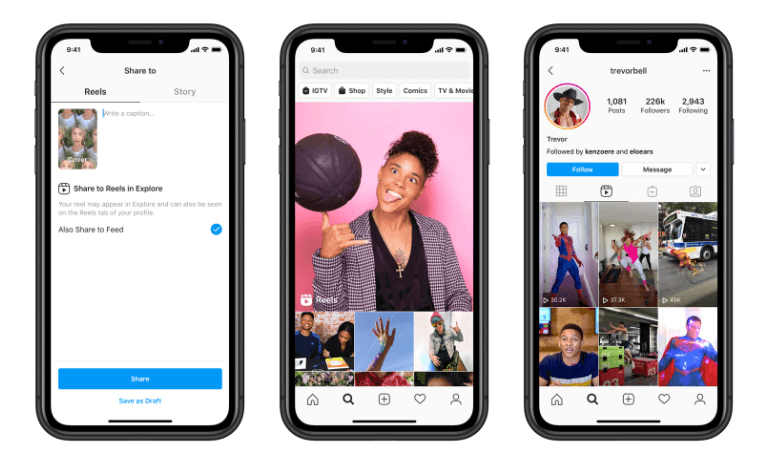 (Image source: Instagram)
6. Shopping ads
Ideal for promoting products on Instagram, shopping ads consist of an image or video ad that features one or more product tags. Users can then tap on these tags to view more information about the product, including pricing and a link to purchase. To use this type of ad, you need to have a Facebook Shop or a business website with the Facebook Sales Channel enabled.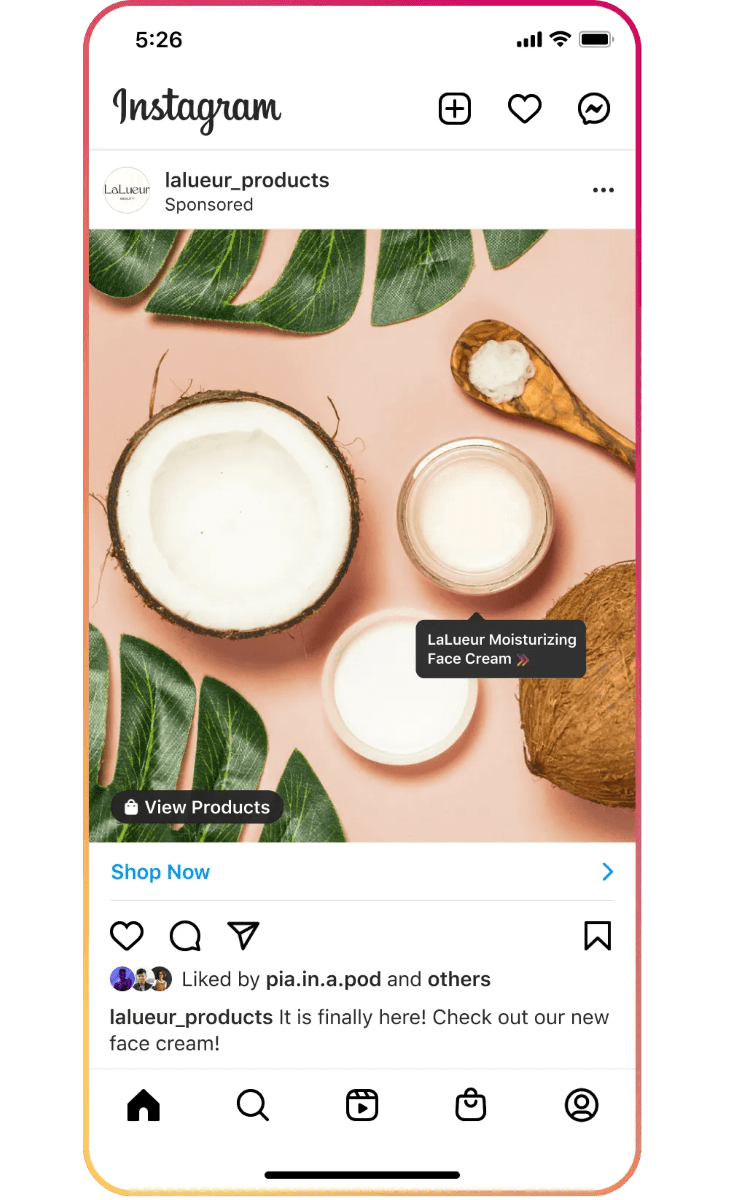 (Image source: Facebook)
7. IGTV ads
IGTV ads are long-form video ads format, typically with sound, that appear within the IGTV section of the Instagram app. These vertical videos have a maximum length of 60 minutes, allowing brands to create more in-depth and informative content.
The All-in-One Platform for Effective SEO
Behind every successful business is a strong SEO campaign. But with countless optimization tools and techniques out there to choose from, it can be hard to know where to start. Well, fear no more, cause I've got just the thing to help. Presenting the Ranktracker all-in-one platform for effective SEO
[video link: https://business.instagram.com/1319742961447503/videos/808257346566656/]
8. Explore ads
As the name implies, these ads appear in the Explore section of the Instagram app. The Explore section is a curated section of content that the platform suggests to users based on their interests and past behavior. Since these ads are shown to users who are actively seeking new content, they have a higher likelihood of capturing users' attention and boosting engagement.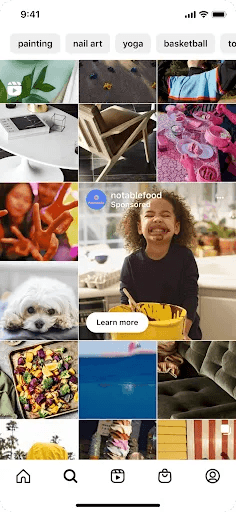 (Image source: Meta)
9. Collection ads
Collection ads are essentially a combination of shopping ads and carousel ads. They showcase multiple products within a single ad through an image or video ad that features one or more product tags. These ads are a great way for businesses to showcase a group of products together, making it easy for users to browse and purchase multiple items in one place.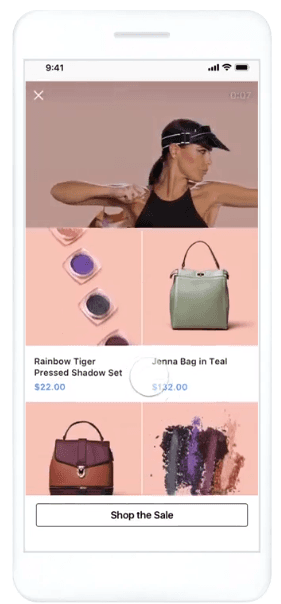 (Image source: Meta)
How Much Do Instagram Ads Cost?
The cost of Instagram ads can vary greatly depending on the size and scope of your campaign. On average, the cost per click ranges from $0.20 to $2 per click, with some campaigns reaching up to $6. Factors like location, interests, and the type of ad used will also influence the amount you'll be spending.
Top Tips on How to Optimize Instagram Ads
Now that you understand how Instagram ads work, here are some tips on how you can make the most out of them:
1. Define Your Goals
You can't use Instagram ads effectively unless you understand what you're trying to achieve. That's why you need to select your goals carefully. So the first thing you need to do is outline the objective behind your ad. For instance, are you looking to:
create awareness about your brand?
reach a broader audience?
sell products?
drive traffic to a landing page or website?
get people to engage with your post, e.g., like, comment, and/or share?
direct users to an app store to download your business app?
get customer feedback about a product/service via polls?
The choices are many, but generally, they can be classified as awareness, consideration, and conversion. Whichever you choose, make sure that it aligns with your overall business goals to avoid wasting your ad budget.
2. Optimize Your Profile
You have just 150 characters to make your Instagram account stand out. As such, your bio needs to make a great first impression, tell people why they should follow you, and convey your business personality. That's a lot to ask from a tiny space, but it is all you have at your disposal.
Luckily, you get additional fields on your profile to tell what your business is about and make it easy for people to find you. These include your name, username, website, business category, contact information, as well as call-to-action buttons.
For instance, if you ever want to use a post to direct people to a landing page, you need to lead them first to the link in your bio. That's the only way to get your followers to interact with your business, keeping in mind that Instagram doesn't allow you to post clickable links alongside your posts. And since you only get one link: it's best to change it regularly depending on your latest content, campaign, offer, product, or whatever your current objective is.
An increasing number of social media marketers are also using marketing tools to create a link tree - a single link that directs users to various other links crucial to your business.
3. Promote Your Best Content
Traditionally, you create ads by carefully scripting ad copies and curating calls to action that you think will have the biggest effect on your audience. But that strategy is more of a hit-and-miss thing. Sometimes, no matter how carefully curated your ads are, there's no assurance that they will fly with your audience.
To avoid wasting ad money, you should just promote contents that are already performing well. If they are already gaining engagement, that means their message is working with your audience. So promoting it will more likely result in better engagement.
4. Know Your Audience
Knowing your audience allows you to tailor your messaging and content to their specific interests, demographics, and behaviors. When you know what your audience wants and likes, you can create ads that are more likely to resonate with them and lead to conversions.
There are several ways you can get to know your audience better, such as:
Use Instagram Insights: Instagram provides a free analytics tool called Insights that can help you understand the demographics, interests, and behavior of your current followers. You can use this information to target your ads to a similar audience.
Conduct Surveys: Create a survey and ask your current customers or followers about their demographics, interests, and pain points. This will give you a better understanding of the types of people who are most interested in your products or services.
Analyze your website or app analytics: If you have a website or an app, you can use analytics tools like Google Analytics to learn more about your audience. This information can be used to identify the demographics, interests, and behaviors of your online audience.
Social listening: Use social listening tools to track mentions of your brand, industry, and competitors on social media. This will help you understand what people are saying about your brand, what they like and dislike, and what they want more of.
Competitor research: Look at your competitor's Instagram accounts, and analyze their audience, content, engagement, and targeting. This will give you a good idea of what type of audience you should target, how to approach them, and what kind of content resonates with them.
Test and measure: Always measure the performance of each ad and make adjustments accordingly. Test different targeting options, ad formats, and creatives to see which resonates best with your audience.
5. Avoid Overselling
If you want to increase engagement plus click-through rates with your ads, then try not to make your ads appear as ads. These days, people are turned on by creativity and not blatant product promotions.
So don't let your audience realize that you're trying to sell them something. Instead, you must aim to create an organic experience as much as possible. To do this, you should:
Be honest and transparent: Don't make false claims or exaggerate the benefits of your product or service. Instead, be honest and transparent about what your product or service can and can't do.
Keep it simple: Don't try to cram too much information into one ad. Instead, keep your message simple and focused, and use images and videos to capture attention and convey your message.
Be authentic: Don't try to be something you're not. Instead, be authentic and genuine in your messaging, and use your brand's voice and personality to connect with your audience.
Show, not tell: Instead of telling people what your product can do, show them. Use images and videos to demonstrate how your product works and the benefits it provides.
Use storytelling: Tell a story about your product or service that resonates with your target audience and highlights the benefits of your product or service without overselling.
Use a clear offer: Make sure that your ad has a clear offer and a clear benefit to the viewer. This will make it more likely to convert.
Also, whenever you're planning to roll out a new Instagram ad, start creating organic posts around the theme of your ad. Make similar posts even after your ad goes live. This approach ensures a smoother transition that blends similar ads of both the organic and paid variety.
6. Include a Call-to-Action Button
Instagram ads allow you to integrate a call-to-action (CTA) button at the bottom right of your post. This button gives you multiple CTA options, and if there's one that's relevant to your ad, don't hesitate to use it.
The CTA features facilitate various interactions with your followers. For instance:
It makes it easier for followers to find your services.
Tell followers what to do on your account.
Give followers the motivation to act.
Provide insights about your follower's preferences.
Boost the conversion rate.
You can utilize the CTA features in various formats, including profile buttons, caption phrases, and swipe-up features. However, keep in mind that your account must have a business profile for you to enjoy Instagram's CTA feature.
7. Tell a Story Through Carousels
By showcasing multiple images in a single post, carousel ads make your ad more interesting and increase their chances of being seen by your target audience. This format also provides valuable insights into which images or videos are most effective.
Here's how you can create carousel ads:
Name your Ad
Select the Facebook and Instagram pages
Select the "carousel" format
Add your carousel ad images
Add your carousel ad copy
Add your carousel ad URLs
Select a call-to-action
Select/deselect image rotation
8. Strengthen Your Branding
A strong brand requires less advertising. Just think of Apple and Coca-Cola. A mere mention of their brand name, and everyone already knows what they're selling.
Businesses with strong brands also tend to last longer than their competitors. Taking from the example above, Coca-Cola has been around for more than a century, yet people are still buying their drinks. So many beverage companies have come and gone over the years. Yet, they remained strong and even survived two world wars. That's the power of branding.
If you want to last as long as these companies, here are some tips you can use to boost your brand on Instagram:
Post content that reflects your brand personality
Grow your Instagram followers
Create branded hashtags
Schedule your content, stick with it, and avoid over posting
Work with Instagram influencers
Encourage user-generated content
9. Promote a Video
According to statistics, video posts are twice more likely to gain engagement than image posts. That's why video ads are considered to be one of the most effective ways to advertise and reach potential customers on Instagram.
Through cleverly crafted Instagram video ads, brands and businesses alike can boost visibility and create a larger consumer base. Because they are visually appealing and often induce feelings of nostalgia, they can create an emotional connection with viewers, resulting in improved engagement.
While they can be intimidating to start, creating stunning video ads for Instagram doesn't have to break the bank or take hours of editing. Start by creating an effective creative brief that outlines the main points you want to include - who is your target audience, what you want them to feel and do, etc.
Once you have your goals in mind, seek out stock videos and images that fit those objectives. From there, you can put together the ad in no time. Keep your message clear and concise, and make sure your visuals pop. This will help draw viewers in and encourage them to take action.
10. Use Lookalike Audience Targeting
Lookalike audience targeting is an advertising strategy where you take your existing customer's data and use it to create a list of individuals with similar characteristics. The resulting list can then be used as the target audience for future ads.
The All-in-One Platform for Effective SEO
Behind every successful business is a strong SEO campaign. But with countless optimization tools and techniques out there to choose from, it can be hard to know where to start. Well, fear no more, cause I've got just the thing to help. Presenting the Ranktracker all-in-one platform for effective SEO
Instagram already collects user data of your followers, like profile details, interests, location, and behaviors. So it should be easy for you to get a picture of the kind of people who will more likely interact with your posts. This data can help you create ads tailored to their interests, age, and hobbies.
11. Work With Influencers
Working with influencers on Instagram is a great way to leverage their reach, boost your engagement, and reduce your ad spending.
When you collaborate with an influencer, you can expose your brand to a new community of potential customers without relying too much on ads. They have already earned the trust of their followers, making it easier for people to give your product or service a chance.
Plus, influencers generally produce high-quality content that aligns with their own brand identity. This gives you an opportunity to get some truly creative and captivating content out there that reflects well on your own business too. This can also increase your brand awareness, which makes your ads more effective.
Key Takeaways
By following the tips above, you can avoid many of the common pitfalls in Instagram advertising. When you optimize your ad images, use relevant hashtags, and take advantage of all the available targeting options, you can ensure that your ads are reaching the right people.
As we mentioned before, there are a lot of moving parts to think about when optimizing your ad campaigns. But with this guide, you should be well on your way to creating high-performing Instagram ads that deliver results.