Intro
In the evolving age of smartphones and social media, content has become integral to connecting with potential customers and driving more sales, as seen in the Semrush graph above. Based on this image alone, we can conclude that there's an ongoing focus among brands on content marketing. Clearly, they recognize the importance of content marketing and are keen to create quality ones.
The best thing about content marketing is that, when done right, even small businesses can have a competitive advantage. However, if marketers fail to keep up with the latest tools and techniques, they could take their brand two steps behind. That's how intricate content has become today.
This guide below will help you learn the best content marketing trends you should take advantage of in 2023.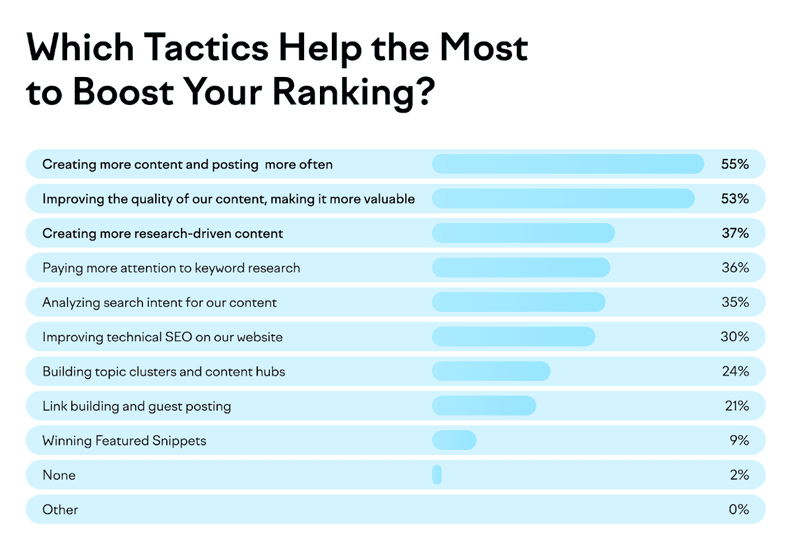 (Image from Semrush)
The importance of content marketing in 2023
Content marketing is an excellent way to communicate with potential and existing customers. It also helps brands establish their authority or expertise in their industry.
Today, online users are now highly considering quality content as a way to gauge if their desired brand is trustworthy or not. That means putting out average or subpar content for the sake of it won't fly in such an aggressive digital environment.
Hard-selling content won't work with modern online users either. Most of them look for something informative and engaging. It must be able to connect on a personal level. Through strategic and empathetic content creation, marketers can achieve such an effect, which ultimately leads to more sales. That's why content marketing remains useful as years progress.
The All-in-One Platform for Effective SEO
Behind every successful business is a strong SEO campaign. But with countless optimization tools and techniques out there to choose from, it can be hard to know where to start. Well, fear no more, cause I've got just the thing to help. Presenting the Ranktracker all-in-one platform for effective SEO
Trends brands should prepare for in 2023
From social media to SEO blog posts, watch out for the following trends this coming year.
Human-centric content
Customers used to look for a more professional tone from their favorite brands. The more formal companies appear, the more established they feel. However, as social media evolves, people are now looking for more humanized content.
The focus on human connection was emphasized when the global pandemic hit in 2020. Customers have become more trusting of brands that offer transparency and personalization. That's why brands are slowly letting go of 'formal' in exchange for 'friendly.'
In 2023, drive your tone towards a more human-to-human approach. Let go of the sales talk and embrace your target audience's preferred tone to deliver emotions that trigger a response. Focus on content that builds real connections with current and potential customers.
The best way to approach this content trend is by emphasizing the human element in your campaigns. That means adding real people that get behind your brand. For instance, you can partner with trusted influencers in your industry to connect with your niche audience.
Meanwhile, if you want a more honest approach not backed by a marketing team, there's always user-generated content (UGC). UGC is content made from a customer's perspective. Generally, they are product reviews in written and video content.
The All-in-One Platform for Effective SEO
Behind every successful business is a strong SEO campaign. But with countless optimization tools and techniques out there to choose from, it can be hard to know where to start. Well, fear no more, cause I've got just the thing to help. Presenting the Ranktracker all-in-one platform for effective SEO
One of the best examples of UGC is customers voicing their concerns or praise for different products and services through platforms like Instagram reels and stories. You can use positive comments to your advantage by making them a part of your content marketing strategy. Fortunately, there are SEO tools to help you grab the best user-generated content online.
Podcast domination
A recent study predicts the number of global podcast listeners could grow to 464.7 million in 2023. Today, the popular audio streaming service Spotify has 4.7 million podcasts worldwide.
Podcasts have been an incredible way for industry experts and brands to showcase their authority in their niche. It's also an impactful way to drive sales. For instance, 60 percent of podcast listeners report searching for a particular product after hearing an episode about it.
Apart from Spotify, various channels are available for creating podcasts. These include Apple Music and YouTube. Podcasts are also becoming prominent as videos.
The key to creating podcast content is being informative and entertaining to pique your potential listeners' interests. Find a way to showcase your expertise in the industry without hard-selling your target audience. That means sharing insights, tips, and other helpful information. The goal is to become a trusted source to address various problems in your niche.
Short-form video
Video is now considered one of the leading content forms across many social media platforms worldwide. It's becoming such a hit that according to a recent study, around 86 percent of marketers use video as a top tool for their campaigns.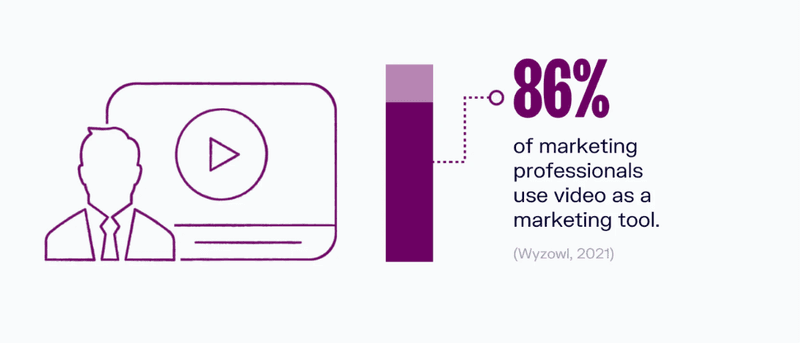 (Image from Oberlo)
Today, thanks to the decreasing attention span of online users, there's been a rise in short-form video content across different platforms. Users, especially the younger generation, consume content in video form that's less than one minute long. They don't have the patience to watch content creators pad the runtime with unnecessary details. They want immediate feedback to their interests or questions.
The best thing about short-form video content is that it takes less time to produce. The key is to create fast-paced videos that are informative yet entertaining. If your content takes a few minutes long, you can cut it and make a series. Doing this can help expand your library by having more content stored for later. Plus, if you get your audience hooked, they will stick around and wait for more.
Furthermore, many social media platforms offer tools that enable marketers to publish shorter videos. These include TikTok, Instagram Reels, and YouTube shorts.
Boosted AI use
Creating a pool of content takes time to plan. Marketers must always ensure that each one is consistent with branding and with what's trending today. Unfortunately, with so many content forms available, it's challenging to include what's best for the brand.
Meanwhile, artificial intelligence (AI) is already making its way across various marketing efforts. For instance, marketers are using chatbots to offer recommendations to visitors or ad targeting systems for a more thorough reach. Some are also using AI writing software to generate content, which is a big no-no for Google. Google is particularly strict about using AI-generated content and considers them spam. Unfortunately, having spam content significantly affects a site's ranking and overall credibility.
If you want to maximize AI for your brand, you can use it to boost your content instead of creating them. AI-powered content has been one of the fast-rising trends in online marketing that will continue in 2023.
Thanks to AI, marketers can get better insights into which campaigns work better for their brand. Because of that, you can improve your campaigns to make them feel more personalized to the target audience.
Furthermore, AI can also enable marketers to detect new online trends that may benefit their brands.
Repurposed old content
Content is vital in boosting a site's niche authority. However, running out of ideas can happen over time. When this happens, your site and social media pages could go stale, which may make you lose your target audience.
You must generate content constantly to maintain engagement with your followers. Fortunately, you can repurpose older content to help address such an issue.
Repurposing older content can help expand your library and keep you active on social media. It's where you transform one content into another. For instance, you can turn one of your blog posts into video content and social media infographics and share them simultaneously. It's completely different from re-sharing something you made a year ago.
With new content forms now available, 2023 offers marketers various opportunities to repurpose their content. One blog post could turn into a series of short-form videos or an episode of a podcast.
Repurposing old content also means updating them to ensure they follow the latest digital marketing trends. For example, SEO continues to evolve, with new practices emerging yearly. Your old content could be following an ancient SEO technique, making it outdated compared to newer ones. It's best to refurbish them to keep them in line with the latest trends.
Moreover, updating old blog posts helps with your site authority. Doing so will make them relevant to new search queries. Because of that, more visitors will visit your site, which also helps boost your SEO rankings.
AR and VR
Over the years, experts have been trying to find ways to maximize augmented reality (AR) and virtual reality (VR) programs in marketing. Since metaverse platforms are increasingly emerging as modern alternatives to communication and entertainment, experts are already exploring selling or sampling products through AR and VR tools.
In 2022, many luxury and known brands joined Decentraland's Metaverse Fashion Week, an online event that explored the world of digital fashion and wearables worldwide. It featured brands like Tommy Hilfiger, Dolce & Gabbana, and DKNY with virtual runways and stores. The event highlighted the use of AR and VR as a modern way to market products, which we could also see happening in the following years.
Meanwhile, apart from the Metaverse, many platforms already offer functionalities that allow users to "try" products before purchasing, including Snapchat and Pinterest.
While there's still a lot to know about AR and VR in digital marketing, marketers should look closely at different concepts to see how they can maximize such tools in 2023.
Focus on well–researched content
In the age of fake news, people are becoming more cautious when looking for sites they can trust. They prefer authoritative content backed by research or using relevant data to get the required answers.
Research is one of the backbones of quality content. To gain your target audience's trust this year, you must produce well-researched content that uses reliable sources to support its claims. It also has to read well to feel more professional and authoritative.
Additionally, when your site feels well-researched, you can become a trusted or reliable source for your target audience. Visitors can link to their social media pages, which could help generate more traffic and boost your rankings.
Furthermore, quality content also helps Google understand what your site is about. Because of that, Google can better present your site to potential customers every time they search online.
Long-form content
Another way to establish authority is by producing long-form content. Simply put, brands can't showcase their expertise in the industry in 500 words or less. They must create something longer with insightful information backed by relevant data.
Long-form content continues to rise, even today, where most online users have a relatively short attention span. Many studies have found them to be more engaging and profitable than short-form content, which is why creating them should be a part of your 2023 content marketing strategy.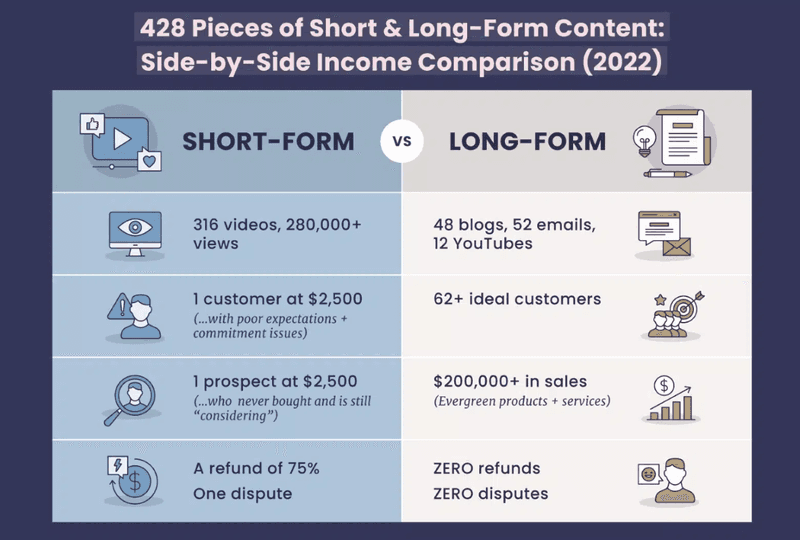 (Image from Content Hacker)
The key is to be well-researched and well-written. Ideally, it also has to range from 700 to 2000 words to show your authority in the niche.
Moreover, long-form content also provides an opportunity to boost a site's SEO rankings through various factors such as keywords and backlinks.
Apart from blog posts, marketers can achieve long-form content in many ways. These include one-hour podcast episodes, 20-minute YouTube videos, and social media carousels.
Voice search
The emergence of smart assistants like Siri and Alexa has made search queries more effortless and faster for mobile users. Because of its convenience, it's no surprise that voice search has become one of the fastest-growing trends in e-commerce, with nearly half of the US population using this platform regularly.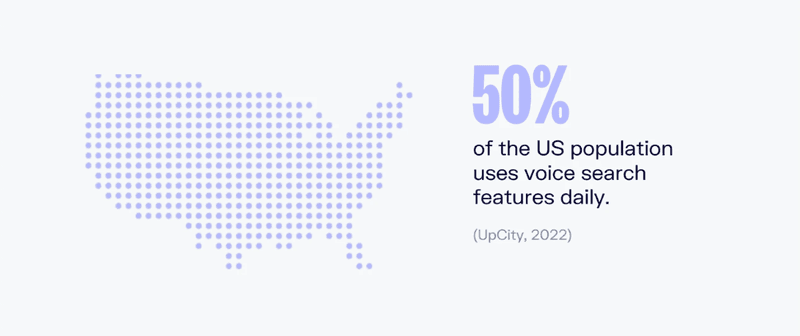 (Image from Oberlo)
Studies show that many consumers prefer looking for their desired product using voice search. Most of them do so through the help of smart speakers and their voice command features. That's why if you're not optimizing your content for voice search in 2023, you could lose a significant number of your consumers.
Furthermore, voice searches don't rely on one or two keywords. When optimizing, you should include long-tail keywords and questions you think your consumers will use when conducting voice searches.
Personalization enhancement
Personalization remains an effective trend for brands in different industries. It's one of the best practices for creating long-term customer relationships and an excellent way to convert potential ones.
The All-in-One Platform for Effective SEO
Behind every successful business is a strong SEO campaign. But with countless optimization tools and techniques out there to choose from, it can be hard to know where to start. Well, fear no more, cause I've got just the thing to help. Presenting the Ranktracker all-in-one platform for effective SEO
In marketing, personalization refers to creating relevant products and services that cater to a particular person's needs. Some of the best examples of personalization include product recommendations, user experience controls, and loyalty or discount programs.
This year, we can expect personalization to grow and become even more competitive. For instance, AI could come into play by offering comprehensive data on personalization campaigns. Using AI for analysis could help brands understand customer patterns and gauge which efforts are effective to create more of the same content.
Furthermore, there could also be a focus on data privacy and cookieless personalization to put potential customers at ease in protecting their information. Plus, brands could aim for more omnichannel personalization. That means seamlessly integrating campaigns across digital and in-store platforms.
Build authoritative and engaging content
As we start the new year, we expect new trends to emerge in such an aggressive digital landscape. Some are a rehash of existing practices, while others are fresh ones that use new technologies.
The key is to always hop on any marketing bandwagon and compete in terms of content. It's okay to do the same concept as long as your content feels original and engaging.