Intro
In today's global digital world, the influence of social media and other digital platforms has revolutionized the way we consume visual entertainment. A significant development in the entertainment industry is the rise and impact of influencers. Inflers come with a loyal following due to their ability to produce engaging content, making them a powerful catalyst in shaping the visual entertainment landscape. In this article, we'll explore just how powerful influencers are within this industry, from reach to trendsetting, niche targeting, and more.
Reach
Influencers build a dedicated and loyal following across social media platforms, becoming celebrities for their niche audiences. Popular content creators reach and engage their large audiences, often surpassing traditional media outlets. Collaborating with relevant influencers, businesses in the visual entertainment industry can tap into these established communities to gain exposure to a broader audience.
Many producers, casting directors, and other sectors are taking advantage of the vast potential influencers have to offer. For example, Addison Rae, Liza Koshy, and Loren Gray are just a few notable influencers who crossed over into the entertainment industry. Because of their loyal fanbase, these stars can bring in new audiences who would support anything their favorite star is in.
Engagement
In addition to an expansive reach, influencers also bring an engaged audience to their creations. In today's digital age, having an active online presence is necessary to earn relevance and revenue in the entertainment industry. Visual products like video games, movies, and TV shows need digital marketing to engage their audience.
Video game developers like Xbox have partnered with other brands like Doritos and featured popular gaming creators in their advertising campaigns. Additionally, companies that sell gaming accessories for systems like xBox often partner with influencers to promote products like controllers, simulators for xBox, headsets, and more.
Relatability
One of the reasons influencers become so popular is their authentic and relatable personas. Sharing personal stories, opinions, and expertise is often what builds their loyal following. Now more than ever, consumers are rejecting traditional advertising methods in place of something more seemingly authentic, appealing, and trustworthy, such as influencers. When influencers promote or endorse visual entertainment content, it can have a positive impact on audience perception and engagement.
Promotion
Today, there's an online niche for virtually any market. Consider Tiktok, with over a billion global users, TikTok has opened up numerous digital corners, from Knit Tok, Butter Tok, Senior Tok, and so many more. These social media niches build an active and engaged audience, which businesses can tap into to promote their products. Influencers showcase their creativity and storytelling skills, often incorporating visual entertainment elements into their content, from superb editing, movie-like production, and other popular methods of curation in the entertainment industry.
Collaboration between influencers and the entertainment industry opens up cross-promotion opportunities with influencers featuring or endorsing visual entertainment products, like products, films, TV shows, and streaming services.
Content creation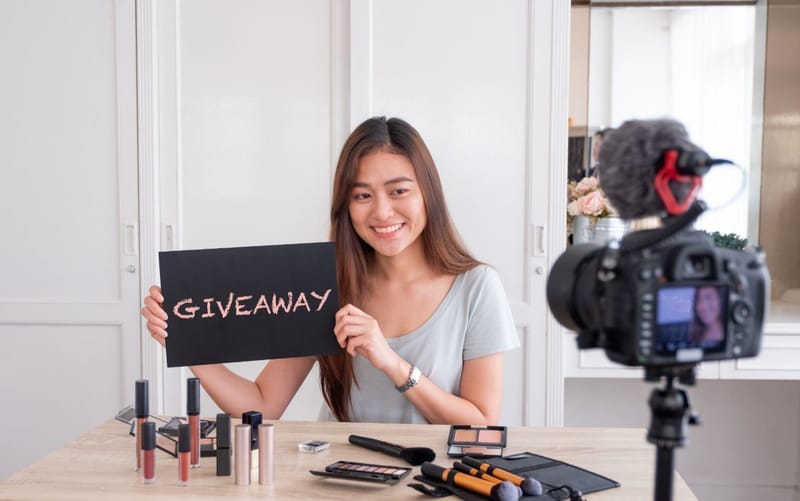 Influencers are experts in content creation, and opening a partnership between your brand and an influencer in your niche allows you to create engaging, fun, and relevant content. Influencers are brands themselves with a loyal and ever-growing fan base. As an established brand, influencers can grow their business in many different ways. Some creators offer merch, online stores, and even live events like meet and greets or sporting events like boxing matches.
In the entertainment industry, partnering with influencers opens up new opportunities for businesses like sports betting for live events, sponsors opportunities, collaborations, and more. These events and partnerships allow businesses to access new avenues for profit through content curation. Collaboration between influencers and the entertainment industry leads to cross-promotion, with influencers featuring or enforcing specific visual entertainment products, films, TV shows, or streaming services.
Trendsetting
Influencers are also trendsetters and experts in going viral. Collaborations between influencers and sectors of the visual entertainment industry can introduce new ideas, genres, styles, and formats to followers, shaping pop culture as a whole. When influencers promote films, TV shows, or trends, it quickly gains traction with the potential to go viral. Influencers can generate buzz and attract attention from a broader audience, serving as a valuable tool for promoting visual entertainment products.
Monetization
In addition to building a loyal fan base, influencers are experts in monetizing themselves. Influencers often monetize their platform through brand partnerships, sponsorships, and endorsements. Companies in the visual entertainment industry recognize the value of these influencers' reach and engagement, often producing collaboration opportunities and paid promotions. Partnering with influencers allows these brands to effectively reach their target audience and drive interest in their products and content.
Niche targeting
Because influencers often specialize in specific niches or genres, they build highly engaged communities centered around specific interests. This level of niche targeting is invaluable for visual entertainment creators, as they can collaborate with influencers with a dedicated audience interested in their type of content. Using a targeted approach ensures entertainment companies reach the right audience and maximize their impact and potential for success.
User-generated content
Followers often flock to a particular influencer and niche because of their sense of community and interaction with followers. This engagement extends to visual entertainment content, where influencers encourage their audience to create fan art, participate in trends and challenges, or repost and stitch their videos to share their thoughts. User-generated content generates buzz and excitement and serves as free promotion for their content, allowing entertainment businesses to reach a wider audience through the influencer's platform.
The All-in-One Platform for Effective SEO
Behind every successful business is a strong SEO campaign. But with countless optimization tools and techniques out there to choose from, it can be hard to know where to start. Well, fear no more, cause I've got just the thing to help. Presenting the Ranktracker all-in-one platform for effective SEO
By promoting UGC, influencers foster a greater sense of community and allow their followers to participate and engage with the content they enjoy. Engaging with audiences and opening a two-way conversation creates a deeper connection between the audience and the content but also generates additional buzz and excitement around it. Take the 2023 Barbie movie, for example. The UGC surrounding the film grows daily, with users discussing the trailers, creating Barbie-themed filters, and more. The UGC alone makes the movie a seemingly promising success before it's even hit the theatres.
Influencers and the entertainment industry
Influencers are undoubtedly a driving force in the visual entertainment industry. With their ability to reach and engage large audiences, influencers can exemplify content exposure, build awareness, and generate excitement around content. Their ability to relate to the audience assists in forging connections with users, while their recommendations and collaborations influence audience preferences and trends.
Influencers foster vibrant communities of fans and encourage UGC, thereby fueling the passion and dedication of their audiences. As the digital era continues to evolve, influencers remain integral to the growth and success of visual entertainment, forging new paths and shaping the future of the industry.