Intro
Although many marketers avoid using Telegram, it does offer lots of advantages when it comes to promoting businesses. Why is it so? Well, they just don't know how to benefit from
Telegram marketing. We are going to change it for you by providing the most concise information about how to make your business more profitable with this messenger. For you, the best practices will allow your business to grow and make a big profit.
By the end of this article, you will know the following:
What is Telegram marketing, and why is it necessary for your business?
What to choose to communicate with clients: group or channel?
How to create a perfect content strategy for your business?
How will Telegram ads help you increase profits?
And most importantly, you will be able to create a detailed promotion plan for your business. So let's start at the beginning.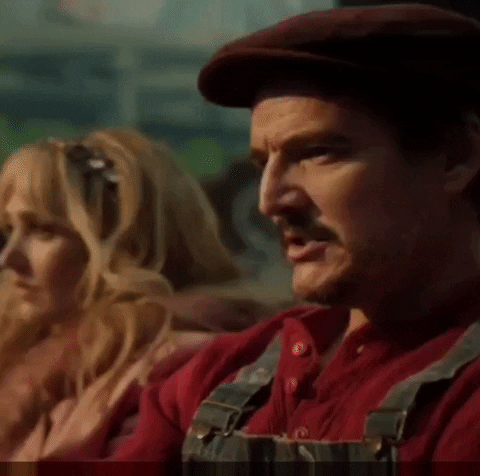 What is Telegram Marketing?
You most likely have already installed Telegram on your smartphone and use it regularly for private communication. According to Statista, in 2022, the number of users worldwide exceeded 700 million. So why cannot businesses use Telegram advertising to make it even more popular?
As a result of the increasing popularity of this messenger and the constant improvement of its functions and algorithms, the concept of Telegram marketing appeared. And if you want to reach a higher number of your potential customers and increase their loyalty, you need to know about this process.
In simple terms, Telegram marketing is part of a digital marketing system that allows you to achieve the goals of all types of business through the capabilities of Telegram Messenger. Below, you can see a digest of Telegram's main statistics made by DemandSage.
The All-in-One Platform for Effective SEO
Behind every successful business is a strong SEO campaign. But with countless optimization tools and techniques out there to choose from, it can be hard to know where to start. Well, fear no more, cause I've got just the thing to help. Presenting the Ranktracker all-in-one platform for effective SEO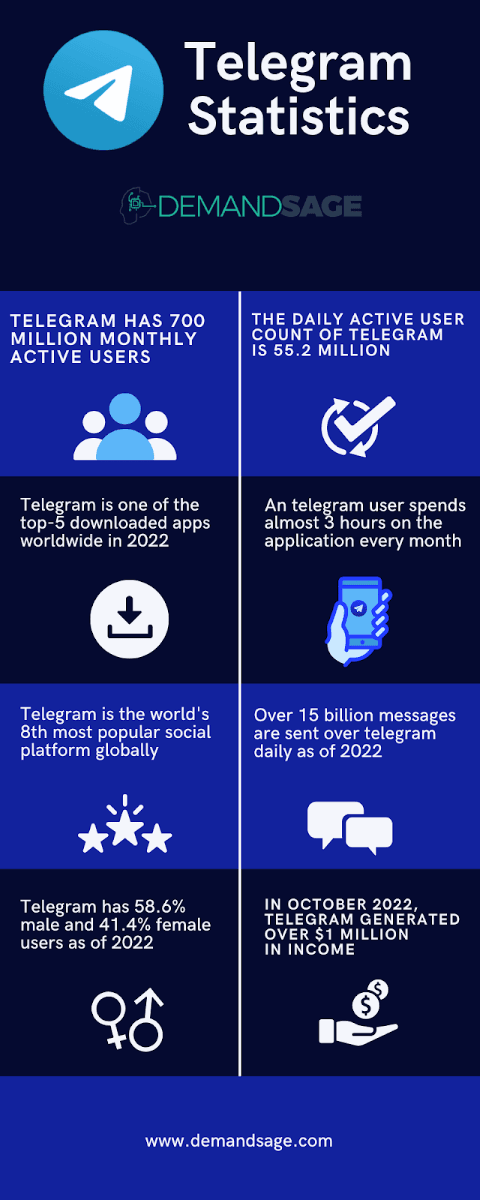 This data convinces us that this platform contains all the necessary features to increase the number of customers, loyalty, and profit.
Telegram Business Opportunities
Let's talk more about the qualitative indicators you improve with Telegram.
You will increase the number of leads on your site. Telegram is a true lead-generator for your website. You don't have to compete in a Telegram search like in Google to tell people about your product or service. You should create relevant content to attract more users to subscribe to your channel or group and include a link to your website into its description. You can also insert links to a website into posts. This will make it easy for your subscribers to visit your site increasing its social traffic.
You get additional promotional channels. You can also quickly increase the partnership with other owners of Telegram channels and build mutually beneficial cooperation.
You get an additional source of communication with customers. Your customers will be more loyal to you if they can leave feedback and get answers to their questions 24/7 on your Telegram group.
You can work more efficiently with the help of bot assistants. There are no usual "answering machines" but full-fledged Telegram marketing tools that can help turn ordinary users into loyal customers.
You increase business sales faster. You are steadily growing your profits by increasing the number of users and their loyalty.
Telegram is an additional tool that helps increase the awareness of your business and the number of potential customers. Keep reading to discover how to use Telegram for marketing.
How to Attract Leads via Telegram: Step-by-Step Instructions
Now, let's move from words to practice and learn how to create a strategy for Telegram marketing channels. As with any successful project creation, promotion in the messenger requires careful preparation.
Step 1. Define the Goal
The first step of any business is strategic planning because the first thing to do in unfamiliar terrain is to determine your destination. For you, it means setting goals.
It is a business's preparation stage and the "exam" on knowledge of its goals, indicators, and target audience. It is the basis on which you will build your strategy. Therefore, we recommend approaching this period very carefully.
Here are some examples of defining objectives based on business needs:
1. Increase your website or video hosting traffic.
Let's say you have a crypto website and want to implement crypto telegram marketing. All you need to do is to make announcements of the latest news sphere, provide links to your blog and YouTube videos, and announce live broadcasts. The messenger would be great for that.
2. Boost profit
In addition to the "standard" increase in sales by expanding the audience, you can use additional monetization tools. For example, with ShopBot, you can turn your Telegram group into an online store. Connect to your group or channel, and your customers can pay for products and services directly in the app, more on how to do it here.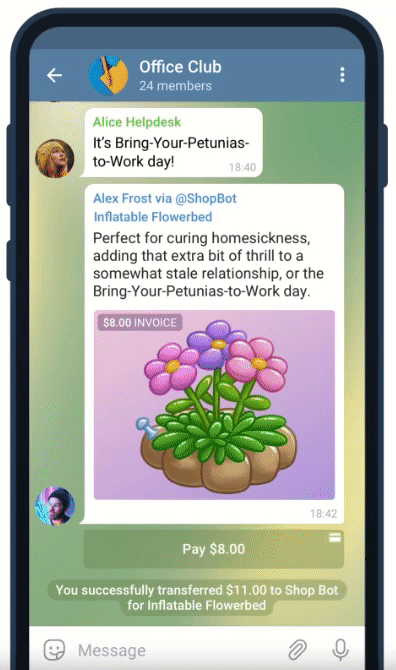 3. Increase customer loyalty and brand visibility
Marketing is a way to tell users about your brand and build trust. That is why you can see in the messenger not only businesses but also famous people.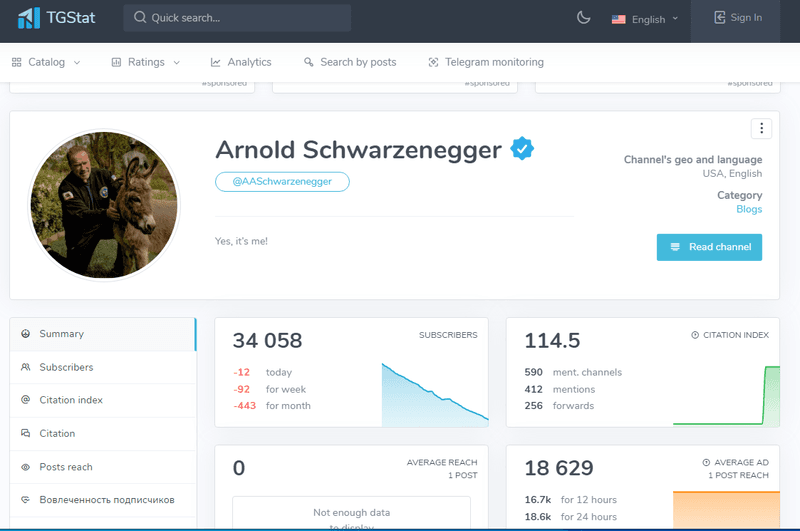 The All-in-One Platform for Effective SEO
Behind every successful business is a strong SEO campaign. But with countless optimization tools and techniques out there to choose from, it can be hard to know where to start. Well, fear no more, cause I've got just the thing to help. Presenting the Ranktracker all-in-one platform for effective SEO
With Telegram channels and chats, you can automate routine tasks and create additional marketing sinks for sales.
As soon as you have defined your goals — move to create your brand at Telegram.
Step 2. Create a Community or a Telegram Channel
To choose the channel format, you need to take into account the goals of your business:
If you want to make news announcements for customers without the need for direct communication — it is better to create a Channel;
If you need a large community where users can freely communicate with each other — you should create a Group.
But there is a third universal option that would suit every business — to create a Channel with a Group chat for comments. Let's discuss how to do it yourself in a few minutes.
Click Settings → New Channel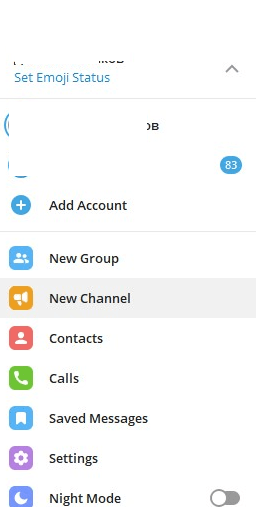 Name your Channel first, add a **Logo **and Description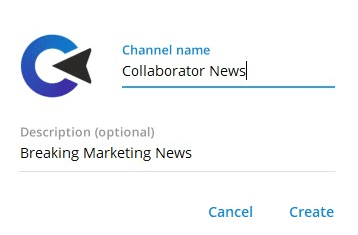 The "Public or Private" channel choice depends on the goals of your business at Telegram. If you have a News resource available to each user, choose "Public". If you plan to create a private crypto club to share insights, forecasts, and market research, choose "Private".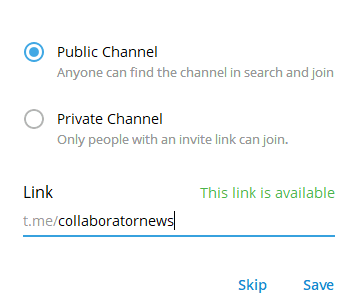 Click Save. Next, you can add contacts to your channel or skip this step.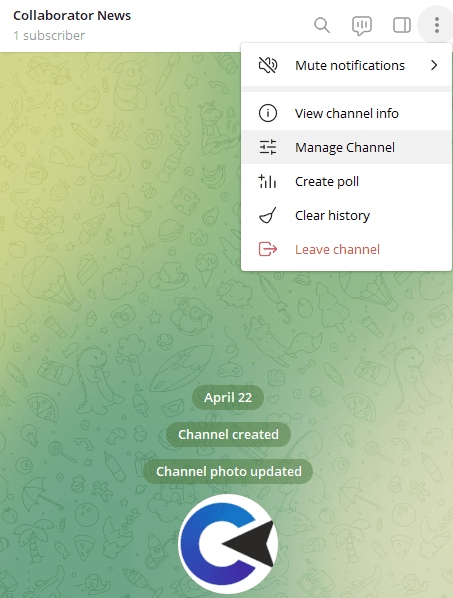 After you create a channel, you need to connect with the group for comments. To do this, click Manage Channel → Add a group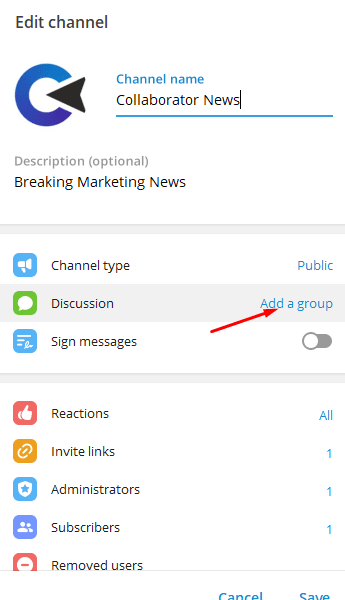 You can select a group you created earlier or create a new one. If you connect an existing group, it will immediately be attached to the Channel.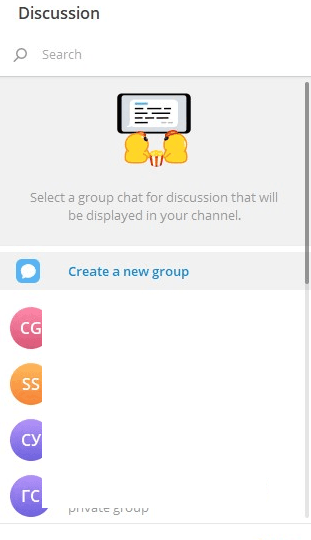 Creating a new group is similar to Channel or Group starting from scratch.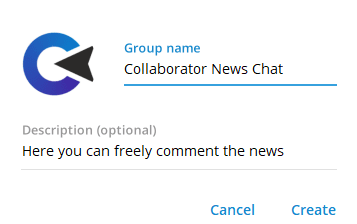 Congratulations! You have created a channel that is almost ready to promote your business.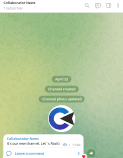 Now, when you publish news, users can comment on it after pressing the Leave a comment button.
Congratulations! You have made 2 important steps that will be the basis for successful Telegram marketing.
Step 3. Develop a Content Plan
Using the best content marketing strategies will help you get the best results from your campaign. Before posting, we recommend taking a break for a few days and preparing a detailed Content Plan a week or even a month in advance. You can create a table that includes columns for the date of a post, the post itself, and its target (informing users about upcoming events, hosting a quiz, etc.).
You can write about:
Your business news for customers and partners.
Memes for mood.
Advertising and promotional posts about collaboration with other channels and businesses.
If you suddenly run out of inspiration for what to write about, we have 3 evergreen ways for you to get ideas for future content:
Write a digest of something "the most essential." For example, a _digest of articles for a month _or a TOP-3 platform for something related to your service.
Use user-generated content. Publish appreciative customer reviews and, if possible, mark them among subscribers. You can also hold a contest among subscribers and publish the results.
Ask for ChatGPT's help. This AI-language model can come in handy. Here is an example of asking ChatGPT for ideas for Telegram channel content.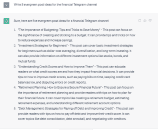 Actually, ChatGPT has a lot of potential and can be used in many activities. For instance, you can use it to make money in affiliate marketing.
The All-in-One Platform for Effective SEO
Behind every successful business is a strong SEO campaign. But with countless optimization tools and techniques out there to choose from, it can be hard to know where to start. Well, fear no more, cause I've got just the thing to help. Presenting the Ranktracker all-in-one platform for effective SEO
You should also understand how often to post to Telegram because the general rules from other social networks do not work in this Messenger.
Accordingly, we do not recommend publishing daily, but you need to publish 2–5 posts per week. And, of course, search for Telegram free advertising groups and paid channels.
Step 4. Start advertising
When it comes to Telegram advertising, we do not recommend relying solely on free groups and channels because they may contain a high volume of spam and bots. You should also carefully select paid resources because they can inflate post views with bots.
It means you will spend money and time but may not get the desired result. Moreover, your Channel can be fined for breaking the rules and intentional use of bots. So how to choose the right Channel?
1. Use TGstat or similar Telegram data platforms
Click Catalog → Telegram channels and groups catalog.
Scroll and choose your category in All categories.
Now you have to select the channels among the popular ones to evaluate their statistics.
Click on Channel Statistics and check the following indicators.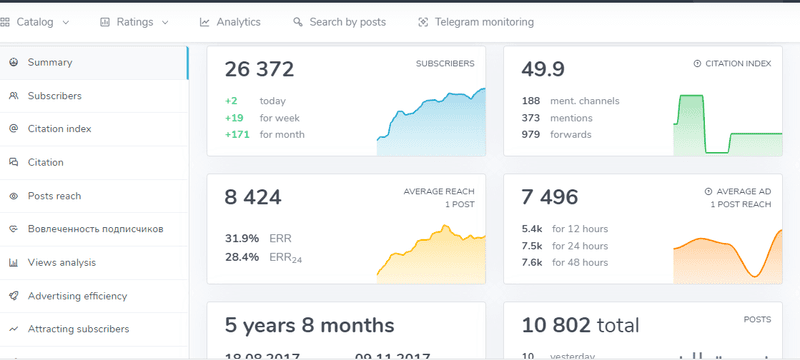 Here are three things you should consider:
The number of subscribers should increase steadily. If you see jumps and breaks, it can indicate that the Channel has been resold or sanctioned for using bots.
If ERR>10%, it is a good channel.
Channel's age is an indicator of reliability.
Once you choose the right channel, you can find the contact information of the managers in the description and learn the terms of cooperation.
2. Use Collaborator platform
Check Collaborator website
This is one of the easiest and most convenient ways to find reliable channels for Telegram ads.
Create an account and your project on the platform.

Follow the Catalog of channels and choose channels for advertising. All necessary indicators are already in the interface. Even more, you can see reviews of real customers who have already cooperated with this channel.

Click Add to Cart and start and start discussing your case directly on our platform.
With Collaborator, you save at least a few hours for one advertising placement and can be sure of the reliability of the channel you are posting in.
Conclusion
Now you have all the information needed to implement Telegram marketing successfully and promote your business in this messenger. These are the main things that will stay with you:
Telegram is where thousands of your potential customers are.
This messenger will help you reach them and potentially turn them into leads.
Before you commence promoting your business on Telegram, you need a strategy. After reading this article, you can create a successful one.
You can use Collaborator to find trusted advertising channels.
With this guide, your business will be able to get thousands of subscribers and increase profits.