Intro
A recent study by BetterCloud revealed that the usage of SaaS applications has increased by 18%, with an average of 130 applications being used compared to 110 apps in 2022.
Software spend has become the third-highest in an organization, next to employee and office lease spend. This shows that companies are adopting SaaS applications for ease of use and adaptability.
However, a report by Flexera stated that around 29% of SaaS software spend is underutilized by the team, leading to poor ROI.
Considering the economic downturn in 2023, now is the time to focus on SaaS spend optimization before it's too late.
In this article, we'll explore how organizations overspend on SaaS and how to optimize software spend and increase ROI.
What is SaaS spend optimization?
SaaS spend optimization refers to the collective steps an organization's IT and finance teams take to reduce SaaS software costs. It is an ongoing process focusing on application usage analysis, license utilization, shadow IT, renewal tracking, etc., with the ultimate goal of getting the maximum value from each application.
But before discussing ways to reduce software spend, you need to identify where you're overspending.
Five ways you're overspending on SaaS
Shadow IT or purchases
It refers to the act of purchasing a SaaS application by employees using a corporate credit card without the approval of the IT or finance teams. Gartner's study reported that 30% to 40% of software spend in an organization results from shadow IT due to missed renewals and hidden costs.
The All-in-One Platform for Effective SEO
Behind every successful business is a strong SEO campaign. But with countless optimization tools and techniques out there to choose from, it can be hard to know where to start. Well, fear no more, cause I've got just the thing to help. Presenting the Ranktracker all-in-one platform for effective SEO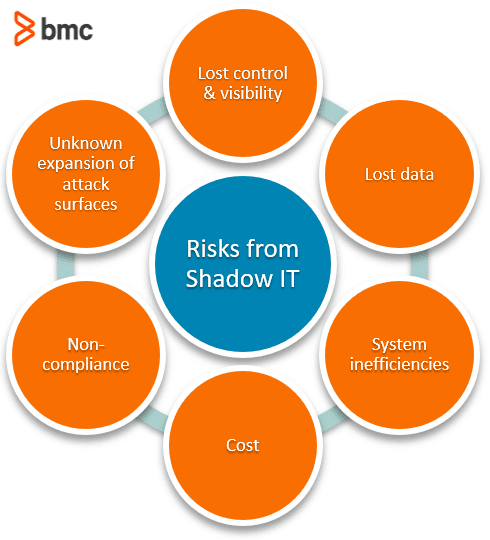 (Source)
Purchasing beyond the need
All organizations tend to forecast their growth and purchase surplus licenses beyond their requirements. Ultimately, most licenses will go unused, resulting in poor ROI and wasted spending.
Lack of application and spend visibility
The major reason why companies end up overspending on SaaS is that they don't have complete visibility of the applications they use and the spend on each application. It is 2023, and some teams still use spreadsheets to manage SaaS applications.
Missed renewals
Lack of spend visibility and spreadsheet-based tracking leads to missed renewals, and the SaaS vendors will take advantage of the opportunity and charge you more. Shadow IT applications will often result in auto-renewals, leading to increased spend.
The finance team won't be able to identify this increased spend because they don't know the app exists in their SaaS stack.
Lack of price benchmarking
You might overpay for subscriptions if you don't know what your peers are paying for similar applications. If you're unaware of the latest pricing benchmarks, SaaS vendors will capitalize and charge you more for the applications, leading to excess spending.
Optimizing your SaaS spend in 2023
Now you know how organizations are overspending on SaaS, but did you know that all you need is one solution to optimize your SaaS spend?
Yes, you only need a SaaS spend management platform to cut costs on SaaS applications and optimize your SaaS portfolio.
Here's how it goes down:
Get complete SaaS visibility
SaaS spend management platforms have an extensive integration library to connect with an organization's SSO, finance, and HRIS systems. These integrations will enable the platform to provide 100% visibility into your SaaS applications, vendors, and the respective spend by each user, department, and cost centers.
Once IT teams get centralized visibility over the SaaS portfolio, managing the applications and identifying shadow IT apps and duplicate apps gets easier. Any unauthorized apps in the stack can be eliminated, leading to increased savings.
Finance teams will also be able to see how much each department is spending on SaaS applications. They can use the spend data, compare it against the usage data, and make the right cost optimization decisions.
The All-in-One Platform for Effective SEO
Behind every successful business is a strong SEO campaign. But with countless optimization tools and techniques out there to choose from, it can be hard to know where to start. Well, fear no more, cause I've got just the thing to help. Presenting the Ranktracker all-in-one platform for effective SEO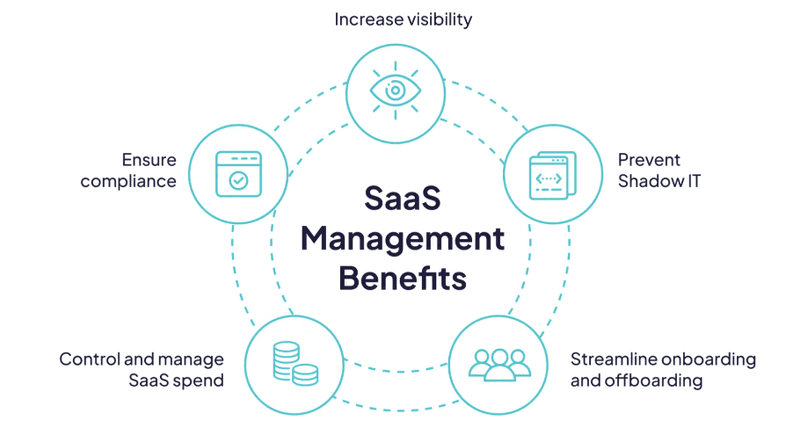 Pro tip: Use a SaaS management platform that covers the entire SaaS lifecycle, from procurement and negotiations to provisioning, management, and renewals.
Analyze your app usage data
SaaS management platforms can directly integrate with SaaS apps through APIs and will provide accurate usage insights. Finance teams can analyze this usage data to identify underutilized applications and calculate ROI based on the spend.
Usage insights will show the team's requirements, how they use the app, and how many licenses are being utilized. You can harness the unused licenses and reallocate them to the users who need them, or you can right-size the number of licenses during the renewal negotiations and optimize SaaS spend.
Analyzing the usage data and right-sizing the licenses will help you get the maximum value from an application and increase your ROI.
Consolidate applications or vendors
App or vendor consolidation has become the go-to tactic for CFOs and enterprise procurement heads to reduce SaaS spend. App consolidation is a process where you identify redundant or high-spending applications that serve similar purposes and consolidate them into a single solution.
To illustrate, let's consider a scenario where your Sales team uses Salesloft for sales enablement, the marketing team uses Mailchimp for email marketing, and the customer team utilizes Hubspot for CRM purposes.
Vendor consolidation refers to merging Salesloft and Mailchimp functionalities into Hubspot, which offers comprehensive sales enablement, email marketing, and CRM capabilities.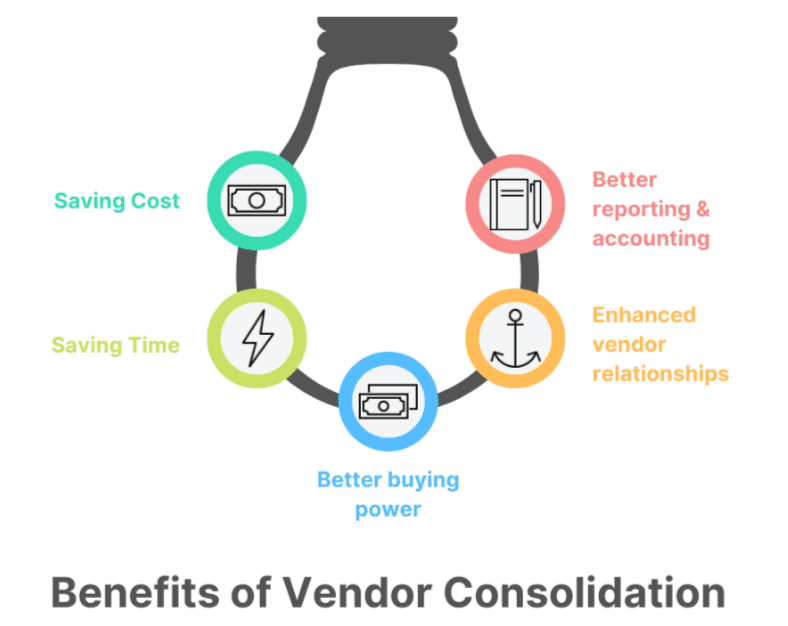 (Source)
By consolidating these tools, your organization can streamline operations, simplify SaaS management, and increase SaaS savings.
Pro tip: Ensure that you're not consolidating the applications of your long-term, trustable vendors.
Automate contract renewals
Get rid of your spreadsheets. Those will not send proactive alerts on upcoming renewals. You need an automated renewal management system to stay ahead of renewals. Fortunately, a SaaS management platform can help you automate contract renewals.
Auto-renewals can be a bummer. A renewal management platform will create a renewal calendar based on the contract date and initiate workflows 90 days before the deadline, helping you prevent auto-renewals.
SaaS management platforms like CloudEagle can integrate with Slack and send automated renewal alerts 90 days before the renewal date arrives. This will give you ample time to analyze your app usage and prepare a negotiation strategy to right-size your licenses and optimize your spend.
Remember, renewal negotiations allow you to negotiate with the vendor to eliminate unused licenses, downgrade the pricing plans based on usage, and consolidate vendors, so you have to ace your negotiations.
Pro tip: If you plan to renegotiate the contract, start your negotiations early or let the vendors know your choice before the notice period ends.
Ace your negotiations with price benchmarks
Vendor negotiations play a significant role in the success of your SaaS spend optimization process. Skillful negotiations can lead to greater SaaS cost savings, while inadequate negotiations may unintentionally increase spending.
Renewal negotiations will enable you to right-size your licenses, eliminate redundant applications based on the scope, and renegotiate with a vendor for a discount or a favorable pricing term.
But before entering negotiations with SaaS vendors, analyze pricing benchmarks to see what your peers pay for a similar application. Use benchmarks as leverage to negotiate favorable pricing, discounts, or additional features.
In some cases, your procurement team might be stacked with strategic tasks and lack time to negotiate with the vendors. Don't sweat it; you can outsource your negotiations to SaaS buying experts.
The All-in-One Platform for Effective SEO
Behind every successful business is a strong SEO campaign. But with countless optimization tools and techniques out there to choose from, it can be hard to know where to start. Well, fear no more, cause I've got just the thing to help. Presenting the Ranktracker all-in-one platform for effective SEO
These assisted buyers will act as your extended procurement team. They'll analyze your requirements and app usage, conduct market research, identify the latest price benchmarks, and negotiate with the vendors on your behalf to secure the best pricing terms and discounts.
Pro tip: SaaS vendors are clever; avoid entering negotiations unprepared, as you may be easily swayed into paying more than necessary. Prepare a clear negotiation strategy and then proceed.
Bonus
SaaS budgeting
We discussed the five ways to optimize SaaS spend. We can vouch for these tactics because CFOs, procurement heads, and operations managers worldwide use them.
But the best practice is to keep your SaaS stack and spending optimized rather than scrambling at the last minute to reduce spending after you lose control over your spend.
Pro tip: Focus on operational excellence rather than continuous improvement
To achieve operational excellence, you need to emphasize SaaS budgeting. Get complete visibility, analyze the usage, understand the requirements, and allocate your budget accordingly to applications and teams in need.
Set budget limits for each department.
Conduct regular budget audits
Harness and reallocate budgets whenever necessary.
Still, you'll need a SaaS management platform to analyze usage, spend, and allocate budgets, so don't overlook selecting the right platform.
Pro tip: Bring all the stakeholders together to understand the requirements before allocating the budget to avoid inefficiencies.
Conclusion
Considering the economic downturn in 2023, it is high time organizations focused on optimizing their SaaS spend rather than purchasing surplus applications or licenses by forecasting potential growth.
Knowing where you're overspending will make the SaaS cost optimization process easier. We provided actionable tips in this article that finance and IT teams can use to get complete control over their SaaS spend.
Remember, SaaS spend optimization never ends; it's a cyclic process, and with the right SaaS management platform like CloudEagle, you can achieve operational excellence and increase your bottom line.