Intro
It can be a wonderful feeling when readers add comments to your blog content and engage with it. It gives you a sense of motivation to create better content. Plus, comments add to your brand's online reputation.
But is it easy to get comments on blog posts? No, it's super hard.
That's because most blog visitors have little time to share their thoughts.
But didn't you start a blog because you wanted loyal readers to interact with your content?
Don't get anxious.
In this post, let's learn about some proven blogging secrets to help get you hundreds of comments on your blog content.
What is the Importance of Blog Comments?
You wake up in the morning to find many interesting comments on your recent blog post. How would you feel? Rewarded, right?
The All-in-One Platform for Effective SEO
Behind every successful business is a strong SEO campaign. But with countless optimization tools and techniques out there to choose from, it can be hard to know where to start. Well, fear no more, cause I've got just the thing to help. Presenting the Ranktracker all-in-one platform for effective SEO
You worked hard towards creating value, and people responded. Isn't that cool?
The good thing is that a bustling comments section is your opportunity to build a community around a business blog.
The comments section is a communication bridge between you and your readers. When readers find it easy to reach out to you, they're comfortable doing business with you.
An active community guarantees regular blog conversions for your business.
Having people comment on your blog makes your business blog stand out from the competition.
A comments section is your go-to place to learn about your audience's problems and experiences. It's a place where you can find new ideas for your upcoming blog posts. Plus, it's also a platform to get content feedback from your readers.
Getting comments on your blog is a vital ingredient of successful content marketing.
Let's now get to the nuts and bolts of how to get more comments on your blog content.
1. Make Your Content Audience-Centric
A solid way to build a community around your blog content is to work on your intent.
When you put yourself in your audience's shoes, you start taking more interest in their problems. You start empathizing with them. That's when you start creating content that speaks directly to them.
And you know what? That's when they resonate more and feel the itch to write a comment on your blog post.
Do you get the drift?
2. Tell Stories
You can tell your audience how you started your business or what you have achieved so far. Stories are for entertainment.
Write about things that matter to your business—how do you wish to bring about change in your customers' lives and the society at large?
Share behind the scenes of your company. Make your content human by telling stories that hook the audience and make them feel a deep connection.
Showcase examples using visual storytelling to get readers to enjoy your content.
Moreover, try sharing a true story—something that happened to you.
"When content creators write and share about topics that make us feel vulnerable - the comments and likes come pouring in," explains Maximilian Wühr, CGO & Co-Founder at FINN.
"Take a look at the most commented blogs on Medium, like this post about an Airbnb experience gone wrong. The story is relatively ordinary, but the response is extraordinary, with over 1600 comments. The comments section grew because everyone has felt like the victim at the hands of a business before—they related, so they responded," he adds.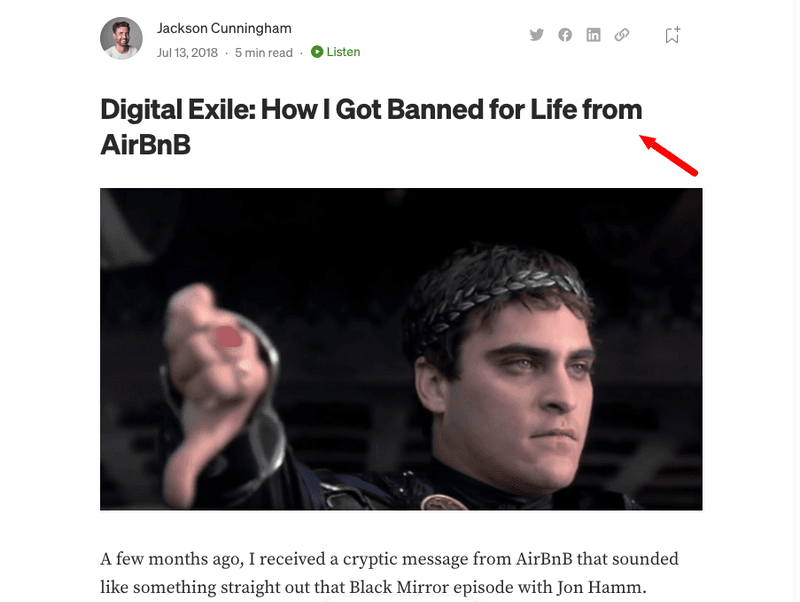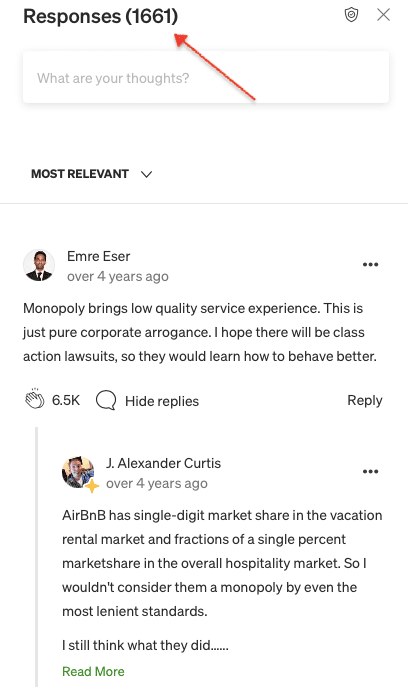 3. Write a Fill-In-The-Blank Story
When you write a fill-in-the-blank story, you make it stand out. You also end up intriguing the audience.
The 10 Most Important Things to Know If You Want to ........
The All-in-One Platform for Effective SEO
Behind every successful business is a strong SEO campaign. But with countless optimization tools and techniques out there to choose from, it can be hard to know where to start. Well, fear no more, cause I've got just the thing to help. Presenting the Ranktracker all-in-one platform for effective SEO
With a headline like this, you're trying to solve a problem, but you haven't revealed it.
When you've got your reader's attention, they enjoy immersing themselves in your story and are more likely to add a comment to it.
4. Reply Promptly
One of the things that readers expect from bloggers is a reply to comments. Thank people for sharing experiences.
Also, write a relevant response to whatever they have shared. Finally, consider yourself as a community manager, and see it as your duty to build meaningful conversations with your readers.
Don't forget to use your comments section to make personal connections. It's a terrific way to build reader trust and gain loyal customers.
5. Challenge a Common Belief System
An intelligent way to ignite conversations around a topic is to have a unique opinion. If you make your content sensational, it's likely to get readers to comment on it.
Can you say something opposite to or at least different from what everyone is saying? A smart way is to write about the common myths around a topic.
"To drive comments on blog content, be prepared to make bold statements. These do not necessarily have to be controversial, but they should drive opinions. For example, if you were developing blog content for human subjects, begin with a statement or title that says, 'Elon Musk handled the takeover of his company in the worst way possible.' Then, proceed to explain why you believe the takeover was mishandled and how it could have been handled better," says Caroline Duggan, Chief Brand Officer at Lumineux.
"Developing content and relating it to issues with which people have strong opinions will ensure your posts receive comments from viewers," she adds.
6. Request Readers to Leave Comments
Like any other call-to-action, inviting readers to comment has its natural place. Don't ask for it, and chances are people won't take action. Some readers may be new to the world of blogs; you need to tell them that they can share their thoughts without hesitation.
"I've always loved using social media to increase blog engagement. Whenever I post about the newest blog on my social media platforms, I always let people know that they should post comments on my website as well," says Gilad Zilberman, CEO of SeatPick.
"I also like to use cliffhangers and invite discussion directly in the blog comment section," he adds.
Prod them to share something about the topic. For example, ask them if they found your solution helpful or if there is anything else that would be more beneficial. This way, you'll be able to learn from your readers and also offer great value to others who're visiting your blog.
Here's the rub: use a positive tone to get people to participate in a helpful conversation. Here's an excellent example from LearnrzHub: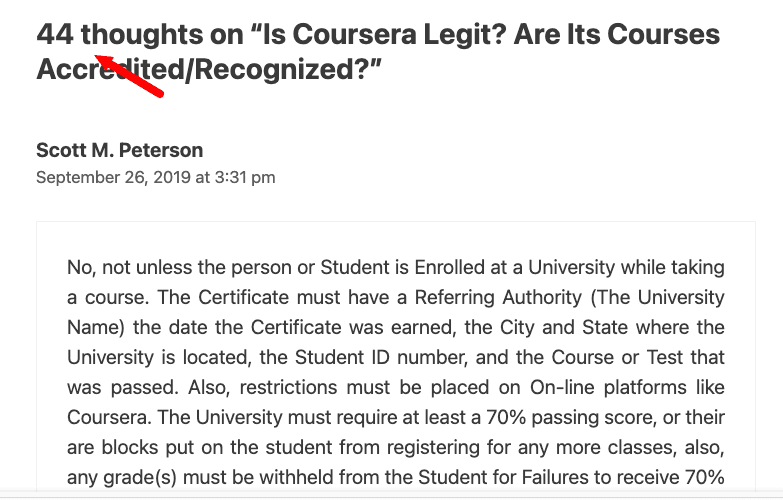 7. Collaborate With Other Bloggers
Here's the thing. When you do something for niche influencers and bloggers, they come forward and reciprocate.
"Ensure that your brand is active on multiple platforms across the internet to increase your blog's visibility and, in turn, generate more comments. When you comment on other blogs and social media channels, you increase the likelihood that people will visit your blog and reciprocate," says Hitesh Patel, CEO of Reposition Group.
The idea here is to become an active networker in your niche.
"Having a network of blogs and backlinks can get you more comments on your blog content. Networks of blogs would mean that you build a network of other people's blogs that share the same content or like-minded blogs like yours," explains Samantha Moss, Editor & Content Ambassador at Romantific**
8. Offer Something in Return
Life is short. Hence, take an opportunity to do something good for someone, and it will come around. Offer them a gift if they add a comment to your blog post. The giveaway could be a small discount on your products or services, a free product trial, or a consultation.
An intelligent strategy is to create blogs and social media posts featuring top comments.
"When readers leave insightful, inspirational, kind, and overall spectacular comments on your blog, you can give back and show appreciation by creating blogs and social media posts about or around them. Showcase or quote the comments and thank your readers for reading your blog and sharing their insights. You may also use their comments as the basis for your next posts," says David Bitton, Co-Founder and CMO, DoorLoop, a rental property management software.
"Doing this makes your blog followers feel special and encourages them to continue commenting on your blog posts. Blogs and social media posts featuring top comments also serve as proof that your target audience reads and likes your blog, inspiring more people to visit, read, and follow or subscribe," he adds.
Be Honest and Authentic
Your blog is your real estate. It's your home. But how you treat your guests is up to you. You can bring a smile to their faces, or you can make them frown. And that's what makes all the difference between business bloggers who win and those who lose.
Be who you are and be as polite with your readers as possible. Don't let your knowledge make you boastful or rude when responding to comments. The ideal way is to welcome all types of feedback—positive and negative. Remember, if you showcase yourself as somebody open to sharing knowledge and learning, you'll get acceptance and active participation from your readers.
Create a Set of Rules
Think of it this way. How would you feel if you landed on a blog post with lots of spam or self-promotional comments?
As readers, we crave meaningful debates and are appalled by fake or automated comments.
The All-in-One Platform for Effective SEO
Behind every successful business is a strong SEO campaign. But with countless optimization tools and techniques out there to choose from, it can be hard to know where to start. Well, fear no more, cause I've got just the thing to help. Presenting the Ranktracker all-in-one platform for effective SEO
That's why you need to have a commenting policy that helps you to attract only genuine commenters to your blog content.
You should use your commenting policy to tell readers that you'll delete spam, irrelevant links, and AI-generated comments from your blog. You wouldn't believe how many people take shortcuts by using an AI writer like Jasper AI to write one statement and then spin it into dozens of other "unique" versions to be posted on different blogs. But Google still recognizes those comments as duplicate content, which means your blog post hosting spam comments will take an SEO hit and rank lower in SERPs. For reference, you can look at this comment policy page from Problogger.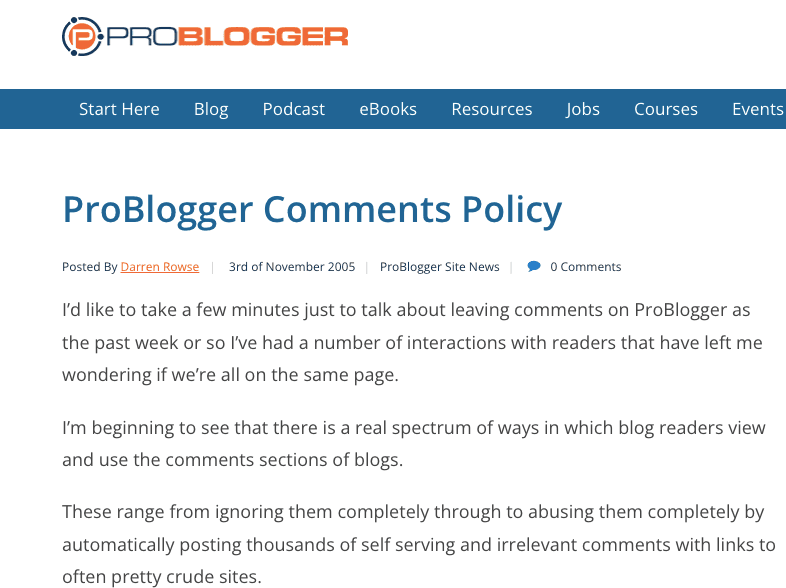 Final Thoughts
A comments section can benefit your blog content and your content marketing efforts. It's a place to meet new people, interact with them, and turn them into loyal customers. A blog comments section helps display niche authority.
Getting people to comment on blog content is quite challenging. But with honesty and consistent effort, you can get your prospects to start expressing what they feel. The best strategy is to be proactive and empathetic with your readers and offer them inspiration and incentive to add their comments.