Intro
The finance industry is a fiercely competitive arena. And with more and more businesses turning to digital platforms to drive growth, now's the time to invest in a strong online presence.
That's where search engine optimization (SEO) comes into play — helping you stay ahead of the curve and reach the top of those search engine rankings.
But the road to SEO success in finance isn't always smooth sailing. There are some unique challenges to face — think ever-changing regulations, complex financial jargon, and the need for rock-solid credibility.
But don't worry. We're here to show you these challenges are merely stepping stones to your SEO journey.
In this article, we're dishing out insider insights, expert strategies, and tried and true tips to help you navigate the complex terrain of SEO and finance to come out on top (of the SERPs).
Let's dive in.
What's unique about SEO and finance?
Before we embark on the SEO adventure, let's get to know the finance industry's star players and the segments they rule.
The All-in-One Platform for Effective SEO
Behind every successful business is a strong SEO campaign. But with countless optimization tools and techniques out there to choose from, it can be hard to know where to start. Well, fear no more, cause I've got just the thing to help. Presenting the Ranktracker all-in-one platform for effective SEO
The financial world is brimming with big players, from banks and investment firms to insurance companies and fintech unicorns. It's always buzzing with new trends shaping how we manage our money.
In other words, the finance industry isn't one to sit still. From AI-driven financial advisory services to mobile banking and digital wallets, the financial ecosystem embraces cutting-edge technology like none other.
So as SEO-savvy financiers, it's our job to stay ahead of the curve and adapt to these dynamic shifts. Sometimes it can feel like drinking water from a fire hose.
Not only do you have to keep up with these ever-changing trends, but you also need to build trust with your audience. Why? You're more than crunching numbers — you're impacting people's lives by sharing advice on spending, saving, and investing their hard-earned money.
Regarding SEO and creating financial content, the E-A-T (Expertise, Authoritativeness, Trustworthiness) guidelines are your golden ticket.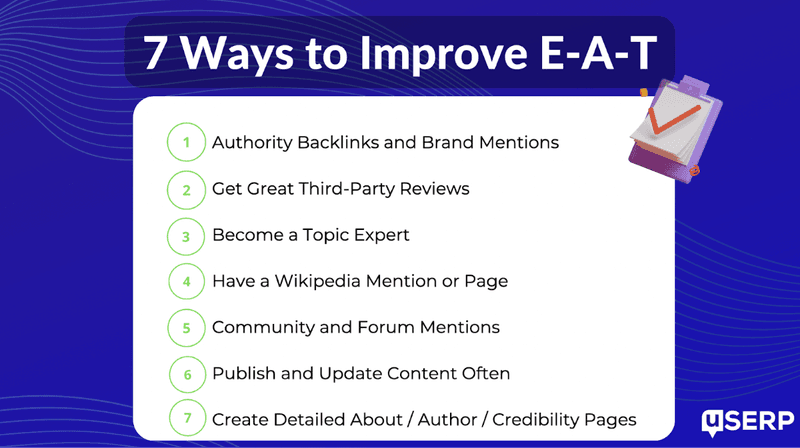 (Image Source)
The All-in-One Platform for Effective SEO
Behind every successful business is a strong SEO campaign. But with countless optimization tools and techniques out there to choose from, it can be hard to know where to start. Well, fear no more, cause I've got just the thing to help. Presenting the Ranktracker all-in-one platform for effective SEO
These critical factors help search engines like Google evaluate your content and determine if you're a credible source of information. So, make sure you're showcasing your financial expertise, citing reputable sources, and demonstrating why users should trust your advice.
Also, remember that search engines pay extra attention to YMYL (Your Money or Your Life) content. This fancy jargon indicates the content that can directly impact a person's financial well-being.
Treat your audience's money as if it were your own. It's a simple yet crucial piece of information to keep in your back pocket as you build on your SEO journey.
Long-tail keywords are your secret weapon
Are you ready to unlock the full potential of your SEO strategy? Say hello to long-tail keywords.
In the simplest terms, long-tail keywords are specific, three to five-word phrases that people type directly into search engines. They're longer and more precise than commonly used keywords.
For example, home mortgage loans are a significant financial commitment for most people, and as such, they are a highly competitive keyword in the SEO landscape.
Plug that keyword into a keyword finder tool, and your results will light up like a stop light. When you're just getting started, it's wise to avoid these generic keywords with a ten-foot pole. They're tough to rank for, and it can be a slow grind to the top of the SERPs.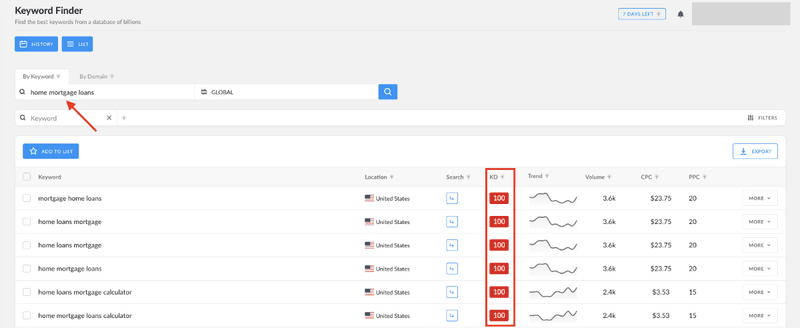 (Screenshot by Kelly Moser)
When people search using long-tail keywords, they're usually closer to the point of purchase. They know what they want, and they're ready to pull the trigger.
Why does this matter to you? The answer is simple: specificity.
For example, instead of searching for "home mortgage loans" (a short-tail keyword), a user might search for "best home mortgage loans for first-time buyers" (a long-tail keyword). The latter is a more precise query, indicating a user with a specific requirement and is likely closer to taking action.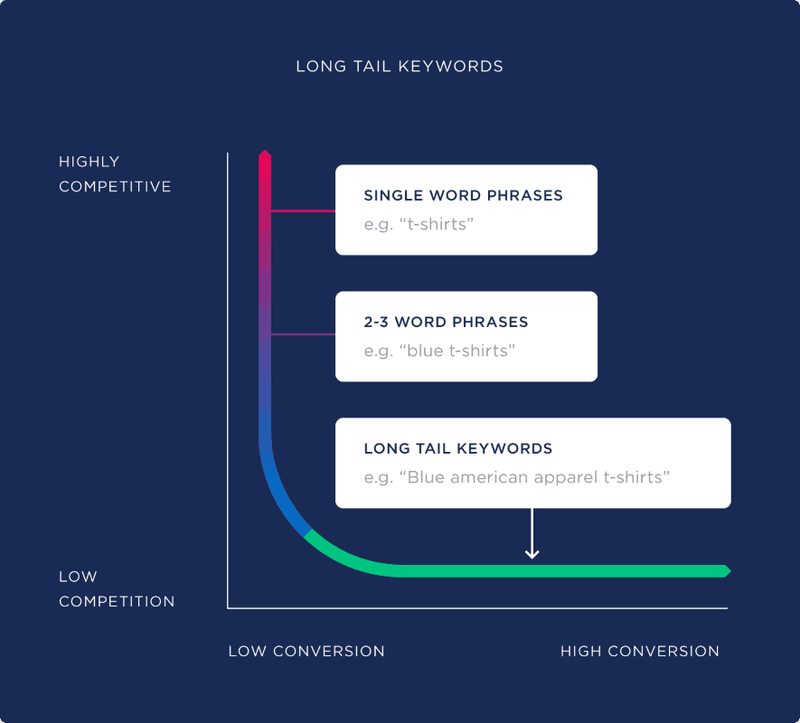 (Image Source)
Long-tail keywords are less competitive, giving your content a better shot at ranking. But don't ignore short-tail keywords altogether — they still have a place in your SEO strategy. A smart mix of both will increase your chances of success.
So how do you find the right long-tail keywords for your finance business?
Start by considering what your ideal customer might be searching for. Leverage SEO tools like Ranktacker's Keyword Finder to find high-volume, low-competition, long-tail keywords.
Remember, the goal is to match your customer's search intent specificity by naturally incorporating these long-tail keywords into your content. Don't sacrifice the essence of your content at the altar of SEO.
Create high-quality finance content
In the intricate world of SEO and finance, content truly is king. However, not just any content will suffice.
Your content must meet a high quality, relevance, and value standard.
Let's peel back the layers of how to create such content, focusing on the importance of Expertise, Authoritativeness, and Trustworthiness (E-A-T) and the different types of content that resonate with consumers.
The importance of E-A-T in finance content
Google's E-A-T guidelines are essential for every content creator but are particularly crucial within the finance industry.
As we mentioned earlier, financial advice directly affects people's livelihoods, making it imperative that the information provided is accurate, reliable, and comes from a trusted source.
Expertise refers to the depth of knowledge conveyed in your content. Your content must be informative and accurate, offering insights that only an expert in the field can provide.
Bankrate does an excellent job in this regard, assigning experts to write each niche topic on their blog.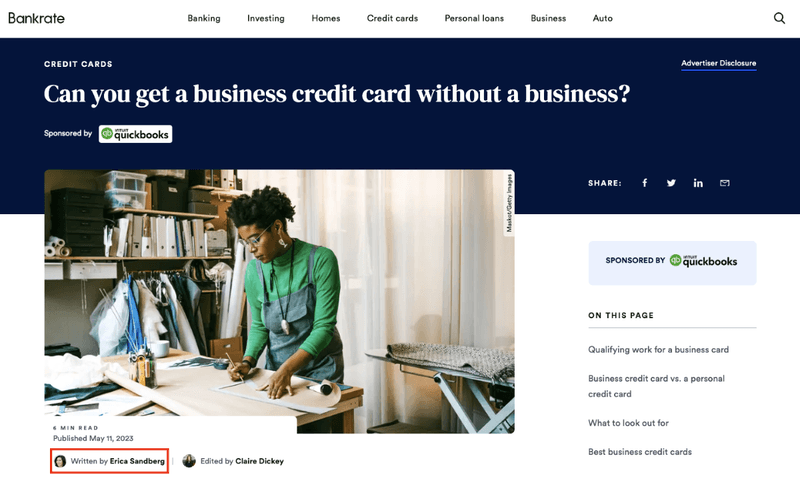 (Image Source)
For instance, the author of this blog post about business credit cards is Erica Sandberg, a credit and money management expert who began her career at Consumer Credit Counseling Service.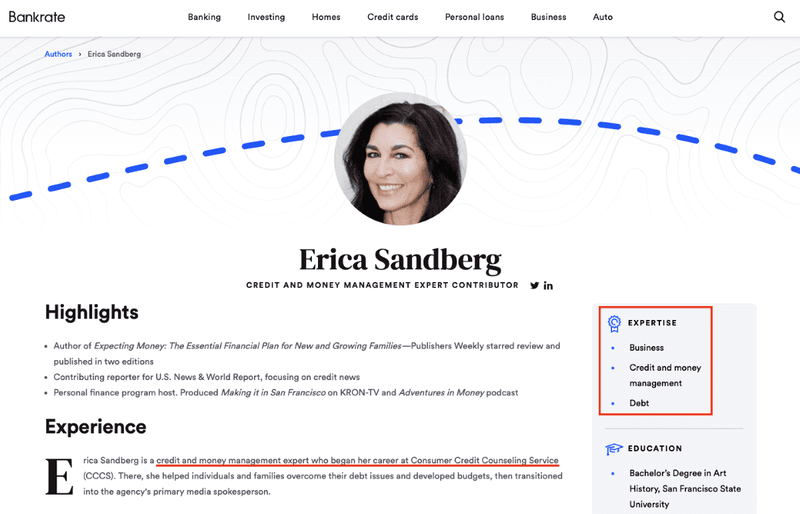 (Image Source)
Her extensive credit and money management background helps signal to users (and search engines) that this piece of content is trustworthy and contains expert insights about business credit cards.
Authoritativeness is about credibility and the respect your website commands in the industry. You can achieve this by demonstrating your understanding of the field and earning citations and recognition from other authorities in finance.
Again, Bankrate hits the nail on the head by scoring backlinks from some of the top business finance sites on the internet, like The Wall Street Journal, Intuit, and Yahoo Finance.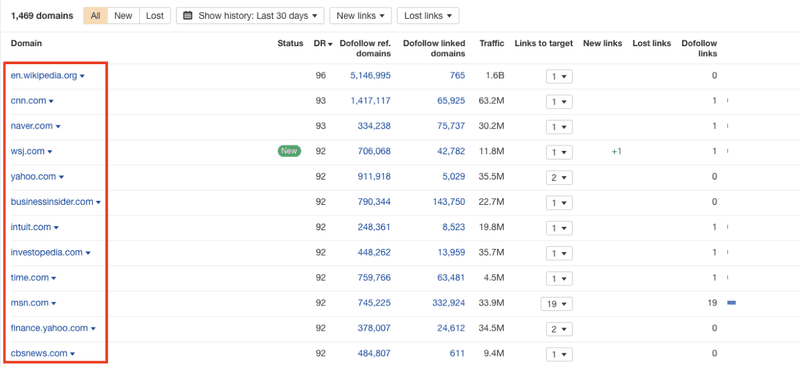 (Screenshot by Kelly Moser)
Trustworthiness, the final pillar, is about building confidence in your content and brand. You can earn trust by being transparent about who you are, citing reliable sources, and guaranteeing the accuracy of your content.
Take a peek at Bankrate's editorial integrity details that they share at the top of every article. It's a nice touch that works wonders in building trust.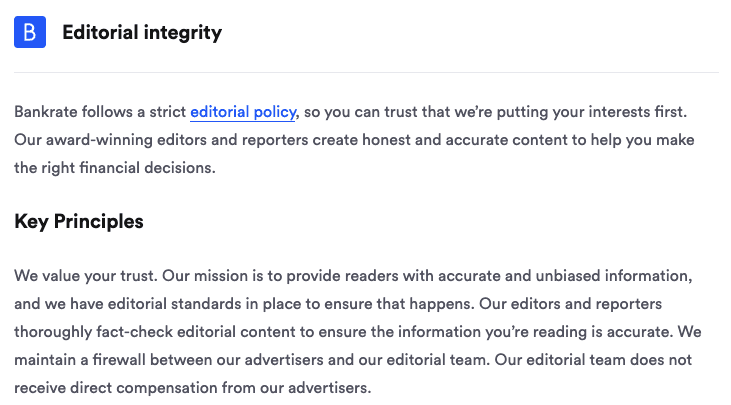 (Image Source)
Diversify your content offerings
The finance industry is a broad field with diverse content requirements. Your audience will likely consist of individuals with varying levels of financial knowledge.
That said, it's important to diversify your content offering to cater to this wide spectrum. Let's look at a few tried-and-true examples of successful finance content.
How-to articles
How-to guides provide practical advice to readers. And the best part? You can write about a range of topics, such as how to budget, how to invest in stocks, or how to apply for a mortgage. And they're great for building a library of evergreen content.
In this comprehensive guide on how different company structures pay taxes, the reader learns everything they need to know about how to file LLC taxes. The goal is to guide users step-by-step through a financial process improvement or activity. So take a page from Tailor Brands' book if you need inspiration.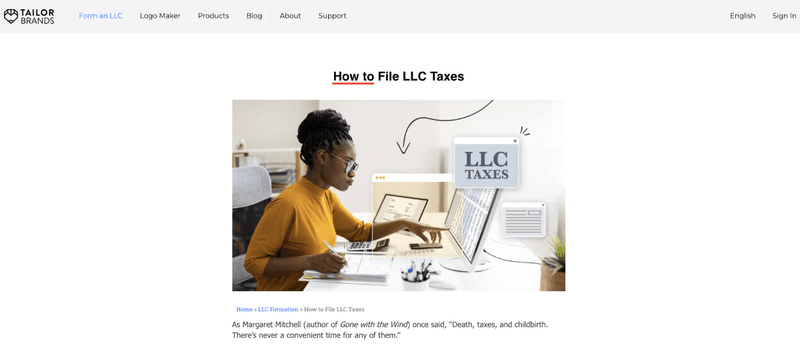 (Image Source)
This simple guide breaks down a complex topic into a simple, easy-to-digest format. As Tailor Brands points out in their introduction to hook the reader, death and taxes are unavoidable things in life. So it's better to embrace them than go running for the hills.
Plus, readers can bookmark it to read later if they need to circle back during the stress of tax season.
Beginner guides
These in-depth resources are for those individuals new to a particular financial topic.
For example, a beginner's guide to investing or retirement planning can provide a solid foundation for those just starting out.
(Image Source)
When writing these guides, avoid financial jargon as much as possible and keep it to a sixth-grade reading level. You'll appeal to a wider audience and reduce bounce rates.
​​Financial calculators
Tools like loan calculators, retirement savings calculators, or budgeting tools can add tremendous value to your audience.
They offer practical help and make your website a go-to resource for finance-related queries.
Here's a stellar example of SoFi's student loan refinancing calculator: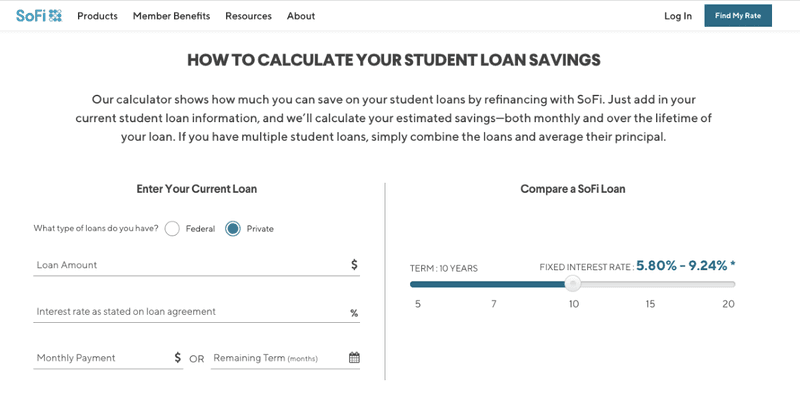 (Image Source)
With a few simple inputs (loan amount, interest rate, etc.), users can quickly learn how much they can save on student loans through refinancing. In other words, calculators are excellent lead magnets.
Product comparisons
Product comparisons are incredibly useful for choosing between different financial products or services.
A comparison of travel credit cards, for example, breaks down the benefits, fees, and terms of different cards, helping readers make informed decisions.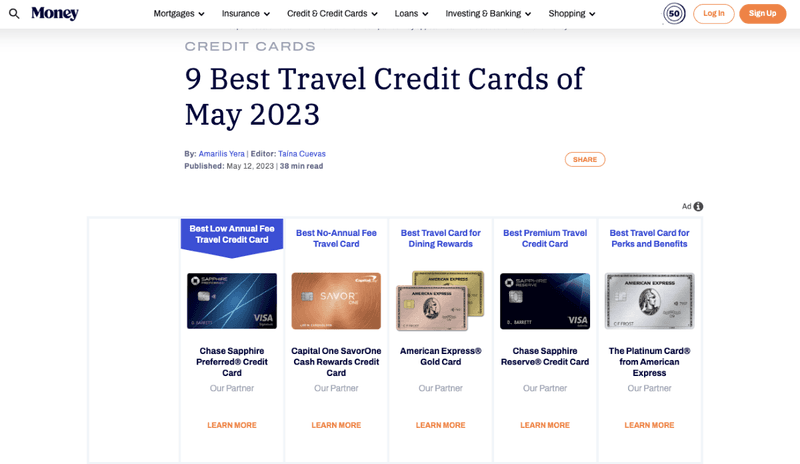 (Image Source)
Invest in the power of link building
Link building is one of the most powerful SEO strategies.
As Jeremy Moser, the CEO of uSERP, eloquently puts it, "Links are like Yelp reviews. Positive mentions from credible sources = powerful signal that your content is authoritative in your respective niche."
And as we continue to see major players turn to generative AI tools to aid in creating vast amounts of content quickly, it only makes the online environment even more competitive.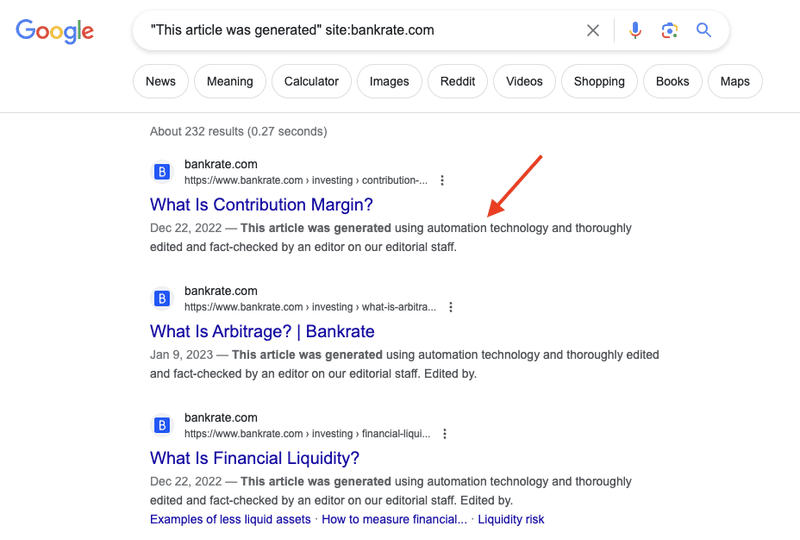 (Screenshot by Kelly Moser)
Amid this amplified competition, link building remains critical in distinguishing your content and enhancing its SEO value.
Why? "Good content" is subjective, while links are objective. They're a proxy for authority, trust, etc.
Consider this compelling case study from uSERP involving Nav, a platform that connects small businesses to their best financing options.
Nav was battling for the top spot on Google for the search term "business credit cards.", one of the most competitive keywords in the finance space (you're up against other high-authority publications like NerdWallet and CNBC).
Through a strategic and persistent link-building campaign, uSERP secured authority backlinks that significantly improved Nav's SEO ranking.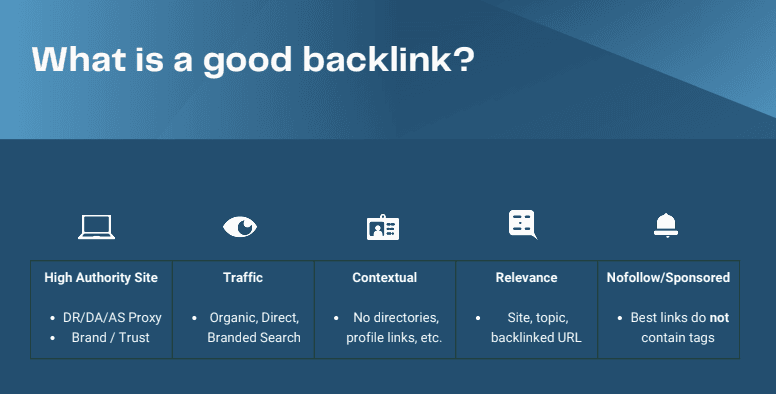 (Image Source)
The result? Nav clinched the coveted first spot on Google for "business credit cards," resulting in an impressive $35,000 increase in weekly revenue.
This case study underlines the enormous potential of link building. It's not just about improving visibility and rankings — it's also about driving significant revenue growth.
By building high-quality, authoritative backlinks, you can supercharge your SEO performance, outrank larger publications, and, more importantly, generate substantial revenue for your business.
The All-in-One Platform for Effective SEO
Behind every successful business is a strong SEO campaign. But with countless optimization tools and techniques out there to choose from, it can be hard to know where to start. Well, fear no more, cause I've got just the thing to help. Presenting the Ranktracker all-in-one platform for effective SEO
Here are some effective ways to build links:
Create compelling, unique, and high-value content that others naturally want to link to.
Find broken links on other websites and suggest your content as a replacement.
Outsource to a link building agency (like uSERP), and they'll do the heavy lifting for you.
Share expert quotes or insights via Help a Reporter Out (HARO) initiatives.
Write high-quality content for other reputable websites in your industry.
Remember, the focus should always be building high-quality links from reputable and relevant sources. The quality of your links is far more important than the quantity.
Wrapping up
And there you have it. Making headway in the intertwined worlds of SEO and finance revolves around staying sharp, strategic, and savvy.
It's about:
Crafting top-tier finance content that nails the E-A-T principles;
Pulling the power of link building into your arsenal; and,
Mixing up your content game to cater to all corners of your audience.
Each move you make gets you one step closer to the top of the SERPs. Find that sweet spot between delivering rock-solid, valuable content and rolling out some seriously smart SEO strategies.
And remember, in the universe of SEO and finance, staying on your toes, adapting on the fly, and keeping things consistent is the name of the game.
So are you ready to blaze a trail in the competitive world of finance SEO? The first page of Google is ready to welcome you with open arms.