Intro
When was the last time you changed anything in your financial service marketing strategy?
Perhaps the time has come to do that right now.
As a financial marketer or brand, you should know what awaits you in the realm of marketing and why you may need to take action immediately and use the basic techniques for promoting financial services.
This article will guide you on how to shape your forward-looking plans in terms of financial marketing and how to tweak your approach in accordance with the current state of things in the industry.
What Does Financial Marketing Look Like Today?
Generally speaking, financial marketing is a combination of promotional efforts and endeavors undertaken by financial firms with the aim to market themselves and their services.
In the post-pandemic era of today, more and more financial organizations switch from traditional offline marketing methods like printed advertising, billboards, or TV/radio ads to digital marketing.
In 2022, for instance, financial advertising on digital channels was projected to increase by 18.1%, at the highest growth rate in comparison to all other US industries tapping into digital ads.
The All-in-One Platform for Effective SEO
Behind every successful business is a strong SEO campaign. But with countless optimization tools and techniques out there to choose from, it can be hard to know where to start. Well, fear no more, cause I've got just the thing to help. Presenting the Ranktracker all-in-one platform for effective SEO
What are the driving forces of such a trend? Read below.
4 Major Reasons to Market Financial Services Online
Let's see the key factors that push financial businesses to promote their brands and services in the digital space even more persistently.
Digital transformation
With the COVID-19 outbreak, digital adoption has accelerated at a huge speed. 93% of financial services have already adopted or have plans to adopt digital-first business strategies.
Emerging FinTech trends
Roughly 90% of leaders in the field of finances claim that digital technology is disrupting their niche.
There has been a great wave of technology mergers and acquisitions. For example, RE/MAX acquired Gadberry Group, a geospatial data science and location intelligence company. CoStar purchased Ten-X Commercial with the purpose of transferring commercial real estate deals to the web.
To keep up with the pace of FinTech acceleration, finance service providers should watch such FinTech trends as cryptocurrency, NFTs, digital payment systems, mobile wallets, etc. In fact, already two-thirds of adults receive or make payments digitally.
Consumers' demands for online services
Between 76% and 90% of searches for financial services start online. If you peer into the banking sector, for instance, you'll see that more consumers bank digitally. 61% of bank customers interact with banking institutions weekly via digital channels.
Harsh competition
According to Melba Montague, Senior VP of Banking and Capital Markets at Genpact, intensified competition is one of the dominant reasons that urge leaders in the banking and financial markets to act now and deliver better customer experiences.
Financial firms strive to optimize their competitive advantages by modernizing their processes, innovating inside-out, and implementing the most effective digital marketing practices.
What should you begin with to promote your financial services online? Continue reading.
Top 7 Basic Marketing Tips for Financial Brands
Here are some essential marketing tactics for financial service providers.
Audit your website and create a detailed SEO plan of action
Search engine optimization (SEO) is a springboard for financial brand marketing. It makes your company more visible on the web, gives you more traffic, and helps convert prospects into customers.
Follow Ranktracker's tips for financial services SEO and develop a robust plan to polish your SEO to perfection. It may include the following points with some useful tools to help you out:
Research and identify relevant related keywords (Keyword Finder)
Analyze your competitors (SERP Checker and Backlink Checker)
Check the health of your website and on-site SEO factors (Web Audit Tool)
Perform strategic content planning (Content Snare, StoryChief, or ContentCal)
Consider some popular sites for your company listing (Google My Business, Yelp, and the like)
If you plan to do finance marketing for your FinTech company, you might be interested in effective FinTech SEO strategies, specifically catered to the needs of tech-driven firms in the financial industry.
Revisit your branding and design
According to the latest branding statistics, 77% of people make purchasing decisions based solely on the company's name.
The All-in-One Platform for Effective SEO
Behind every successful business is a strong SEO campaign. But with countless optimization tools and techniques out there to choose from, it can be hard to know where to start. Well, fear no more, cause I've got just the thing to help. Presenting the Ranktracker all-in-one platform for effective SEO
"With the constant transformations of the digital landscape and appearance of new design trends, financial companies might need to consider a rebranding strategy," believes Colin Palfrey,** **CMO of Crediful.
"If you go with a total brand refresh, it's crucial to explain the reasons for that to your clients: why you have decided to pick a new name for your company or why you're changing your logo.
For example, we announced about rebranding in our 2020 blog post and explained why we were saying goodbye to AAACreditGuide and becoming Crediful. We dwelled on how a new brand better reflects our mission and values and how our audience can benefit from it," he notes.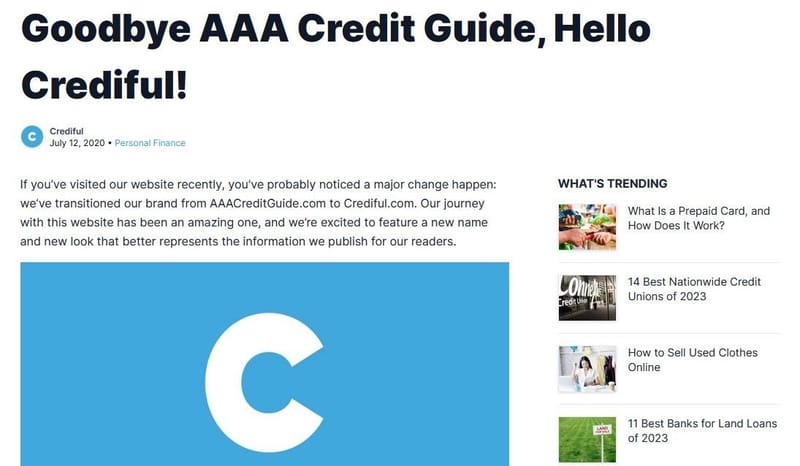 (Source)
However, before making any changes to your firm's name, you should perform brand name testing to avoid legal and marketing pitfalls.
If talking about design, it's worth mentioning that color can improve brand recognition by 80%. Besides, it can evoke positive feelings concerning your financial service. For example, blue denotes trust and stability. It shows up in 33% of the top 100 world's best known brands. Banks, credit unions, investment firms, and other institutions in the finance industry have chosen blue for their logos. Take such giants as Visa, American Express, or PayPal.
According to Vik Nikolova, who has studied the top 250 brands in finance, the safest color choices for FinTech organizations are: blue (color of trust), green (color of money), and black (color of professionalism and elegance).
Using one of them or a combination of several, you may create the perfect logo for your financial firm.
Note: you don't necessarily need a complete rebranding and/or redesign. You may just handle your SEO web design to enhance your marketing efforts.
Go mobile-first
70% of smartphone owners access financial services on mobile. Yet, smartphones have the highest bounce rate. 51% of visitors to financial service sites leave after seeing just one page on their mobile devices.
So, you should invest in mobile UX/UI (user experience/user interface) and make sure your financial firm's website is mobile-friendly.
The best examples of responsive web design on mobile among financial services are: Ossian State Bank, Delta Lloyd, Simple Bank, Nationwide Insurance, and some others.
When consumers land on Nationwide Insurance's mobile website, for example, they see the two tabs that allow them to customize their user experience right away: Business or Personal.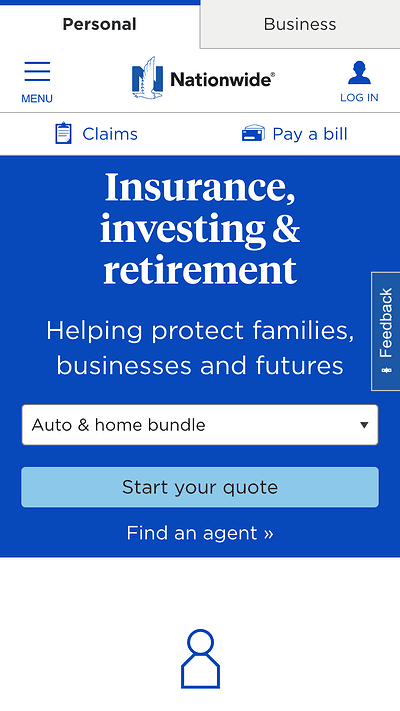 (Source)
Optimize lead acquisition
Research shows that companies generating a high percentage of leads online grow at a considerably faster rate. The median growth rate of brands that acquire 40%–100% of leads on the web is 4x greater than that of firms that get zero leads online.
For effective financial service marketing and growing your business in the digital space, you might want to use such lead acquisition tactics as pay-per-click ads, local SEO, or lead magnets.
Nate Tsang, Founder & CEO of WallStreetZen, shares how his company uses lead magnets to power up lead acquisition:
"We embedded a free stock scanner into the website to help visitors find opportunities for investment. It allows users to apply personalized filters and view lists of stocks that meet their investing criteria.
It's an interactive tool that helps us promote a new level of immersive engagement by giving our potential clients answers to the most significant questions concerning stocks. It helps us build a stronger and more transparent relationship with our clients from the very start of their interaction with our brand."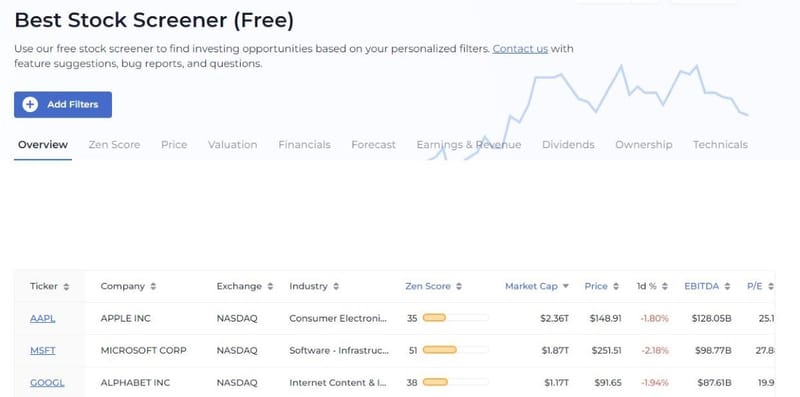 (Source)
Nate Tsang names some "lead baits" that you can offer as free content to draw more leads to your financial business:
Web calculators (Life Insurance Calculator, 401k Calculator, College Savings Calculator, etc.)
Toolkits for personal finance planning
Thematic webinars
Financial expert match quizzes
Budget calendars
Financial reports or fact sheets, and so on
WallStreetZen also greets site lurkers with a free report popup to generate more qualified leads.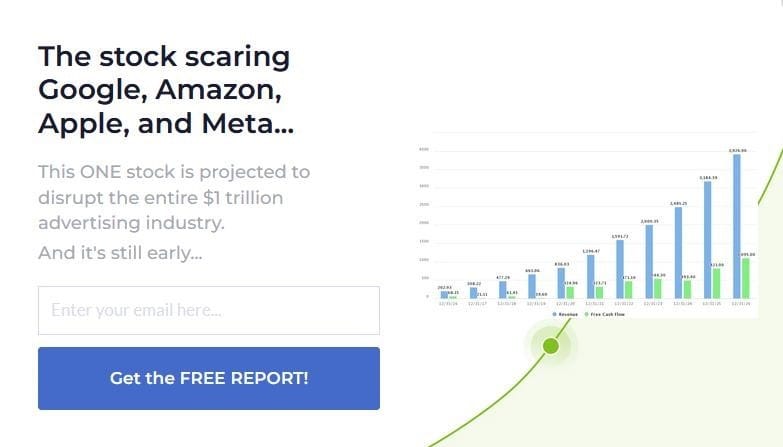 (Source)
It's also beneficial to try new tech trends like automation and hyper-targeting in your B2B lead generation strategy. Check the case study of Apply Financial, a payments validation company, which automated lead nurturing scenarios on LinkedIn.
Save time for customer engagement with self-service
Self-service is one of the marketing tactics that can automate your sales funnel and increase leads.
"Self-service empowers your potential or existing customers with quick resolutions to common issues and answers to their inquiries," says Anthony Martin, Founder and CEO of Choice Mutual.
"At ChoiceMutual, we offer a Learn & Plan section with guides, risk factors, insurance company reviews, and other resources. In addition to that, we have a Tools & Support section with a funeral cost calculator, glossary of terms, video learning center, FAQs, and more.
These self-service solutions are a fast and easy way for our customers to access all the needed resources. They develop confidence and provide more autonomy," Anthony mentions.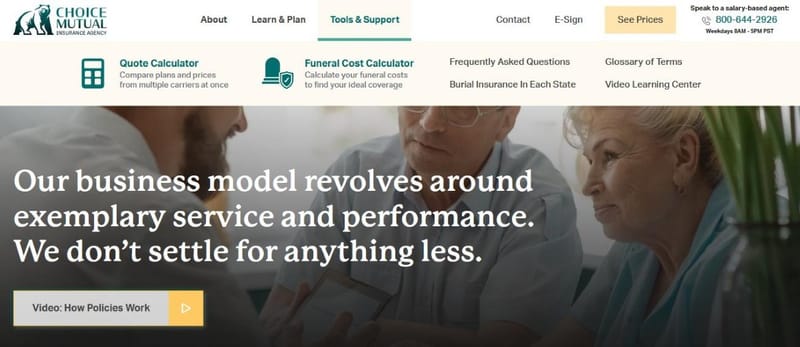 (Source)
Let's take a look at the example of self-service in banking.
In 2021, Valley National Bank offered a digital loan application to their commercial banking clients. Later, the company surveyed its customers about their self-service experience. 87% of users said the tool made them more confident in applying for PPP loans.
Leverage omnichannel marketing
It's one of the main digital marketing trends to ensure positive customer experience. Customers should be able to switch from one channel to another without the fear that a financial firm can lose track of their customer journey.
Marketers who use three or more channels to promote their businesses see a 494% higher order rate than those who use a single channel.
In banking, for instance, digital channels represent only 25% of sales. Combining web-based interactions with face-to-face ones can be beneficial for boosting sales and promoting financial services via both digital and physical channels.
Make sure you have activated multiple channels to meet your customers where they prefer:
Physical location (office)
Website contact form
Live chat
Mobile application
Social networks
Webinars or podcasts, etc.
E.g., Trius Lending Partners organized Trius Talks – Q&A discussions on real estate investing with a new special guest invited each month. It's a great influencer marketing campaign with micro-influencers in this niche.
They also use social media strategies like Facebook Events to promote these talks on Facebook.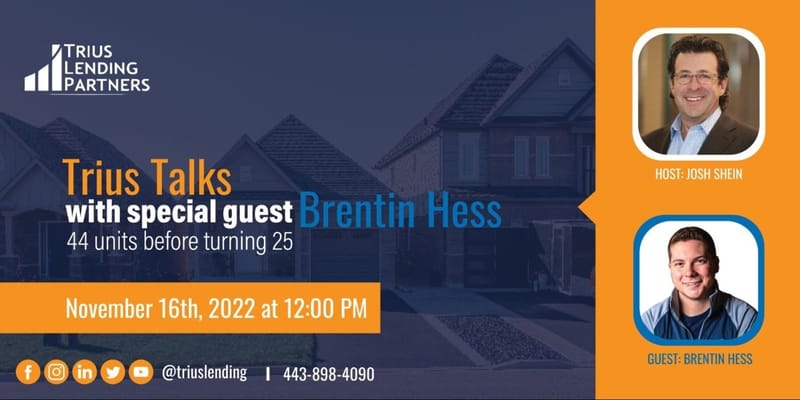 (Source)
Besides, their customers can contact them via office, website, online chat, email, phone, and social media sites like Facebook, Twitter, YouTube, LinkedIn, and Instagram.
In order to streamline customer experiences on all communication channels, you may take advantage of omnichannel marketing tools and platforms like as follows: HubSpot CRM, SmartInsights, Ortto, ActiveCampaign, Omnisend, etc.
Create a marketing loop and measure your marketing efforts
You should set and revisit your financial services marketing goals and KPIs systematically. Once you empower your digital marketing strategy with data, you'll see a broader picture of what needs to be improved and where your financial business is heading.
The All-in-One Platform for Effective SEO
Behind every successful business is a strong SEO campaign. But with countless optimization tools and techniques out there to choose from, it can be hard to know where to start. Well, fear no more, cause I've got just the thing to help. Presenting the Ranktracker all-in-one platform for effective SEO
Here's a list of tools to help you measure your financial marketing success:
For email marketing metrics: Bloom or MailChimp
For social tracking: SharedCount or BrandMentions
For brand health monitoring: Brand24 – ultimate social listening tool
For collecting customer feedback: Survicate, AskNicely, or Qualaroo
For measuring SEO success: Rank Tracker – monitor your site and its ranking in the search engine results page. It can alert you on SEO problems and provide visual overviews.
Marketing in the Finance Sector: Closing Thoughts
To sum it up, financial service marketing is a significant booster for business growth in the industry. It involves understanding the demands of customers, creating services/products that meet those requirements, and developing marketing tactics to reach and engage target audiences effectively.
That's why financial service brands must put the finger on the pulse of emerging trends and innovative technologies and adapt their promotional strategies accordingly.
This finance marketing 101 guide has explained how to successfully promote your financial brand and apply the best digital marketing strategies to your business.
Start small and do your first steps with Ranktracker – an all-in-one SEO resource to analyze your web performance, improve your site's ranking, and drive more relevant traffic to increase leads and sales.