Intro
Open TikTok. Go on, do it right now.
What do you see there?
Most likely, it's a piece of trendy content like a dance, a prank, a meme, a day in the life, a POV, another dance… This kaleidoscope of TikTok trends is changing in the blink of an eye. How do you stay current with them, jump on the wave of virality, and ride it effectively to use TikTok for business and grow your brand reach?
This guide is everything you need to make relevant moves with your business surfboard on TikTok. We'll explain how to fuel your campaigns with viral content and monitor trends on TikTok regularly so as not to miss a single one. Read on.
How to Keep Up With TikTok Trends and Go Viral
So, how do you create a TikTok worthy enough to catch on? Discover seven proven tactics to go trendy and quickly gain popularity on this social media platform.
React fast to news
"Business owners and marketers should carefully study the art of reactive marketing on TikTok," says Anthony Martin, Founder and CEO of Choice Mutual.
"TikTok trends and news are quick-turn. That's why it's necessary to keep up with the events in your industry and beyond and respond to everyday happenings as soon as possible," he recommends.
Reactive marketing, aka real-time marketing, can indeed make your content spread like wildfire on TikTok.
The All-in-One Platform for Effective SEO
Behind every successful business is a strong SEO campaign. But with countless optimization tools and techniques out there to choose from, it can be hard to know where to start. Well, fear no more, cause I've got just the thing to help. Presenting the Ranktracker all-in-one platform for effective SEO
Do you remember how the dance scene from the Netflix series Wednesday went viral on TikTok in 2022?
Brands immediately reacted with their Wednesday dances. It would be a perfect match if you could align content with your brand. For example, numerous dance studios leveraged the Wednesday dance for promoting their services on TikTok.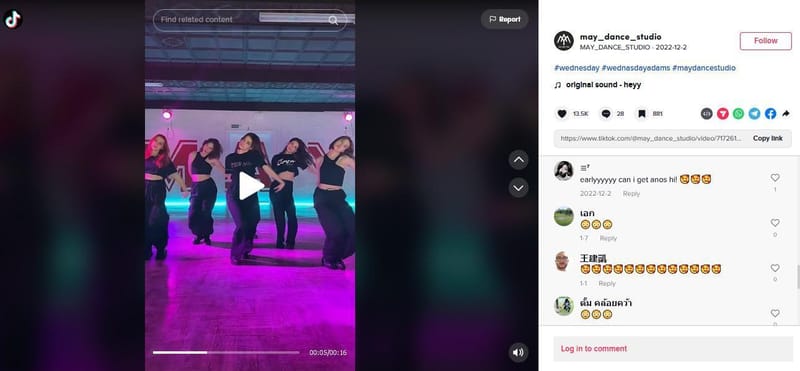 (Source)
Anyway, you can scroll through the hottest categories from which you can source the news for your TikTok content ideas:
TV shows & movies
Sports
Celebs
Social and environmental changes
Innovations, etc.
Choose the best storytelling methods
Should you do weird dance moves? Should you lip-sync?
"You don't necessarily need such TikTok trends as dancing or lip-syncing to stand out from the crowd," claims Jesse Hanson, Content Manager at Online Solitaire & World of Card Games. "It's better to pick the most suitable storytelling method for your business type and target audience. In the world of games, for instance, sharing how-to-play tutorials or different game hacks can be advantageous to amplify your reach on TikTok and target online gamers in particular."
E.g., WePC Gaming has a series of TikToks that teach the how-tos and secrets for playing Diablo 4. All of those get tons of views, reposts, and likes.
The All-in-One Platform for Effective SEO
Behind every successful business is a strong SEO campaign. But with countless optimization tools and techniques out there to choose from, it can be hard to know where to start. Well, fear no more, cause I've got just the thing to help. Presenting the Ranktracker all-in-one platform for effective SEO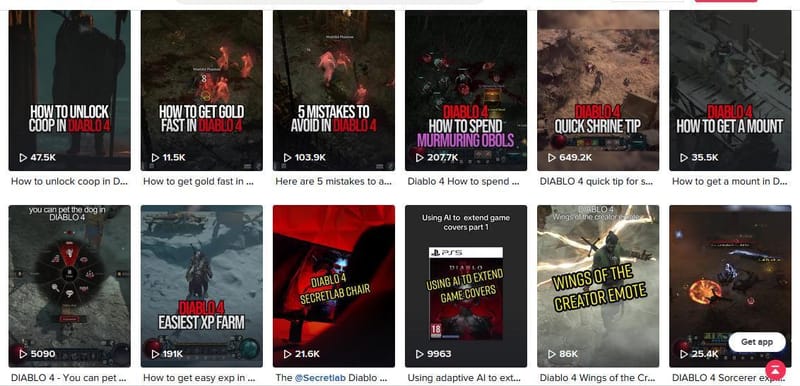 (Source)
Jesse Hanson enumerates some other tricks you can use to make your TikTok story contagious:
Duet
Green screen
Stitch
Transition
A story in X seconds
Comment-response
Speaking about the comment-response method on TikTok, Sony Group Corporation has got much to say and tips to share. The company replies to comments, creates viral social media content with a noisy buzz, and keeps conversations rolling and rolling.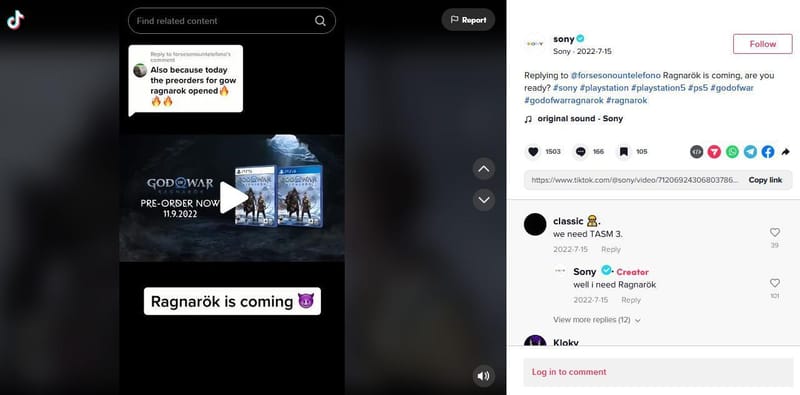 (Source)
Take advantage of trending audio
Why not spice up your TikTok content with a compelling song or sound?
Engaging audio is one of the greatest hacks to go viral on TikTok. Sound allows you to engage with your audience in an additional dimension. In fact, 88% of TikTokers consider sound an essential factor for their experience on the platform.
Take a look at this 5-second video created by Zoë Jane, a yoga instructor.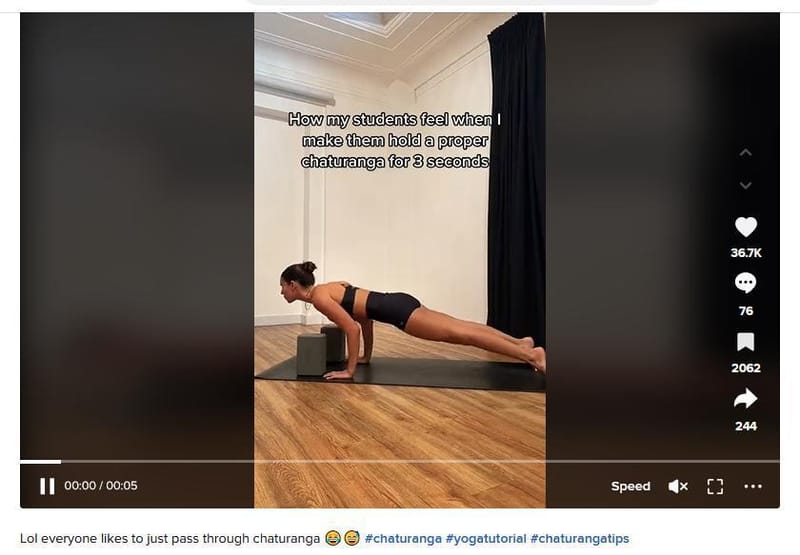 (Source)
She used Kourtney Kardashian's viral reaction "No, thanks" to the question _"Can I give you a big hug?" _and received over 36K impressions and roughly 1M views.
Test your luck with branded hashtag challenges
Challenges are among the top TikTok growth fundamentals every marketer should know.
"A branded hashtag challenge raises brand awareness, boosts organic visibility, and allows businesses to engage with their audiences on a more interactive level," remarks Gerald Lombardo, Head of Growth at Popl. "It's quite easy to launch one by simply adding 'challenge' to your company's name."
That's what Popl actually did. The company created the #poplchallenge and collected nearly 80M views.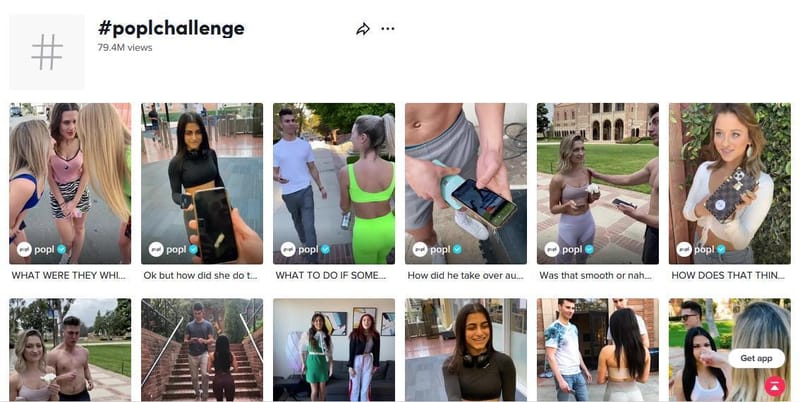 Source
You can also see how well the following branded hashtag challenges performed on TikTok:
L'Oréal Paris – #LOrealHyaluronic (257.6M views)
LG – #lifeisgooddance (11.4B views)
ASOS – #ASOSAlterEgo (4B views)
Pepsi – #PepsiChallenge (3.8B views)
Garnier – #FructisHairFoodChallenge (262.2M views)
Harness the power of TikTok SEO
Social media optimization is a must-do for staying relevant and going viral on TikTok. An ideal variant for business is to use the keyword-hashtag duet to optimize TikTok videos so that they could rank higher in the search results.
Keywords
RankTracker's keyword finder can help you pinpoint the targeted keywords in your niche and deploy the best ones for TikTok marketing. Once you've got the list of keywords, incorporate them wisely into captions and descriptions of your TikToks.
NotSocks, for instance, inserted such keywords as gift ideas for Dad and Father's Day gift ideas into the video caption and description.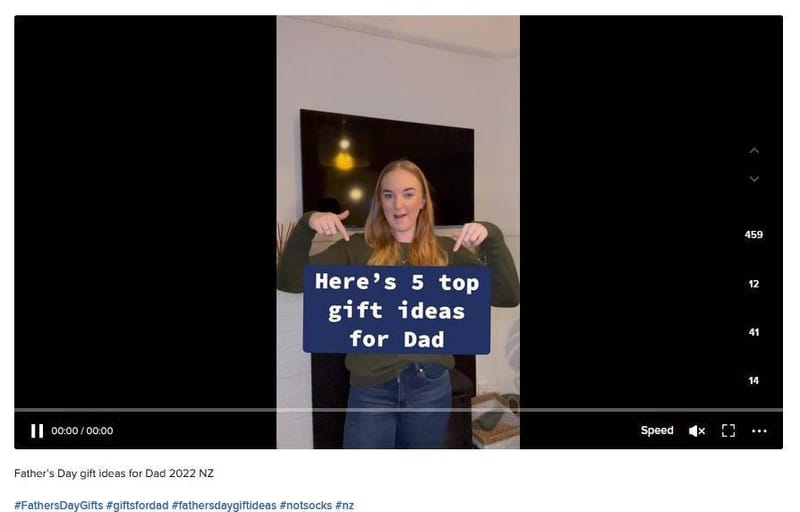 (Source)
Hashtags
According to Morgan Taylor, Co-Founder of Jolly SEO, "It's highly beneficial to support your TikTok SEO with relevant hashtags. They will boost your visibility on TikTok and catapult your videos in front of the right eyes. Make sure your hashtags mirror the content you publish."
When sharing the piece of news about Semrush acquiring Traffic Think Tank (TTT), Jolly SEO used the hashtag #semrush. It provoked Semrush to join the conversation and increased the post's visibility.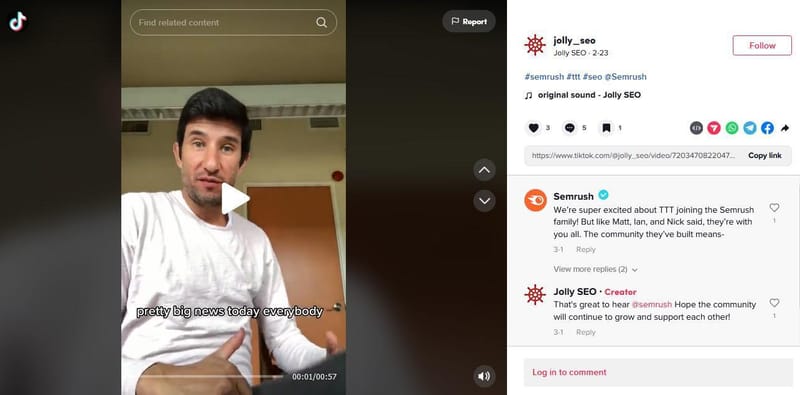 (Source)
The video got the highest number of views in comparison to other content published by Jolly SEO on TikTok.
Don't forget to mix a couple of trendy hashtags into the niche ones. Here's a list of TikTok hashtags trending today:
#fyp
#foryoupage
#trending
#viral
#tiktok
#duet
#comedy
#funny
Partner with influencers
If you want to bite off a piece of this TikTok trend, heed the call from Linda Shaffer, Chief People Operations Officer at Checkr:
"Before you start collaborating with TikTok influencers, it's important to identify your target audience, goals, and expectations. Only after that, you may head on the hunt for the right influencers, those that suit your target market the best.
The main things to remember: contact smaller creators from your niche, make sure they don't buy followers, and check if their engagement rate is as substantial as their following."
Partnership with micro-creators is one of the global influencer marketing trends affecting businesses in 2023. It takes center stage for a reason. If you look at these statistics, TikTok micro-influencers (creators with 15K+ followers) produce the highest engagement rate among other social media: 17.96% compared to only 3.86% on Instagram, for example.
You can do even better than that if you plan your campaign well.
Let's take Boohoo. The brand collaborated with several content creators and achieved a 21.3% engagement rate. In addition, the videos generated 3.4M likes and 23.7M views.
Another example:
Casio partnered with lifestyle and sports influencers to reach Gen Z customers. The campaign resulted in 104K engagements, 2.1M views, and 5K website clicks.
Such brands as Daniel Wellington, Adidas, Sephora, Airbnb, and Nike can also boast of creative influence marketing campaigns with both micro- and macro-influencers on TikTok.
Go creative and personify your brand
Personified content brings lots of humor and fun, establishes an emotional connection with people, and gets contagious. Ryanair and Duolingo can give you masterclasses in viral TikTok marketing with branding and personification. Check them out below.
Personification with filters
Humor goes a long way. And Ryanair knows that perfectly well. The company applies funny face filters on its planes and rocks the audience with such videos.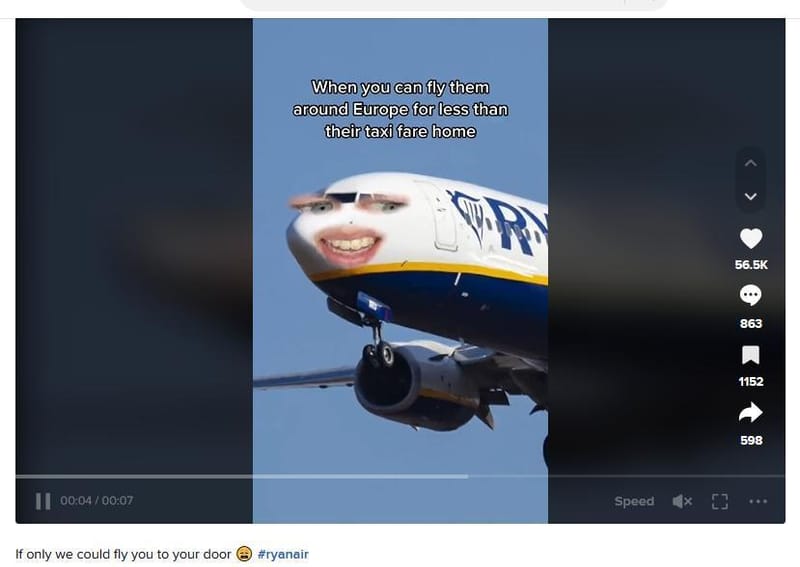 (Source)
Btw, a humor-centric brand voice is one of the marketing trends for small businesses too.
Personification with mascots
Mascots typically have hilarious twists to them and serve as powerful brand logos.
Using its mascot Duo in the branding strategy, Duolingo wins the virality race on TikTok.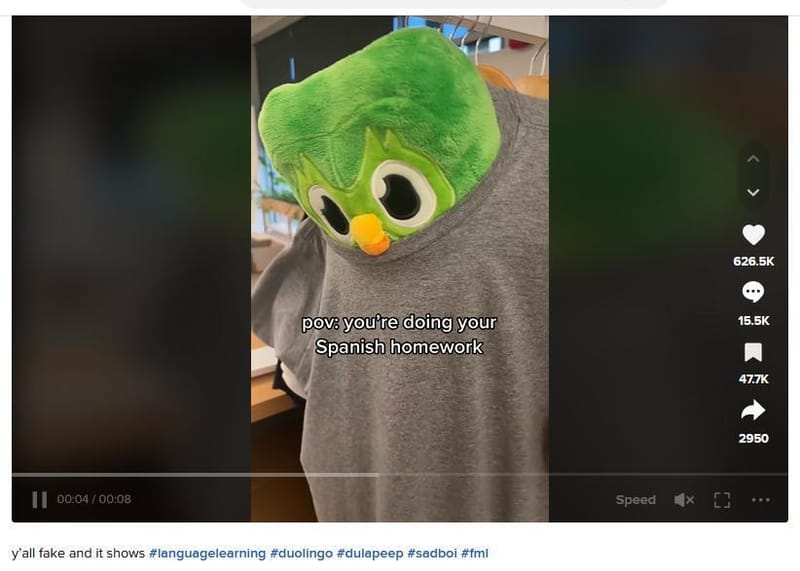 (Source)
3 Easy Tips to Monitor Trends on TikTok
Tracking the currents and drifts in the ocean of TikToks will reveal what your target audience prefers right at the moment. Here are three insanely simple ways to do that.
Method #1. Use hashtags to track trending content
Hashtags.
Again.
You should get used to them because they can help you unleash the power of social media for your business.
When it comes to TikTok trend tracking, you can discover the most popular content with such hashtags as #tiktoktrending, #trend, #viralvideo, or #trending, among others.
Method #2. Peer into community hubs or subcultures on TikTok
"Businesses often underestimate niche marketing on TikTok and its sub-communities such as #FoodTok, #BizTok, #SkinTok, #MomTok, #FitTok, #LawTok, etc.," believes Mark Pierce, CEO of Cloud Peak Law Group.
"Such subcultures are pools of trending TikTok content ideas in a particular industry. Let's consider the #LawTok subculture as an example. Law companies or solopreneurs may benefit from the #LawTok hashtag to find the most suitable content for the legal sphere," he notes.
Indeed, TikTok has a huge potential for marketing a law firm online. If you run a law business, see how @ugolord, also known as "The New Age Attorney", uses #LawTok and soak up some inspiration from his TikToks.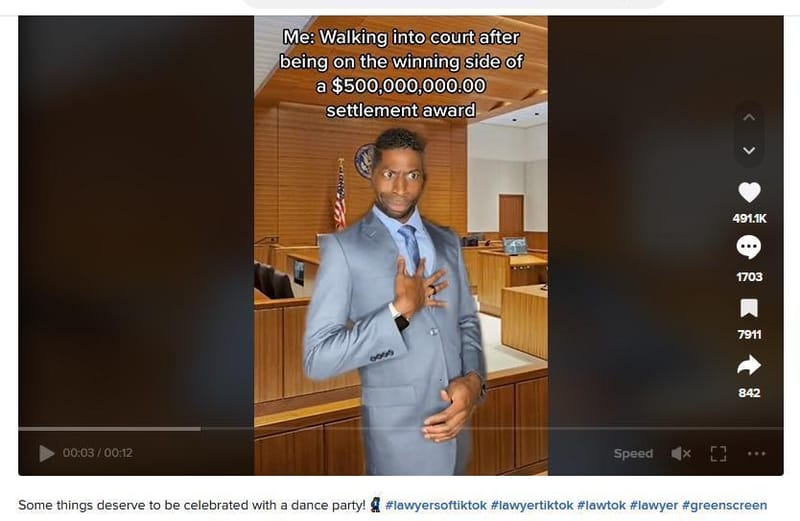 (Source)
Or here's another example.
Similar to bookstagram hashtags for Instagram's bookish realm, there is a special hashtag to conquer TikTok's bookworms – #BookTok. Here's how Will Smith taps into it to promote his book.
(Source)
The All-in-One Platform for Effective SEO
Behind every successful business is a strong SEO campaign. But with countless optimization tools and techniques out there to choose from, it can be hard to know where to start. Well, fear no more, cause I've got just the thing to help. Presenting the Ranktracker all-in-one platform for effective SEO
The actor harvested 3.8M likes, 27.9K comments, and 38.2M views with this funny video teaser to his book.
Method #3. Automate trend monitoring
Automation is a great time saver. It's also a must for businesses to plan and streamline social media content.
You can use the following tools to track the biggest trends on TikTok and plan your next campaigns:
Trend Discovery tool in TikTok's Creative Center – to browse what performs well on TikTok
Trendzip.co – to receive a weekly trends newsletter
ShortVideoTrends.co – to spot trending sounds
Tokboard.com – to find the top songs of the week
TrendTok app – to discover the latest trends and forecast the new ones
Storyclash.com – to use trending ideas for influencer marketing campaigns
Top-hashtags.com – to keep an eye on the top hashtags
Hop on Your Wave of Viral TikTok Content
Whether you market your products/services or try to grow the follower base on TikTok, you can't help but acknowledge that trendy content is king on this social media site.
Don't squander the opportunity of using TikTok trends to your advantage, be the first one to incorporate viral content into your TikTok marketing strategy, and grow your business like a champion.
And one last word before you go: get ready to catch the virality waves on TikTok any time. Another one may be already coming, so be watchful.